Romantic Valentine Messages: Valentine's Day is every day of the year, not only the day of Valentine's day. Do you think he/she will wait 12 months to receive romantic words from you? If so, you're a dreamer! Prove your love your partner every day, show how much he/she means to you,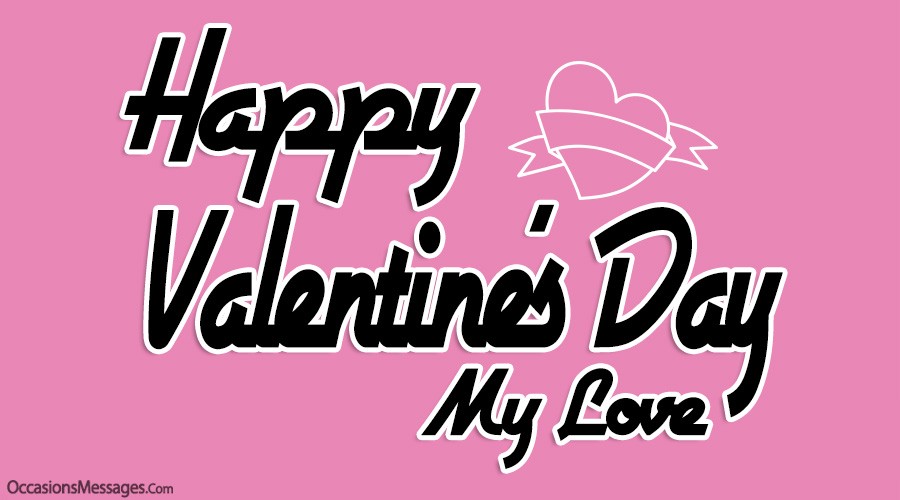 See some of these messages below, they may just give you the right words to go write him/her a beautifully romantic valentine message or just send one of them.
Romantic Valentine Messages
Here are some romantic ways to wish your love a Happy Valentine's Day.
The world is beautiful in my eyes. Because I always see you in it. Happy Valentine's Day.
It's Valentine's Day and as I am neither Shakespeare nor Rimbaud, I can tell you one thing today. I love you.
You have just received a text message. Press 1 for a drink, Press 2 for a romantic restaurant, Press 3 for a film / a play. Happy Valentine's Day.
You know what baby? I miss you so much. I miss you every night, every day, and each morning I get up not close to you. Happy Valentine's Day.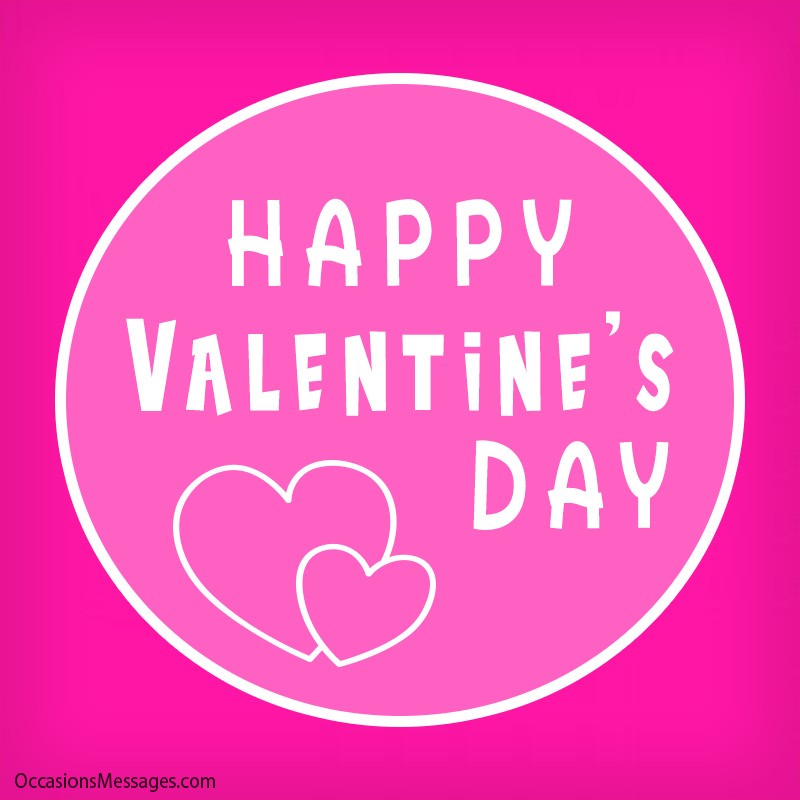 Roses are over-rated, Violets are too, But one thing I never get tired of Is You.
I love you like a fish that loves the sea. You give me everything, and I thrive as long as I am with you.
Today is one of my favorite holidays, and it's only because of you. I love you, and I know that you love me too.
I'm a lover, not a fighter, but I will fight if it's for you. You are too important to me, and I hope that our Valentine's Day will be filled with love and joy.
I love you so much. I love you even more than I love myself. When I am with you I feel that I am the happiest person in the world. Happy Valentine's Day my love.
I think of you once a day and every thought lasts 24 hours. I love you. Happy Valentine's Day.
The beautiful always loses their beauty, but the beauty of love never loses. I love you. Happy Valentine's Day.
I wrote your name in the sand, but the sea was cleared. I engrave your name on a tree, but the lumberjack cuts it. I've curved your name in my heart where it will last forever. I love you forever.
I feel your presence despite your absence, I hear your voice despite the silence of the night, and I love you despite the sufferance. Happy Valentine's Day.
My heart is too full of you. I love you and I will love you until the last day of my life.
24 hours is very little time to show you how I really feel for you, you are the reason I am happy, you're my dream come true, Happy Valentine's sweetheart.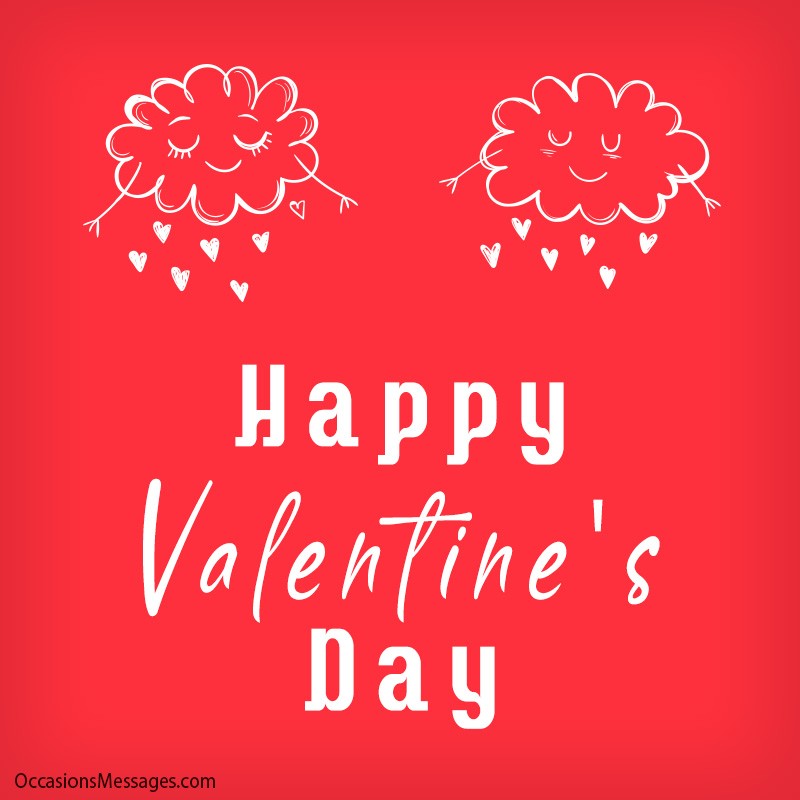 Your beauty can make any king fall because whenever I see you, I see a charming queen to be, I hope I'll be your only standing king. Happy valentine's day my love.
I know, I really do not have the habit of expressing my feelings but on this day of love I can only wish you a nice valentine's day and thank god that you are in my life. I love you.
In a pink field, I looked for a flower and I fell for you, you are the most beautiful flower I have ever seen. Happy Valentine's Day.
To talk to you I have to write, to see you, I have to sleep, to love you I must endure, but to forget you I must die. Happy Valentine's.
You're wanted by the police, charges are that I love you. You will never be released only after paying a fine of 1,000 kiss this Valentine's.
I send you all the pearls of heaven to give light upon your heart, and all the flowers of the earth to color your life and all the songs to tell you that you are an angel. Happy Valentine's Day.
My life without your love does not make sense to me at all, you are a special type of creation that I have had the chance to be with. Happy Valentines my love!
Without you, I'm lost. When I look in your eyes, I learn how to love; I have wings to fly into the eternal sky. You give me the feeling of being a prince. Happy Valentines.
You're the best thing that has ever happened to me so far, but you know what the problem is? I love you more than I love myself. Happy Valentine's Day my love.
I can never replace you, I wouldn't even dream of it, you are the reason being in a relationship is easy, I love you my valentine, you are prettier than anyone else.
Valentine Day Love Wishes
Here are some cute and sweet Valentine's day wishes and messages for your love. You might also want to browse these 130+ valentine's messages and wishes.
I hope your love will not make me sick, but if it does, I know you'll be right by my side until my last breath. Happy Valentines Day my one.
May this valentine be the best you've ever had, I love you so much and my heart beats fuller each time we meet. You are my special hello.
I want to tell you I love everything about you. Your smile, your eyes, your little character, your good humor. Well. The list goes on. I hope the day will let you know that I love you. Happy Valentine's Day.
Love is thinking about someone else more times in a day than you think about yourself. Can you guess who I'm thinking about? It's you. Happy Valentine's Day.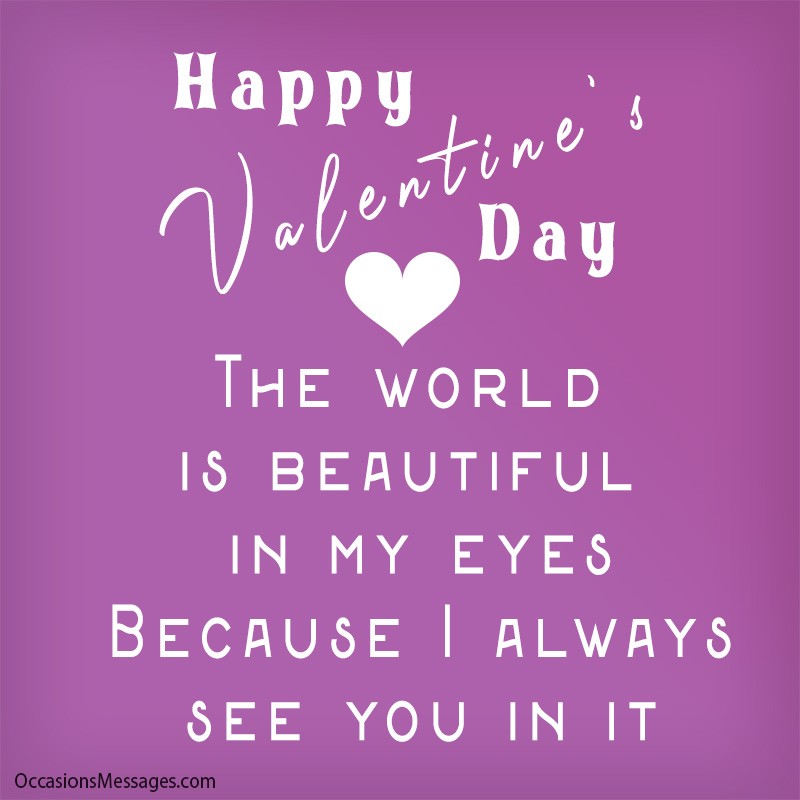 On this day of lovers, I want to make you three promises, to always be there for you, to respect you and love you all my life. I love you and Happy Valentine's Day.
What's the most romantic thing that you can think of? Whatever it is, tell me because if it's for you, I would do anything you wished.
You are like my favorite song, I love listening to you, and you're always on my mind. I hope that I'll get to keep listening to your beautiful voice for many years to come.
They say that there's always more fish in the sea, but I don't have to look anywhere else because I already found you.
Happy Valentine's. Everyone always told me that having a romance like a fairy tale would be impossible, but now I have you. Thanks for proving everyone wrong! I love you.
Here's an example of real love: us. Today, let's show the world and ourselves what real love is like. Happy Valentine's Day.
The day I met you was the best day of my life… Until now. I can't wait to make this Valentine's Day even better.
Three rules that are binding on this day of Valentine's are: a very good restaurant, lounge music and the person you love in front of you. See you this evening to pay tribute to all lovers. I love you.
For Crush
Here are some Valentine's day messages for crush, For More wishes see 200 valentine's wishes for crush.
Happy valentines handsome, I have a crush on you and I was hoping we could get together for a coffee maybe, I would love to spend this valentine with you.
Rivers, seas and oceans, can't stop my love. You're the only charming prince, I dream about you every day and night.
I have only one wish, it is that I get to share my feelings with you. You are the most beautiful woman in my eyes.
I declare my love for you in this message because I do not have the courage to tell you face to face. When I see your beauty I'm afraid, I can't find the words to tell you I love you. So I will send this message to tell you about my undying love for you.
May I get the honor to show you another side of love this valentine? I promise to make your heart jump and to give you more reasons to love me. Be my valentine today love.
My heart is all I can give to you as Valentine's gift, take it, and treat it with utmost care because it has been bruised a lot in the past. I care.
For Girlfriend
Here are some sweet ways to wish your girlfriend a happy Valentine's day. For more wishes, see valentine's day messages for girlfriend.
How happy I am to have a girlfriend like you, because you make my life totally complete. I'll appreciate you all my life. Happy Valentine's Day.
My darling, if life was music, you would be the perfect harmony that goes with my melody. Happy Valentines.
Thank you for loving me with so much passion and dedication; it's only your flower that will bloom forever in my heart. Happy Valentine.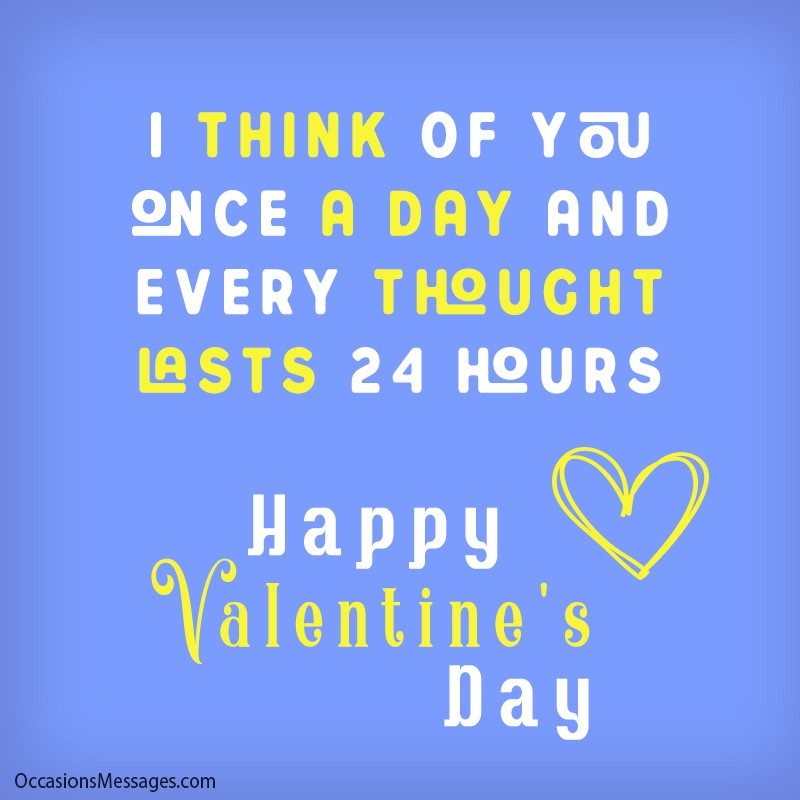 My dear girlfriend, You are the most beautiful creature I have ever set my eyes on, I didn't know angles dwells amongst human until I set my sights on you.
I consider myself the luckiest man alive to have a girlfriend like you. Every bit of you turns me on, from the strands of your hair to the sole of your feet.
From the sun that shines to the smile that's true, I wish you an amazing and unforgettable valentine sweetheart; you deserve the best this world can offer.
For Boyfriend
Here are some valentines wishes written specifically for a boyfriend. Need more messages, see valentines messages for boyfriend.
I used to think no man can reach the core of my heart, but there you sit, crowned as the king of my heart. I hope you'll reign there forever. Happy Valentine's Day adorable king.
Happy Valentine my love, I wish that we stay together, forever and always; even after death and the afterlife, we will be together. Romeo and Juliet will be jealous of what we share.
You are all I need for valentine, your lovely smile and your warm touch gets me thinking of what more you could do. I wish you a love-filled valentine.
My love, today is valentines day, but you know I feel that valentine's is always for us because with the vastness of our love we are celebrating every moment. I love you more each day, Happy Valentine's.
Celebrating this day makes me very happy because I know that my love for you is so great. I love you forever; I swear I am the happiest girlfriend in the world. Happy Valentine's Day.
Thank you for being the sun that shines on my face, the moon that kisses me good night, and my valentine, the one I want to share this special day with.
For Wife
Here are some valentine's day wishes for wife, you can send to your queen. For more ideas, see this list of valentine's day wishes for wife.
My dear wife, you are the greatest gift that life can give me. Happy Valentine Day.
Today I want to give you a bouquet of flowers, and show you how much you mean to me. Happy Valentine's princess I hope to make today unforgettable.
California to New York. Florida to Canada. London to Brazil. No matter where I go, I know that I can't find another woman like you. Happy Valentine's Day my wife.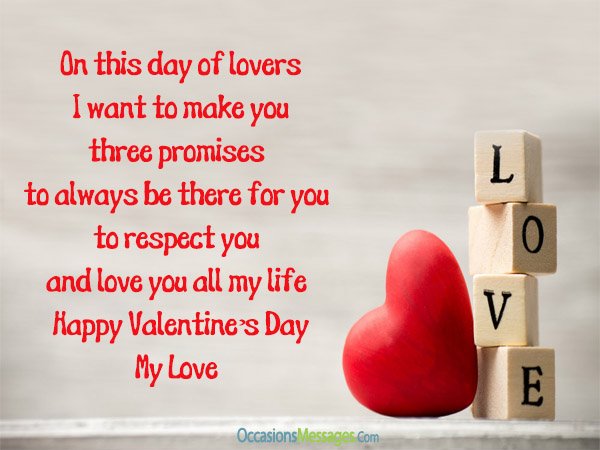 All the roses in the world can't be more beautiful than you. Your spirit is stronger and more genuine than a diamond. You are my wife, and I love you so much.
To me, our marriage is better than winning the Lottery. There's almost no chance of winning the Lottery, but what were the odds of me finding and marrying the most perfect woman alive? Happy Valentine's Day.
Like a blooming flower, each and every day I see more and more of your loveliness. Waking up to see your face is still the highlight of my day. Happy Valentine's Day.
For Husband
Here are the cutest valentines day messages designed to your special husband. For more, check out our list of best valentine's messages for husband.
Dear husband, I pray to wake up next to you every morning for the remaining period of my existence; I love you so much. Happy Valentine's Day!
Like honey, you are sweet and nourishing, and I am glad that you choose to stick with me in the long run. Happy Valentine's Day Husband.
This is our first Valentine's Day as husband and wife and I know that it will be better than any Valentine's Day in the past. I love you.
You don't just have a spot in my heart, you own all of it. My life is not just my life, it's our life. You are my husband, and we belong to each other. I Love You, Happy Valentine's Day.
From the day I said, "I do" all the way to now, I never once regretted it. I will love you today, tomorrow, and I will love you even after death. Happy Valentine my angel.
You are like a coat that keeps me warm, and shields me from the outside when I need you. You are like mittens, that do everything with me, so that I never have to struggle alone. I love you, my husband.