If you do not know what to write and you are out of inspiration, don't worry we leave you a list of several romantic wishes and messages for Valentine's Day that your girlfriend will love.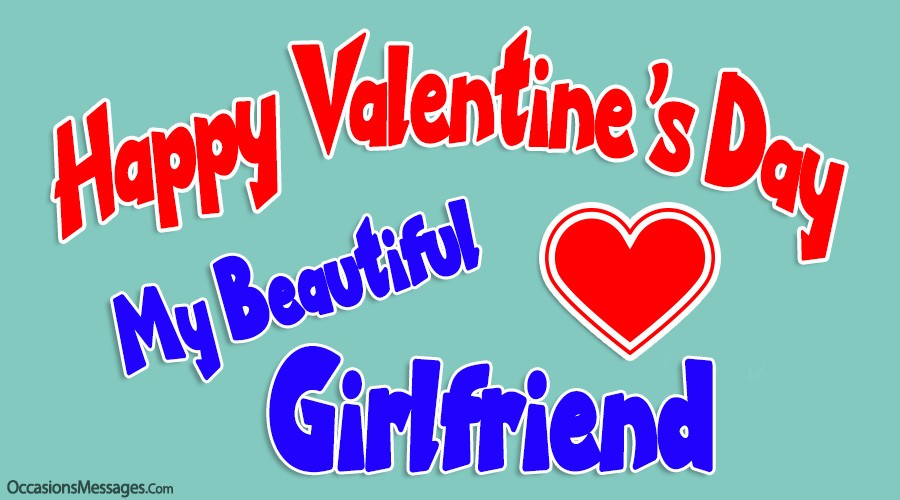 Send the following wishes and messages to your girlfriend to make her happy on Valentine's Day.
Romantic Valentine's Day Wishes for Girlfriend
You are wonderful and satisfy my life with this beautiful feeling, since I saw you I liked you and you caught me between the walls of your heart, you are beautiful and do not know how I adore.
When we're together I feel that i am prisoner of your love, I'm so happy that my life is in your hands you do not mind feeling that I am not free because I want to continue chained to your heart.
I have a very special place reserved in my heart for you and no one can take this place. May this evening of love brings laden of happiness in our lives. Happy Valentine's Day, my love, my girlfriend.
I never imagined how wonderful love is when one truly loves knows no egoism, you will always be someone important in my life, I always wanted to find, that come to my life is like touching the sky because it always seems impossible to have someone like you, now that I have not will never let you go of my life.
You are the bride I love and why I am willing to lose my singleness and freedom I always had before I met you, now I just want to live our love.
Since you became my girlfriend. I see life through the eyes of love, so I am glad that we love so passionately.
I made the best choice of my life to put my eyes on you, now I only live for you my queen. I love you. Happy Valentine's Day.
I do not need more tests to find out if your love is what I needed in my life, since we changed my life my girlfriend. Happy Valentine's My Love.
What I most want in life it is to accept to live together in order to awaken every day beside you and treat you like a queen.
How hard can be as simple as the heart and mind are in sync, I love you not only with the heart, I also do it with the mind. Thanks for being my great love
To me you will always be the girl who rules my life, just to hear your voice I feel that my heart beating so hard, I am a slave to your love. Happy Valentine's Day.
Sometimes I wonder if I'm living a dream. Because so far I cannot believe how blessed I feel about your love. Happy Valentine's Day.
When we are together it's like heaven on earth existed, came into my world to give me so much joy and love that I never split up.
It was enough to see once you awaken in me the purest sense of love, was enough to hear your voice to feel your words sounded like music in my ears.
From now on, everything I will do for you and for you because you are the love of my life and only live for you. Happy Valentine's Day My Love.
I love to feel your wet lips caressing mine and when you give me so tenderly drinking nectar that feeds our love every day.
I felt my life was dull and emotionless but now you are the engine that encourages me to be the happiest man because I have the love that you give me every day. Happy Valentine's Day My Love.
Love of my heart, I feel your every look is like lightning that goes straight to my heart. You are the love of my life.
I do not care whether there is anyone in the world more beautiful than you, I just know that I love you and I will always be around you, Happy Valentine's my girl.
all that matters is that we always stay together, no matter if we have problems, any storm we can overcome because no one can separate us. Our love will always be forever. I Love You.
I Never imagined it to be friends. Now that we are friends I keep thanking God for allowing us to be together and just pray that our love will always remain in our hearts, Happy Valentine's Day My Love.
For me there is nothing can measure my feelings for you because they are so big they cannot fit in my heart. Today I can say that life has rewarded me with the best girlfriend in the world. I love you so much.
When I'm with you I would give you my heart to know that everything beautiful that I'm living with you is real. I love you my princess.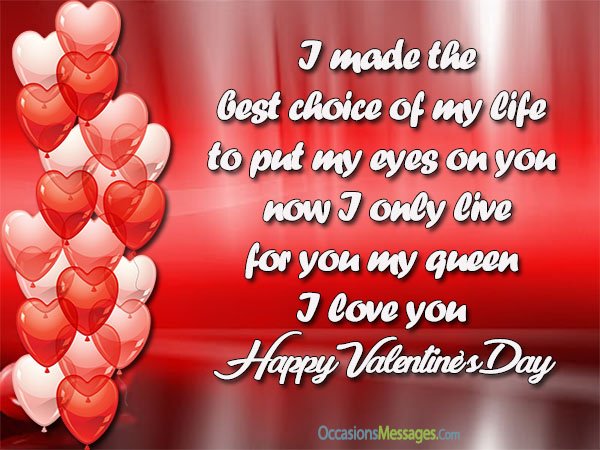 every day I express my love in many ways but everyone knows how much I adore you. Happy Valentine's Day my girlfriend.
I never met a person like you, with a huge heart, a look, simple and above all to love me as I am. Every day I feel my love for you grows more and more, happy valentine's day.
I cannot explain how happy you made me in the day you said that you accepted to be my girlfriend. That afternoon I felt I can touch the stars, I love you.
You are God's blessing firsthand. On this day I want to promise you, eternal love, always be by your side and walk together hand in hand on this road called life. I adore you and I will love you until the day I die. Happy Valentine's Day my love.
I Thank my life every day for all the joys and beautiful moments that you give me. You are my light that illuminates my path. I know that your smile is the best thing in my life, I love you my girlfriend.
I am living so many moments of happiness with you, I would like to stop time to stay with you forever. Happy Valentine's Day.
I am a believer and I think the Lord created us because we are made for each other and never let anyone or anything separate us. Happy Valentine's Day love.
You are a treasure that has been in my hand I will care, protect and love you forever.
I am very excited to know that we are committed as boyfriend and girlfriend to the next step will receive the Lord's blessing. I am looking forward this day and give you more than you deserve. I love you.
I am happy because of you. Because I have you by my side. Because you alone make me feel that everything will go well. I love you.
You are the girl who stole my heart and for that I adore you. I love your personality, I love you. Happy Valentine's.
I am thinking about you every second, because I love you. In the end, I will be waiting for you as always, I will be waiting to make you happy.
I would give anything to be with you now. I miss you and I hope to have you back in my arms. I love you my girlfriend.
I never thought I would fall in love as I loved you; I love you more than myself, Happy Valentine's.
Love was born in my heart because of you. I know how wonderful it is to love someone. I love you my girlfriend.
You are my love, you make me laugh without realizing it, you make me happy always, happy Valentine's my girlfriend.
I cannot imagine anyone more than you. When I see you my heart beats more, my eyes enlighten, I love you my girlfriend.
Since I saw you I knew you were for me. Since I kissed your lips I knew I would not go. These meant to be with me for the rest of your days.
When I see you, I see a beautiful girl that I want to spend a lifetime with. You captured my heart, I give you my love.
I never thought I'd find true love until I met you. Thanks for teaching me what love is, for showing that life is beautiful. , Happy Valentine's Day!
I am just happy to see you. Only with kiss I forget what bothers me and what worries me. You are the one that gives my life meaning and joy.
In my eyes only you exist. In my life only you have the key to my heart. My girlfriend. I love you, my day is not complete if we are not together.
You are the most important to me. If you need me, no matter what time or day, I will b there to support, care and love you.
I love you so much that I still remember the taste of our first kiss, the warmth of our first embrace, the perfume you brought that day. Happy Valentine's Day.
Only you inspire me to be better, not to lose, to keep climbing to reach my dreams. Thank you for loving me so much.
Since we're together, the days have become happy and wonderful days. Just because you're in them. Only because I love you. Happy Valentine's Day!
It may not be your first love, but I want so much to be the last. With you, I love you and do not want to miss for anything or anyone in the world.
Among all, I chose you and I am glad that you have chosen me too. My love has been reciprocated. My Beautiful girlfriend I love you, I will stay with you forever.
I fall in love with you every day we spent together, every time you smile, every time you look at me. I love you and I will never stop loving you.
Another girl like you does not exist in the world. So I take care, protect you and love you because I do not want to lose you, Happy Valentine's Day my love.
I cannot express in words what you mean to me. But I can only say, my heart beats for you, just for you, I know what love is.
I would do anything for you because you bring new meaning to my life. I hope to always be the one who makes you smile. Happy Valentine's Day!
Out of all the frogs you've kissed you have finally found me, your prince, I will honor and cherish you each valentine a million times over. I love you sweetie.
Having you as a girlfriend this valentine is definitely something I can be proud of, you are my home and the one I want to spend each second of my life with. I love you dear.
You are the best girlfriend in the world, you not only show me you care, you show me how much and you never get tired of it. Thank you for being my special valentine today.
Because you are cute, tender, honest and intelligent. For that I love you, Happy Valentine's Day.
The world wouldn't be livable without a smile as beautiful as your my girlfriend; you make things better from the sound of your voice, wishing you an unforgettable valentine.
There is nothing sweeter than your tender love, I dated other girls in the past, but none of them matches your personality. I am indeed lucky to be your Valentine.
Kiss is what makes me forget all the bad and leave it behind. Thank you for existing and for being part of my life.
I hope someday to change your title from my girlfriend to officially my wife, my life and the one I vow my devotion to. Happy valentines my queen!
You bring valentines a new meaning each time I celebrate it with you and with that I am assured it will be forever with us. Happy valentines my princess.
I can never be too busy to make time for you because every moment we share makes me a better man, today is Valentine so be ready to ride with me.
Today's valentine day vow to my girlfriend is that I will do everything within my power never to let her go. My heart has found where it belongs which is with you.
Your smile can heal a depressed mind that is a reason why I always like having you around; I cannot wait until I have you as my bride. Happy Valentine, Love.
Every valentine day is an opportunity for me to show you how special you are to me amongst other women; I have a blueprint of how I will spoil you silly.
All my activities are on hold for the next 24 hours of Valentine; I intend for us to spend today alone to make the best of the season.
Spending today's valentine with you is all that I have been thinking about all month; my friends say that I am a happier man because I have you in my life.
Most people thought you were crazy for falling in love with me; time justified that you made the right choice. I love you because you see potentials that others do not understand.
Happy Valentine's Day, Girlfriend, The importance of Valentine is to put a smile on people's faces and warm their hearts with love. I love you so much.
Dear Girlfriend, bear it in mind that I will always be your greatest supporter even on awful days. Happy Valentine to us.
I could not wish for another person to be my girlfriend for Valentine other than you. The influence you have on me is next to none.
---
You May Also Like:
Romantic Valentines Messages for Female Crush
Romantic Happy Valentine's Day Messages for Her
The Best Wishes for Your Wife on Valentine's Day
---