One of the most important events in the life of an individual is the day of his birth, the date on which we remember every 365 days that has led to the celebration of their day one again with a new age. Today we bring you a nice birthday congratulations phrases to devote your friend on their special day.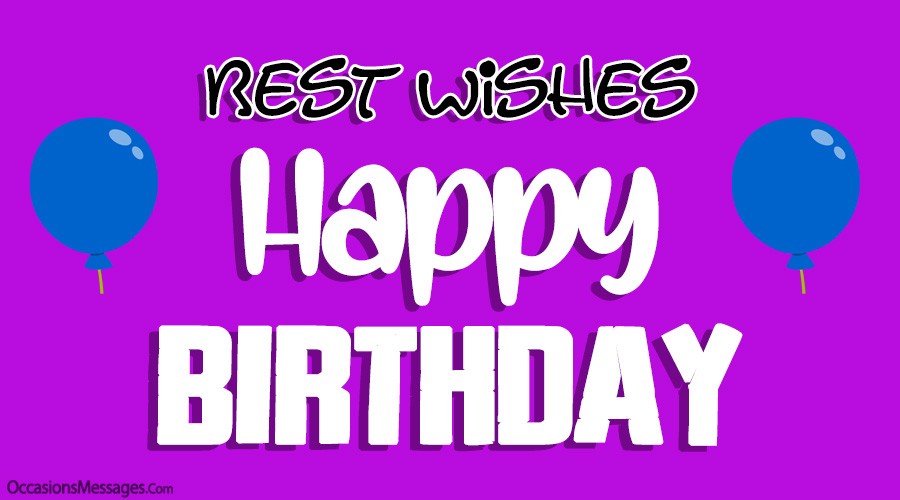 Do not forget that birthday greetings are better if they are accompanied by a beautiful greeting card, especially a huge hug and a big smile from ear to ear.
Best Short Birthday Messages
May the heart of the one I love always be young. I wish you a year full of love and happiness. Happy Birthday!
I wish that your birthday is as beautiful as you are.
Words alone cannot express the happiness that I wish for you on this wonderful day. Happy Birthday!
A lot of things are getting better year after year. You are one of them. Happy Birthday to you.
I wish you, a big smile on your pretty face, much joy in your heart and a life full of blessings on your birthday.
Today we celebrate that you're a year older, but do not worry because every day you're better than you were. Have a very Happy Birthday.
I have for you a special cargo of love, peace and happiness. I wish you a very happy birthday dear.
Dear friend, May you have the best day of your life. I wish you a Happy Birthday and I want you to have a very good celebration.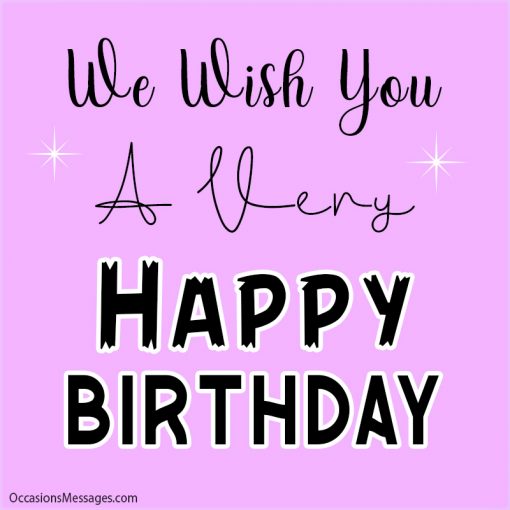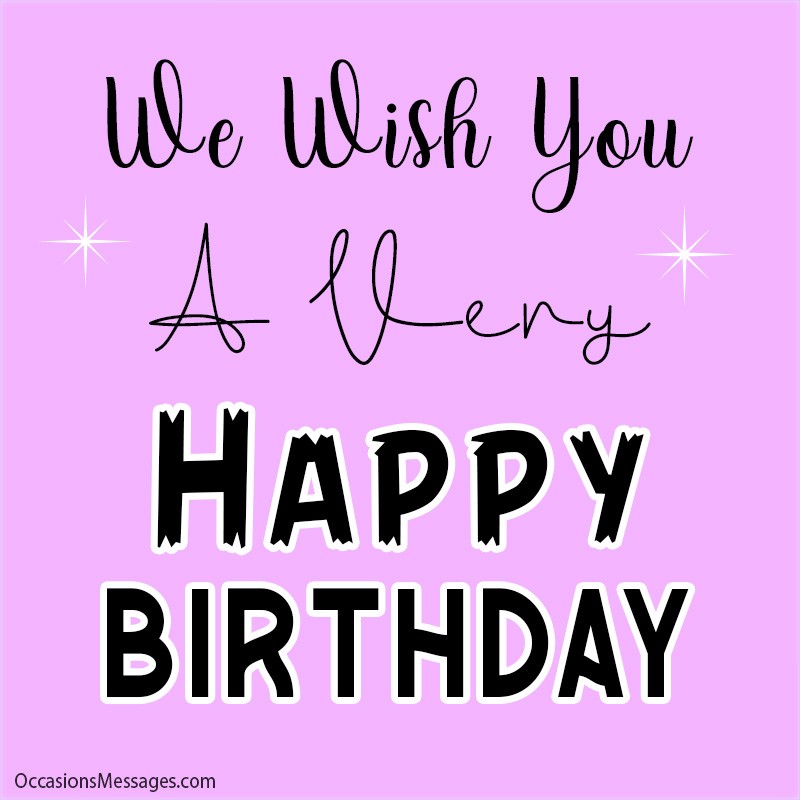 I wish with all my heart that you have thousands of smiles and may all your wishes come true. Happy Birthday.
It's nice to know that someone thinks of you, who likes you, who needs you; but it's amazing to feel that this person could never forget your birthday.
For your birthday remember that a smile is good for clearing wrinkles! Best wishes!
Regardless of the distance between us, I love you dear and hope you have a nice birthday.
Happy Birthday! I wish you all that you deserve: beautiful gifts, happiness, joy, and lots of money! You deserve the world at your feet darling
Happy Birthday my friend! I wish a new year of happiness and love. And also time for fun with your friends!
A wise man once said that a birthday is the only proof that we have the chance to live long. Happy Birthday dear, may you grow older than the hills.
The love and respect I feel for you is infinite because you really deserve all of it. Congratulations on your birthday. I wish you have a nice day.
My wish for you is that this day is the beginning of a year of luck and success! Happy Birthday.
I hope that today brings you enough happiness to draw that pretty smile upon your face that lights up my day. Happy birthday.
My wishes may be late this year, but I promise they will be earlier next year, a little sorry for this late SMS, Happy Birthday.
I was not the first to congratulate you, but I know I will not be the last to do so too. Happy Birthday to you.
We are far from each other physically but believe me; I feel so close to you because you're in my heart. Happy Birthday my love.
Happy Birthday. The best gift for me is you, but I send this sms to share this moment with you. Have a beautiful birthday.
Let this special day be the beginning of another year of happiness for you, Happy Birthday!
You're an excellent person whom I admire very much, I wish you a wonderful birthday and God bless you now and always.
I find that I cannot let such a special day like this pass without greeting you and wishing you all the best. Happy Birthday to you.
Happy Birthday! I wish you one thing for this anniversary! May you have a big enough breath for all your 35 candles!
I went to the museum this morning to see the antiques! It was great! Moreover, it reminded me that it was your birthday today.
Today marks the birth of the most beautiful, sweetest and smiling person! And yes it's your birthday! Happy Birthday! I love you.
I wish you have the sweetest birthday you've ever had. I send you this message with lots of kisses.
Happy Birthday to the person who made my life a wonderful romance. You are the love of my life. I wish you have a fabulous day.
May this new anniversary brings happiness, health and joy to your life! Not just today but every day of the year. Happy Birthday.
I hope you will remain forever a special friend as you are now … happy birthday heart. Love You so much!
I thought a lot about the perfect phrase for you on your birthday, but I chose this, to the most beautiful woman ever.
Do not think that the years pass quickly, but enjoy this day as thought it might lasted an eternity! Happy birthday.
Sorry I woke you up so early, but I wanted to be the first to wish you a Happy Birthday, to show that you're special and important to me!
A well lived today makes yesterday a happy memory and every morning a new hope. I wish you a life full of happiness. My most sincere congratulations on your birthday!
Today is a very special day for you … I miss you so much and I would love to be by your side if only to help you blow out those candles.
Here's a hug and a big kiss for you on your birthday. Congratulations and God bless you.
I love to share moments of joy with a special friend like you. Happy Birthday!
May God bless you and grant you many more years of a life full of happiness and love. Enjoy this day in peace and harmony. It's your birthday after all.
Today is your birthday and I want to congratulate you, if you throw a party you definitely have me as one of your honored guests.
Today we celebrate that there is a person as cute and cool as you in this world. Happy Birthday to you!
On your birthday I ask the Lord to grant you, today and always, a lot to smiles and loved ones with whom to share your life with. Congratulations on your birthday.
Each new dawn gives us another opportunity to fulfill our dreams. I wish yours to be transformed into a beautiful reality.
On your birthday I wish that you have the strength to overcome your problems and courage to face your fears, May you have the energy to be happy forever.
I can forget about many things but I can never forget the birthdays of those who are my true friends. Have a Happy Birthday. You are truly a true friend of mine.
You deserve a happy day and we can help you to do it. Happy Birthday! Looking forward to giving you the best day ever.
Congratulations! May you have an awesome birthday; you know that I love you, being the great person you are I will always wish you well.
The elegant words are not sincere, sincere words are not smart and that's why I just want to wish you a Happy Birthday, may your life be filled with great things!
Your friendship is so important to me that I wouldn't mind sharing another a thousand years with you… Happy Birthday to you my friend!
Today is a very special day; today we celebrate another year with you which comes with new opportunities for your wishes to come true and for you to enjoy new experiences, Happy Birthday.
I want to make this a special day for you, because you are very special to me. You have many more special days to deliver your cheer and joy to those closest to you.
Today is a good day for wild things, so try to spend the day doing wild and crazy things that make you glad. Happy Birthday!
The year is 365 days, but this day is special because it's your own personal day one, I wish you a very Happy Birthday!
Happy Birthday my friend!!! My best wishes go out to you. I hope you have a great day and that each of the things you crave, become a reality.
For your birthday, I send my heartfelt wishes. Remember: what is in the past and what comes in the future do not matter when we compare them to what we have within us; therefore, always believe in yourself for I believe in you.
The weather forecast for today tells us that there will be showers of blessings upon you, and a squall filled with the love of God will soak and fill your soul with joy.
May today be the best birthday you've ever had. Have fun on your special day dear.
I hope you get the most out of the day my dear; you are important to me, never forget that.
It's a beautiful day for a beautiful person who ages gracefully with each year that passes, enjoy your birthday.
May the angels sing a beautiful birthday song to you, one that will make your heart jump with joy.
Each birthday is better than the last that I am very sure of, have a birthday that will send a million smiles your way.
Every year you share your birthday with those around you. I want to thank you for being as cute as you are and i wish you a very Happy Birthday my dear.
Many people at your age are great, but none as great as you. You are a beautiful woman and I wish you have a great birthday to go along with your greatness.
A big hug of congratulations for the new year that starts your new chapter with a new age which I am sure will be full of health, welfare and triumphs next to your loved ones. Have a beautiful birthday.
A day like today someone very special with our fates intertwined was born and became the most valuable person in my life; I take this opportunity to congratulate you on your birthday mate.
Nothing makes me happier than to be with you once again, on this special day I wish we never fade but become bolder as we celebrate you.
Happy Birthday, I can't give you a better gift than the gift you have already given me. I value you forever dear.
Think of me when you blowing out the candles for each one of your desires. I wish you a year full of love, happiness and joy.
I know it's your birthday and I should not ask you for a gift but please just give me a smile to make this moment perfect more than it already is.
May the Lord bless you today and always. I love you dear, have a beautiful birthday.
On this particular day I want you to accomplish its task perfectly: blow 30 candles suddenly all at once, so that all your wishes come true at the same time!
From a scientific point we see a birthday as the first day of another 365-day journey around the sun! So good trip and use it well with every opportunity you get!
I know that words cannot replace a hug, but let them serve as a way to make my best wishes for your birthday hold you tighter than a hug.
You know you're always in my heart but today more than other days! Happy Birthday. I hope we get to celebrate it together this evening, I have a special surprise!
I can't wait for tonight to make this day the most unforgettable and most special birthday you've ever had. Get ready!
Today is your birthday and it's very nice for me for I get to share this day with you. We can celebrate and blow candles. Don't forget to invite me to munch on that beautiful cake that I know you will have baked to perfection.
Hoping that this day is happier than yesterday! I wish that the best things come to you this year!
From the bottom of my heart my wish you to you is that wherever you are and whoever you are with, may you spend a memorable day.
May this great year bring unto you favor that never ends and an uplifting that is divine. Happy Birthday friend. Enjoy it.
May you gain elevation that will shame those who never thought you could make it. Happy Birthday to you good brother. Stay blessed.
The deeper meaning of life is understood only when you go through it. Happy Birthday to you friend. May you enjoy life as you grow.
May this day bring you rounds of outstanding excellence as you celebrate your birthday.
Your starting point wouldn't be believed if people see what you have become today, you are an example of blessedness.
---
You May Also Like:
Birthday Wishes – Happy Birthday SMS
The Best Birthday Wishes for Uncle
Happy Early Birthday Wishes and Cards
---