A coach is not only a person who trains you to be better at whatever you are good at, they are also a friend who help you when you are in need. Do you have that favorite coach who makes your day wonderful? During their birthdays why not send them a little birthday message to appreciate them and make them feel special.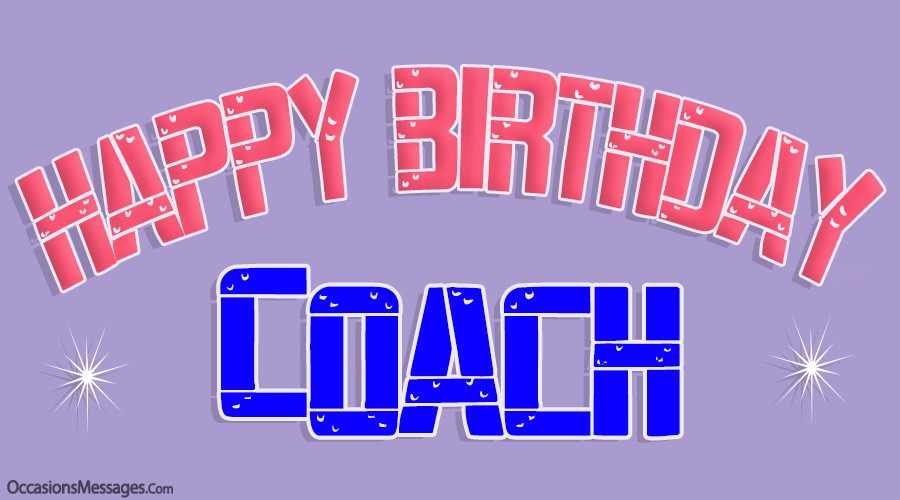 They are people who are part of your growth and as such a birthday message from you will mean a lot more than just words written down. Try one of these birthday messages to your coach and see a smile form on their face.
Birthday Greetings for Coach
To us you are one of the greatest persons anyone can meet. Because we draw strength from you on a daily basis to keep moving on in our profession. Happy Birthday coach. Love you big.
Your words are not just applicable to our profession, but it is applicable to life matters. You are a coach I would discuss my life matters with. Have a wonderful birthday special coach.
You said coaching us was an honor, but being coached by you is more of an honor to us, because aside being a great coach, you are a great person too. Have a beautiful birthday coach. Enjoy today.
You told us to always go out to play like it's the battlefield, you told us to give everything, then we will feel satisfied whether we win or lose. You're the best. Happy Birthday coach.
You made me understand the reality of victory, which is not just on results, but giving my best and my all. This has helped me to reach another level. Thanks so much coach. Happy Birthday.
Coaches are patient people, because they think about the players, but the players think about themselves. Happy Birthday wonderful coach, we all love you. Enjoy this special day of yours.
No player wants to agree with a coach about sitting out a game, but you made it clear that we must put the team first always. This has elevated our team. Happy Birthday great coach.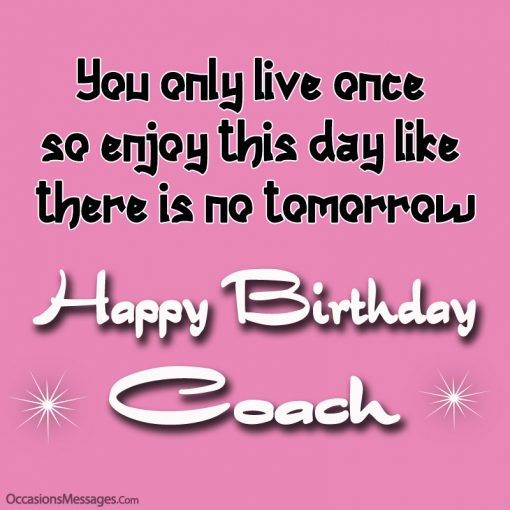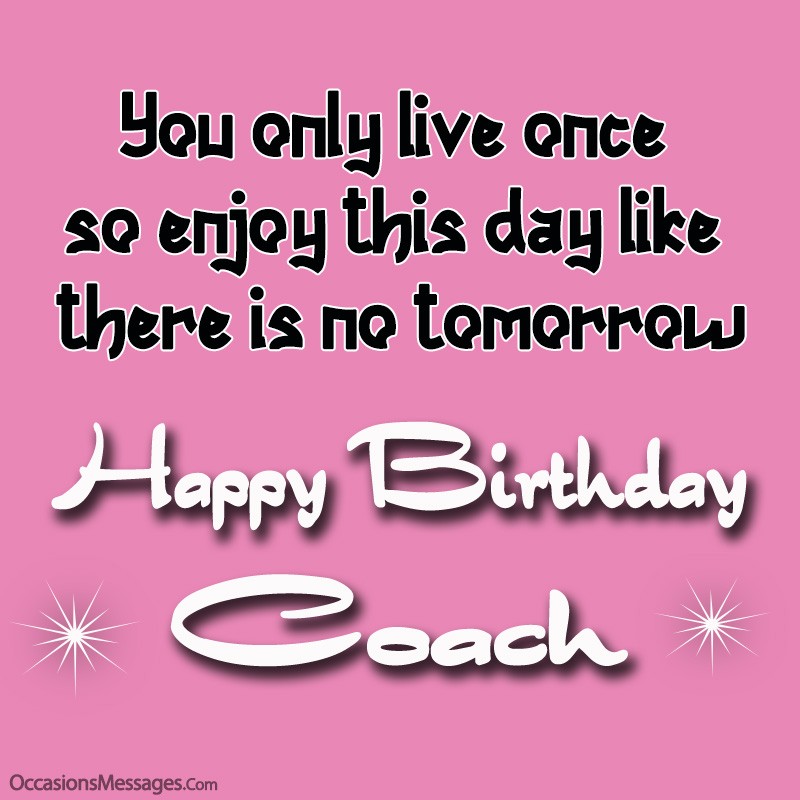 I really feel for coaches, because they suffer down the line for as long as the players play. It is really a scary job. Happy Birthday wonderful coach, I hope you'll enjoy today.
Your faith in us is very much, but it has helped us to aim higher and here we are today winning always. Thanks for the trust. Happy Birthday coach. Have lots of fun.
Coaches are to be appreciated better, because they take the whole blame for any woeful performance by a team and no credit for a great display. Happy Birthday great coach. Stay blessed.
You are a coach we all want to play for, at times we forget that our responsibility is towards the club, because you are just awesome and we don't want to disappoint. Have a wonderful birthday coach.
As long as you remain my coach, I am going to bring a whole lot of title to this club, you deserve it coach. Happy Birthday inspirational coach, there's nothing I wouldn't do for you.
We always derive satisfaction from giving our best every time we compete, because it feels good, because it gives peace of mind and because you told us so.
You never cease to come with different approach in the dressing room, in other to bring comfort to the troubled and to hasten the comfortable. Your kind of coach is rare.
I will always be glad for grabbing the opportunity to work with you; I would have regret it all my life. Happy Birthday coach. I miss you every day, hope we'll meet again soon.
Today you must do what others won't do, so tomorrow you will accomplish what others can't. That quote triggered us to the championship title. Thanks a lot coach. Happy Birthday. Enjoy the good day.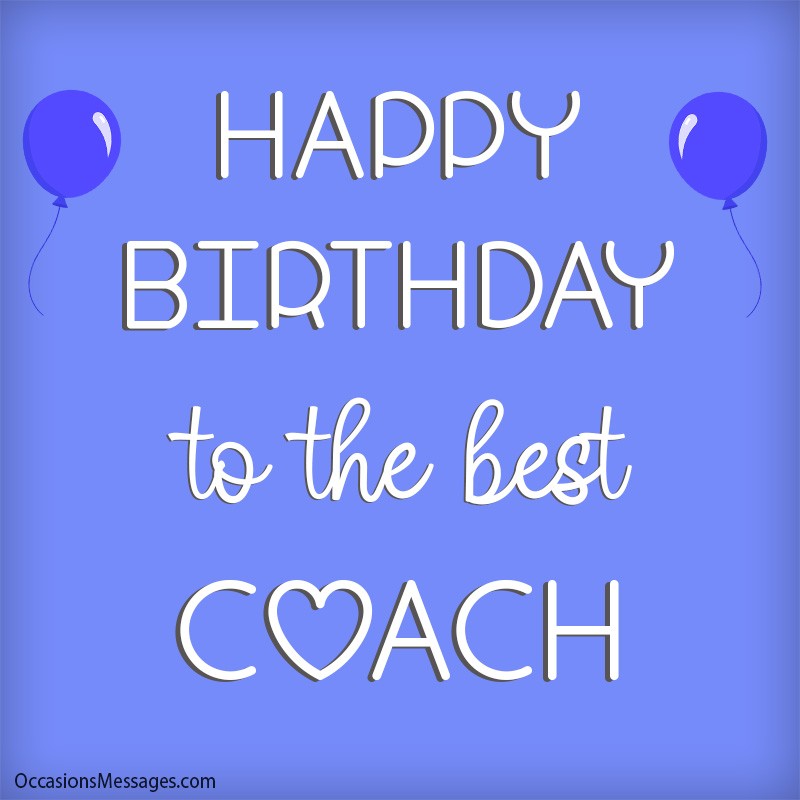 Despite all of this team's achievement, I can say the best is still yet to come because we have a coach who never settle for less. Happy Birthday coach, we will win for you at all cost.
My body often betrays me and it won't allow me to often give my best, but your words are enough to refuel me and bring me to my best. Have a glorious day.
We were never for once near the favorites tag, but here we are today with the championship trophy. You are the best source of inspiration. Have lots of fun today.
You are the best coach I have ever worked with. You never demanded for the kind of honor we gave you now, you earned it. Happy Birthday awesome coach. Enjoy this great day.
There wouldn't have been success in the team like we had now, if we had not trusted in you, our teammates and ourselves. You are horse of success that we're riding.
I want to congratulate you today coach, because you did the impossible by winning the hearts and soul of everyone in this club, your works will be remembered forever.
I can testify to this fact that your coaching skills are top-notch. You can bring in a cripple to your team and make him do well. You are so capable coach.
Happy Birthday coach, thank you for teaching us how to achieve success through perseverance, training and hard work. The lessons are well learned and put in practice. Enjoy your special day.
You carry the responsibility of the whole team till the point that we feel no pressure at all, you are a coach I wouldn't want to let down.
When legs are tired and the whole system is off balance, the spirit and the will to excel will bring about gate way. You are the best for everything we've shared.
I am a better player, thanks to my coach who told me to always compete with myself, then I will get very much better. Thanks a lot for everything, special and great coach. Happy Birthday.
Every coach has what they give priorities to, but it seems that the priority you gave to friendliness within the group is our magic touch for excellence. Happy Birthday coach. Enjoy and stay blessed.
Happy Birthday coach, there are moments when we come up against better opponents, but you told us to compete harder. Today we are a better team because of that. Thanks coach. Enjoy your day.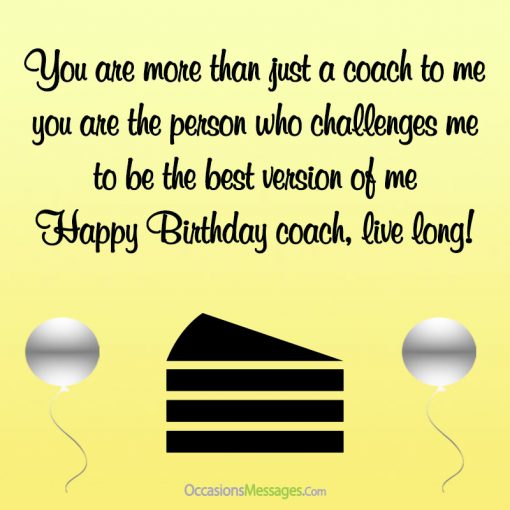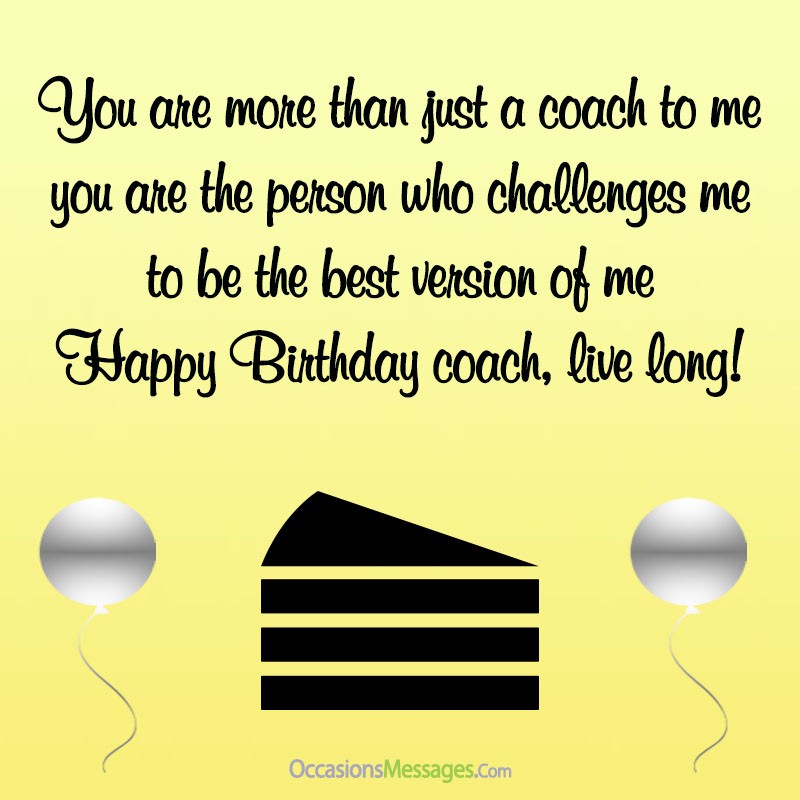 The moment you came around we were near shit, but you find a way around our minds and changed our poor and weakened mentality to a strong one. Thanks for your efforts. Happy Birthday.
It seems when other teams lose, they became weaker, but your attitude towards defeat made it impossible for us to become weak. We always come back stronger.
You told us obstacle will always arrive at every point in time, but we should always outlive it with a positive attitude. Happy Birthday coach, you're so much loved. Enjoy your special day.
Without you in my life I would lost, that is why on your birthday I wish you the very best as you celebrate this day. May you outlive your grandparent!
The best athletes are not made from the womb neither did they know they'll be, but hard work made them be. That's your favorite quote. It always works on us like magic.
Thank you so much for bringing us so much success during the time you spent with us here, we wouldn't have achieved anything near that without you. Enjoy this great day.
You have been here with us for just a short time, but we can already see your influence on everything we do, especially the unity we now have within the group. Have a great birthday!
Happy Birthday my dear coach, you have made me a better me. I can never repay you for your kindness and teaching, may you live longer to make other people great too.
Strong mentality and belief are the simple key to achieving the unthinkable. You have always given your best for us to succeed coach. Happy Birthday to you. Enjoy your special day.
You are the best coach to ever walk this earth, as you grow older, may you grow wiser and may lady luck always walk with you, you are amazing!
I love our lessons and I always look forward to spending more time with you, you are a great coach, mentor and friend and I appreciate you from the depths of my heart, enjoy your birthday!
You are more than just a coach to me; you are the person who challenges me to be the best version of me. Happy Birthday coach, live long!
You only live once so enjoy this day like there is no tomorrow, happy birthday dear coach, may the stars shine bright for you.
A wise man once said: push yourself to be the best, you have been helping me to do that and for that I am eternally grateful.
You are the greatest coach to ever walk this earth, happy birthday dear one, you are an amazing fellow and I wish to share more birthdays with you.
You are a person I will never forget, happy birthday dear coach, I will forever be grateful for all your lessons.
Thank you for being a coach after my best, you are a great person and you made it to my personal hall of fame!
Happy Birthday to the best coach who values the beautiful game but places more emphasis on the man management and well-being of the players.
My coach is an ideal example of a modern-day athlete; it is not surprising that he looks very young than the new age.
Coaches are of the diverse school of thought, mine takes high priority in the mental, physical and social well being of the athletes, that why we are happy for your birthday.
Your birthday party must be on the pitch because I would love to celebrate with an adorable coach who taught me a lot more than the game.
May your guardian angel always look after you, happy birthday my dear coach; you are a person worth each and every happy moment!
You occupy most of my happy memories, you have trained me, taught me and I don't know what I would have become if it wasn't for you.
There are moments when we were having a lot of problems in the team, but you made us realize the only way to victory is facing our problem. Thanks for everything.
We were a group of talented players but we didn't train better, but when you taught us to train harder, our talents came out shining. Happy Birthday great coach. Thanks for making us better.
Thank you for everything, you are in my heart forever and always, have a hearty birthday and may your birthday be extra special!
Celebrate, have fun and live long, happy birthday my dear coach, you are simply amazing!
Have a glass of wine, relax and let the day surprise you will smiles and cheer from all those who care about you. Happy Birthday dear!
You are the toughest person I know of and I wouldn't want anyone else to coach me. Happy Birthday dearest, you will always be important to me!
May you grow to be older than methuselah, you are my inspiration and someday I want to be better than you. Have fun on your birthday!
Happy Birthday dear coach may this day be filled with joy, laughter and great company. You are a legend in my eyes!
You make me a better player, a better person and make me make use of my free time in a productive manner. I hope your birthday makes you a better version of yourself coach.
May every coach out there look up to you, you are strong character and faith and I hope you have a great and unforgettable birthday. You were truly born a legend.
May every wish you place today come true, may you have a great time as you celebrate your birthday and may all your friends and family remind you of your greatness coach.
May this day be another blessing to your beautiful life, have a great and amazing birthday my dearest, you are loved.
You can't begin to imagine how glad I am that I get to share this day with you, have an amazing birthday my dear, you are a blessing to me.
May this day make you glad, happy and jovial; you have a great smile and seeing it always make me happy to know you.
Your support for me during my ditch in form surprised me a lot, and that made me vouch to sweat out blood for you to bring you victory.
---
You May Also Like:
Happy Birthday, Father! | Best Wishes for your Dad
A Long List of Birthday Wishes for Boss – Unique Collection
---