Happy 45th Birthday Wishes: I always say, the older one gets the more they have to live for, doesn't it feels so. Each birthday we accumulate so much and each year it grows as we grow that is why it is important to share special times with that special someone. 45 is not really a bad age, it is a cheerful age, it is the age where you have almost seen 50 years of evolution, 45 years of fun, growth, knowledge, wisdom, and so much more. A 45-year-old should be reminded to live each day with so much at heart. Send a 45-year-old one of these happy 45th birthday messages and remind them of that.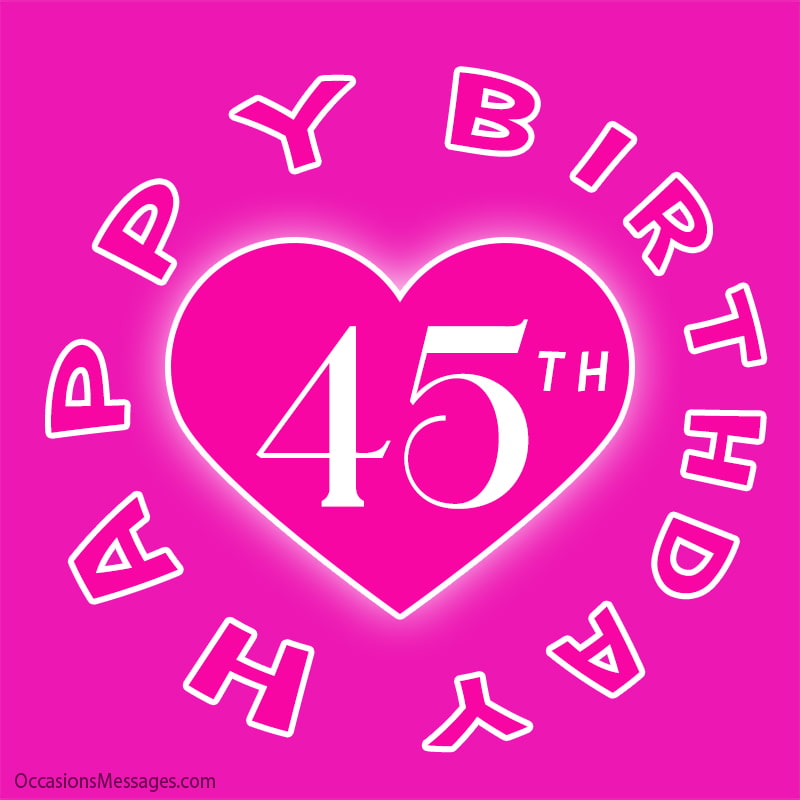 Happy 45th Birthday Wishes
Happy 45th Birthday. I wish you lots of happiness and joy.
Wishing your birthday brings a lot of joy and pleasure. Happy Birthday, 45-year-old!
Happy 45th birthday to my sweet lady who still looks like 25.
Move your body shake your hand; enjoy the party till the end. May this birthday give your life a bend. Happy 45th year.
Wrapped all my hearted wishes with the bouquet of flowers sending on your 45th birthday. May you have a wonderful life.
I wish you a long and happy life, you may be turning 45 today but I have faith you will live longer than anyone here. Have a great birthday!
Happy Birthday, 45-year-old! Be happy and enjoy your life, no matter how old are you.
It's your day so get on those dancing shoes and feel young, you are only as old as you feel. Happy 45th sweetheart!
happy Birthday, Forty-Five! May this year bring you as much happiness and joy as you've given to everyone around you.
May 45 be your year, may all the good things that you have been waiting for happen for you.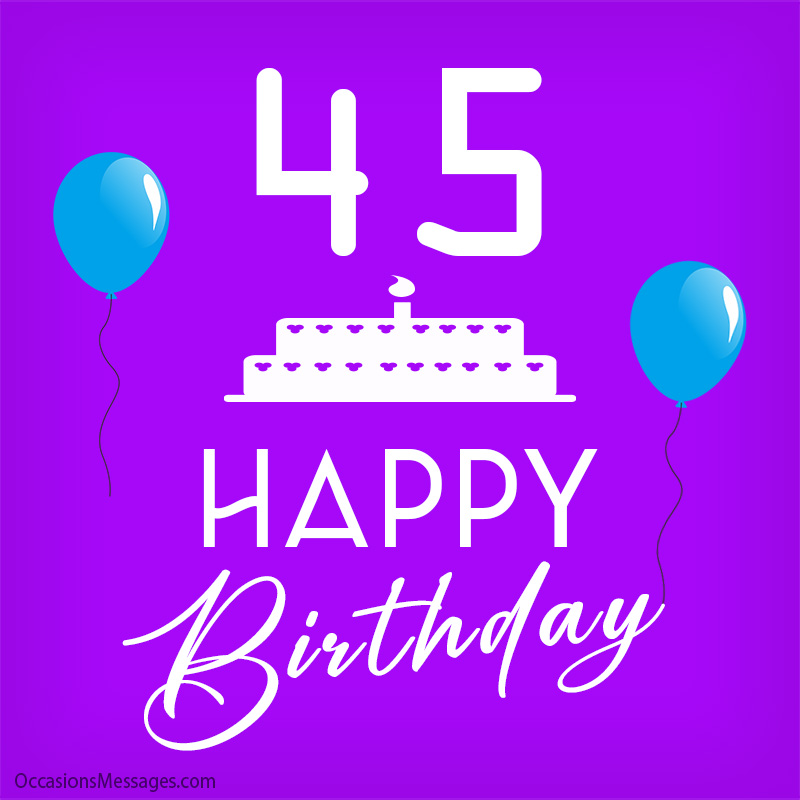 Happy 45th Birthday. I hope to forever see you smile, hearty, happy and grateful!
You are the only one I'd love to sing happy birthday to no matter the age. Happy 45th Birthday, blow out the candles and make a wish!
Enjoy your life. You are the sole owner of it.  May your 45th birthday bring you a lot of happiness and joy.
Have a wonderful 45th birthday full of blessings love and cheer, you are a great person and we love you so much!
Happy 45th Birthday. You are a role model dad, thanks for everything.
It's a great blessing for me that I have a friend, a mentor and a loving brother like you. I wish you live a long happy life.
Happy 45th Birthday! May your day be filled with laughter, love, and memories that last a lifetime.
Happy 45th Birthday love, you make the sun shine brighter each year you are with us, have fun my dear!
You are turning into an old geezer; you will forever be the one I look up to. Happy 45th Birthday my dear!
I am so lucky I have a handsome man with loads of superb qualities. Thank you for being my life partner. Happy 45th Birthday.
I care for you deeply and hope you always are happy, as you turn 45. I hope you will count your blessings and see how lucky you are!
Happy Birthday. Wishing you a soothing life with full of love and happiness.
We said forever and always, no matter the age; you will always be the one I will run to. You are my safe zone. I love you my 45-year-old!
You are just 5 years forward to complete your half century. May life give you unlimited pleasure and blessings ahead.
People Also Read: Best 90+ Birthday Messages for Grandmother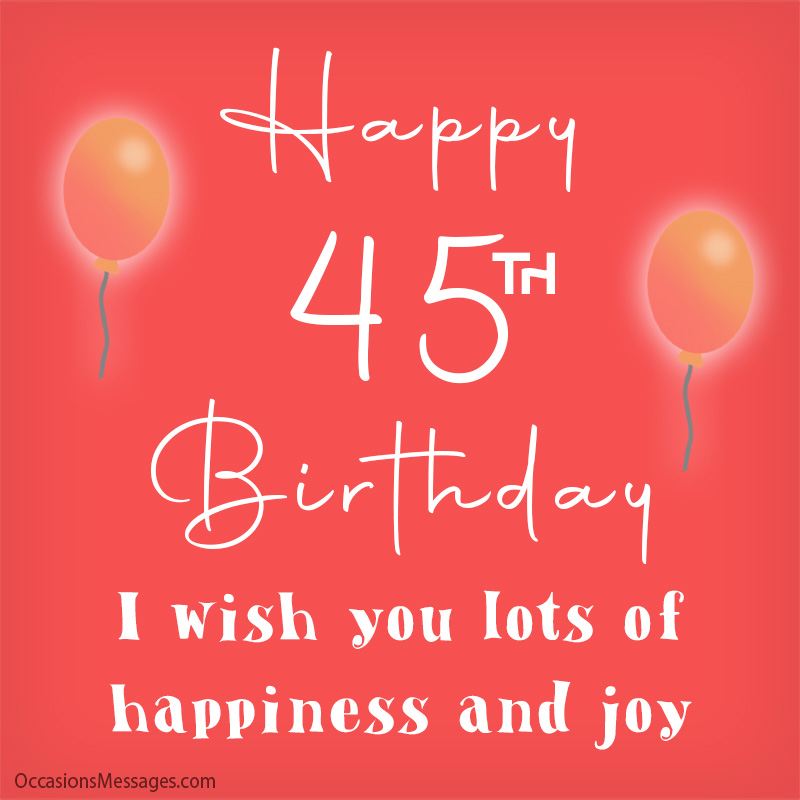 Happy 45th Birthday daddy. Enjoy your special year with good health and sound mind.
It is a special day for someone who is now 45-years old, may this day give you enough reasons to stay cheerful.
I appreciate you each age you turn, I love you and there is not a 45-year old I love more than you. Be blessed sweetheart!
Experience comes with age. No matter you are getting old but your wisdom and knowledge are also growing. Wishing you very happy 45th birthday.
Happy 45th Birthday! It's not just a number, it's a celebration of all the wonderful moments you've created. Here's to many more!
Keep your mind normal and be happy. You will look more younger and amazing. Have a nice day.
I'm so glad for you Dad; it's a great day to celebrate your uniqueness. You have never cease to show us your support. We love you. Enjoy the 45th quest of thy life.
You are the true identification of love and blessings. It's an honor for me to have you in my life. Happy Birthday.
You have a great mindset and I love to share ideas with you. Wishing you a lifetime happiness. Happy 45th Birthday.
Happy 45th Birthday charming Dad. You are such a dear man to the heart of every one of us, your children.
Happy 45th Birthday great mom, it has been discovered by researchers that birthdays are good for people, the more they celebrate, the longer and happier they live.
Live today like there is no tomorrow for we never know what tomorrow hold but today, we celebrate a new 45-year-old legend. Hearty birthday!
Having to witness your child turn 45 is surely a blessing; you will always be the one who owns my heart. Hearty birthday sweetheart!
On your 45th, remember you're not getting older, you're getting better! Wishing you a year filled with bliss.
I will love you not just for a lifetime but for eternity. I'm so happy to be involved in your life. Happy 45th Birthday dear wife.
45th is the age of life's settlement. And I am glad to see you as successful as I want to see. Wishing you a very happy birthday.
Read More: Top 50+ Birthday Wishes for Coach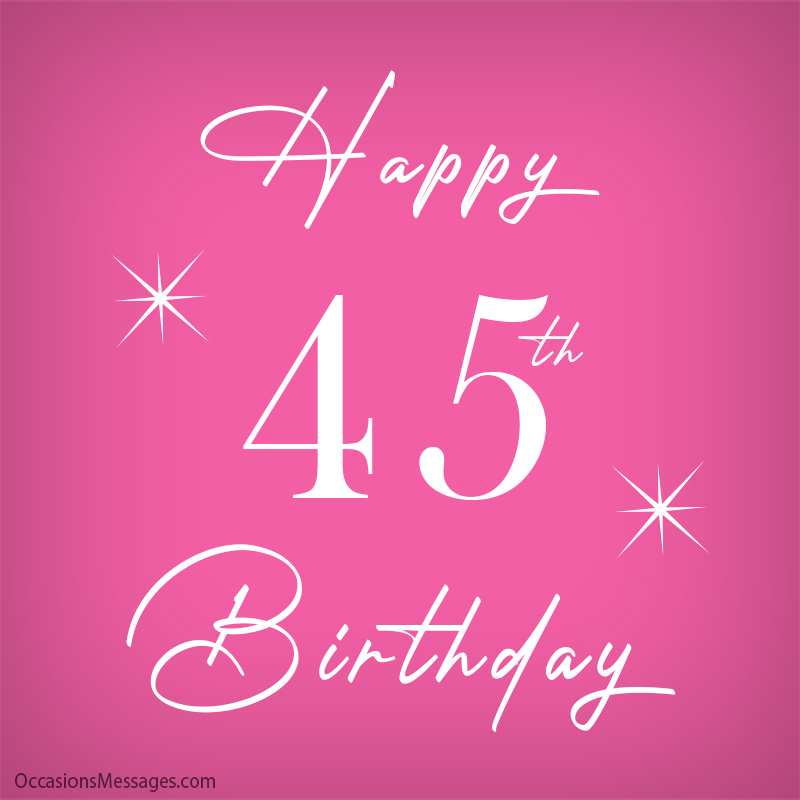 Your 45th birthday was planned for you since the moment we met, I knew I would spend forever with you and celebrate you each and every day. I love you!
As ambitious children, it often looks as if we forget our parents, but it's not true, we always have them in heart. Happy 45th Birthday to the woman who sacrificed a lot for us.
I can never compare you to anything or anyone for you are all I need and more, may this 45th birthday be filled with amazing and beautiful memories!
Happy Birthday! May your birthday be as wonderful and unique as your journey has been so far.
A man who has a heart for every of his children, you'll never let anyone of us wonder away, you are a man with lots of love. Happy 45th Birthday dad. Remain in good health.
Love is beyond all its limits. I love you from the bottom of my heart. Have a great 45th birthday, my mom.
Your gentleness is the direction of your open heart for everyone. I wish I could have the generosity and way of living like you. May you have the wonderful 45th birthday.
Life is so conspicuous that the old ones want to become young by every means. Hehehe. Dad no matter how much you visit the gym, you'll never be younger than me.
I love your good sense of humor. It makes you different and handsome among all.  Wishing a very happy 45th birthday. May you have thousands of events.
Grey hairs are really bad for people who want to look forever young, but it seems you have beat that somehow. Lols. Happy 45th Birthday dad. Grey hair are still on the way. Hehehe.
Happy 45th Birthday! May your day be filled with surprises and endless opportunities and happiness.
May this 45th year becomes your favorite year and by the blessing of your birthday, you get everything what you aspire.
I feel blessed being here and celebrating yet another birthday with you, my wish for you is that you may gracefully on this 45th birthday!
I understand your birthday is a special day with or without me. But you are one of the best friends I ever had. Have a nice day.
More Options: Happy 50th Birthday Wishes and Messages
Last Updated on November 20, 2023
SHARE ON