Birthday Wishes for Boss: Boss's birthday is one of the few times that people working in the same organization or company get to have a little bit of fun with their superiors. It is also a great chance to appreciate them and show that you care about them personally but not just as "boss and worker" relationship. As they are also humans with an emotional side. Here are some great examples of birthday messages and wishes you can send to your boss on his/her birthday.
 Birthday Wishes for Boss
Happy Birthday, Boss. It's a pleasure to be under your leadership.
Happy Birthday Sir! May God grant you more wisdom to lead us alright.
You are the coolest boss I've ever known. Wishing you a happy birthday and a long prosperous life.
If all bosses are like you, loyalty would be a thing to find everywhere. Keep being good, we love you for who you are boss. Happy Birthday.
Happy Birthday dear boss! May this day bring free lunch to us all.
In another life, I'd still love to have a boss just like you. I wish you a happy birthday and a fruitful life ahead.
Happy Birthday boss! You are a great leader, a true mentor and a good observer.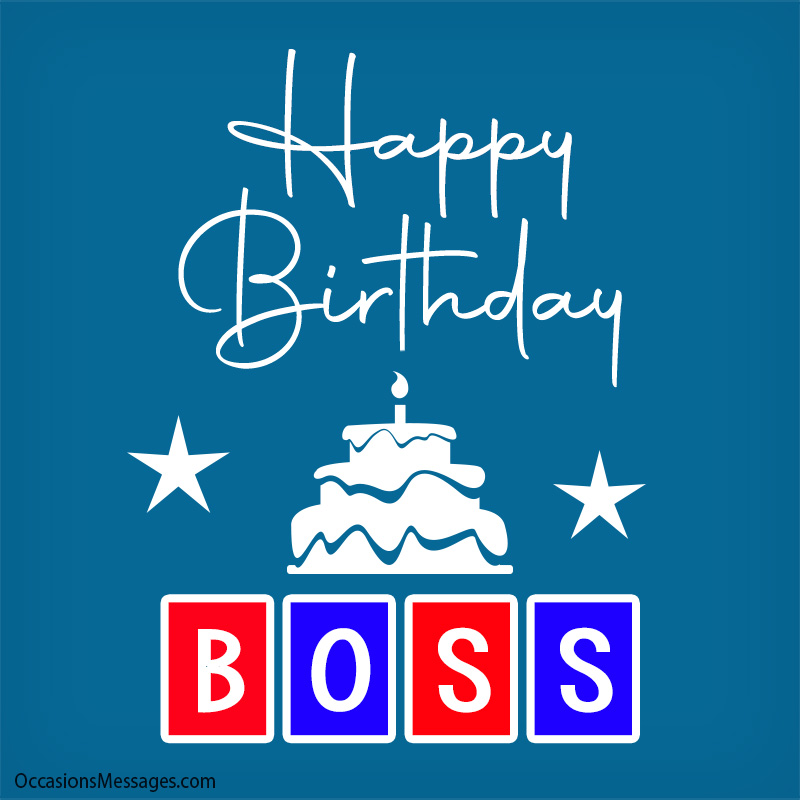 Happy Birthday. You are an awesome mentor and I am proud to look up to you.
I've never been so cautious in writing birthday wishes until now. Trying not to say anything to get me fired. Hehehe, Have a beautiful birthday.
Happy Birthday, dear manager. I hope your special day is as amazing as you.
With a wonderful and a rare leader like you, it is fun to work even on the most difficult task. Happy Birthday Boss.
Happy Birthday to the man who is bold, brave, charismatic, courageous, dedicated, mindful, and thought-provoking, who always keeps a flow of trust to his employees.
On a beautiful day like this I hope you will give us all a day off. Heheheh. Happy Birthday great boss.
May this company reach new heights through your leadership, and may you have a long life with good health to continue the good work you have started.
Happy Birthday boss. I am proud to work under your management.
I have learned a lot from your experiences, you are a true leader with positive leadership qualities. Have a wonderful birthday Sir!
Happy Birthday, Boss.  You are a great mentor and an awesome leader. May this year bring you more joy than you've ever known.
You are a great boss and we are all blessed to be sharing your birthday with you. Enjoy each second of the day and I hope every wish you make comes true today.
May the love and blessings from the Almighty increase for you as you turn a new age dear boss, you are a blessing to us all and we wish you the happiest birthday!
Dear Sir, thank you for teaching me that being a boss does not mean being bossy.
With you the work environment is so pleasant and enjoyable, now everyone love what they do, may you continue to grow in wisdom to achieve more.
Related: Best Birthday Wishes for Colleagues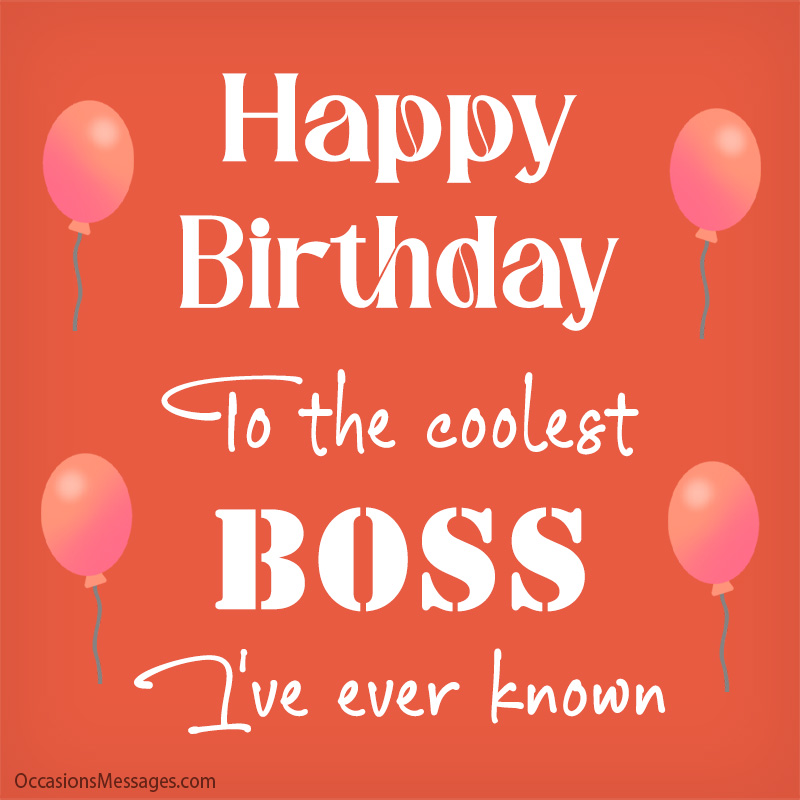 It surprises me that everyone works hard to satisfy you. It shows your irrevocable importance to this company. Happy Birthday to you.
Happy Birthday to a great man that is not only respected for being the company's boss, but respected for being a good person to everyone. I am your number one fan.
From your leadership, I've Learned that it's not about how high you stand as a boss but how low you can get to the people that world around you. It's a pleasure to work with you. Wishing you have a nice day.
Happy Birthday wonderful boss. May your celebration today bring you all your heart's desires.
I can say that I've been lucky to have spent some time with such a wonderful boss like you. Your kind of life is an example to follow. Happy Birthday boss.
This is to wish you a happy birthday and tell you that you deserve to be a boss. May you live long and keep the spirit of inclusive leadership alive.
Your success is all about growing your employees. Have a stunning birthday great Boss!
You have an inspirational personality and thoughtful mind, everyone would get inspire after going through your dedications. Happy Birthday, my greatest boss.
A boss that so much care about the workers under him is difficult to find, your kind of heart is golden, no wonder we all love you.
Your honesty and loyalty enthuse us, your struggling attitude encourages us, and you made yourself exemplary for all of us. We really enjoy working with you.
Thanks for giving me a chance to do what I really love and live my dream. You are my hero sir. Have a happy birthday and may you live to see the boss I become.
Your dedication to work and your employees are a reflection of yours. Your honesty and the ethical behavior is the key value of your personality. Happy Birthday, Madam!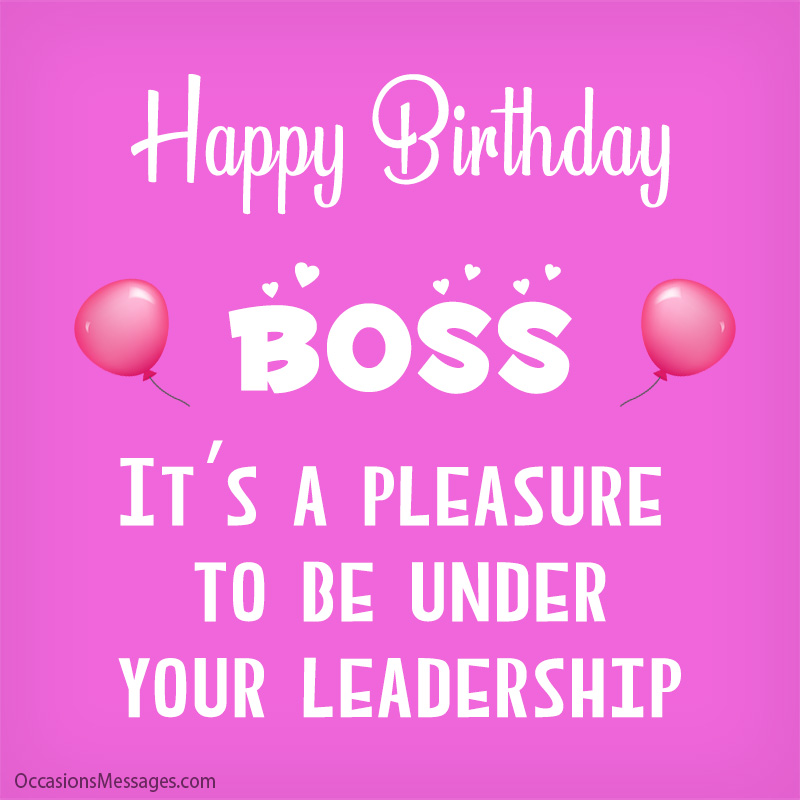 Thanks for taking a chance on me when I didn't even believe in myself. I'll always treasure you and hope I pass the same kind of skills to others. Happy Birthday sir.
Seem the only thing left to do to get a bonus is to wish you a happy birthday. Hope you put this into consideration. Have a blast and hope I live to grow as wise as you are.
Happy Birthday, sir! You always find out the qualities and abilities of each team member what he or she loves to do most and then capitalized the tasks.
Your work speaks the language of your leadership qualities. You are an authentic and passionate boss. May you enjoy every moment.
You always raise up your confidence level and make assure to every member of team that hindrances are usual and the main thing is to concentrate on the attaining the essential objectives. Have a gorgeous day.
Happy Birthday to our great Boss. You always keep motivating your employees towards the success.
A boss like you, who takes the front role in every challenge will surely window the heart of every worker. We celebrate you sir.
Birthday Wishes for Retired Boss
Wishing your retired boss a very happy birthday is important. Here are some cute birthday wishes and messages you can send to them.
I have worked with only one boss that is so hard working and committed and that is you, I hope you will enjoy your rest now. Happy Birthday.
I can't thank you enough for all the guidance that you have provided. Happy Birthday boss. You have been the biggest part of my success and I wish you the best.
You worked so hard that everyone knows that this company became great because of your endless sacrifices. May you enjoy your retirement very well. Happy Birthday.
Rest is so sweet after labor, may you enjoy your rest with so much of joy and happiness. Happy Birthday sir, the company will miss you so much.
I will always look up to you, admire you and love you even after you have retired. Have a hearty birthday boss.
More Options: Best 60 Birthday Wishes for Principal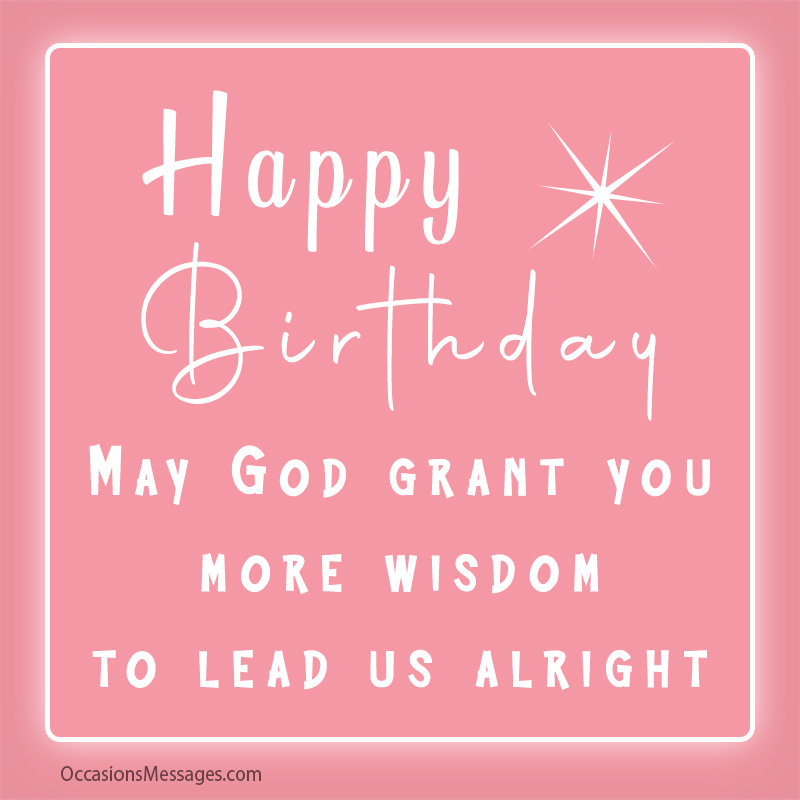 Happy Birthday old timer, you are retiring and I bet you can't wait to spend all that free time doing what you love most. Enjoy yourself sir.
It's your birthday. I hope you enjoy each and every minute of this day and all the good things planned for it. You are amazing old timer, enjoy.
Happy Birthday! This is going to be an awesome time even though we have to say goodbye. Let us end it on a high note.
Now that you have reached the climax of greatness in your professional career and achieved a lot, it is time to rest. May your retirement be enjoyable.
The rigor experience you have had during your working days deserves the best of rest. May you enjoy your rest and may you find every bit of it lovely.