Any girl at any age with a dad knows she is daddy's little girl no matter the age difference, distance or respect and that is why, when their birthdays come around the one most expected to send a birthday wish is the father. Birthday wishes are a unique way of saying what you mean and saving it forever on a piece of paper or text, it is unforgettable.
Lucky for all the dads out there, these birthday messages may help you say what you mean to your little girl thus, putting a big smile on her face, after all, isn't her smile the most important thing on this special day? Don't be shy, send her one of these and see her day turn out to be one of the very best.
Birthday Messages for Daughter from Father
The sun shines brighter today. The breeze blows cooler today. The stars would come out with their blessings. They are all celebrating my daughter. Happy Birthday to you dear and Glory of my life.
Having a good daughter is one of the greatest accomplishments in life. Having a strong and beautiful daughter is the great asset. Happy Birthday daughter, you're great in all aspects.
Darling daughter, today you turn a year older and today I add one more year of loving you, holding you and you being daddy's little girl. Love you always.
You're more light to my already lightened world. You're the smile on my face. You're the power behind my back. You're my daughter and my life. Happy Birthday to you….dad cares a lot.
My beautiful daughter turn a new age today and all I can do is thank heavens for making me a father of such a fine young woman. Hearty birthday!
Dear daughter, you're the best I'd ever seen. I know you have a greater future ahead. Your birthday is so precious to me that I'll never forget to wish you happy birthday.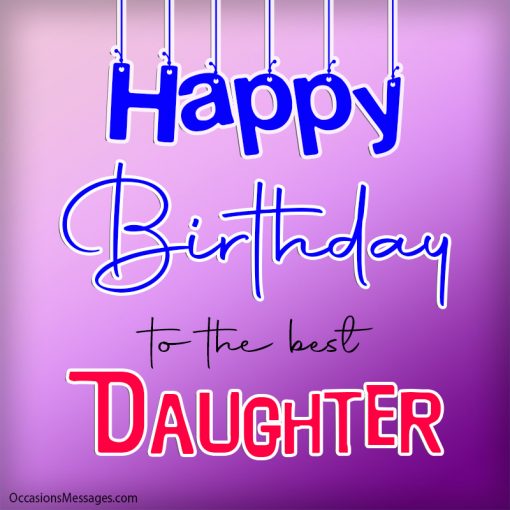 The joy of a father is having joyful children who will also be joy to the world. I have a daughter in you who's a joy to the world. Happy Birthday my sweetheart. God bless.
Today marks another year of me being a father, a friend and mostly increased pride to have a daughter as strong as you. Have a cheerful birthday!
Happy Birthday to you. Even if words can't describe the perfect love I have for you. Still I won't hesitate to wish you on this special day of yours. Remain blessed always.
Today reminds me of when you were just a toddler and now, you are growing to be one of the most beautiful women in the world. Love you daughter, have a jovial birthday!
When they put you in my arms dear daughter, I vowed to be the man you'd be proud of. I wish to give you lots more. May you grow older and wiser today!
May your days be filled with laughter and joy. May you touch many lives and be the savior of your time. Happy Birthday to you my glorious daughter. You are the amazement in my world.
Looking at the past, I could see you're better today by a wide margin. Looking at the future, I could see you'll be better than today. Happy Birthday my girl. Dad loves you a lot.
You are my pride and joy dear daughter and there is nothing more important to me than you. Happy Birthday daddy's little angel!
Keep smiling because the world has a special gift to give you. Keep smiling because you're a special gift to the world. Happy Birthday my Lil damsel daughter. Dad can't do a day without you.
All I ask for you today is long life in prosperity. All I ask for you is more wisdom to deliver than expected. All I ask for you is that you'll celebrate more years. Happy Birthday to you.
I will always be the man you can come home to because with me, your home is the special place I hold in my heart for you, have an unforgettable birthday sweetie!
May nothing ever come between our bond my little princess. Daddy is always going to be here for you, hearty birthday my lovely daughter.
I've been your father and you've been my daughter. Although we fight yet we are still best of friends. I could never have asked for another daughter. Happy Birthday. Have a blast. Love you.
I always have every reason to be happy that you came through me. You're a daughter worthy of emulation by other young girls out there. I'm wishing you a happy birthday in good health.
Happy Birthday my dear daughter. I'll like to tell you that I love the girl you were. The lady you are and the woman you're becoming. Can't wait to see you at the top.
Since the moment our eyes met, you made me want to be the best father to my little princess, I hope so far so good. Make many memories on your birthday today!
Each day I thank God for you, you are the best daughter any parent would ever want and I am glad to be part of your life. Happy Birthday daddy's little queen!
Dad will definitely give you a befitting kiss today like he's been doing. I'll buy you a gift as usual but I wouldn't like not to say. Happy Birthday. I love you so well daughter.
Yeah! Another year is added to the previous' years of my little girl. You're plus one today and I'm sure you'll be multiplied in all good ways. Have a great celebration today my daughter.
Will you like to know the best daughter in the world? It's no one else but you. You're the best and will forever be. Happy Birthday to the world's best daughter.
Bloom to be the best and the rest shall follow my dear daughter. This birthday will definitely out rank the rest because daddy's going to get you the best!
You've been making me proud all this while. And I'm sure you've been making the world proud of you. Dad loves you and you have to know that always. Happy Birthday exceptional daughter.
Your smiles have been rejuvenating. You have been a great support. So shall others make you happy too. Smiles shall never depart from your face. Happy Birthday.
You're not just my daughter, you're my joy. You're not just my joy, you're my love. You're not just my love, you're my everything. Happy Birthday to you dear daughter. Enjoy your special day.
A good name is better than gold. A good daughter is better than thousands of bad daughters. Happy Birthday to my wonderful daughter. You mean the world to dad. Cheers.
You are one of the most amazing kids out there; I say this because I see what's inside of you grow each day my darling daughter. You make daddy proud happy birthday!
Each morning, evening and every night there is only one person in my mind, you my darling daughter. You are daddy's precious jewel, hearty birthday!
Daddy will always be here for you for all eternity, for whatever you go through good and bad, you don't have to be alone. Have a spirited birthday my daughter!
I love your smile, the warmth you bring inside and everything that defines you my dear daughter. I hope this birthday increases all of that, from papa.
Having you around is a blessing on its own. Seeing you smile is a joy on its own. And celebrating your birthday with you is a dream of mine as your dad. Happy Birthday daughter.
If I should take you to the sky, it's not enough. If I should buy you a limousine, it can never express my love. But I'll simply tell my daughter. Happy Birthday. Love you.
I love you to the moon and back and hope your birthday is the best! I am only your dad but to me, you mean the world and so much more my darling daughter!
I have your heart, and I will keep it with great care and gratitude. You have been a great help for me. Bliss shall follow you all through your new age. Have a glorious birthday.
---
You May Also Like:
The best 200 Happy Birthday Wishes for Daughter
Amazing 3rd Birthday Wishes and Messages for Kids
---