Happy 8th Birthday Wishes: Turning a new age is always such an exciting feeling, especially when it comes to the part where you open your gifts, do you remember that part as your 8 year old self? I am sure a birthday message may make you recall that amazing and fun filled time you had celebrating your 8th birthday. Birthday messages go a long way in reminding someone special about the special time you shared with them during their birthday, if you definitely remember your 8th birthday, then send a birthday message to that special 8 year old to wish them a grand and spectacular time as they turn that new special age. Use one of these messages here to make sure they will always have a piece of the day with them forever.
Happy 8th Birthday Wishes
Here are some cute list of happy 8th birthday wishes for someone turning 8.
Because it is your birthday, I am sending you a pack of chocolates and goodies just to express how much I love you. Happy 8th birthday to you.
How amazing you are, you were born after the number of perfection seven (7) meaning you are destined for greater heights.
Even if I lose everything today, having you alone is enough. Happy 8th birthday!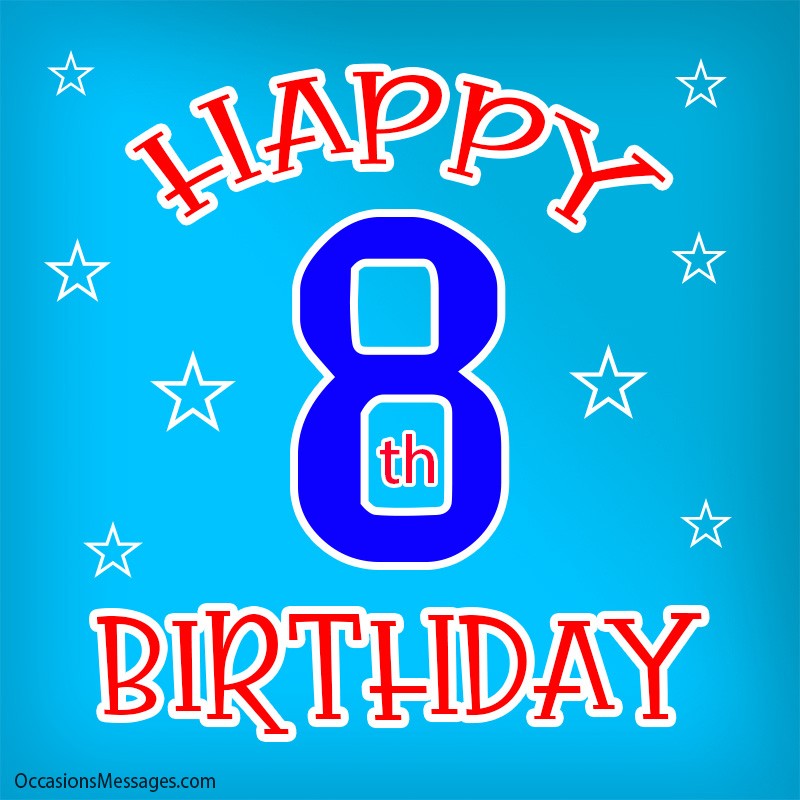 Neither the sun, the moon, nor the stars can shine a brighter light than you have shined in my world. You are not just a child, but an epitome of illumination in my life.
My baby girl is like an angel, glorious more than a queen, Lovelier than a flower and pretty like a mermaid. I hope you will enjoy your childhood so much. Happy 8th Birthday.
Great things happen, but there is no greater thing than seeing you turn 8 on this special day. With lots of love, I say Happy Birthday.
When I picture the kind of man that you'll become, it makes me marvel. I see what glory lies ahead and how lucky I am to be your father. Happy 8th Birthday son.
What more can I wish you on this special day but a bright future with a lot of opportunities. Happy Birthday, 8-year-old!
You are such an indefatigable being, young but Intelligent like billion ants gathering food in spring, Brighter than the radiance of a thousand diamond rings. Happy 8th Birthday little princess.
Happy Birthday sweetie, enjoy today with the thought that I'll always be here for you because you are my one in a million.
Last night the sun told the universe it won't shine today. The moon was afraid and the world was shocked. "Don't worry," said the sun, (Name) will illuminate the world today. Happy 8th Birthday.
Not a thousand storms will be enough to take you away from Mama's love, there's no mama without you. Enjoy every bit of this day. Happy 8th Birthday sweet daughter.
The sun glitters upon our yard and the moon awes in its wake. But none of them dare compare to the glory you radiate today. Happy Birthday.
Life's most valuable lesson is gratitude. You must appreciate that which you have. Don't wait until you lose it before you realize its value. I appreciate your coming into my life.
Who says art is meaningless? Or calls beauty vanity? Who says there are no angels? Or who dare call children problems? Surely, he hasn't met you. Happy 8th birthday troublemaker.
I am taking the day off to spend some time with you on this your special day. Have a very Happy 8th birthday!
It's your special day, have fun, enjoy every moment and expect the best from life. Have a very Happy Birthday.
Chocolate, sweets, and pizza are no matches to the sweet love you show me as your father. You are indeed a great child. Happy 8th Birthday princess.
Just like yesterday, seeing how far you have grown gives me joy and fulfillment. Happy birthday to you!
I came across an angel, and he told me he was bringing you all the things you desire, I wondered why but then I discovered that it was your birthday. Happy Birthday.
Love fades, things change, humans fail, but as you age, may you find grace to achieve your life's aims.
For Son
Wish your son a very happy 8th birthday by one of these messages. You may want to see amazing 60+ happy birthday messages for Kids.
You are my biggest blessing and I am happy to be sharing your 8th birthday with you. I count each and every day as a blessing, I love you son!
You have lived exactly 2,922 days since you were born, 417 weeks, but who's counting, but simply, this is your 8th birthday, happy birthday son, I love you!
May your 8th birthday be filled with lots of joy and laughter, you are amazing and I hope you live longer than all of us.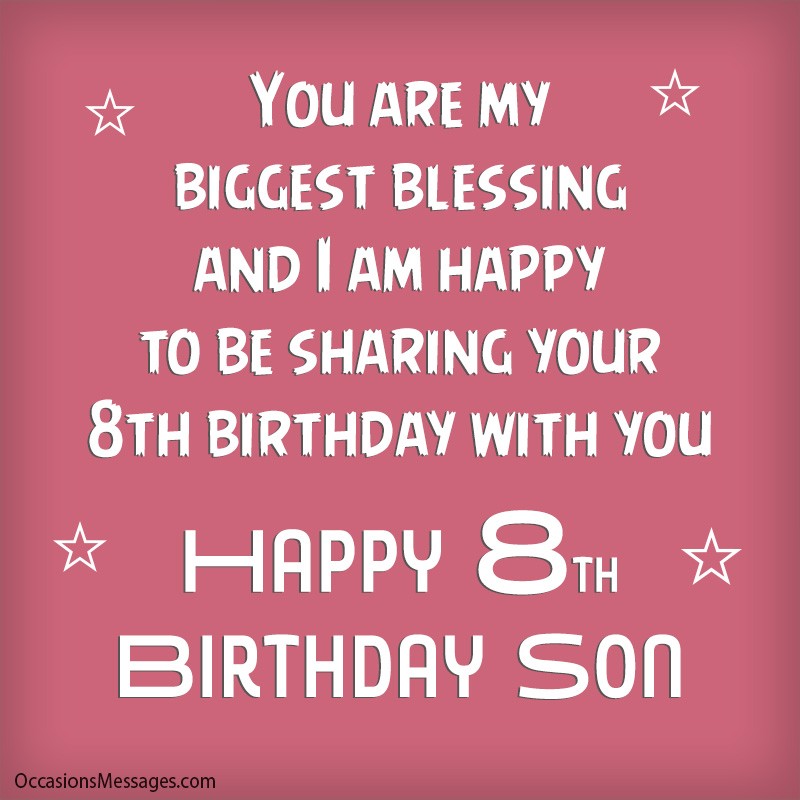 I will never go a day without telling you how beautiful, intelligent and amazing you are. Happy 8th birthday baby, I love you so much!
I am sending you cookies and your favorite chocolate to celebrate your special day. Happy Birthday son, 8-year-old!
For Daughter
Make your daughter's 8th birthday special with these beautiful messages.
Happy 8th birthday sweet princess, I can't believe how fast you grow each day. I love you endlessly and hope you have fun on this day darling!
May your 8th birthday be filled with cake, presents and a whole lot of friends, may it be forever engraved in your beautiful mind. I love you child.
Happy 8th Birthday. Having you as my daughter is the best gift I have ever received from God in my life. I celebrate you this special day.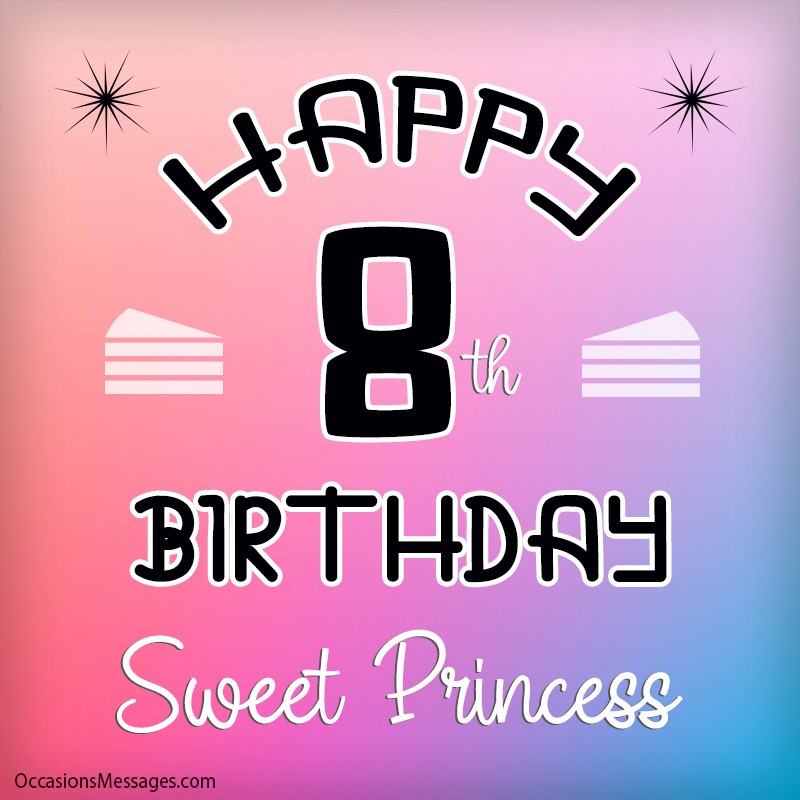 Happy Birthday daughter, another lucky year with you, I hope it be filled with lots of fun and shared memories, may you never cry and always smile!
The celebration of 8 year with you, sharing lots of laughter, love and cheer. May you live longer than all the stars in the sky, I love you sweetie.
For Brother
Here are some cool birthday wishes for a brother turning 8. Need more ideas, see 100+ best birthday wishes for brother.
You are my pride and joy, I can't imagine life without you, I cannot thank God enough for another year with you, Happy 8th birthday bro!
They say for everything there is a time, it's time for you to turn 8 and enjoy all the benefits that come with it. Happy 8th Birthday brother, you are amazing!
May the stars always shine bright for you, may you live large and may all your wishes come true, I love you my 8 year old best brother!
It's a new age with new things ahead, have fun, be you but mostly, love each day for it's a gift. Happy birthday my darling 8 year old!
Age is just a number, but life will always treat you the way you want, live smart, have fun and don't act older than you are.
For Sister
Here are some sweet ways to wish a happy 8th birthday to your sister. For more, check out these 200+ amazing birthday wishes for sister.
Just remember this: no matter the age, no matter the distance, I will always be here when you call, but for now, cut some cake and let's enjoy the fine times together. I love you my 8 year old sweetie!
You are a gift, not only to your mum and dad, but to all of us here on your 8th birthday sis; we love you and want to see you grow into a fine person. Happy Birthday.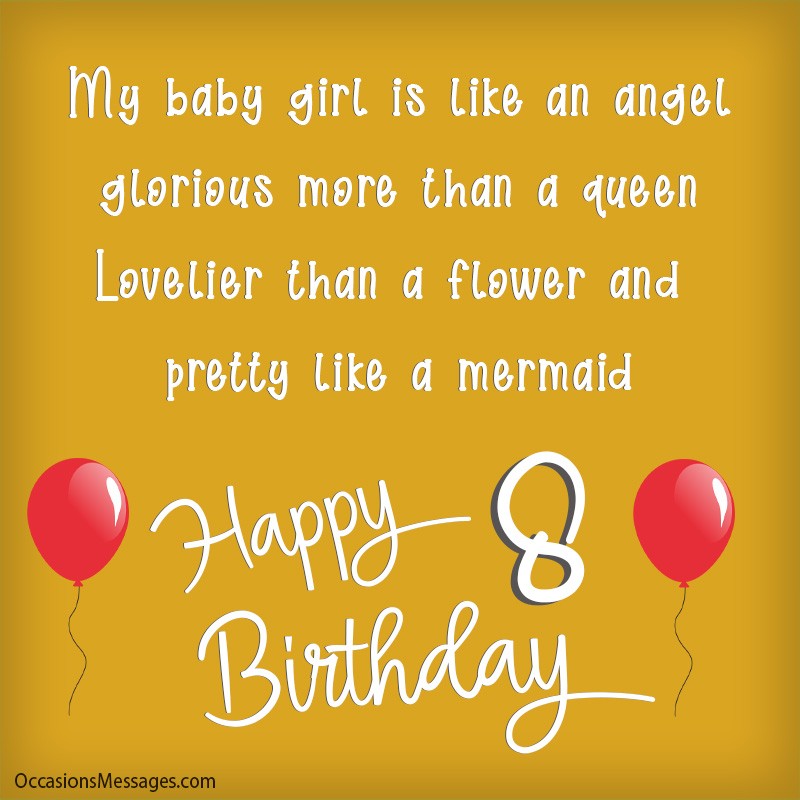 May this birthday be better, brighter, happier than the last, may you receive more gifts and eat more candy, happy 8th birthday my dear sister!
My little princess just turned 8. She is growing into a beautiful and lovely woman. May your sweet smile keep paving way for wonderful things in life.
Our life is complete and our heart is filled with endless happiness for having a special kid like you. You bring us much honor. On this day I wish you a Happy 8th Birthday, Darling.
For Nephew
Here are some happy 8th birthday wishes and messages for nephew.
Congratulations! Life is running so fast. I'm proud to have you smart, intelligent, and fun-loving nephew. May you feel the touch of love everywhere you go. Happy 8th Birthday.
Our life is complete and our heart is filled with endless happiness for having a special kid like you. You bring us much honor. Happy 8th Birthday, Darling nephew.
Great things have little beginnings. Watching you grow over the years have given me great joy and fulfillment. You are a precious jewel.
As you have seen this day, my prayer for you is that you grow up to fulfill all of your dreams. Happy 8th birthday to you nephew!
For Niece
Use these birthday wishes for your niece turning 8.
You are beautiful just the way you are and today as you are growing older, you grow more and more beautiful, have a beautiful birthday niece.
My little princess just turned 8. She is growing into a beautiful and lovely woman. May your sweet smile keep paving way for wonderful things in life. Happy 8th Birthday my niece.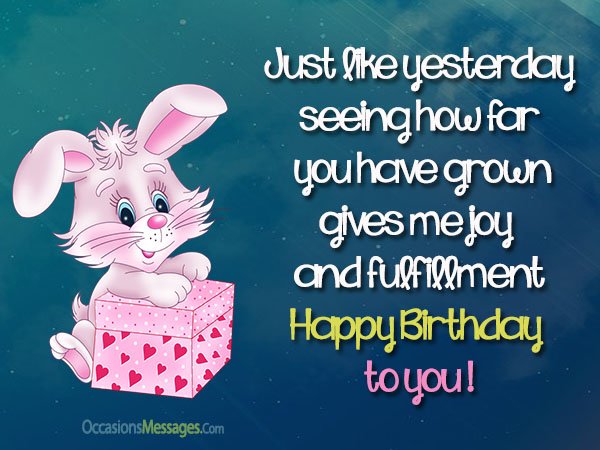 You must be one of the most amazing people I have ever met; I am glad that I get to be part of your birthday. Enjoy each second of it.
As I look at you today my worries melt, my heart skipped like a growing kid that you are, just because you are my most precious being, I'll do anything for you.
Happy 8th Birthday Messages
These Happy 8th birthday messages to be sent to any boy or girl.
I want no greater honor than to be your life comrade, to share in your joys, and guide you when astray, to love you every day and feel the love returned.
The art of the tweeting birds and a singing mass, the whistling wind and bowing trees, a blooming flower and the daffodils, are beautiful. But baby, yours exceed them all. Happy Birthday friend.
All your life I've always watched you closely. You laugh; you play, and always declare how happy you are, I hope you will stay like that forever.
Today, I am overwhelmed by a feeling of joy heartfelt, when I had you; I knew I've found my missing link. Happy Birthday my wonderful child.
You are just 8 but you show excellent attitude like an adult. If this is what childhood is all about, then because of you I want to become a child again.
8 marks Infinity and everything good, so you shall experience good things as you grow up. Happy 8th Birthday girl!
There is no greater love than seeing one's child grow up; I wish you many prosperous years ahead. Have a beautiful birthday.
Watching you play in the fields daily gives me so much joy, and I want to give you the best in the world. Happy Birthday 8-year-old boy.
True leaders are born, not made. Your display of true leadership even at a tender age shows you have great potentials for the future. Grow up and excel.
You are a star, and great things loom in your future! Happy birthday my child.
People Also Read: Happy 9th Birthday Wishes and Messages
SHARE ON