Twenty seven is a really weird age; it is when people is in their late and mid-twenties at the same time and get to enjoy the benefits of both worlds. It is the time in one's life when they try to have it all together, try to make things right or at least head towards that direction.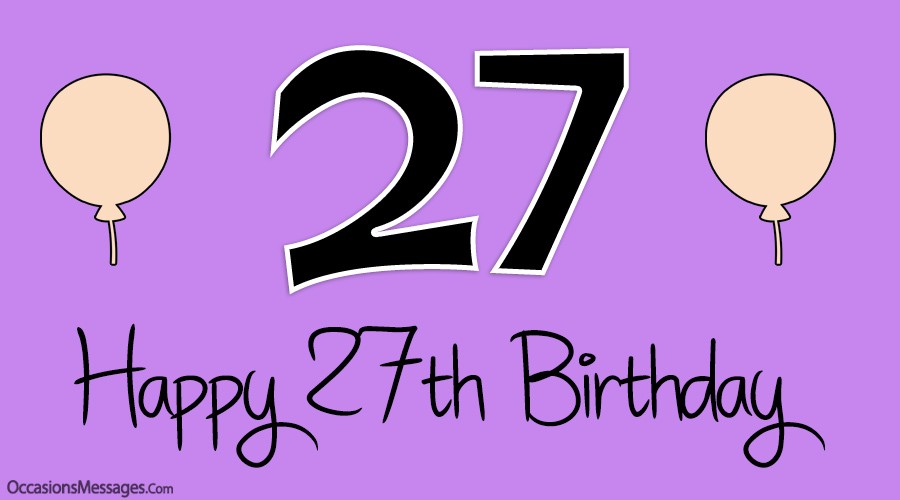 Age is just a number, and 27 may make one feel old and ancient but with the right mind, 27 may can be a beautiful age, full of uncovered wonders and secrets. If you know someone who is turning 27 it is your duty to make the day memorable for them. Don't just get them gifts, send them a birthday message they will leave to remember forever. Here are some of the messages one can send.
Birthday Messages for 27-Year-Olds
I've never ever seen a man with so much of determination and power to succeed, you're so resourceful and a little support will make you become great. Enjoy your 27th Birthday.
We appreciate God for opening up for you this new door of greatness through this spicy age, may your life be 27 times better than you could ever imagine. Happy 27th Birthday brother.
Life won't be fair at all times, but that doesn't stop it from being good, life is a gift and we appreciate it by loving and living it to the fullest. Happy 27th Birthday friend.
Time will come when you'll need to doubt about stuffs, remember to take little steps when the time comes and things will become clearer bit by bit.
Happy 27th Birthday buddy, time will come to be annoyed, getting angry isn't bad especially when things aren't working, but channel it alright for positive result. Enjoy your special year.
Paths may cross but journey are different, so learn to appreciate and enjoy your own path and the journey that is set before you. It'll be well with you. Happy 27th Birthday.
My wish for you is that you be favored and loved as you advance in the course of life. You deserve all of that and many more. Happy 27th Birthday. Keep enjoying life.
Know this for sure, you won't be accepted the way you are everywhere you go, but that shouldn't make you change. Keep being you. Happy 27th Birthday son. Remain authentic.
As you climb the ladder of age, may your life become very much better, may chaos change to order and confusion to clarity. Enjoy your special day and year buddy.
The most important thing for every youth at their late 20's is to never stop working with a created vision for their tomorrow. It'll bring lots of joy. Happy 27th Birthday son.
I was like a lone ranger with just a house over my head, thanks for coming into my life and turning my house into a home.
Happy 27th Birthday husband, my dream came through the moment I found you and I'm really happy to be completely lost in your love dear. Enjoy your special day.
At age 27, the greatest fault that could ever happen, is when you're conscious of none, don't ever leave anything unattended to. It shall be well with you. Happy 27th Birthday daughter.
Success is like a beautiful city, we dream of it as children, we strive for it at adult stage, but it's important to know that success is who we are.
Happy 27th Birthday wonderful son, don't ever toy with your God given purpose, it will give you a new lease on life. I hope you find the right one. Enjoy your special day.
I am really happy to have imparted you to greatness my son, it shows that I'm successful in raising you up, this gladdens my heart. Enjoy you 27th Birthday. Happy Birthday to you.
The greatest sin in this present age is pride, and it brings people down so fast even if it took forever for them to reach the top. Do away with it daughter. Happy Birthday, 27-year-old!
I wish you a prosperous life that is full of delightful adventure, awesome experiences that will be forever free from grief. Happy 27th Birthday best friend. I'm so fond of you.
There's only one person that should rule your world, and that is you, you should command your own life in every way. I wish you all the best. Happy 27th Birthday great friend.
Love and service to every other being is your greatest virtue and I think it's all that is actually needed to be considered as a good human.
An appealing mind and the pretty heart can brighten the soul. If you have a beautiful face with these two qualities then you are a perfect person.
Be smart and be cool. Make your own decision that allows your mind. You are a good boy with lots of qualities. Have a good day.
You are more than what they see, you are super important to me and I will always make sure you enjoy each and every single birthday that comes your way. Happy Birthday, 27-year-old!
Happy 27th Birthday my dear, you are really special to me and I hope you enjoy each bit of second this day has to offer. Have a great and memorable time.
Make your dreams lively and you can easily approach it. Wishing you the birthday filled with unlimited pleasure and fun.
Happy 27th Birthday, my dearest son. You are the actual reason that my heart is beating.
It's your 27th birthday my darling, you are blessed and I really hope you feel better as you celebrate another year of this wonderful life. Have a hearty day!
Be young, feel young and live the way you should and not how they tell you to. Let no one tell you what 27 is about, make your own path. Have a beautiful birthday my dear.
I love and I miss you all the time. You are far away to me but you are very close to my heart. Wishing you a wonderful 27th birthday.
Intelligence never pays debt. Use it and make the penny. Have a great life. Happy 27th birthday.
How can I forget you – you live near to my heart. Your appealing personality attacks directly on my nerves. Wish you all the best and happy 27th birthday, my handsome man.
I can never be you, but yet I look up to you in more many ways than you can ever imagine. I hope you enjoy your 27th birthday and all the beautiful things it has to offer.
Believe in yourself, you can cross every hurdle. Wish you a wonderful 27th year of your life.
Maybe I am wrong, but who can tell who's right? It's your 27th birthday; enjoy it the best way you know how. May your birthday be grand.
I am so happy because I know you. Keep smiling that's enough to make anyone jealous. Have a wonderful 27th birthday.
Life is the series of sorrows and happiness. It depends on you how you can control it to flow. Wish you a great 27th birthday. May you have many more.
I lack of words to describe how honored I am to be sharing this birthday with you; you are the best part of today, and every other day. Happy Birthday, 27-year-old!
Have a great and unforgettable 27th birthday, it's your day, and may you have the most fun you've had in a long while. Pop a bottle and let's toast to you!
I can't see the dreams now as you live in my eyes and become my heart beat. I can't live without you. I wish you a very happy 27th birthday.
I wish you a prosperous year full of lively spirit, never lagging in diligence roles needed to play to attain heart wishes. Happy 27th Birthday brother. Enjoy a year full of progress.
Differences make you beautiful. So don't be the same. Wish you a wonderful and joyful 27th birthday.
Your attitude can change your priorities. Be simple and classy. Have the loveliest 27th birthday.
May this 27th year of your life become the liveliest and joyful year and upon its blessings, your life becomes more powerful and wonderful. Happy Birthday.
You are still a youth, you don't look old, don't feel like your time is up, it has only just began. May 27 be as awesome for you as it is for me being here with you.
There is a lot of things I'd like to say, a lot of ways to show you what I feel, but for today, just enjoy your birthday and all the good moments.
A real smile is so beautiful and peaceful as it comes after a long struggle. Wish you a very happy 27th birthday.
Where there is a pain, there must be the happiness. Enjoy your life and don't worry about the pain. It will be vanished. Have a great life.
How much I love you, you never know what's the intensity of my love for you. With time, it is getting more powerful. Happy 27th Birthday, my love.
Be the man that every girl wants not that everyone keeps. Happy 27th birthday.
You are just 27, make the most of the time you have now, you never know what tomorrow holds, so enjoy today, now and be thankful for each moment!
Have a hearty 27th birthday my dearest friend, we have come this far and I am happy to be a part of this day. May you live long mate!
You are standing at the perfect age. Your career starts here and your future belongs to it. Wish you a wonderful 27th birthday. May you have a beautiful life.
Never be shy to walk away from vanity of the mind and every form of profane and useless discussions that takes the attention of youths, they are time takers.
Never quit, keep playing. One day you will win. Wish you a beautiful and fantastic 27th birthday with lots of exciting events and joy.
Life in friends. You are my best friend. I love you a lot. Have a great 27th birthday.
May this year of your life brings a lot of happiness and joy and turn out to be better. Wish you a very happy 27th birthday.
May your 27th birthday be the reason for the biggest change in your life, may it make you happy, glad and give you a million and one reasons to live.
May your path towards your destination become smooth and the success makes your life pleasurable. Happy 27th birthday.
Life requires a conclusion about what to prioritize and give time and energy to; I want to wish you the best of choice in prioritizing whatever you decide.
You are the special queen of my heart. May your day become also special. Have a beautiful life. Happy 27th Birthday, baby.
I am so far from you but never think I went off from your heart. Happy Birthday 27th birthday, my love.
Have a hearty 27th birthday, I wish you all the best, sincerely. I love you and wish you nothing but the best in all your endeavors.
You make me look forward to each day, you make life worth living and I wish you more candles on your birthday cake. Grand 27th my dear!
You are one of the most kind-hearted women I have ever met; I always have an amazing time with you. Have a cheerful birthday; I thank God for you each day.
Circumstances may have pulled us into different directions but I will never forget you. Have a blessed birthday full of favor and grace.