We age every day, but we are given a special day to celebrate our growing old and acknowledging that we are a year older. Birthdays are important in anyone's life; they are the days where we make it all about us. Birthdays should be spent with the people you love the best way you know how.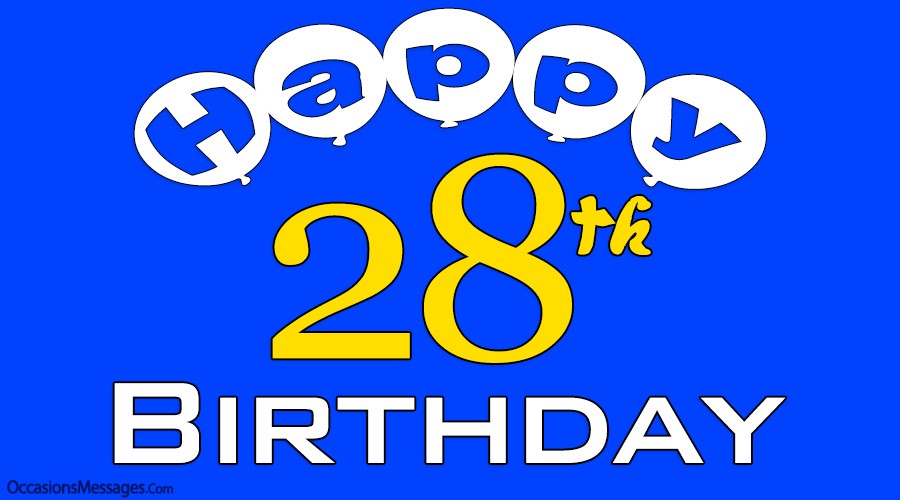 As a person with a friend turning 28, make them feel young, make them enjoy their last years as a 20 year olds and most importantly, send them a card that will help them remember that they are blessed and that on their 28th birthday, they had the most fun they've ever had. Here are some birthday wishes you can send a new 28 year old to remind them to always smile.
Happy 28th Birthday Messages
I hope that your birthday is beautiful, wonderful, and full of love just like you! Celebrate! You deserve the best. Happy 28th Birthday, Sweetheart more grace from God. Enjoy your day with many smiles.
Happy 28th birthday to this adorable sister wishing you long life good health with prosperity. May God blessing you with all that you need. Stay blessed and rejoice in your new age wishes.
Thank you for being so caring and supportive to me. I have never met any kind-hearted person like you. It's my prayers that God bless your future with prosperity. Happy 28th Birthday.
Happy 28th birthday to my cutest and most adorable sister. How I wish I can carry you on my back like old days. Enjoy every bit of your day and reading of your birthday cards.
As you have approached age 28, you are ready to take up responsibilities. Don't be scared of the world but just keep your dreams alive and it will be a reality.
Today I hope you have come to a stage where you can always cope with everything this world throws at you. Happy 28th Birthday, enjoy this lovely year with many blessings and good life.
It's here again! A new age and the start of a new beginning. Just keep calm and watch success engulf your life. May your enjoy lasting happiness.
May all your wishes come true and may all your dreams be at your feet. Happy 28th Birthday. Enjoy all the beautiful life ahead and never change for I always look up to you.
I'm so confused as to what I present to you for your 28th birthday; you deserve the very best of life. I pray for good health and success in your life.
Life is too short not to celebrate it to the fullest. Put on your best cloth and get ready for a night out. Enjoy yourself. Happy Birthday, 28-year-old!
I pray for guidance, strength, happiness, long life and good health. It's your 28th Birthday. Sit in a corner and reflect on the future with an endless dream. Have Lovely time with your friend.
On your birthday, I just want to remind you how special you are to me. may the Lord who has been watching over you grant you all your heart wishes. Happy 28th Birthday.
You have been the reason for my endless smile; I feel so much comfort around you. I'm so glad to be part of your family. May all your thoughts be blessed.
Happy 28th Birthday to my favorite cousin, who used to be a partner in crime. Those memories are never forgotten. On this wonderful day, I congratulate you for hitting a new age. Enjoy your day.
A very Happy 28th Birthday to my role model, my study partner, and my lover. Your soft nature, your outspoken style, and your kindness are amazing. Have fun dear, it's your day.
Wow! There was no single day I stepped out without you running behind me crying. I had no options but to carry you along. Glad you will not run after me again.
A day without you makes me feel empty. Let's make your birthday full of unforgettable memories. Happy 28th Birthday to the best wife ever. Get ready, for tonight is going to be different and special.
It's your 28th birthday on a rainy day. A sign of total blessings. May all the rainbow colors beautify your life from this day on and may your heart be filled with love. Happy Birthday.
Your cake is ready so be prepared to rock today like never before. Thank God for giving you one more year with much love and togetherness. May you enjoy your 28th Birthday with love.
Being stubborn sometimes can be good or bad. Depending on how it's being used. I am glad it shaped you in a good way to be the strong man you are.
May you gain favor in the sight of God. May he shine his face on you and give you all your heart desires. Happy 28th Birthday. Enjoy your blessings to the fullest.
Happy 28th Birthday good son, if you'll allow me, I can bank all of my life earnings on your future because it looks so bright. Enjoy your special day dear son.
If there's anyone who can do the impossible, it is you. Your brain is God given, you must never succumb to the little challenge.
Give less attention to the fact that you're growing old, give more attention to seizing everyday as they come. Happy 28th Birthday lovely daughter. You're good to be the best.
Happy 28th Birthday my dearest! Growing older, I see you don't look any different from yesterday and I doubt tomorrow, you are loved. Enjoy!
28 is a good age to be at, when there is more to look forward to with each new mature age that comes, I hope you make it big! Happy Birthday!
Everyone can control their destiny, if they are willing to do what it requires of them. I can tell that you're doing just that right now. Keep doing so friend.
Hard work is all I've known you for, I hope it'll pay off soon, but luck is also important. I pray you'll get lucky in every turn you make in life.
If peradventure we all have few months to live before the world ends, I'll honestly like to live with you, you're a friend that gives me lots of happiness. Happy 28th Birthday friend.
You look good at your new age. 28 is really a good age for you because it gives you 28 times more reasons to smile and want to be alive.
Get a new 28th experience from life, may it be good, wise, bring you wealth and keep you in good health. Have a fantastic birthday!
28 year on earth is already huge looking at the way you've lived so far. Longevity of life is absolutely not in numbers but in the way one live and love. Enjoy your birthday son.
Happy 28th Birthday darling wife. May this year bring us to a new delightful walk with one another in this relationship. Thanks for standing by me. Enjoy your special day.
The root of your own joy is you, and you must water it every day by doing those things you know will help you to be glad. Happy 28th Birthday daughter. Don't stop being happy.
As you celebrate your 28th birthday, may all your wishes come true, may the candles in your birthday cake increase and may everything work in your favor.
Always make yourself a better version of yourself, I will never get tired of you surprising me with a new you. Happy 28th dear, I love you!
At this age, I hope money will be your servant and not the other way round. A special and kind being like you deserves that. Happy 28th Birthday sister. Enjoy your life.
The challenge before a 28-year-old man is really strong, but the complexity can be broken down by living to enjoy every moment without losing the dream.
Happy 28th Birthday friend, enjoy the special day with the funniest person that I know who happens to be your boyfriend. Be good and be blessed.
Know your worth, know you are great and always remember, in my eyes, you are the most beautiful 28 year old woman I know of. Have a hearty birthday!
I can never give you diamond rings or expensive things, but I hope my words will make you 28 times happier today. Hearty 28th birthday pumpkin!
You're a guy who meet the needs of others somehow, as you celebrate today, may all of your own needs be met also. Keep doing that which us good. Enjoy your 28th year.
Yesterday you were a 27-year-old girl with lots of stuffs to do, but today I could see a 28-year-old girl who is willing to enjoy for once. I'm happy at what I see. Happy Birthday.
Others look at you and see a gentle man, I look and see a loud man with a gentle hope waiting for opportunity. Your time shall come to shine.
You have the power to get what you want, what you deserve and more. Use it wisely and see your 28th year work out for you. Have a great birthday dearest!
It's time to take some time off that busy schedule and have some fun. No one will ever hate you for loving you too much, have a cheerful 28th birthday.
You're a champion. Look at how you've enriched people with wisdom on how to become somebody in life. I hope you'll be heard by many more people. Happy birthday my latest 28-year-old man.
I wish this year will really count in the molding process of your life cuz last year wasn't up to expectations due to your nonchalant actions. Make your 28th year count. Stay blessed.
Above all the good and the bad things that has happened, we look back and thank God for the marvelous experiences that you've passed through. It has formed you. Happy 28th Birthday brother.
Never lie to yourself, for a lie told too much becomes the truth, I know who you are and I know what you can become, 28 is just a stepping stone to new extremes.
Never forget those who saw what you could become and made a point of cheering you on, they are those who love you most and want to see your new 28 year old self prosper.
Your smile is wonderful and your teeth are very charming, I hope to see you very old and toothless by the grace of the Almighty God.
The periodic change of things is so rapid, it shows that time cannot be halted and life should be taken with total seriousness. May your life even at age 28 count in every way.
The smile you give every time I speak to you is priceless. And I don't even wanna think of my problems whenever I hear the sound of your voice. Happy 28th Birthday good friend.
Everything has its time, it's now your time to celebrate your 28th birthday and make the most out of it. Have a hearty time dear!
Be happy with who you are and see yourself age beautifully, you are an amazing person and I hope you always remember that.
If you work hard now and create a kind of life that you really desire, life will be great for you and your family So keep trying. Happy 28th Birthday friend. Wishing you the best.
You are my honey bunch, my sweetest dream and happiest nightmare; I hope you have a graceful 28th birthday my love.
There comes a time in life when you stop looking and what you don't have and appreciate what you do have. I appreciate you always.
May everything you wish for on your 28th birthday come true, may everyone who'll join you remind you of how amazing you are.
Roses maybe read while violets maybe blue. But you are a blend of all the beautiful colors known to man. Happy birthday, dear.
Birthdays are a time for celebration. You will not be different. I wish you all goodness on this birthday. Happy Birthday.