Turning 16 is a big deal to any teenager. 16 is the age when a teenager feels almost grown up fully. 16 birthday parties are big to those celebrating them and those around them. Why not make it a memorable day for the newly 16 year old you know?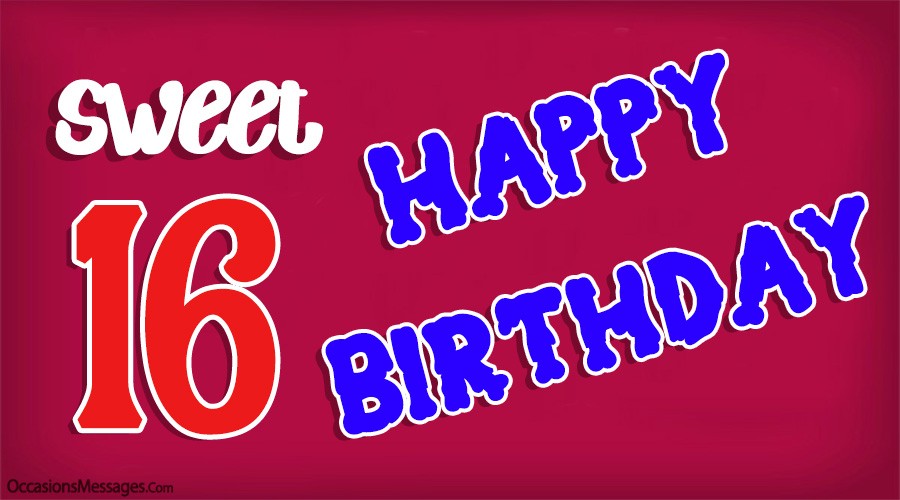 It will definitely make them happy to have beautiful, amazing and thoughtful messages that they can read and keep in mind. Here are some messages you can send to a special person turning 16 on their birthday, no matter who you are and what you are to them, these messages are definitely for keeps.
Birthday Messages for 16 Year Olds
Happy sixteenth birthday you are beautiful lady, as you celebrate this amazing time, May all your wishes come true. May all your hopes and dreams be fulfilled.
You are now 16, a dangerous and yet exciting age. Be careful; be smart, I wish you all the best.
There is a secret most people don't know about when it comes to birthdays. When you become 16, it is the beginning of your entry to adulthood. We know you will handle it gracefully. Happy Birthday!
Happy Birthday to a young woman who is wise beyond her years and only grows more beautiful every day. Happy sweet 16!
This day is about you, this time is about you and you should be all about you. Do what is best for you. Happy 16th birthday dearie, I love you.
Live your own life sweetie, I know a lot of people are telling you this but this is just a reminder, the only person you should be is yourself, happy 16th birthday.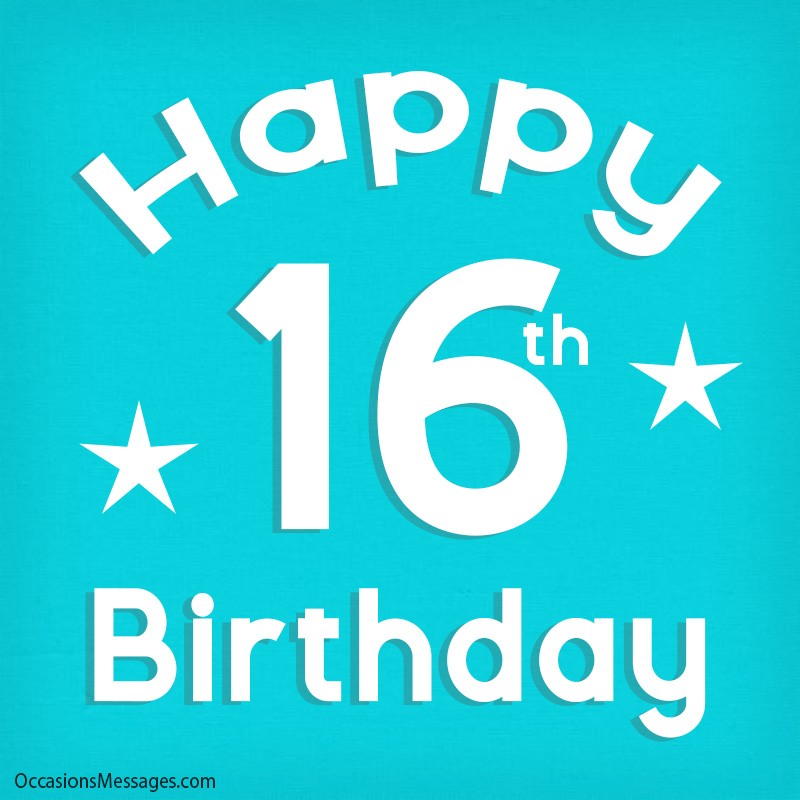 16 years old? You've grown up so fast. I remember how crazy I felt when I was that age. Now, you are going to go through the same emotions too. Happy Birthday young one.
A young man, now you are 16, becoming closer to tasting your own independence. Just remember, we will always be here for you through thick and thin.
Always be positive sweetie, you will see the good things this life has to offer. Have a happy sweet 16 dear; you are the best thing to ever happen to me.
Happy 16th birthday! This birthday always has some of the most epic and memorable birthday parties. Get ready to party!
I want you to know that even though you are becoming a young adult, we will always remember the moments as you when you were a kid. Happy Birthday!
Funny Birthday Wishes
Happy 16th birthday to a funny, charming, appreciated, and lovable being, in short, a little like me! Best wishes, exceptional character!
For your birthday, I wish you lots of happiness, as little trouble as possible, and a whole load of your dreams coming true. Cheers!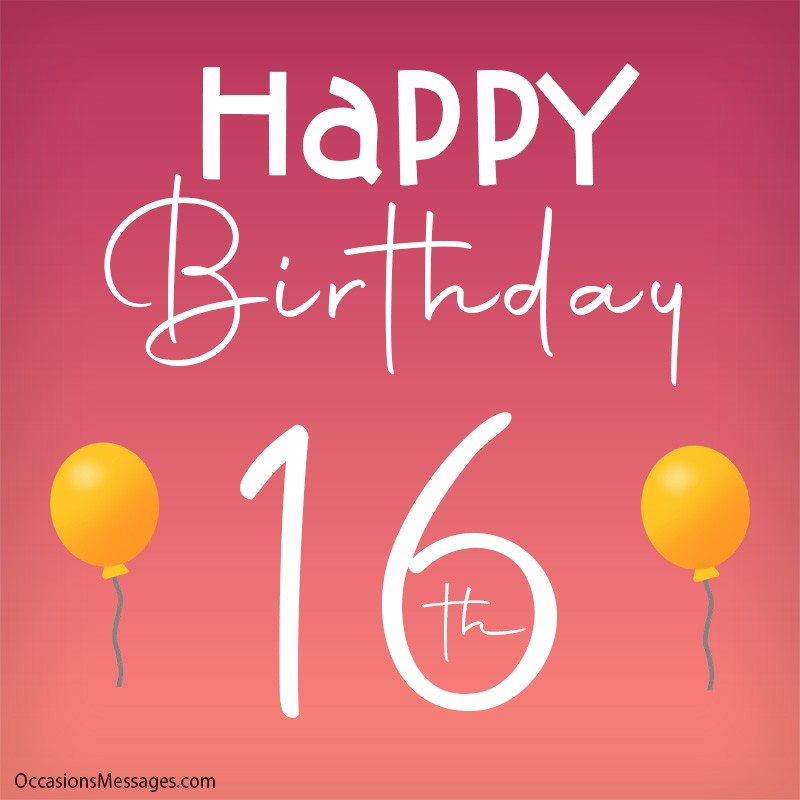 The state hospital is currently standing by in the event of a devastating asthmatic attack due to the blowing of all your 16 birthday candles. Have a lovely day dear.
Bad weather, boring news. Only your 16th birthday has the ability of saving this day. Have fun dear!
It's a new day, a day to be thankful for and a day you have to enjoy. You are turning 16; it's a big deal for not only you but for everyone around you. Happy Birthday, enjoy yourself.
For Friends
Service to people is the importance of life, if you learn this now, you won't be saving only the day for people, you'll be saving their lives. Happy 16th Birthday Friend.
To the most radical person I have ever known all my life. You are a great influence on people even at this age. I hope you can live in the white house someday, you know what I mean. Enjoy your fantastic day.
Understand your value, know yourself, go after what you want and stand by those who mean the most to you. Happy sixteenth birthday dear friend, you are a gem.
I can't believe you are 16 already! It feels just like yesterday when you would kick your feet trying to stand tall. It is one of the cutest memories I have of you. Now we can't even paint you with cake.
It is time to celebrate the birthday of a growing woman. 16 marks an age that is the end of adolescent and entering young adulthood. Let's celebrate!
For Son
Your decision making ability must be well sharpened at this age, because you will start being responsible for a lot of things that happen to you. Happy 16th Birthday son.
Have the happiest 16th birthday son, you are a blessing to us all and I love you to the moon and back. I hope the new age gets you more than you'd hoped for.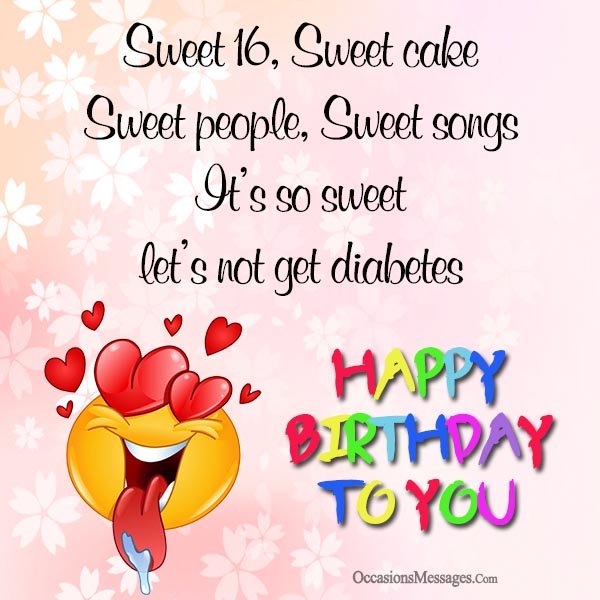 You are the most amazing 16 year old I know, you know yourself and I bet each and every obstacle will be nothing to you. Have fun on your birthday.
May your birthday be as blessed as you are; you deserve the best on your 16th darling. May all the stars shine brighter for you tonight my love.
It's a new age for you, a sweet sixteen to live and enjoy, have a hearty birthday my dear, you are important you are loved and now, you are sixteen.
For Daughter
Let the good life that you've always seen this family love rub on you, it's my priceless gift for you. Take after us and you'll be glad you did. Happy 16th Birthday daughter.
At this age the craziest of all ideas will come to your head, be careful to execute some and avoid getting overwhelmed. Happy 16th birthday daughter. May God bless you with patience and wisdom. Have fun.
What an incredible daughter you are, we are so honored to be your parent, you represent us well everywhere you go and that is enough to make us proud. Keep up the good image. Enjoy your special day.
For you it's really more than a birthday party, it's an event. I'm happy everyone came around to make you feel right. Happy 16th Birthday daughter.
Good to see that you started your life on the platform of faith that everything is achievable. I hope you'll never digress from your believe. Happy 16th Birthday daughter.
For Brother
We have never been more proud of someone in their short young life. You are always striving to make yourself better and stronger every day. It is quite admirable. We know that this birthday is going to be one of the best!
Don't just use this age to breakout to freedom of self-desired pleasure but let your world be freed by the wisdom and discoveries that will emanate from the potential that is hidden inside of you.
Today I want to tell you that I am proud of you and proud of the great man you're growing to be. Keep moving in that path and don't rush things. Enjoy your beautiful day.
At this age, you should enjoy every bit of all things that come your way, so that you can have events to smile about at old age. Happy 16th birthday to you Bro. May God bless your new age.
I feel very proud and honored to be celebrating with you on this wonderful occasion. You have been more than a friend to me. Happy 16th birthday to you brother.
For Sister
Yes! This is it! Here comes sweet sixteen, May every moment either good or bad in this new year of yours bring you closer to greatness that has never been witnessed before. Enjoy your special day sis.
You are the cutest 16 years old lady I have ever seen, I wonder why you're not yet in Hollywood movies, hopefully they'll discover you soon. Happy 16th birthday to you my little angel.
At this age I want the very best for you in everything you do, because your joy will bring me joy in abundance. Happy 16th birthday sister, keep being the good girl that you have always been.
You are who you are and I hope no one is ever going to change who you truly are. I hope you enjoy your sixteenth birthday; you are as special as you feel.
Protect your spirit from contamination, limit your time with negative people, the world is good if you see it as good. Happy 16th birthday my dear, may it turn out to be unforgettable.
For Nephew
You will remember this day as the day for you to party. It will be the beginning of you learning what it means to enjoy adult life. Have a nice day nephew.
I remember what it was like to be 16. It was rough as your hormones are making you up, down, side, and all other crazy directions. I just want you to know that I am here for you whenever you need some guidance during those crazy times.
All your friends and family are going to be here for you. It's going to be an epic 16th birthday and we want you to have the time of your life!
It will get tough, I can't promise you that everything is going to be alright, but remember, you are never get challenges you can't beat. You are the solution to your problems, happy sweet sixteen nephew.
It's a time for change, it's a time for new things, you are turning sixteen but I not only hope you grow older, may you grow wiser, happier, greater and a whole lot stronger. You are more than what you think you are. Believe and it will be true, happy 16th birthday nephew.
For Niece
I hope I can send you a gift that will make you the happiest person in the world but I realize the only gift I can give at this age is that you should avoid excesses and you will have a wonderful life. Happy 16th birthday niece.
Happy birthday to you my 16 year old daughter, may you be inspired enough to reach the apex I couldn't reach. And know very well that you are the best of your kind. Enjoy your special day.
Sweet 16. Sweet cake. Sweet people. Sweet songs. It's so sweet, let's not get diabetes.
Happy 16th birthday to you my wonderful niece, I hope at this age you will attract destiny and life impacting friends to yourself. Stay blessed and enjoy your glorious day.
My wish for you are simple but yet important. Avoid bad friends, assimilate good friends, enjoy life and stay out of trouble. Happy 16th birthday. Keep growing in wisdom.
Best 16th Birthday Messages
There is good in the world, the good is you and the good is in you, so don't be afraid to extend a hand to help, be graceful and you will see the most of this lifetime. Happy sixteenth birthday!
You have to be odd to be number one: don't be like everyone else, don't be what they tell you to be, be yourself and you will always be on top. I love you, enjoy your 16th birthday!
Happy Birthday! Sweet 16's are always wild and this will be no exception. Time to party!
Wow, you look beautiful in that dress darling. You make an old man proud to be your father. Happy sweet 16th baby girl.
At this new age of yours I hope that you can keep your dreams and nurture them, because they will spur you to greatness. I hope you will attain greatness in no time. Happy 16th birthday.
The silliest things any old person can laugh about when they remember are done at this new age of yours. I hope you will enjoy every bit of it. Happy sixteen. Have lots of fun!
We are so proud of you! You are growing up to be such a strong young individual. 16 year's old but with so much potential. Enjoy your special day!
I want you to know that we have been waiting for this moment for a long time. We have the best sweet 16 planned because we love you. Happy Birthday!
Sixteen is a milestone of age and it is hard to believe how you have clocked that age so fast. May you realize the good essence of life as you celebrate today. Happy sixteenth birthday, enjoy your special day.
Happy birthday to a young, beautiful and pretty lady that I know for a while now, you have all that you need to become a woman that will cause a great change to this world. May God guide you through.
Hold on to the little things that make you smile, hold on to the things that make you happy. Sweet 16's are meant to be enjoyed so live today like there is no tomorrow.
---
You May Also Like:
Happy Birthday Teenager | Birthday Wishes for Teenagers
Birthday Love Wishes and Messages for Boyfriend
Happy Birthday Wishes for Grandson – Cute Wishes for your Grandchild
---