Happy 16th Birthday Wishes: Turning 16 is a big deal to any teenager. 16 is the age when a teenager feels almost grown up fully. 16 birthday parties are big to those celebrating them and those around them. Why not make it a memorable day for the newly 16 year old you know? It will definitely make them happy to have beautiful, amazing and thoughtful birthday messages that they can read and keep in mind. Here are some messages you can send to a special person turning 16 on their birthday, no matter who you are and what you are to them, these messages are definitely for keeps.
Happy 16th Birthday Wishes
Here are some sweet happy 16th birthday wishes and messages for a person turning 16.
Happy 16th Birthday. May all your hopes and dreams be fulfilled.
Sweet 16. Sweet cake. Sweet people. Sweet songs. It's so sweet, let's not get diabetes.
You are now 16, a dangerous and yet exciting age. Be careful; be smart, I wish you all the best.
Happy Birthday to a young woman who is wise beyond her years and only grows more beautiful every day. Happy sweet 16!
16 years old? You've grown up so fast. I remember how crazy I felt when I was that age. Now, you are going to go through the same emotions too. Happy Birthday young one.
Happy Birthday, young man, now you are 16, becoming closer to tasting your own independence. Just remember, we will always be here for you through thick and thin.
Happy sweet 16 sweetie. You are the best thing to ever happen to me.
I want you to know that even though you are becoming a young adult, we will always remember the moments when you were a kid. Happy Birthday!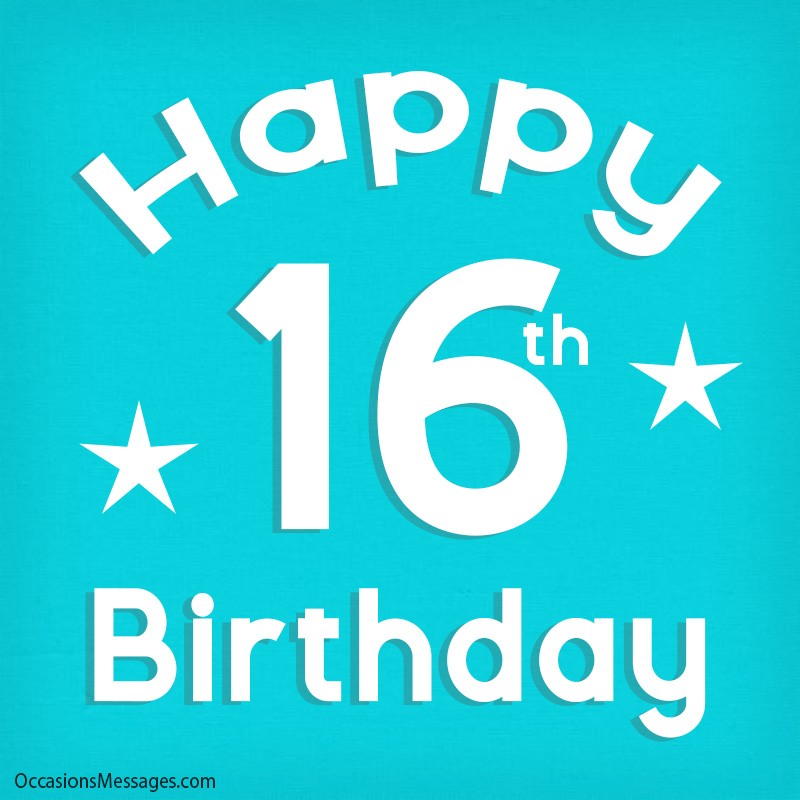 Happy Birthday. I hope you enjoy your sixteenth birthday; you are as special as you feel.
All your friends and family are going to be here for you. It's going to be an epic 16th birthday and we want you to have the time of your life!
Sixteen is a milestone of age and it is hard to believe how you have clocked that age so fast. May you realize the good essence of life as you celebrate today. Happy sixteenth birthday.
Happy Birthday to a young, beautiful and pretty lady, you have all that you need to become a woman that will cause a great change to this world.
Hold on to the little things that make you smile, hold on to the things that make you happy. Sweet 16's are meant to be enjoyed so live today like there is no tomorrow.
For Son
Here are some cute happy 16th birthday wishes for son.
Happy 16th birthday son. You are a blessing to us all and I hope the new age gets you more than you'd hoped for.
You are the most amazing 16 year old I know, you know yourself and I bet each and every obstacle will be nothing to you. Have fun on your birthday.
Happy Birthday son. You deserve the best on your 16th darling. May all the stars shine brighter for you tonight.
People Also Liked: 150+ Sweetest Birthday Messages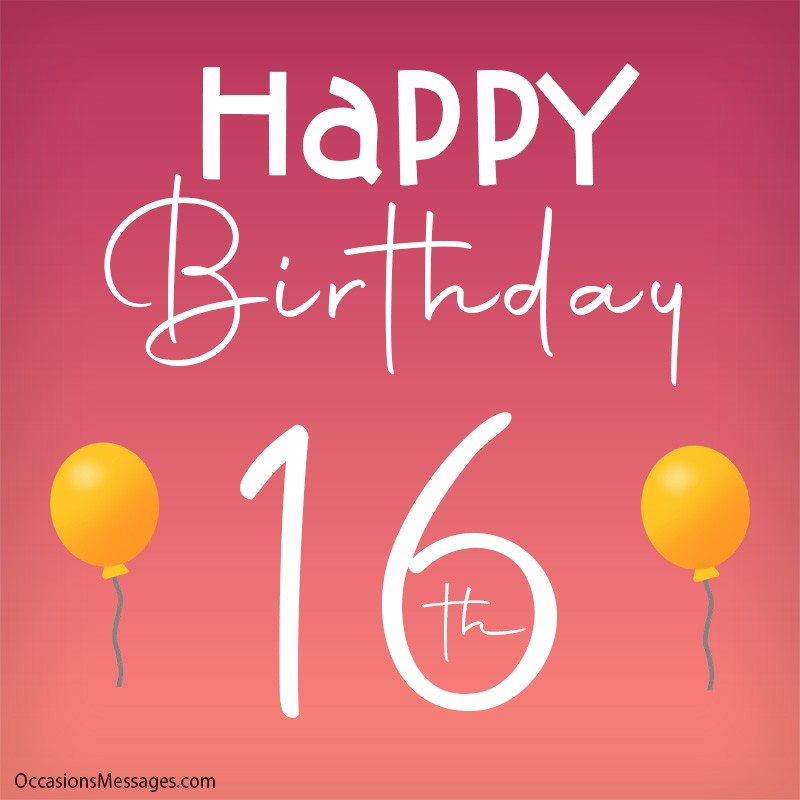 It's a new age for you, a sweet sixteen to live and enjoy, have a hearty birthday my dear, you are important you are loved and now, you are sixteen.
For Daughter
Here are some sweet happy 16th birthday wishes for daughter.
Happy 16th birthday daughter. May God bless you with patience and wisdom.
Happy Birthday to you my 16 year old daughter. Sweet 16's are always wild and this will be no exception. Time to party!
Wow, you look beautiful in that dress darling. You make an old man proud to be your father. Happy sweet 16th baby girl.
What an incredible daughter you are, we are so honored to be your parent. Happy Birthday, enjoy your special day.
For Brother
Use one of these happy 16th birthday messages for brother.
Happy 16th birthday to you Bro. May God bless your new age.
Happy 16th birthday, brother. I am proud of you and proud of the great man you're growing to be. Enjoy your beautiful day.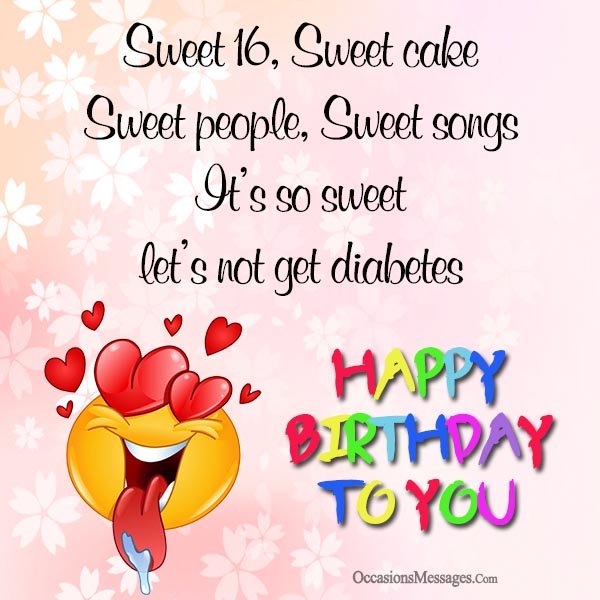 I feel very proud and honored to be celebrating with you on this wonderful occasion. You have been more than a friend to me. Happy 16th birthday to you brother.
We are so proud of you! You are growing up to be such a strong young individual. 16 year's old but with so much potential. Enjoy your special day!
For Sister
Here are the cutest birthday messages for a sister turning 16.
Happy 16th Birthday, sis. keep being the good girl that you have always been.
You are the cutest 16 years old lady I have ever seen, I wonder why you're not yet in Hollywood movies, hopefully they'll discover you soon. Happy 16th birthday to you my little angel.
I want you to know that we have been waiting for this moment for a long time. We have the best sweet 16 planned because we love you. Happy Birthday sister!
Happy 16th birthday sister. I want the very best for you in everything you do, because your joy will bring me joy in abundance.
Funny Wishes
Here are some funny 16th birthday wishes and messages.
Happy 16th birthday to a funny, charming, appreciated, and lovable being, in short, a little like me! Best wishes, exceptional character!
For your birthday, I wish you lots of happiness, as little trouble as possible, and a whole load of your dreams coming true. Cheers!
The state hospital is currently standing by in the event of a devastating asthmatic attack due to the blowing of all your 16 birthday candles. Have a lovely day dear.
Bad weather, boring news. Only your 16th birthday has the ability of saving this day. Have fun dear!
It's a new day, a day to be thankful for and a day you have to enjoy. You are turning 16; it's a big deal for not only you but for everyone around you. Happy Birthday, enjoy yourself.
Related: Happy 17th Birthday Wishes and Messages
SHARE ON