Happy 12th Birthday Wishes: Birthday wishes are the best way of wishing that special someone a special good and extremely jolly time as they celebrate their birthday and that will ensure that they never forget the amazing time they had. 12-year-olds love their birthdays and expect nothing but the best during that special time since they are new and upcoming teens. Birthdays are good causes for celebration, apart from just buying the usual plain old gift, Choose one of these 12th birthday messages with a little heart in it and send to that special newly 12-year-old kid.
Happy 12th Birthday Wishes
Here are a big list of birthday wishes you can share with someone turning 12.
Happy 12th Birthday, never forget that this is the last year you have to be a little kid.
From a pretty and cute little baby, to a charming and wonderful little boy, now growing to become a man. Happy Birthday.
You are a perfect 12-year-old in my eyes, may you always work hard and may good things follow you forever.
Be it 12, 100 or 1000 years old, you will always be my little baby and I will always want what's best for you, happy 12th birthday my love.
Happy 12th Birthday. You only live once, make the most of it.
Happy 12th Birthday. If anyone asks for your age, tell them you are a dozen years of age, a dozen of everything is desired almost by everyone. Enjoy your special day.
You are the best miracle of God I've ever received. I love you so much. Happy 12th Birthday.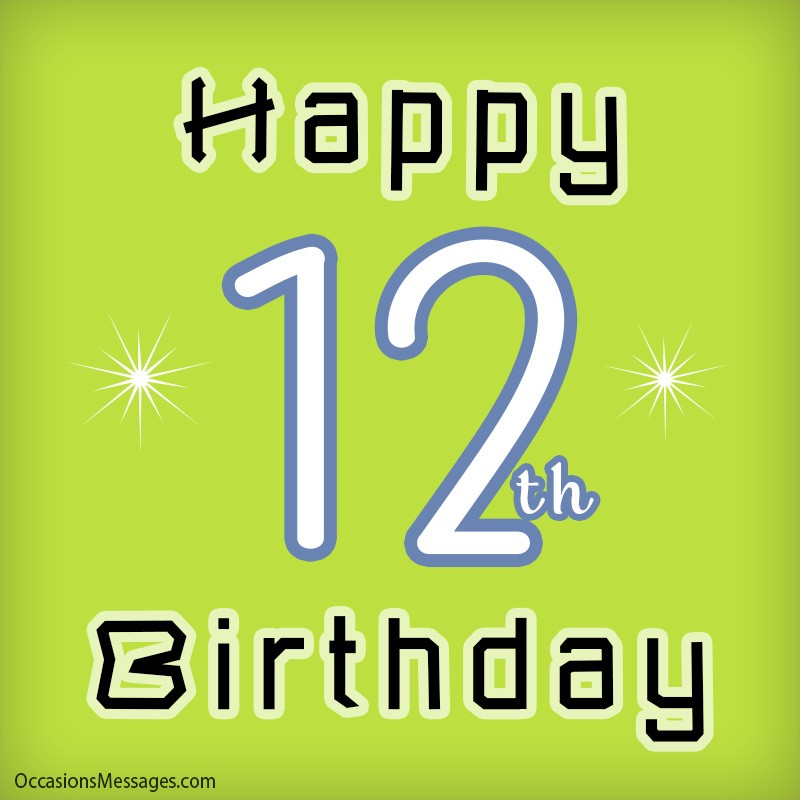 Happy 12th Birthday my love, may the angels protect you and may you have an unforgettable birthday party.
You are the best thing to ever happen to me and I hope you get the best out of the world. Enjoy the day dear!
12 already, look at how fast you've grown, just the other day I was holding you in my arms as a baby. Happy Birthday.
Happy 12th Birthday. May your years be long on earth.
For Son
Wish your 12-year-old son a very happy birthday by one of these messages.
Happy 12th Birthday son. You are the best thing to ever happen to me and I am happy that you are in my life.
I wish you very happy 12th Birthday son. Enjoy every moment of your life.
There're many things you get to enjoy on your 12th Birthday, May the joy of the day extends to the remaining days of your life.
You are my little angel no matter how many years you have been passed. I wish you a very happy birthday. May this 12th year of your life brings a lot of happiness.
Most Popular: Happy Birthday Messages for Cousin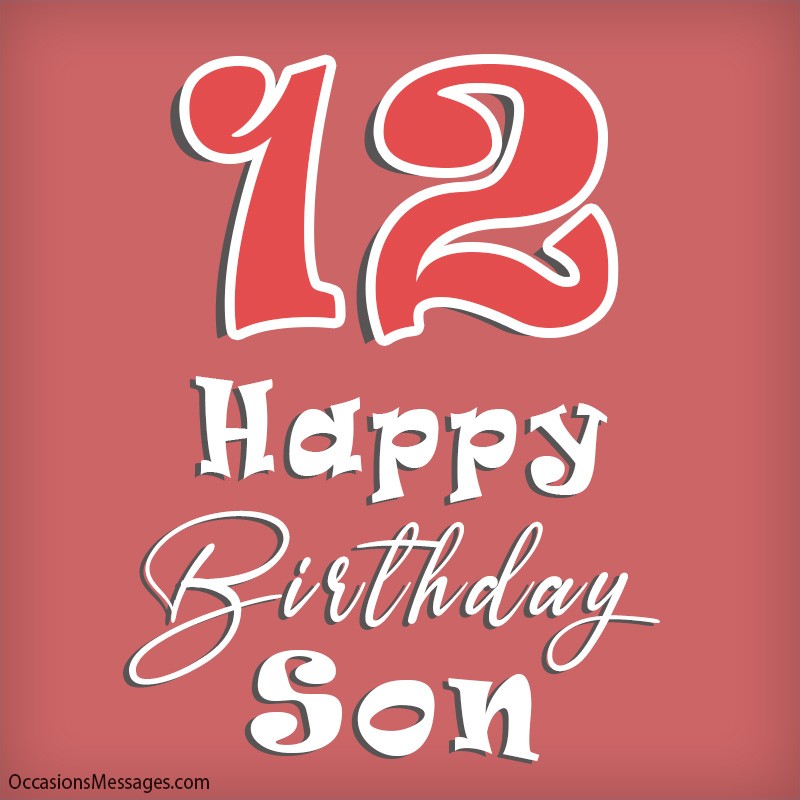 Happy 12th Birthday son. May you have fun and may all your wishes come true as you celebrate another beautiful year!
As you clock twelve today, I only have one request to make from you. Make me proud always. I hope it's not too much to ask. Happy 12th Birthday son.
For Daughter
These are the cutest birthday wishes for a daughter who's turning 12.
Each of the 12 years so far have been a blessing, I hope to spend a million years with you so I can see you grow healthy, wealthy and hearty my daughter.
12 years ago, you were just an infant in my arms, now, you are almost a young adult, and I hope I never miss a moment of your growing up. Happy Birthday my princess.
A little birdie told me it's your 12th birthday. I hope you'll forever live a good life.
I know how long you have been looking forward to your 12th birthday party, my only hope is that all that you'd planned for today be fulfilled. I love you my daughter!
More Options: Birthday Wishes for Niece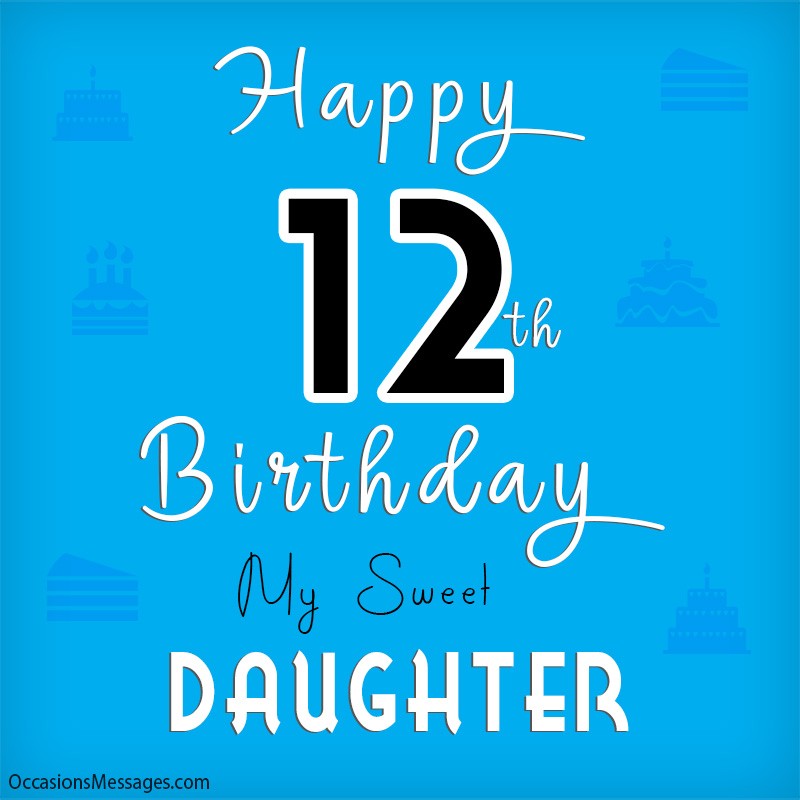 May the angels that have been protecting you so far continue to do so, I am blessed to be part of your 12th birthday, I love you a lot baby.
You are my cute daughter and I love you loads. I wish you have the best fortune and all your desires are fulfilled. Wish you a wonderful day.
For a Friend
Use one of these happy 12th birthday wishes for your friend.
Happy 12th Birthday dear friend. I hope your birthday will usher in great blessings.
Ever since you came into my life I knew you were the one to always put a smile on my face, so as we celebrate your 12th birthday, I sure do hope there will be more to come.
Make good, be happy and have fun, those are the only birthday rules I know of, hearty birthday my love, may 12 be your lucky age!
Be positive, act wisely and get positive outcomes. Happy Birthday, my friend.
I hope this little text on your 12th Birthday explains my full delight in you. You're appreciated.
Happy 12th Birthday Messages
Here are some special birthday messages for someone turning 12.
Happy 12th Birthday my love, you have been a blessing so far and I can never imagine life without you. Have a hearty birthday.
It's your party, stop being shy, tend to your guests and show them what having a good time really looks like. Happy Birthday my darling!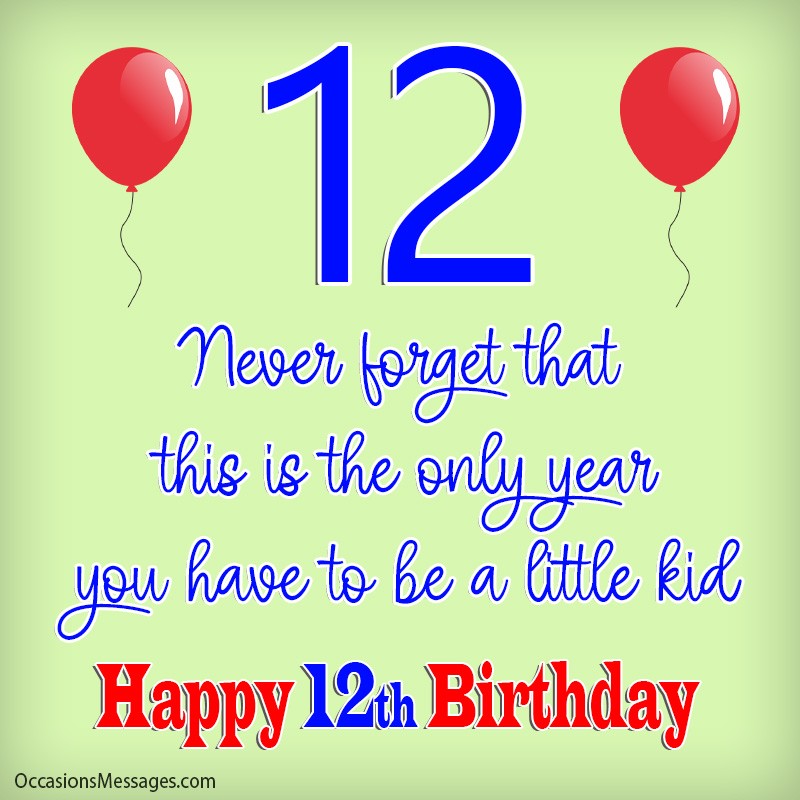 Your smile makes me smile; your tears make me cry. You are my soul, my heart and a part of my flesh. I wish you a wonderful life.
I wish you a very happy birthday. May you live a long life laden with happiness and prosperity.
I know you'll be glad you're in the final year till you become a teenager, but never allow that to get into you, just live every moment rightly and you'll never regret.
The way you jump when it's time for school and your eagerness to go to class is something I wished I had when I was your age. Heheheh. Happy 12th Birthday my boy.
Now you are climbing to the sweetest part of growing up, which is becoming a teenager. I hope you'll grow to understand the best way to enjoy your teen age.
People Also Liked: Happy 13th Birthday Wishes
SHARE ON