Happy 17th birthday. Wishes to a teenager are always hard, they have too much hormones and emotions flowing through them that saying the wrong thing would set them off. Birthday messages to a 17 year old should be fun and hearty. Make them smile at the little message written on their birthday cards.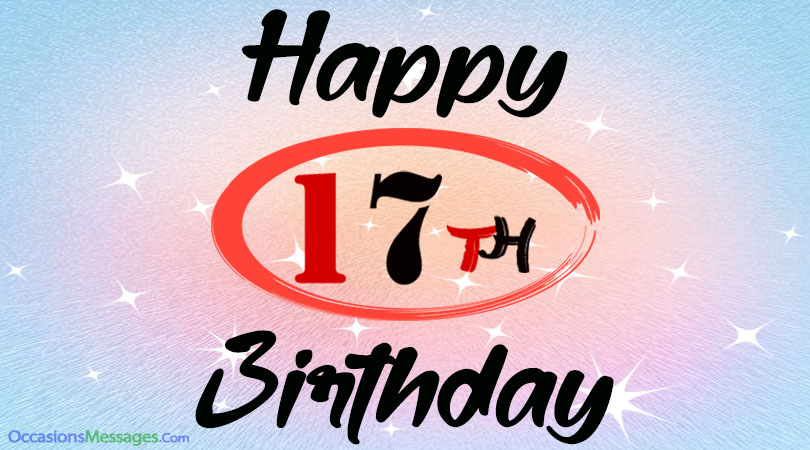 Make their day by sending them a special message from the heart full of thought. Remember, teenagers are really delicate and want what they want sometimes without thinking of the consequences. Show them you care and love them by sending them a 17th birthday message on their birthday reminding them that you will always be there for them.
Happy 17th Birthday Wishes
A fine stone was born 17 years ago; I wish you all the good things' life can afford. Happy 17th birthday. Have fun.
Happy 17th birthday to our fantastic son, best is yet to come, we are proud of you and we have full trust in your abilities to bring good name to our family.
17 is a significant number in counting age number, because it marks the end of childhood. May your days become better and brighter as you enter into adulthood. Happy 17th Birthday.
No matter what anybody says, you matter to me, you are a special kid and I hope I can be there whenever you need me, even when you don't. I love you, enjoy your 17th birthday.
I'm glad I said yes to a young man like you, you're not just young but you possess an old soul. Happy 17th Birthday to you my crown. I wish you happiness throughout the year.
May your 17th birthday be more graceful that the last, may you share cake with your friends and May you have everything you've wished for. I love you.
Happy 17th birthday. The sky will be your stepping foot. Have a beautiful birthday.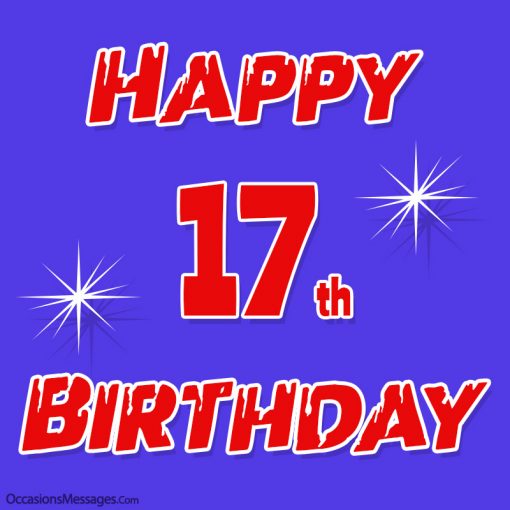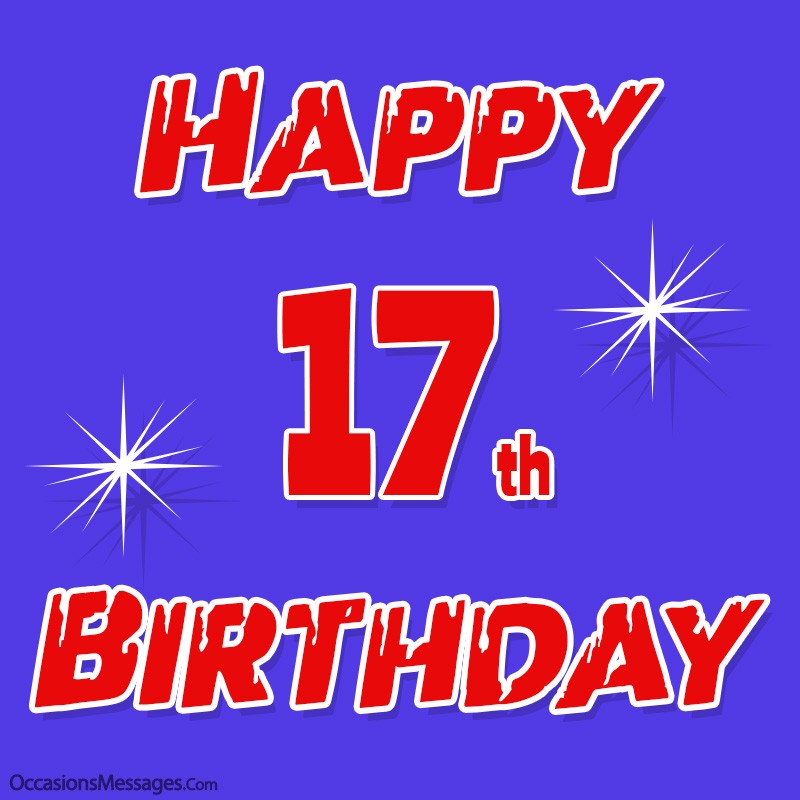 Today being the 17th year of your existence. I will say a big Happy Birthday to an extraordinary person I ever came across.
I just want to wish the best to the brainiest, most humorous, and most exceptional 17 year-old in the universe. I pray we remain friends forever.
I don't think any father would ask for a better son than you. You are the paradigm of perfection. I hope you'll keep growing in this path. Happy 17th Birthday.
They said our relationship started way to fast but I said to myself I will never find a girl like you again. I'm glad that you believed in me.
I pray your new age brings forth a new and magnificent leaf in your life. Happy 17th birthday.
Hello, freckle it's your day. Enjoy and be happy not everyone born same day with you are still alive. I join in your celebration of your 17th-year-old birthday.
Short 17th Birthday Wishes 
You really deserve the very best. Your life will be filled with an abundance of Joy and success.
You've not just aged by a year today; you're 17 years wiser than you were years back when you were born.
Another 365 days of adventure starts today, you've lived 17 already, and your journey takes another dimension today.
May your 17th Birthday be explosive and the best you've ever experienced, until the year after.
Be delighted, smile and live the rest of today your way, your 17th birthday depicts how far you've come in life.
May your light never dim as you become 17 today. Happy 17th Birthday.
This date brings forth new things; you are a good friend, my heart. Happy 17th birthday to you.
Cute 17th Birthday Messages
Happy 17th birthday to the one who has brought us so much joy than we can imagine. We will continue to support your life journey as your parent. Much love.
Your advancement into age 17 is great news for us all in this house, you mean so much to us and we wish you all the best as you celebrate today. Happy 17th Birthday.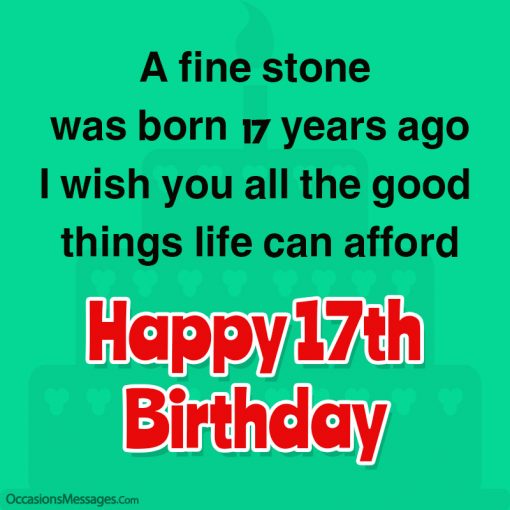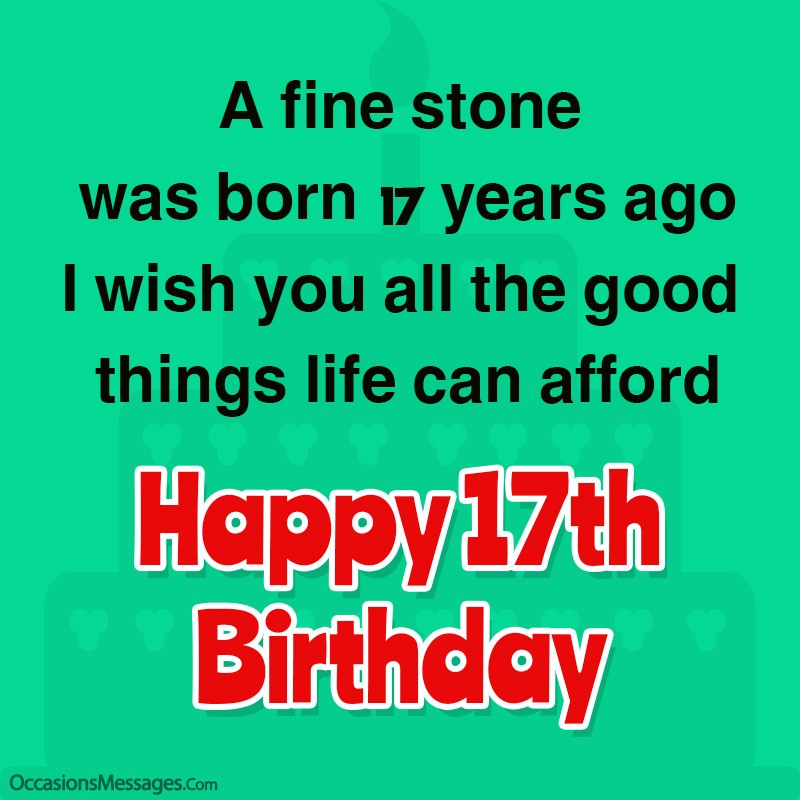 While I was growing up, there were a lot of pressure from every angle which later affected me, but now that you are 17. Live without any pressure and achieve your dreams. Happy 17th Birthday.
Happy Birthday that is all I can say and I wish you many happy returns. Have a beautiful 17th birthday.
I never had interest in girls until you came along my way, I'm glad we could be together as lovers, you've been my everything. Happy 17th Birthday to you my girl. Stay blessed.
For a Friend
A lot has changed about you since your last birthday, you are 17 years old today, and all I can see is positive changes and outstanding attributes. Congratulations.
You may have had many birthdays, but I wish your 17th would be the best you ever experience and leave happy and sweet memories that will linger for ages.
Happy 17th birthday to a rare gem, you are one of the most beautiful people that I know therefore you deserve my goodwill messages on your birthday.
Do you, be you and always celebrate you, you are unique, you are amazing and you are the most special 17 year old I know of. Have a hearty birthday my love!
I can never find the right words to tell you that you matter, you mean something and that you have a lot to look forward to. Enjoy your 17th birthday, have fun and make merry.
For Brother
May this birthday remind you more of who you are, what you can be and what you are capable of, remember, you will always be loved. Happy 17th Birthday brother!
Happy 17th Birthday, I may tell you everything you already know; it's not that I love nagging; it's that I care too much to not repeat myself. Have a blast dear.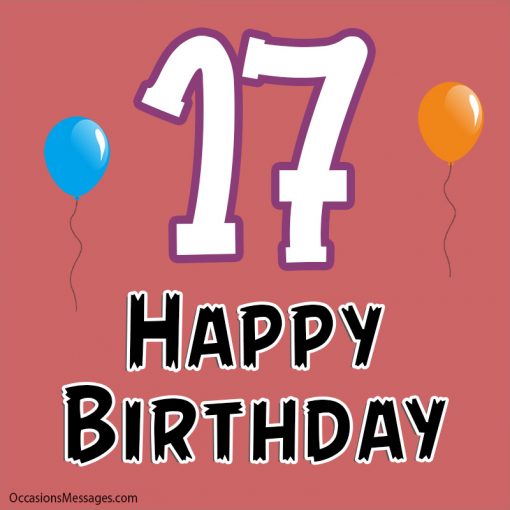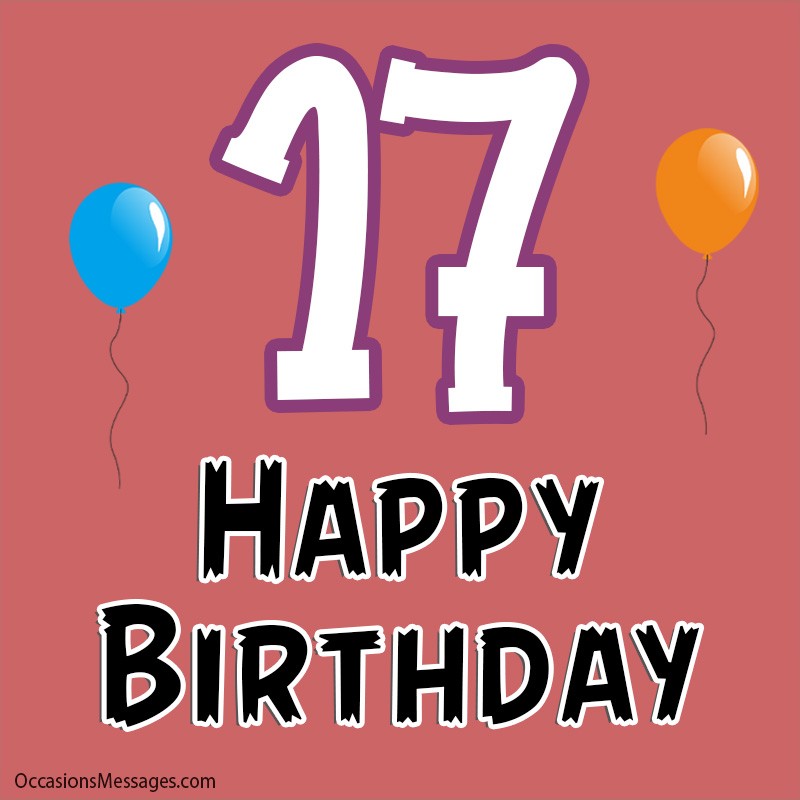 I want you to remember these words so I am putting them down. Have a hearty 17th birthday bro; always remember I am here for you no matter the trouble you are in.
May the stars shine especially bright for you, may your path be crystal clear and may all that you desire appear today.
This is a great moment in our lives, you are gradually getting old, I hope you'll develop in wisdom and understanding. Happy 17th Birthday.
For Sister
It amazes me how time flies, you are 17 and amazing. I wish you faith, love, and strength to scale through the hurdles of life.
May your 17th birthday open doors you thought were locked, may you be glad may you be happy and most of all, may your cake fill you with joy this day.
Happy 17th birthday to our wonderful sister the very best is incoming we are proud of you, you are gifted with strength to overcome all the obstacles of life.
There's a way to identify a responsible girl, and I can say you're really responsible even at a tender age. May your life be great as you grow. Happy 17th Birthday sister. Have lots of fun.
Growing older very fast by the minute, I am afraid one day I'll open my eyes to find you have white hair. Happy 17th Birthday beautiful, you are precious in my eyes.
For Son
Birthdays are once in a year but it's not just a day to celebrate you, because every day is a day to celebrate you my good son. Enjoy your special day.
Now your thoughts will start to develop into the thought of a man, where something's get more important than to just play about. Happy 17th Birthday son.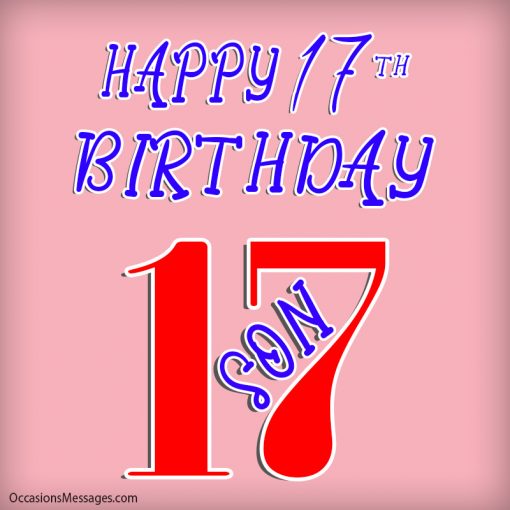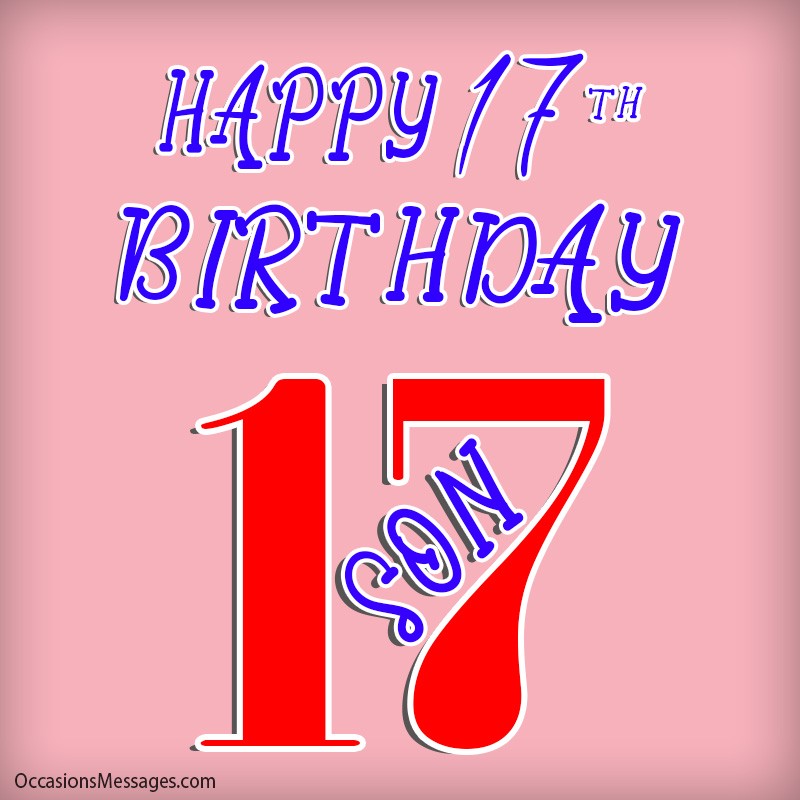 When I clocked age 17, I can bet it that I don't know half of what you know now; it shows the rapid growth in our present world.
I've been too busy that I've given too little attention to you my growing boy; I hope this age will push our relationship to a new level.
May this special day bring you special joy and countless of opportunities, that you might become what God wants you to become. Happy 17th birthday to you my dear son.
For Daughter
The transition of a 17-year-old girl is an interesting one; she stopped being daddy's pet to daddy's best friend. I am really glad you're growing into adulthood. Happy 17th Birthday daughter.
Your first name is charming, tour middle name is beautiful and your last name is elegant. Happy 17th Birthday to a pretty girl with pretty names. Enjoy it.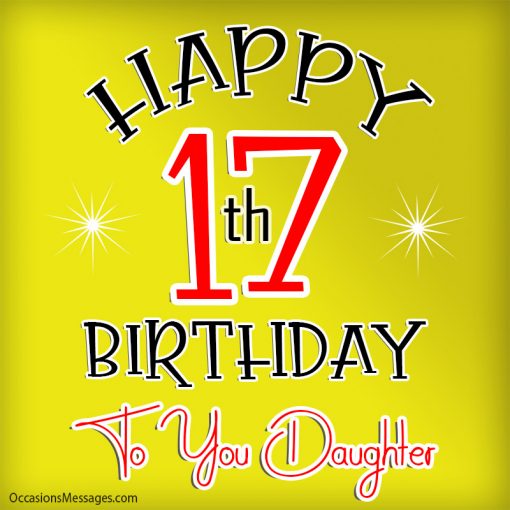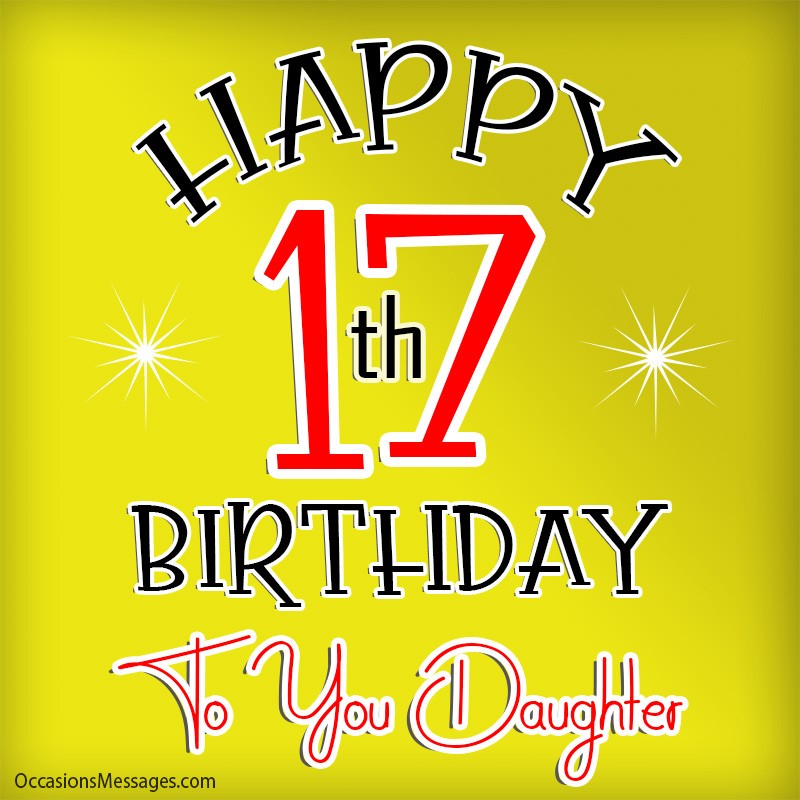 The joy of every parent is to train a child to a point that they'll give them rest. I hope you've reached that point where you'll give us rest. Happy 17th Birthday daughter.
Sometimes I wish they can extend your holiday by long margins, so I can have the opportunity to spend more time with you. You're such an interesting daughter.
You've been a boy for everyone; some call you ladies' man. I really wish to see that side of yours. Hehehehehehe.
For Nephew
As God has added a year to your year, we pray for wisdom, knowledge, faith and patience to live a simple and exemplary life. Happy 17th birthday nephew.
You've always asked for a birthday party for a long time. Now you'll have it in a really massive way. I wanna wish you well as you clock 17. Happy Birthday nephew.
One of the most special age is 17, it's really special, you have all the strength needed to do anything you wish to do. I hope you'll use your strength well.
Oh! Glorious you are 17 today your grass will forever grow green. Your adversity will turn to your advantages.
I will go with you to the ends of the world, I love you so much and wish you nothing but the best as you celebrate this special 17th birthday. I love you so very much my dear.
For Niece
This day signifies one to remember for many others, aside from your 17th birthday party you offer us a chance to come together and interact.
Be wise my dear niece, engage in good company and you will live a long and fruitful life. Have a hearty 17th birthday, I always have your back.
With great joy and happiness, I join in the celebration of a rare gems 17th birthday niece; you will continue to be a blessing to all who meets you.
Happy 17th Birthday my dear, you are an amazing kid and I can't help but admire how fast you have grown. May you always know right from the wrong. I love you.
For Grandson
Be a responsible boy, grab life by the horn, become a joy unto your mother and your father and life will be very fare to you. Happy 17th Birthday grandson. I felicitate with you.
I will always try to do right by you, give you everything you desire, but not spoil you too much that you forget the strength you possess. I love you, have a hearty 17th birthday.
The teenage age is filled with new opportunities and tests and soon, the journey ahead of you will be filled with many miles. On this beautiful day, we celebrate your birth; we would like to let you know how important you are to us.
I can never be what you are, I can never have your skill or talent, you are one of a kind, and I hope you enjoy your 17th birthday grandson.
For Granddaughter
Just know as you turn 17, without you, there is no me, you complete me and I hope you enjoy each and every moment of this day. Happy 17th Birthday granddaughter!!
Make so many memories to fill your olden days with laughter and nostalgia. Have fun with your friends and all those you care about. Hearty birthday my love, you are blessed.
Life is a journey and each day we take a new step, today your journey halts at the celebration of your 17th pit stop. Have fun my granddaughter, it's your birthday!
Happy 17th Birthday my love, you are special and there is none like you in all the realms. I hope you love yourself more than you can ever be loved.
For Cousin
Irrespective of people's opinion about you, I want you to know that you remain special to me and I hold you in high regards.
May your 17th birthday be more memorable than the last, it is an opportunity to have met you in my lifetime. Stay away from trouble and keep living the dream.
I want to wish the best tidings of the day to a phenomenal and hardworking individual; you are worthy of every hype that you get. Happy birthday cousin.
We get to celebrate the awesomely fresh 17 years old, rid yourself of bad energy, and always believe that you can work your way to greatness through hard work.
---
You May Also Like:
Birthday Wishes for Cousin – Happy Birthday, Cousin!
Amazing Birthday Wishes for Twins on Their Special Day
The Best Collection of Birthday Wishes and Messages for Crush
---