Happy 13th birthday. The welcoming of the teenage years, oh what a happy experience to be part of such an amazing day, when a kid kicks off their age 12 and usher in their teenage year. Birthdays are always exciting times, especially to the kids, when they get to invite all their friends and share with them on this glorious time.
Birthdays are exciting times and should be treated as such. Birthday messages to a new 13 year old should serve as a constant reminder that you were with them during that happy time of their life and you will continue being there for them. Here are some birthday messages you can send to your 13 year old.
Birthday Messages for 13 Year Olds
It is time to get wild. You have officially become a teenager. Happy Birthday to you!
13 years old?! Wow. You have gotten so big so fast. I can't believe it. Enjoy your birthday young one.
Happy 13th Birthday my dear, blow out those candles and you will see your wishes come true.
There is a long road ahead of us and I am looking forward to making it crazy! Happy 13th Birthday my friend.
All kids want toys or something they could play with, but you want books always, I hope you will become the next Albert Einstein and make me proud. Happy 13th Birthday.
It's time to kick out 12 and welcome 13, you are an awesome kid and I hope you have fun on this day.
You are an awesome kid and I love spending time with you. I hope you enjoy this birthday and all the day has to offer.
You are a special 13 year old with so much in you, you are amazing in more ways than one and I am happy to be part of you.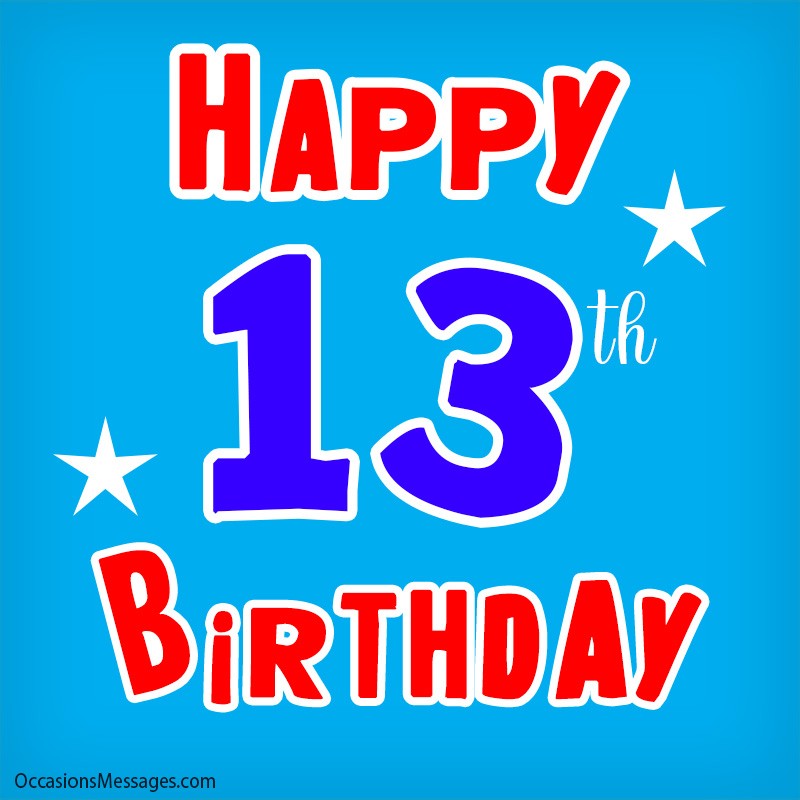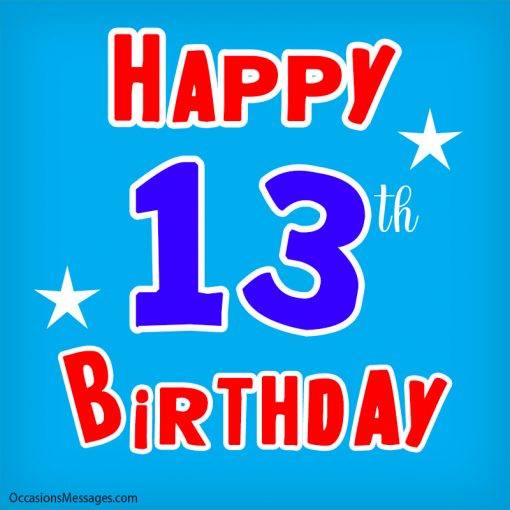 Birthdays come but once a year, but I am happy to celebrate your birthday each and every day of your life.
You are getting old too fast! You need to stop it. Stay young! Have fun, enjoy it. It doesn't last forever.
Life is in phases, congrats for crossing to the next stage of life in good health. Happy Thirteenth Birthday.
The 13th birthday party! 13 years old! Hormones raging wildly and energy through the roof! Let's get it popping!
Oh boy. You are 13 years old now? I could only imagine what you are going to go through. So many hormones, so many stories. We will be here for you, through it all.
Happy 13th birthday! I know we are young but I get the feeling, we are going to be friends for a very long time. I got your back no matter what.
I want you to know, no matter your age, I will always be here for you, I will always look out for you and I will always be the one you can count on.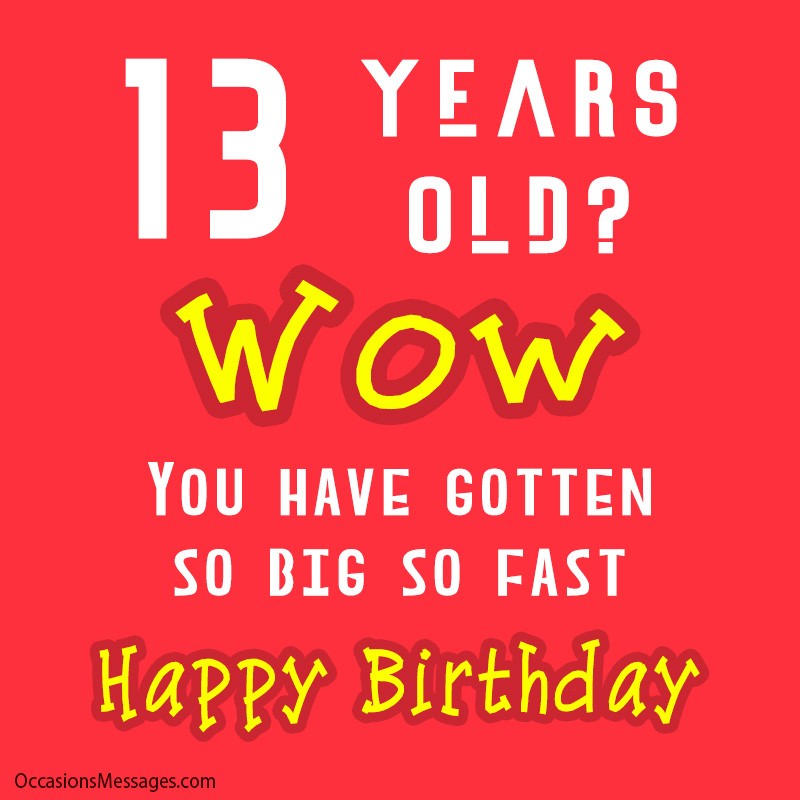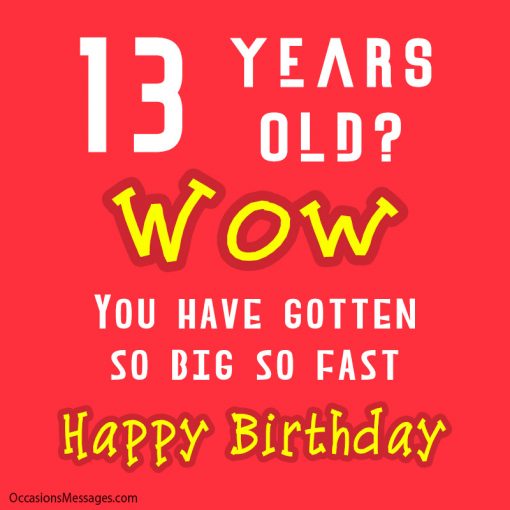 This is going to be an awesome time. We just entered our teenage years and this is going to be the party of our lives! Happy Birthday buddy!
I look forward to this day as this is the start of your youth. You will have so much unbridled energy and potential. I know you will be incredible. Happy Birthday!
This is the age that begins the teen stage, may you become the best teen amongst all others. Happy 13th birthday. May God bless you abundantly and beyond doubt. Stay glorified.
I love playful kids, I'm glad you are not lacking in that aspect, but I also like a kid that reads a lot. Combine this together and you will be my favorite. Happy 13th birthday.
Be reminded always that greatness is in your blood, just reach for it when you need it, may your sun never stop to shine. Happy 13th birthday kid. Enjoy it to the fullest.
For Son
I have just a message for you, you are a champion in the making and your authority will be made known in your excellence and in everything you do, happy 13th birthday little champ.
I have a lot of gift for you my son, but the best I can give to you now is to wish you a happy life from the bottom of my heart.
May you always be on the front line when it comes to excellence and super achievement. Enjoy your glorious day my son, you deserve it.
Happy 13th birthday my son, I hope at this age, you will become a great person. May you find a dream worthy of you. Have a blissful year.
Your quietness makes you so unique, but you also know when to express yourself verbally. You are such a glorious kid. Happy 13th birthday son, enjoy growing up.
I feel like not going to work today because it is the birthday of the cutest boy in this community. But I must go to take good care of the boy.
For Daughter
The path to follow to become a person to reckon with in the nearest future is set before you, may you never miss any step to the top. Happy 13th birthday.
I cannot stop to wonder how you have become so beautiful, when neither of us your parent is good looking. Heheheh. You must be an angel sent from heaven.
May your days be forever bright and may you be the light that the world has long been waiting for. Happy 13th birthday wonderful daughter, enjoy this special year.
Happy 13th birthday daddy's daughter, may all your life be glorious in every aspect and may you accomplish more than you could think. Enjoy this beautiful and special day.
What a child you are, so full of life and charming, everyone loves their children to be around you, I guess we'll need rooms for friends too. Lol. Have a nice day lovely daughter.
I hope you can grow to resemble me facially because your other siblings had the resemblance of your mother. Heheheh. Happy 13th birthday my beautiful daughter. Enjoy your special day.
For a Friend
We may not know what is going to happen tomorrow but we can always try our hardest to make the best of every situation. We have each other forever and always.
It's a time when you get to discover things about you, you didn't know. I hope you like you; for there is no one who will like you more than yourself. Enjoy your 13th birthday bro!
It's your 13th birthday, may this day bring you a lot of smile joys and laughter. Have a hearty time and enjoy each and every moment of it.
You are an amazing kid with so much potential, do what you want when you want to and be smart about it, that's the only advice I'd give. Love you.
May your 13th birthday bring you unimaginable joy and cheer. Always count what you have dear and don't look at what is missing. Some people aren't as lucky as you.
Best 13th Birthday Wishes 
Life has its way of bringing goodness to everyone, mine is you. I am happy to be the father of a well grown lady like you.
What a sunny and bright day it is, I asked myself what could be so special about the beauty of today but I remembered it is the birthday of my princess. Happy Birthday my love.
Not all your pairs lived to see their thirteenth birthday; I rejoice with you on your latest achievement, I wish you many more years.
The teenage journey starts now, and the hardest thing you'll deal with is knowing thyself and sticking to what you believe in. Happy 13th birthday!
I know that during this period of your life, you will have the highest highs and the lowest lows, but you need to know that we are here for you. Happy Birthday!
The 13th birthday is the beginning of your young adulthood. There can be many decisions made here which will help you grow. Always try your best.
I feel thrilled that you passed the kid stage and now a teenager. May you grow in understanding and good health.
How beautiful it is to have been able to witness your first Birthday as a teen. It's one of the most critical times of once life, and I'm so jealous of you.
I have only one wish for you and it is the best I can give to a child I love so much, may you be blessed all your life.
Birthdays are special times when you have those you love and hold dearly close to you. Happy 13th birthday dear, you are amazing and I hope you enjoy each and every part of this day.
Happy 13th birthday! Inspiration wait for you but, even more importantly, challenges. You will have challenges galore. Conquer them and destroy them.
This is the time for incredible fun and time for conquering the world. If you put in the work today, you will reap the rewards tomorrow.
This birthday party is going to be an epic time of wild proportions! I love seeing how excited you are and it makes me so excited as well. Happy Birthday! Let's make it happen!
Wow. You have so much potential and I know that you are going to become someone incredible. So young and so fast and you are going to make it happen. Happy Birthday to you. Have fun!
Today isn't only your thirteenth birthday but also the day that you welcomed teenage life. Have fun as you age in grace and maturity.
Make each day amazing and enjoy each and every moment and see every tear in your life turn into immense happiness. I love you, happy 13th my dear child, you are blessed.
Now your mind is growing fast, your brain is accommodating a lot, please ensure to feed on right things. May God guide you through every path you'll thread.
Happy 13th birthday dear, it's your day, and I wouldn't want you to spend it in the wrong way. Love those close to you, cherish them and be with someone you'd be proud of.
Life can be crazy and you never know what to expect. Always be prepared and start living today so you can be prepared tomorrow.
May you have a good life all through your sojourn here on earth and may everything be as easy as it could be for you. Have lots of fun.
Have a great and cheerful birthday my dear 13 year old, finally a teenager. May no one make you something different. Always do your best and leave the rest to God. Love you!
You are now 13, no more 12 wishing around. I wish you all the best as you enjoy the cake, laughter, love and friendship around. May all your wishes come true dear.
I can't believe how big you've grown, you are surely heading somewhere, on this 13th birthday, I wish that you may grow healthier, wealthier, and more courageous.
Happy 13th birthday! I know that you will have times where you may hate my guts but I love you either way. Have a beautiful birthday.
Science has been the thing that fascinates you so much, may you become the best scientist that ever existed. Heheheh. Happy 13th birthday son, may you do better than Armstrong.
It's your 13th birthday, may this day be filled with joy. May you live longer than the hills, for I love you to mars and back. You are important to me.
You have been planning for your 13th birthday for so long; I hope it turns out to be per your specification. You are an amazing kid and I hope you make each second worth remembering.