Happy 15th Birthday Wishes: The excitements of turning 15 are always bigger and better than the ones of turning 14. A 15 year old is a young adult who is going through their teenage years and think they know what they want even if it's not appropriate for them. Talking to a teenager can be tough, but sending them a birthday message can go a long way in making the day unforgettable for them. Send them a message that they will forever look at and read with a smile at the love shown to them by those closest to them. Here are some birthday messages you can send to your 15 year old wishing them a happy time as they celebrate a new age.
Happy 15th Birthday Wishes
Wish any 15-year-old a happy birthday by one of these wishes and messages.
Happy 15th Birthday. Enjoy your special day with lots of happiness.
All my best wishes and warm greetings to you. Happy 15th Birthday.
When rain wants to fall, it drops from a cloud, may the unprecedented blessings of the lord drop on you every day of your life. Happy 15th Birthday.
Birthdays are as sweet as honey, may your life after your 15th birthday yield only good and sweet memories.
Happy 15th Birthday, my cutest and adorable boy/girl. I hope you will always be happy every day of the year.
Your heart is so beautiful like you. Wishing you a wonderful 15th birthday loaded with love and true happiness.
Since it's your 15th Birthday today, you're allowed to have fun for the entire day. Enjoy the rest of the day.
May your 15th birthday mark the beginning of new and grand opportunities, may you grow braver, lovelier, and heartier!
Happy Birthday, sweetheart. Wish you a life laden with joy and happiness.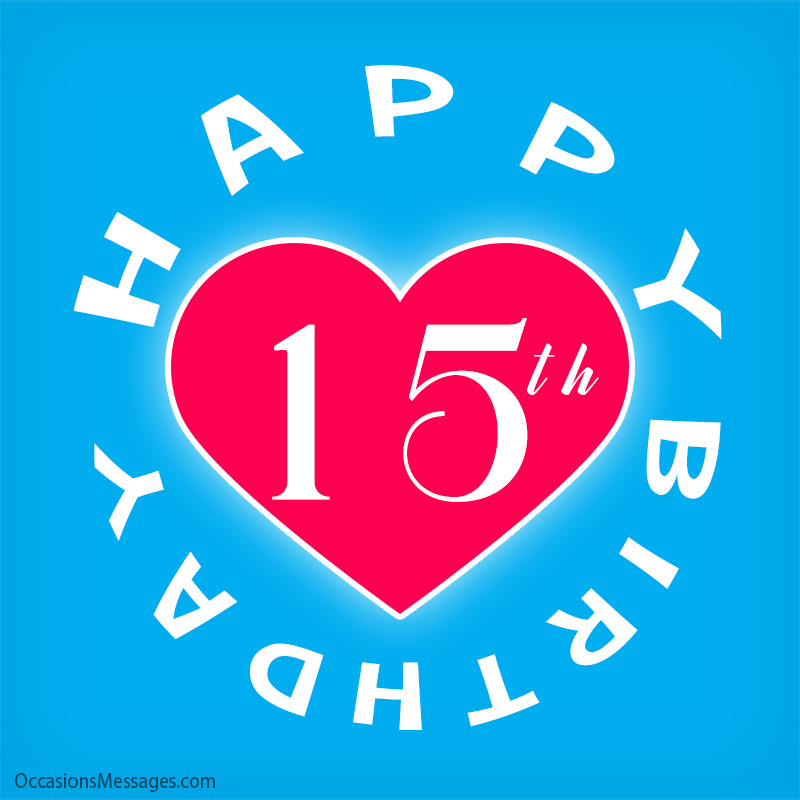 Happy 15th birthday my darling, you are simply amazing and I hope you know how much I love you. Enjoy the day my love!
Today is your special day, but I have a really simple gift to give and I hope you'll love it with every bit of your heart; the gift is inside your room.
May all your wishes come true, as you turn 15 remember the world is too big for impossibilities, I love you!
You are the most amazing 15 years old I know of and I am so happy to be sharing the day with you. Hearty birthday.
A beautiful sweetest birthday cake for the girl who is so beautiful. Just blow the candles and make a wish on your birthday.
For Son
Use one of these birthday wishes for a son turning 15.
Happy Birthday son. You are a blessing to me and I love you so much, I value you and promise to make this 15th birthday unforgettable.
The best thing a son can give to his parents is love, but you gave me love, peace of mind and pride. I just can't ask for anything better. Happy 15th Birthday son. Stay Blessed.
Happy 15th Birthday to you troublesome teen! I hope you find a reason to smile today, you are special to me and I thank God for you each and every day.
You are precious in my eyes, you make me happy and I am always proud of you. I hope you realize how important you are to me, have a great 15th birthday son!
Read More: Best Belated Birthday Wishes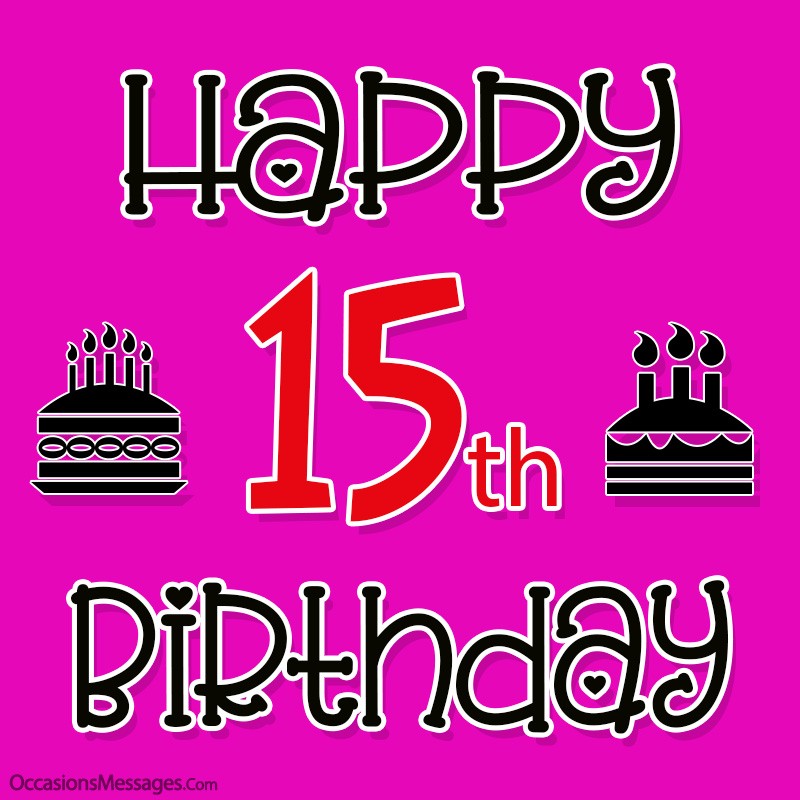 Being with you today makes me feel like the luckiest person in the world, I hope your 15 birthday is the best, I love you and only want to see you smiling!
You are the joy of my life and I am happy that I get to share in your 15th birthday, may you be blessed, proud and loved always and forever!
For Daughter
Here are the sweetest birthday wishes for a daughter turning 15.
Happy 15th Birthday sweet daughter. You remind me of my self at your age. Enjoy.
Because of you there is joy everywhere. Happy 15th Birthday daughter. Keep growing in wisdom and favor.
You are my princess daughter. Your laughter is the soul of my home. Be happy and keep smiling, my love. Have a wonderful 15th birthday.
Happy 15th Birthday dear daughter. You are an amazing girl and I hope as you blow out those candles, everything you had planned will come true. I love you so much.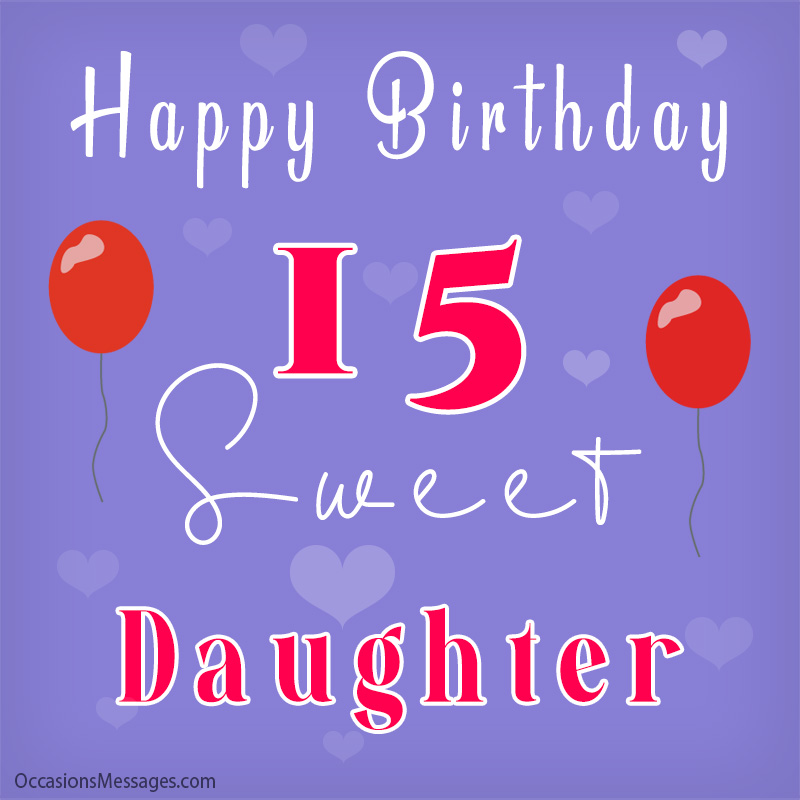 Happy 15th Birthday lovely daughter. I have a great surprise for you today because you have always been a polite girl.
Happy 15th Birthday my beautiful daughter! You are the most important person to me.
For a Friend
Here are some special birthday messages for a 15-year-old friend.
Happy Birthday my best friend. Wish you a better future and happy life.
You should be thankful for having lived 15 years today. Happy Birthday my friend.
I hope to have many, many more years by your side; you are a friend worth having. Happy 15th birthday to you, dear! Enjoy every bit of the year ahead of you.
As you turn 15, I hope you know you will never be alone; I am here if you need anything, you are all I need and I am happy to share this birthday with you.
You work too hard for a 15 year old, put the books away and enjoy the day, it's your birthday my friend, Happy Birthday!
Happy 15th Birthday Messages
Use one of these birthday messages for anyone turning 15.
Growing in beauty as a 15th year old lady is astounding, while growing in wisdom and understanding is tremendous. Never give preference to one than the other daughter.
It is quite obvious, the more birthdays we have, the longer our life span, I hope you will have many more years to celebrate in this lovely world. Happy Birthday boy turning man.
It is really awesome to behold the beautiful mature woman this 15-year-old girl has turned into. It is a splendid joy to see you grow to become a woman.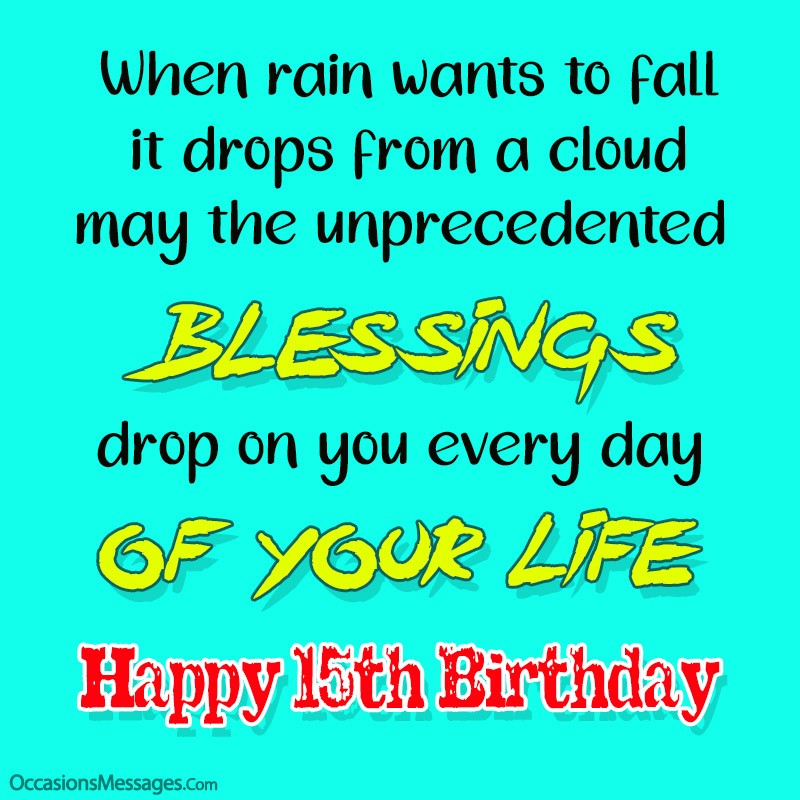 You are an obedient, loving, caring, and intelligent boy. I am so glad that you have no reckless behavior as the teenagers have. May your life filled with happiness and joy.
May the colors of happiness never fade and you live long and prosper life. Wish you a very happy 15th birthday, may you have many more.
Just enjoy this last year of childhood as much as you can as these are the most memorable days of life. Wish you a wonderful 15th birthday.
Hope your everyday becomes beautiful and tension free. Wish you the birthday filled with memorable events.
Happy 15th birthday my dear, you are growing to be a big beautiful woman and I am happy that I get to share in this day, may all your wishes come true darling!
Related Article: Happy 16th Birthday Wishes
SHARE ON