Happy 10th Birthday Wishes: Remember when you were turning 10? When you really got aware of your birthday and how you wanted it to be? Remember the friends you wanted to have over and the kind of cake you wanted to have? Well, being 10 was really a huge deal, it was the time you really wanted to show the world who you really were. Birthday messages to a 10 year old are a reminder that you were there, and you will continue to be there for them when they grow up. Being 10 is a big deal for any child, for that is when they start getting their own mind and start personally planning for their own birthdays. Here are some happy 10th birthday messages you can send to a new 10 year old.
Happy 10th Birthday Wishes
Here are a big list of 10th birthday wishes, messages and cards to be sent to anyone.
Happy 10th Birthday. Wow, you are getting old too quick, Stop it. Just kidding.
You are ten years old now. Happy Birthday, Have lots of fun.
Happy Birthday. Being ten is nice, you need lots of joy to survive.
Happy 10th Birthday! Welcome to the double-digit club.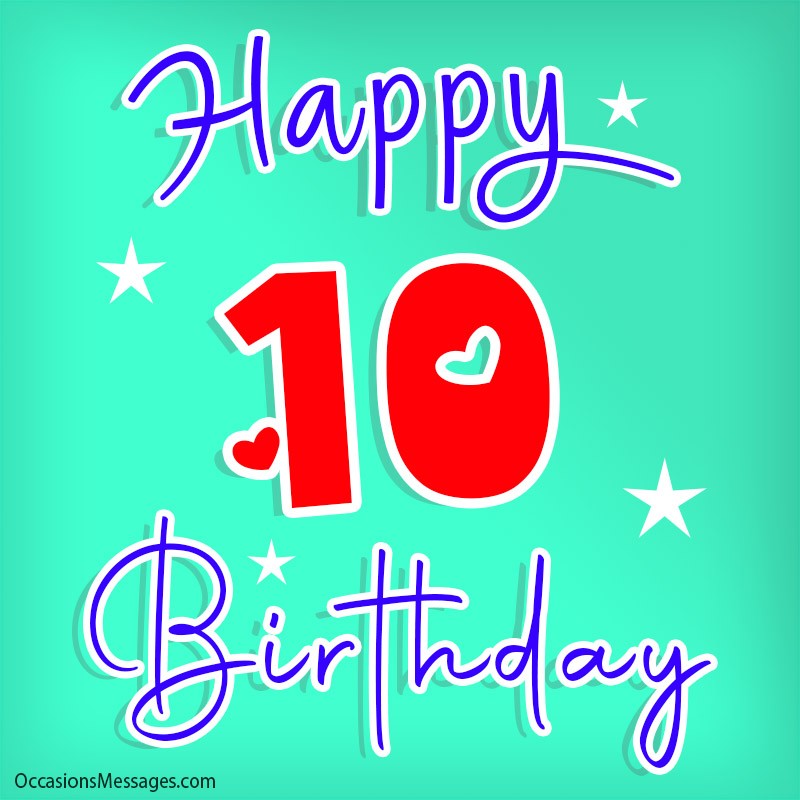 Today is not just any day, as much as it is important to you, it is much more important to us. Happy 10th Birthday kid.
Have a hearty 10th birthday full of cake, sweets and lots of fun.
You are now 10, how fast you've grow up, I am here if you ever need me.
I guess you are too young to have big dreams, but whenever you start having them, I hope all of them will come true. Happy Birthday good boy.
Happy 10th Birthday dear, I am so happy to see you growing up. I wish you the very best sweetie.
Even though I am older than you and more experience I definitely consider you as a close friend. Enjoy your 10th birthday
Happy Birthday 10-year-old girl. Enjoy your youth as you won't be young forever.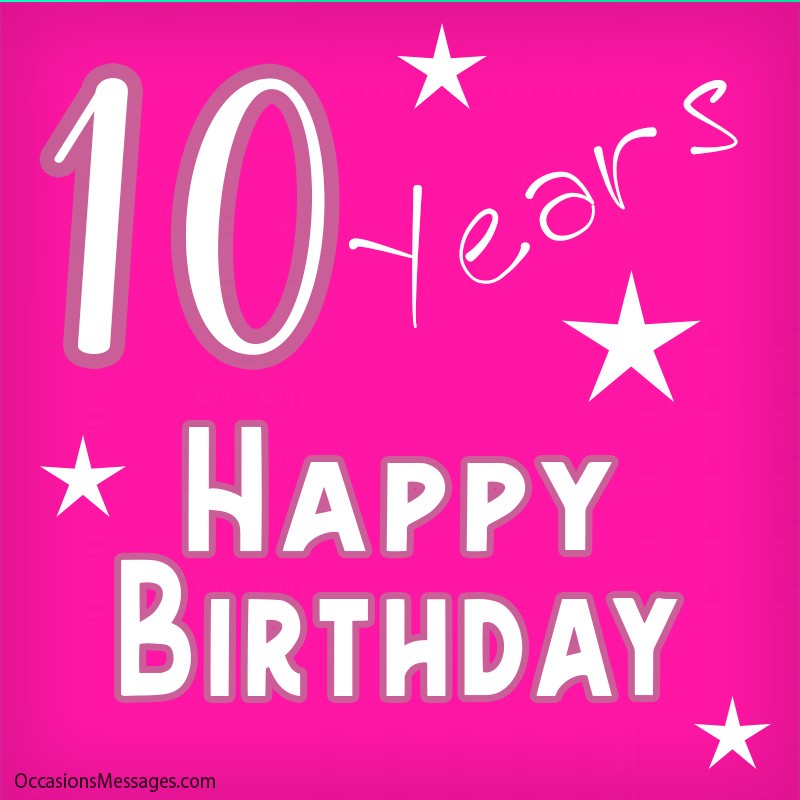 Happy 10th Birthday princess, may your hair grow longer, may your smile grow brighter and may all your wishes come true as you blow out those candles.
Yesterday you were my hero, today you are my hero and you will be my hero tomorrow, no matter your age, you will always be my little hero.
It's surprising you have not lose a glimpse of the charm you have when you were 5. I congratulate you for turning ten.
At this age the job of parenting gets harder because you'll desire a lot of things. I hope you'll make it easy for your mum and I.
10th Birthday Wishes for Son
Here are the cutest happy 10th birthday wishes for son.
Happy 10th Birthday son. Entering double digit of age is a major milestone and it is worthy of celebration. May you continue to grow.
To this birthday and many more to come, Happy 10th Birthday my little prince, I get to see you grow up to be the king of your own castle. Enjoy your day little man.
Happy Birthday! We want you to have an incredible celebration filled with laughter and ice cream.
Happy 10th birthday my good son, it's the celebration of your first decade on earth; my prayer for you is to witness many more decades in the land of the living. Have fun.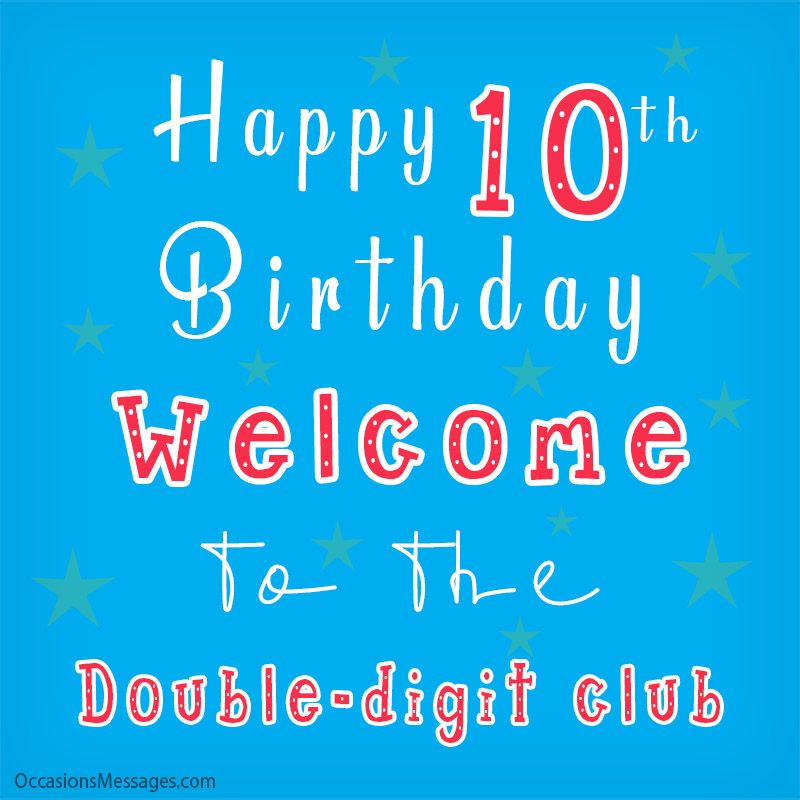 What an amazing boy you have become at this tender age, keep being yourself and you might end up being the next Mr. President. Heheheh. Happy Birthday 10-year-old glorious son.
You were just a baby in my arms 10 years ago, now you are growing into a fine lad and I couldn't be prouder. Happy Birthday boy, may you blow countless more candles.
10th Birthday Wishes for Daughter
Happy 10th birthday wishes for daughter. Make your princess birthday special by one of these messages.
As parents, we are so delighted to see you happy, your joy and happiness is what gladdens our heart. Happy 10th birthday gorgeous daughter.
Happy Birthday, daughter. 10 Years, 120 Months. Enjoy your life.
Happy Birthday young lady. May your day be full of blessing, joy and happiness, may you get loads of presents and may everyone you love be around you.
There is a joy that erupts from the heart of every parent when they see that they are raising a great kid. I'm excited to feel this joy as well. Happy 10th Birthday my daughter.
Read More: Top 100+ Birthday Wishes for Granddaughter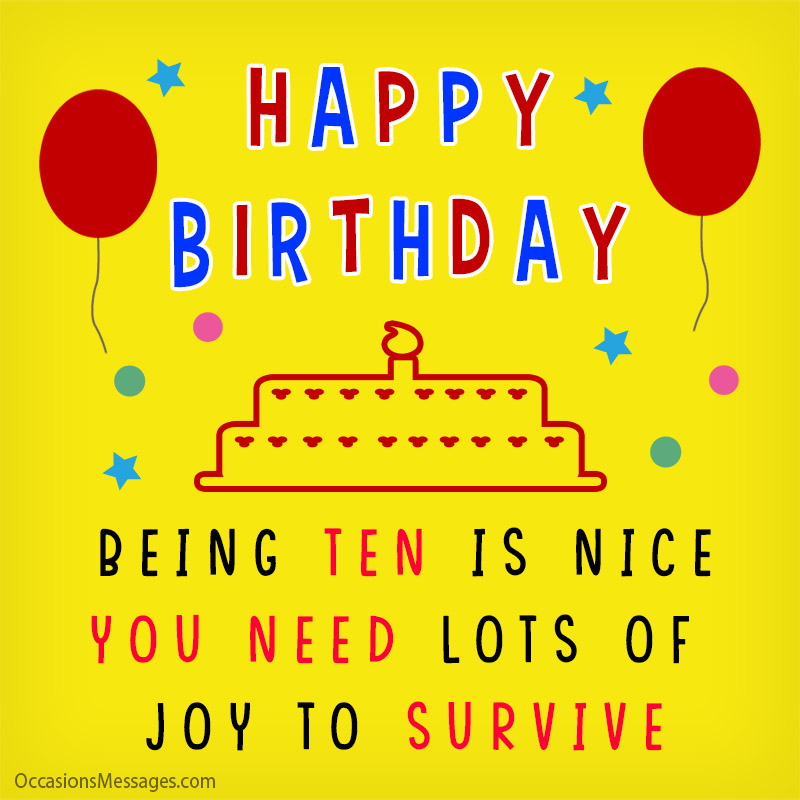 How fast time runs, it was as if the last 9 years were wrapped up in a second. Now you are 10. I hope you'll have many more years in joy and gladness.
Happy 10th Birthday to the most beautiful girl. You are such a pure soul and it's impossible to not feel happy for you. We know you are only going to become more incredible.
Happy 10th Birthday Messages
Use one of these happy 10th birthday messages for any boy/girl turning 10.
I want you to know that we will always be here for you as you get older and wiser. But for now, enjoy being 10! Happy Birthday! We got the big cake!
Happy 10th birthday dear, you are an amazing person and I am so lucky to be here with you right now. Enjoy each and every moment.
Turning ten means you have become Trustworthy. Keep growing and enjoy your lovely year. Have a great day.
To the beautiful 10 year old, I love you so much and I wish you joy, peace and happiness as you grow up.
Happy 10th birthday precious and pretty young thing, we hope that you will have a successful future and find happiness in all you do, enjoy your youthful age.
I wonder what you would want for the most on your birthday. Whatever it is, it is going to be quite a surprise. We did our best to match your surprise.
May you grow older than the hills, may you love, may you share and may you be the best there ever will be. Happy Birthday dear!
You clocked ten so soon and it's really great to see you clock this age after witnessing your childhood, may you celebrate older ages as you celebrate today.
Happy Birthday. I can see a bright future for you. You are strong brave and you make everyone happy.
I wouldn't want to be anywhere else but here, you are worth each and every moment and I just hope you get all what your heart desires.
Happy Birthday. You would think that you would be a giant by now. But you still have a ways to go. Enjoy your special day.
Growing under the kind of people that your parents are is the best for you, they are really awesome parents. Happy Birthday awesome lad.
Related Article: Happy 11th Birthday Wishes
SHARE ON