Happy 25th Birthday Wishes: Birthdays are a special time when friends and family come together to celebrate the born day of a special someone for whom all love and appreciate. Turning 25 is a big deal to the one celebrating their birthday so you have to be there for them. Sometimes, the best gift you can send to someone turning 25 is a birthday message that shows you love and care for them very deeply. Birthday messages are heartfelt and mean a lot to the person who reads them serving as a constant reminder that you will always be there for them. Here are some 25th birthday messages you can send to that special newly turned 25 year old telling them you love them very much and that they are in your thoughts constantly.
Happy 25th Birthday Wishes
Happy 25th Birthday. Enjoy the youthful days of your life.
Congratulation on turning silver. A bouquet of special flowers for a special person and that is you.
You are turning 25 now; I can't believe I am lucky enough to be sharing this day with you. I do wish you entirely the best darling, from the deepest part of my heart.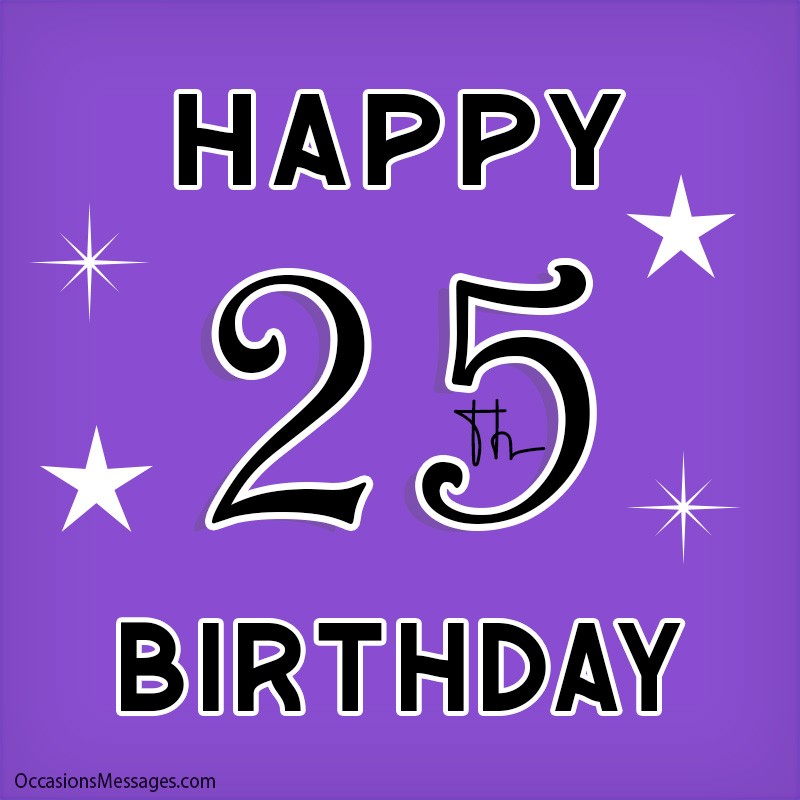 You are too cute, a brimful youth, a cherish mind, and a classy look. Happy silver birthday, young lady.
Happy 25th birthday to the person who lights up my world. I wish you health, wealth and a long life.
You are brighter than stars, cool like breeze, precious like a diamond, and sweeter than sweets. Wishing you the best wishes.
Everyone dreams of finding love, but to me finding you is all I ever wanted. Happy 25th Birthday my life.
I will always be here for you, whether you turn 200 or just 25, you mean the world to me and I hope you know there is nothing I wouldn't do for you. Happy 25th Birthday dear!!
Another year with you is definitely a blessing I cannot take for granted, have fun on your 25th birthday.
You are now 25 years, I hope you know you still look beautiful, but you are more jovial now. I hope you enjoy this day with all that comes with it. Happy Birthday love!!
The best youthful age is the age you clocked today. May your life become better as you clock this wonderful age. Happy 25th Birthday.
Recommended Article: Happy Birthday Wishes for Sister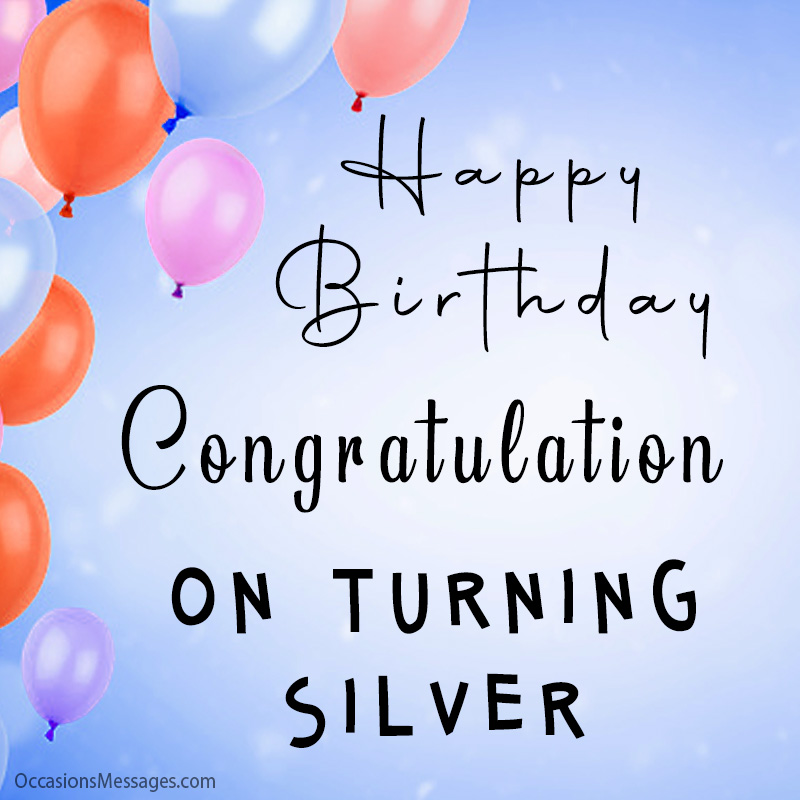 Wishing you the great 25th birthday. All you need is to love yourself.
I look up to you, not for what you have but for what you are. I hope you enjoy your 25th birthday my dear, you are special to me.
May the life grant you many opportunities to prove yourself, bring millions of moments loaded with fun, joy, cheerfulness, and laughter.
You are always beautiful in my eyes. You make each day worth looking forward to and each moment special. Happy 25th Birthday my angel!!
 It's your 25th birthday my beautiful, intelligent and sweet mate. I love you and wish nothing but the best, continue conquering lives.
I wish that your 25th birthday is as unique as you enjoy today before it fades off, do not forget that tomorrow will no longer be your day.
Slow and steady wins the race, you managed to survive 25 years, let us see how long you will last in the game where no one comes out alive.
You are the most outstanding 25-year old that I know; I hope you improve on your potentials as you grow older, happy birthday to you.
How amazing it is that you are 25 years old today, you should rejoice and be happy for scaling life hurdles and challenges at different stages of your life.
Happy 25th Birthday son, a lot of good things await you as you enjoy each second of this beautiful day. Remember, you are the reason for the gathering, we are glad to be here.
Once there is a young boy who rules my heart and calls me 'mom'. Have a fabulous 25th birthday my dear son. May all your silver dreams come true.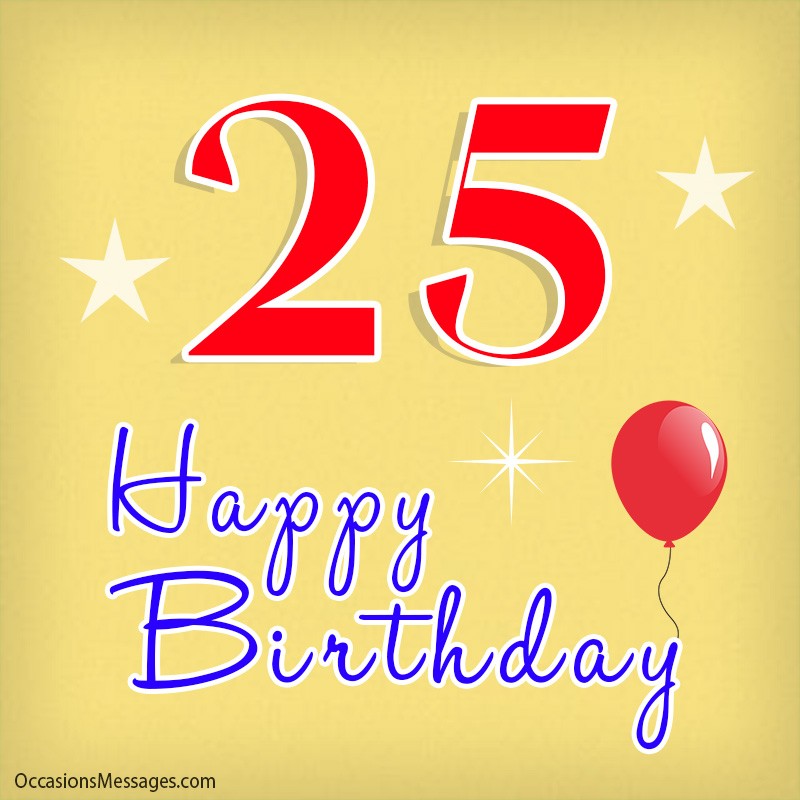 To my beloved daughter, you are my joy and my pride. I wish you many more years to come.
Gone are the days when my heart, my face and my entire body was young, but now it's your time, I can't help but look at how charming you are. Happy 25th birthday my son.
Your presence makes my black and white life colorful and I love to enjoy life with you. Wish you all the happiness in life. Happy 25th Birthday dear brother.
It's your 25th birthday dear daughter, you mean the world to me and I always want to see you happy. So put on that lovely smile that brightens my day and let us celebrate.
May your 25th birthday is the beginning of the epoch of success, worth, joy, happiness, and affluence. Happy Birthday.
Your smile has the potential to give a new life to a died man. Always keep smiling, people badly need it. Happy 25th birthday daughter.
Happy 25th Birthday my dear, you are a beautiful young talented soul and I hope this new age brings out the best in you. Have a fantastic birthday!
It's a good day to be celebrating a young beautiful 25 year old soul, you are the best out there, I believe that to be true. Have fun.
May 25 be the age where good and amazing things happen for you, may you fall in love, get married and have a perfect life full of blessings. Happy Birthday sis.
 You are the most beautiful gift in my life from my God. Enjoy your 25th birthday to its fullest. These days will never back again.
Congratulations on your silver jubilee, a person like you deserve to be this young and beautiful even at 100. Heheheh. You are such a jewel, happy birthday girl. Have lots of fun.
I hope you live longer than most of us, you have an amazing personality and I love you so much. Have fun on your 25th birthday my dearest sister, you deserve the good things.
Read Also: Happy Birthday Wishes for Brother.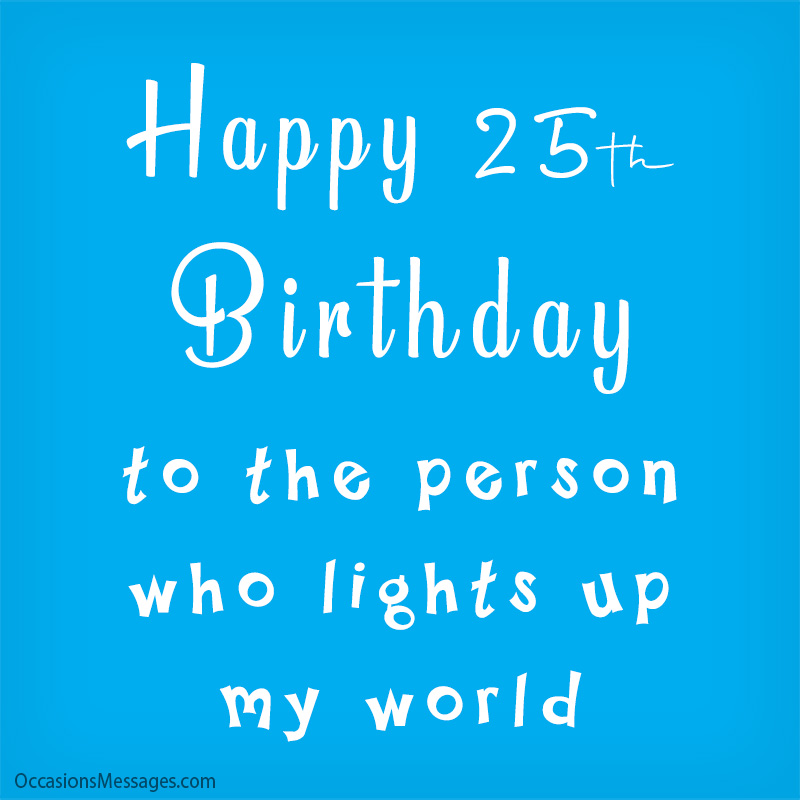 I will always see you as a phenomenal figure, your wisdom transcends your age, and I wonder how you because you are just 25 today. You are very spectacular.
Life will always be fair, it gives everyone the chance to be young once, now it is your time, spend it well and enjoy it to the fullest. Happy 25th Birthday my lovely daughter.
You are included in those lucky persons that what they want for, they can easily achieve it. Wishing you a very delightful 25th birthday. May you get the most of every moment.
You are the coolest, energetic, outgoing and sharp boy with full of intelligence and excellence. Have a wonderful 25th birthday.
You are as cute as you were in the year two. May your cuteness and liveliness always be sparkled like a star. Happy 25th birthday.
Happy birthday beautiful, you are an amazing person and having another year with you is surely a blessing. May you live longer than the great hills.
Your life's story should revolve around two mottos 'I can and I will' wish you all the best for your future. Happy 25th birthday.
Sometimes your cuteness masks all your stupidity inside you. Think wisely and take rational decisions in order to make your bright career.
You are all I ever wished for; you remind me that I have so much with you each day that goes by. I love you so much and wish you a great 25th birthday.
You are born to fly my friend, live every bit of this year like an eagle, and celebrate every day you live. Happy Birthday.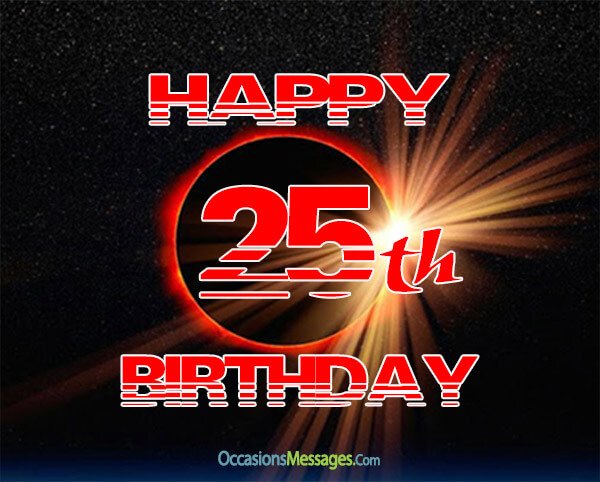 I care about you, I want to see you happy and prosper in life. I love you and I hope you get to enjoy your 25th birthday.
You are an amazing person and I love you so very much. You make my days' worth looking forward to. Happy Birthday.
Oh my pretty child, you are getting old little by little, your smile is very beautiful to gaze upon, I hope that doesn't get old. Happy 25th birthday child, enjoy your glorious day.
You are a girl with happy go lucky nature; no one can even bore in your company. My sweet birthday wishes for the very young lady. Happy 25th birthday.
You are an awesome friend, a brave partner and my other half, I am complete with you. Today, I celebrate you and all the moment we are yet to have.
Related Article: Happy 26th Birthday Wishes and Messages.
SHARE ON