Happy Birthday Wishes for Teacher: There is always that one teacher who stands out from the rest. The teacher who shows care and concern for the students as if they were their own. Those teachers may be rare, but that doesn't mean they are not there. Teachers like those are to be shown love and care just as they show you. So it is always a good gesture to write them a little note on their birthdays that is a sure way of putting a smile on their bright faces. Here are examples of messages you could write to such teacher, just to show them they are always in your thoughts too.
Birthday Wishes for Teacher
Here are some cute ways to wish your teacher a Happy Birthday.
Happy Birthday, Teacher! Does this mean we do not get any homework today? Woo!
Only you could make me want to fail, just so I could repeat your class again. Happy Birthday, teacher.
Thanks for the lessons. Now let me teach you how to enjoy your birthday.
Happy Birthday, teacher. Let's party like schools out.
To the only teacher I ever liked. Happy Birthday.
Happy Birthday, teacher. I hope you Grade today an A+.
Happy Birthday, dear teacher. Thanks for all of your guidance. I recommend you enjoy today.
Happy Birthday. I will remember your lessons forever and your birthday too!
Happy Birthday. This is a beautiful day for a special teacher such as you.
You are one of the coolest teachers I have ever known. Happy Birthday to you.
It's an honor and privilege for us to celebrate the birthday of our loving prestigious teacher.
Happy Birthday, teacher. Thank you for developing my personality.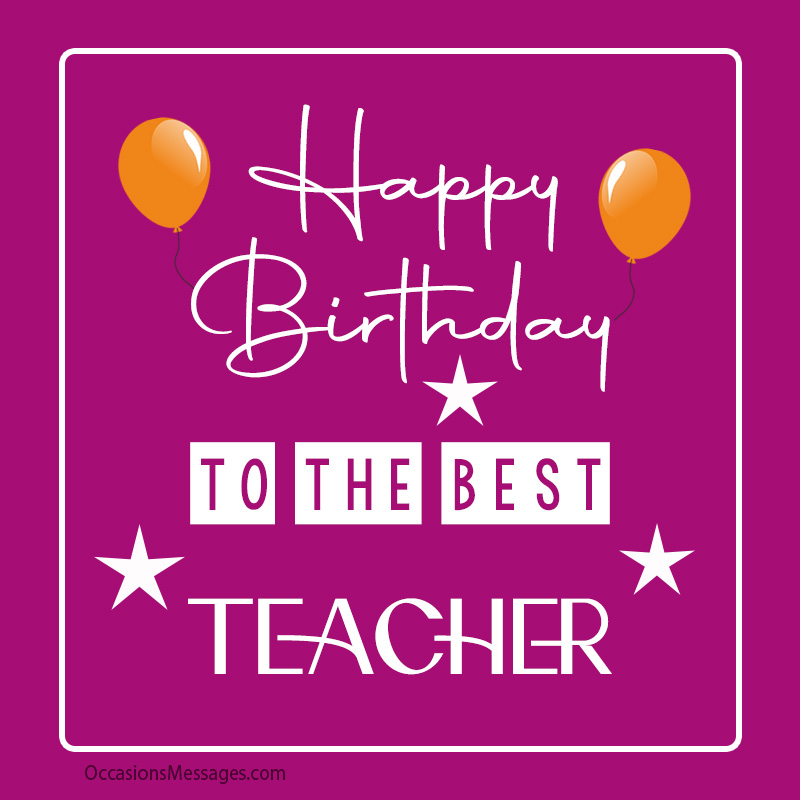 Happy Birthday to one of the best teachers around.
You are a great teacher with inspiring personality and teaching style. Wishing you a fabulous birthday.
Happy Birthday to my favorite teacher who gives so much of his ability. We appreciate you so much.
Happy Birthday, you deserve this day and more for all you do.
Dear Teacher thanks for teaching me kindness. Allow me to share what I have learned on your special day. Happy Birthday.
Thank God for Facebook, How else would I have remembered your birthday.
Teachers usually teach, but you do more than that, you care enough to help me when I have a problem personal or otherwise. Happy Birthday to the best teacher of all time.
To my wonderful teacher, you have provided much information and lessons within the year from learning. Thank you for being so great. Happy Birthday.
Happy Birthday my best teacher! We will never forget the good times we had in class. Do we not get homework today? It would be a great gift for you not to take work home.
The love for a teacher is often great and can be equal to the love of a parent, because teachers do what parents can't do for their children. Thanks for everything teacher. Happy Birthday.
I've never seen a better teacher who's so smart enough to get the best out of every student in the class. Every average performer got better when you took charge.
A teacher like you is always rare to find, a teacher that goes beyond their way to make sure you feel comfortable when you are new, listens to your complaint and helps you where you get stuck. I hope you have a lovely birthday teacher, you deserve it.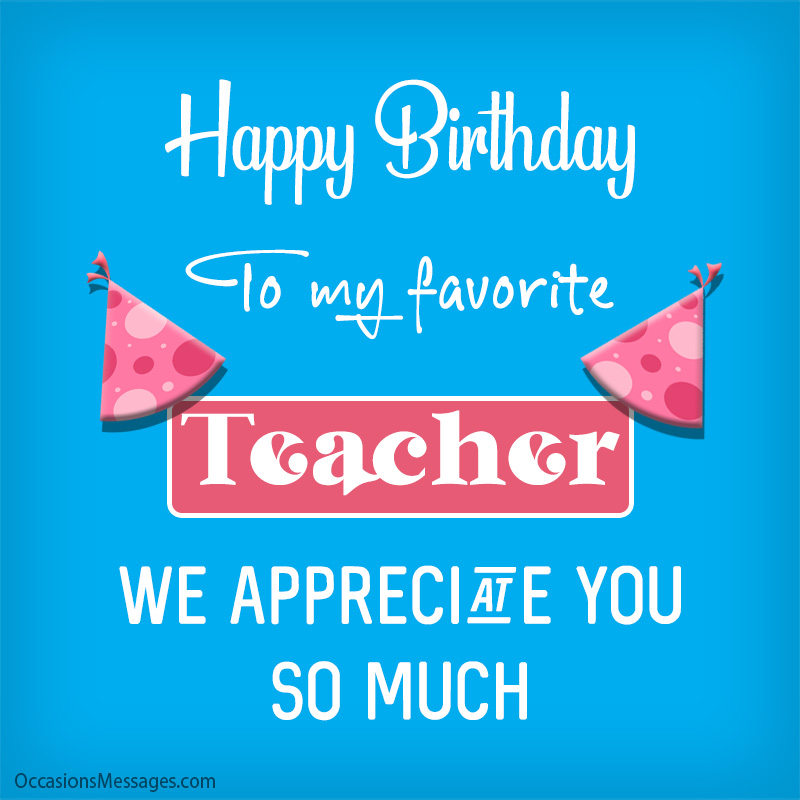 I was just an ordinary and average student in the class, I was lost in the crowd, but you made me realize my worth, my abilities and my potential. Happy Birthday my best teacher!
To a wonderful teacher with patience as large as their heart, you are an incredible person. We wish you plenty of years of happiness and success.
Happy Birthday my great teacher. Thank you for being so nice and sincere with us. Whatever I am today it's just because of your enthusiasm and endless efforts.
A bouquet of beautiful white lilies for the special person in my life whose personality is quite resembled to these flowers. Wish you a very Happy Birthday my dearest teacher.
You are my ideal and you are my role model, I want my life partner possesses all the attributes and personality like you. Happy Birthday sweet teacher.
What a beautiful day, I get to celebrate my teacher's birthday. Another year older another year wiser, I wish you nothing but the best dear teacher.
Male Teacher
Here are some special birthday messages for male teacher. You may want to see, Top 150 birthday wishes for father.
Happy Birthday. I wish more cool dudes like you would teach.
Happy Birthday sir! Thanks for being the Male influence in my life.
I feel so lucky to be taught by a guy like you. Happy Birthday.
They say superman was make believe, but watching you showed me they were wrong. Glad I got to learn from you. Happy Birthday!
Only the greatest guys can teach. You're the proof! Thanks for being you. Happy Birthday, teacher.
I hope your year rocks like you do in the classroom dude. Happy Birthday to you sir!
Happy Birthday. You're the only guy teacher I know, and the coolest guy.
Female Teacher
Use one of these cute birthday messages and wishes for your female teacher. For more options, check out Best 150 birthday wishes for mother.
Happy Birthday Mam! It's your turn to party!
I know your job is never done, but take a break to celebrate your birthday.
Yes Ma'am it's your Birthday! Have a very happy celebration.
Happy birthday, Mam! Thanks for inspiring and encouraging daily, at least enjoy today.
We know that we may have driven you crazy but today we promise to be the most well behaved students of all time for your birthday! YAY!
Thank you for being so good at what you do. Happy Birthday.
You have been like a mom away from home. Happy Birthday second mom/teacher.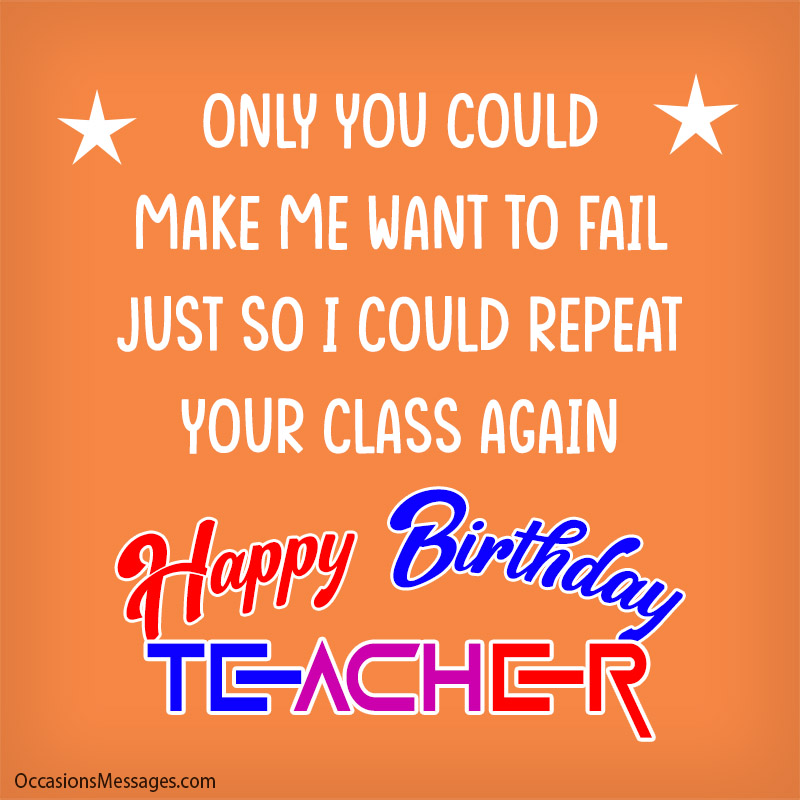 Funny Wishes
Use one of these funny birthday wishes for your teacher.
I'm convinced you could teach anything but dance. I've seen you dance. Happy Birthday teacher.
Now you have a homework assignment: Enjoy your Birthday!
We may not have liked your class, but who doesn't like to party. Happy Birthday!
I did my homework for once, what I discovered is it's your birthday. Happy Birthday!
Sheesh Birthday Candles at your age must be a fire hazard.
I know you are getting older, but don't worry soon you won't even remember your age. Happy Birthday.
I know you're getting older, but it's never too late as you always say. New career Path?
Geez you could hurt yourself blowing out all those candles.
Happy Birthday, teacher. You don't look your age, or act it!
Thanks for making it possible for me to call someone old.
Birthday Messages for Teacher
Wish your teacher a very happy birthday with the following messages.
Happy Birthday. You are my favorite teacher and I am glad to be part of this amazing day. May this birthday bring more memories.
You are the best teacher of statistics I have ever got. As I was very weak on this subject but your enthusiasm and strong knowledge made me an expert in this. Happy Birthday my dear teacher.
Teachers are our spiritual parents and your teaching style, strong knowledge and passion create an environment in the class. Happy Birthday world's best teacher.
How can I ever show my gratitude towards you, you teach me new things every day and whatever I don't understand, you never hesitate to repeat it. Have a great birthday teacher, you are the best.
Your personality encloses the factors of discipline, guidance, friendship, devotion, gentleness and love. Wishing you a very happy Birthday my sweetest teacher.
White or Black, no Grey. This is an outstanding feature of your personality. Have a stunning birthday, my dear.
Thank you for being a second guardian to us, you protect us from all the bullies and take time to guide and advise us. You are highly appreciated, have a lovely birthday teacher.
A great mentor, a spiritual father, an ebullient person, a jovial personality and a simple human, you cover all such attributes. May you live a long life.
Read More: Top 100 Birthday Wishes for Principal
SHARE ON