There is always that one teacher who stands out from the rest. The teacher who shows care and concern for her students as if they were their own. Those teachers may be rare, but that doesn't mean they are not there. Teachers like those are to be shown love and care just as they show you.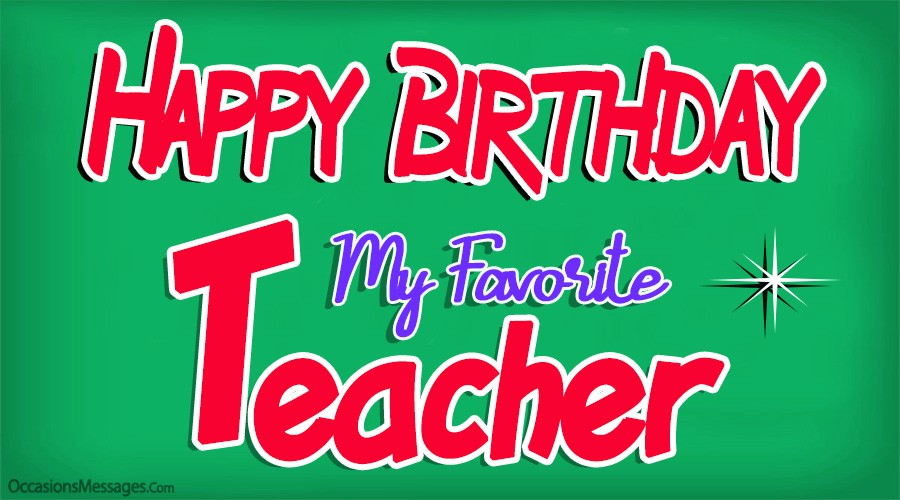 So it is always a good gesture to write them a little note on their birthdays that is a sure way of putting a smile on their bright faces. Here are examples of messages you could write to such teacher, just to show them they are always in your thoughts too.
Best Birthday Messages for Teacher
To my wonderful teacher, you have provided much information and lessons within the year from learning. Thank you for being so great. Happy birthday.
The love for a teacher is often great and can be equal to the love of a parent, because teachers do what parents can't do for their children. Thanks for everything teacher. Happy Birthday teacher.
You said to me that the real failure is in failing to try again when failure comes. This has exalted my academic standards. Happy Birthday teacher. You're a savior.
I've never seen a better teacher who's so smart enough to get the best out of every student in the class. Every average performer got better when you took charge.
Teachers form and begin the process of building for everyone in other line of profession. But they are often appreciated less. I appreciate you so much. Happy Birthday. Thanks for everything.
Happy Birthday to my favorite teacher who gives so much of his ability. Money cannot compensate all of your effort and we appreciate and celebrate you today. Happy Birthday teacher.
A teacher like you is always rare to find, a teacher that goes beyond their way to make sure you feel comfortable when you are new, listens to your complaint and helps you where you get stuck. I hope you have a lovely birthday teacher, you deserve it.
This is a beautiful day for a special teacher such as you. I hope this day brings you as much cheer as it has for all those who know you. Have a great birthday.
You are the best teacher of statistics I have ever got. As I was very weak on this subject but your enthusiasm and strong knowledge made me an expert in this. Happy Birthday my dear teacher.
Teachers are our spiritual parents and your teaching style, strong knowledge and passion create an environment in the class.
Happy birthday my teacher! Does this mean we do not get any homework now? Woo!
I know that many teachers are supposed to be complete professionals. But we have a surprise for you in the coming week. We hope you like it, happy birthday! To the best teacher of all time.
Happy birthday teacher, you have truly been there for me. You have scorned me for the right reasons and you have never looked down on me. I thank you for that, have a beautiful birthday.
Teachers usually teach, but you do more than that, you care enough to help me when I have a problem personal or otherwise. I hope you enjoy this day, have a fantastic birthday.
Your dedication and enthusiasm crafting every lesson fabulous. Happy Birthday my best teacher.
You are the greatest teacher in this school; you have shown me how much better my life can be with you as part of it. I hope you have many more birthdays, have a good one.
You are one of the best teachers of all time. You gave us a ton of memories to last the rest of my life. Happy birthday! The lessons you gave us are worth more than this cake but it's our way of saying thank you!
You were one of the funniest teachers of all time. You always wanted to see your student's smile which is something truly special. Thanks for the memories and happy birthday!
I never missed a single lecture of your because your every class provides something new about life. Happy Birthday my dearest teacher. May you get everything in your life.
You always taught us that every student possesses a diamond inside him/her, but what it needs to be done, its pruning. Once it is done, your shine becomes your success.
We do not know what the road ahead will hold for us students but we want to hold a memory for right now by celebrating your birthday! Happy birthday teacher! You are an awesome example for us to look up to.
Happy birthday teacher! We will never forget the good times we had in class. Do we not get homework today? It would be a great gift for you not to take work home.
I appreciate all that you have done for me; most of the other teachers think less of me but not you. You are truly someone I can rely on whenever I have a problem.
It's your birthday, the older you grow the wiser I hope you become. Have a fantastic day teacher, you surely deserve it.
How can I ever show my gratitude towards you, you teach me new things every day and whatever I don't understand, you never hesitate to repeat it. Have a great birthday teacher, you are the best.
Happy birthday to an awesome teacher. You have provided many important lessons to us which will help further our education career. Thank you for everything.
I don't have enough words to describe how thankful I am that you were our teacher during these years in school. Happy birthday! You were one of the best teachers.
You have taught us many life lessons but we have a lesson for you that you will never forget. Enjoy the days that are special to you and one of those days is your birthday!
Your personality encloses the factors of discipline, guidance, friendship, devotion, gentleness and love. Wishing you a very happy Birthday my sweetest teacher.
White or Black, no Grey. This is an outstanding feature of your personality. Have a stunning birthday, my dear teacher.
Thank you for being a second guardian to me, you protect us from all the bullies and take time to guide and advise us. You are highly appreciated, have a lovely birthday teacher.
I always look forward to your lessons, you are lively and kind and I wish that grows more as you grow older. Have a great birthday teacher; you make me proud to be in your class.
Teacher, you are more than what we see, your strictness is not because you hate us, it is because you love and care for us enough to scold us whenever we don't reach our full potential. We love you teacher and hope you have the greatest birthday ever.
You are the best teacher who taught me about the different patterns of life and who developed my cognitive skills. Thank you teacher, for developing my personality.
A great mentor, a spiritual father, an ebullient person, a jovial personality and a simple human, you cover all such attributes. May you live a long life.
You are one of the coolest teachers I have ever known. You always had a story ready for us to show us the point of the lesson. No one else has ever done that. Thanks!
We know that we may have driven you crazy but today we promise to be the most well behaved students of all time for your birthday! YAY!
I will teach you something very important my teacher. I will teach you that some days you need to learn to just enjoy yourself and have a great time. Happy birthday, now go have some fun!
It's an honor and privilege for us to celebrate the birthday of our loving prestigious teacher.
I was just an ordinary and average student in the class, I was lost in the crowd, but you made me realized my worth, my abilities and my potential, you made my student life significant and virtuous.
When we get older, we are going to look back and wonder which teachers had the biggest impact on us. We are definitely not going to forget you as you had one of the biggest impacts.
Dear teacher, you have given us the gift of knowledge unlike any other. Happy birthday and now we give you the gift of laughter and appreciation. Enjoy!
As a teacher, you have one of the biggest influences on students growing up. You are incredible and will never give up to teach as long as you can. Happy birthday to one of the best teachers ever!
You are the great teacher with inspiring personality and teaching style. Wishing you a fabulous birthday.
Teacher, we may get older but your lessons will stay with us longer than any grade or test. Happy birthday! We hope you have a great one!
It is my dream that I shave my personality and teaching style like you, you are in my heart and my success and personality somewhere mask you.
My precious teacher, you have legitimately provided the feathers to which I can fly the world and you taught me to discriminate between good or bad.
I am very grateful to you for your consistent support, optimism, and encouragement. Happy birthday my joyous and stunning teacher. May you have many more.
Happy birthday to one of the best teachers around. We were the best class ever and don't forget about us as we won't forget about you.
To a wonderful teacher with patience as large as their heart, you are an incredible person. We wish you plenty of years of happiness and success.
Thank you, teacher, for being so nice and sincere with us. Whatever I am today it's just because of your enthusiasm and endless efforts. Happy Birthday my great teacher.
You are not only the teacher but you are a good counselor who knows well how to teach the student and how to play with the mind of the student.
Happy birthday teacher, you are the most amazing teacher we know of, you are kind, caring and understanding. Thank you for all the care and time you take on us. We hope you have a great birthday.
Happy birthday teacher, you are a friend I can never let down. You make me want to do more with myself. I hope I never disappoint you.
You are one of my favorite teachers, your teaching style, your personality, your teaching spirit, and your counseling is just so amazing. Happy Birthday my dear teacher, have a peaceful life ahead.
You are one of the best teachers of all time, you have taught us a great deal and you made it a ton of fun. I won't ever forget you for it.
One thing I like most in your personality that you hate favoritism among students. You rule all men with the same rod. Happy Birthday my great teacher.
You are a good teacher; you do more than most teachers have the capability to do. You always have time for us inside and outside class; I hope you have a great birthday and enjoy yourself to the fullest.
A bouquet of beautiful white lilies for the special person in my life whose personality is quite resembled to these flowers. Wish you a very Happy Birthday my dearest teacher.
You are my ideal and you are my role model, I want my life partner possesses all the attributes and personality like you. Happy birthday sweet teacher.
You are the one-third proprietor of my success. Today I am successful just because of my yesterday's best teacher. Thank you, sir, my personality owes you.
What a beautiful day, I get to celebrate my teacher's birthday. Another year older another year wiser, I wish you nothing but the best dear teacher.
The older you get the cooler you become dear teacher, always thinking of your wise words and sayings, enjoy your birthday to the fullest and please share some cake.
May this birthday bring more memories than the last dear teacher, you are my favorite teacher and I am glad to be part of this amazing day, have a great one and many more!
---
You May Also Like:
Godfather Birthday Messages, Wishes and Cute Cards
The Most Original Birthday Wishes for My Boss
---