A professor is an intelligent man blessed with knowledge and loves to share it. Professors are intellectual people who enjoy their birthdays too. They may seem grim most of the time, maybe because they have too much on their mind; it is your duty as a friend, colleague, student, family or someone who is close to them to make sure they enjoy their born days.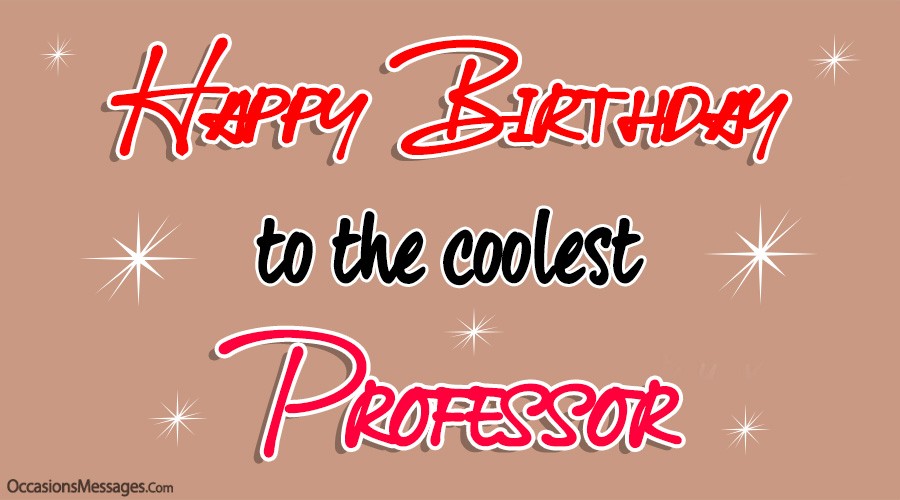 A message can do the trick, since they love to read, they will always enjoy a nice letter from a close person on their birthdays to share with them, to remind them that they are growing wiser not older. Here are some messages you can send to your professor, or a professor you know to show them that they are awesome, and that you are glad to be sharing another awesome year with them, remind them of their importance in your life.
Happy Birthday Messages for Professors
Happy birthday professor, you are an intelligent being with not only knowledge but also understanding for the most complex of things. Have a blessed day full of cheer.
You make me a better me each and every time you walk in to class, you are a person I look up to and someday would like to be like. Happy Birthday dear professor!
You explain the things in a better way and make it simpler. I love the way you teach. Happy Birthday professor!
You always appreciate me whether I get success or I get fail to achieve a goal. You are the real source of my motivation. Wishing you a very Happy Birthday professor.
You are the real blessing on my life. I learned many things under your guidance and surveillance. I feel proud that I am your student. I wish you a very Happy Birthday.
Happy Birthday to the man whose words are always words of wisdom, to the man whose voice is standard and compelling. May the lord bless you a lot. Happy Birthday prof.
Your selflessness in impacting knowledge in us has taken me by surprise because your kind is very rare. Happy Birthday prof, you are the best of your kind.
I love and proud of my professor, I am glad you are turning a new age, a new time with you to grasp more of what you have to teach. Cheers on your birthday, have a good time.
Just love what you are doing, you will be successful, that is your words to me. Happy Birthday, professor.
You have given me something that I cannot express in any way, a new time has come for you and you have the chance to continue spreading your knowledge, I wish you happiness as you celebrate your birthday.
Nothing is more special for me than attending your class. I wish you a very Happy Birthday sir.
You have taught me the several basics of life that how to be calm in your worst situation. My entire life owes you. I am very grateful to you. Thank you and Happy Birthday my dear professor.
All credit of my success and bright future goes to you. If you were not there, I might not be the successful one. I wish you a very Happy Birthday my dear professor.
You drew out every treasure that was hidden in me and since I met I feel so purposeful and useful for myself. Happy Birthday prof.
You may be just the teacher for the institute but you are the real hero for your students. Have a lovely birthday Sir.
You are the prof amongst others that every student will remain calm under his voice even when they are much tired, that's how impactful you are. Happy Birthday prof, may God bless you real big.
You are not afraid to share with us, you not only teach us from the text book, you teach us also on life and that is a professor that knows more than any other person. May your birthday be as amazing as you.
You are patient, you are kind, you are a treasure and with you, I have everything I could ever wish for. This birthday marks the beginning of a new life, have a great time professor.
Professor, you arouse a new glimmer of motivation that failure is not the fatal, though; it is the courage to move on towards positivity. Have a wonderful birthday.
You say, never say excuse to yourself, always find a way to remove your excuses and do something better. On your special day, I wish you a very Happy Birthday.
I always enjoy in your lectures as the way you teach is really outstanding and the knowledge you deliver is mind blowing. Wishing you a very Happy Birthday my dearest professor.
Without your guidance and encouragement, I wouldn't have attained this level of education; you were always there to correct me when I am wrong. You brought out the best in me and I am proud to call you an idol. Happy Birthday prof. Enjoy it sir.
My unique way of saying happy Birthday to a great man that has affected my life in a positive way is to pray that all of your heart wished for will come to pass. Happy Birthday prof.
Life is a journey; your birthday is the continuation of a journey that you started a long time ago. May this journey take you to self-discovery, to contentment and to joy. Happy birthday professor!
"To teach is to learn twice over" you have taught for the longest time, I respect you for what you know and the ability to explain what you know. Happy birthday professor!
You always teach us to focus on hard work as it is in silent mode but when it is converted into the success it makes noise. You are such a great mentor and a remarkable philosopher. Happy Birthday Sir!
Believing in yourself is the half success and rest is hardworking. I wish you a very Happy Birthday professor; you opened the new directions of my mind. Thank you!
Planning gives your wishes a goal and a successful planner is one who believes in hard work. Happy Birthday, sir, you words and guidance are with me.
Happy Birthday to this great personality, your course is the most difficult one on campus but we developed interest in it as difficult as it is. And we came out in flying colors, may God help you to continue your generosity towards the student.
Being a professor means you have harnessed a lot of information on your field and it is so lovely to associate with someone like that. We celebrate you on your special day sir, have a blissful celebration.
No one can do you better than you. It is your birthday I know no one can celebrate it better than you can, happy birthday professor, do what you do for fun.
To an intellectual man who grows wiser today, happy birthday dear professor, you are a great person and I love all that you stand for. As you turn new age remember I am here and I always love to listen to you, so am very happy for this day.
You always taught us if you want to make your enemies jealous just achieve massive success. Have a lovely birthday my dear professor.
You play an integral part in the lives of your students. It's really a pleasure to attend your lecture, you always engage your students. Have a stunning birthday, sir!
You are the best professor who takes the hard, unlock the brain and touches the soul. Have a great birthday sir. I feel so complete and secure in your guidance.
Professors deserve to have a perfect birthday celebration because it's the only day they are allowed to think out of the box of studying. I hope you can see this other side of life and love it too. May this year bring you lots of joy in your profession.
Today is the perfect day to celebrate a man who has impacted so much knowledge into his students that his students that can stand and impact others any day, anytime and anywhere. May God reward you for impacting so much of people. Have a lovely celebration.
It's time to put your worries aside, put on your dancing shoes, have fun and live a little. It's your birthday professor, time to put on that smile and enjoy the day.
You have changed me from the clueless person I was to a knowledgeable lad. Words alone aren't enough to thank you, so I wish you the best time as you celebrate your birthday professor. Cheers.
Love, involvement, family and entertainment; that is life. To love each moment you get to involve yourself with your family's entertainment. Share your birthday with those closest to you and guarantee you will have an awesome time. Happy birthday professor!
You are the remarkable teacher who loves to teach by your heart, not just by the book. I wish you a very Happy Birthday sir.
Professor, you ignite the inner imaginations and hope and create a good sense of learning. Have a wonderful birthday sir.
Can a student be more proud for having such a great teacher and knowledge impactor, you have been a good mentor to whole lots of students, and we are proud to call you our mentor. Happy Birthday sir.
How I wish we can have this day together with you, to really celebrate the kind of person you were during those years, it is now that we really know your worth, because we don't have people that can impact like you anymore. We celebrate you sir, hope you can enjoy many more years to come.
Happy Birthday to the most fantastic lecturer of them all, we always enjoyed your class because there is always a story to tell and those stories finds a way to prepare our hearts for learning, you are really a great impactor and we celebrate you sir. Enjoy your special day.
You always engage your students while teaching and affect eternity. We cannot even estimate where your influence stops. Have a delightful birthday.
You are the real mentor and a great teacher who changes the entire world of mine. My future became secure under your directions and surveillance. Have a great birthday sir!
You are like the candle who ignites yourself to make the future brighter of his students. Have a glorious birthday.
I don't think there is a student on this campus that will think twice if asked who the favorite lecturer is. You are everyone's favorite sir and we are glad to have spent the best aspect of our learning process on this campus with you. Have a splendid celebration sir.
I hope it won't be a dull day, I hope it will be a day you let loose and have a little fun dear professor. Happy Birthday, May you have an unforgettable one!
The sad thing about life is that the good and the most exhilarating events of our lives are unrepeatable, I would have love to go back in time when we were your students, we really had great time together, hope you can always have students like us too. We felicitate with you sir. Happy Birthday.
You are more than just a professor to me, you are a friend and I hold you very dearly. Have a great and fantastic time dear sir, may you blow out all your candles and add more life!
Everyone in our set will have an incomplete story in their life story without mentioning you, you gave us all something to add to our lives, you helped us made the decision to be great in life. Happy Birthday prof. We love you sir.
You are definitely the smartest person I know of, may you live longer than any man so you can share your knowledge and wisdom with those who care to listen. Happy Birthday professor!
We have lots of professors by title but you are a professor in teaching which is the ideal thing for all acclaimed professor. You are such an awesome teacher and we love every bit of your lecturers. Happy Birthday sir, may today usher in those missing piece in your life.
You are one of the most interesting people I have ever met, thank you for your wisdom, awesome teachings and unforgettable classes dear professor, enjoy your birthday.
Birthdays are meant for amazing people such as yourself dear professor, wishing you the best as you add another year to your life; you are truly an amazing person.
I will always look up to you dear professor, you are as awesome and I hope you out live us all for you are amazing person and I'd love to learn from you good sir. You deserve the best.
---
You May Also Like:
The Best Birthday Wishes, Messages and Quotes for Doctors
Great Collection of Happy Birthday Wishes for neighbours
---