Birthday Wishes for Professor: A professor is an intelligent man blessed with knowledge and loves to share it. Professors are intellectual people who enjoy their birthdays too. They may seem grim most of the time, maybe because they have too much on their mind; it is your duty as a friend, colleague, student, family or someone who is close to them to make sure they enjoy their born days. A message can do the trick, since they love to read, they will always enjoy a nice letter from a close person on their birthdays to share with them, to remind them that they are growing wiser not older. Here are some messages you can send to your professor, or a professor you know to show them that they are awesome, and that you are glad to be sharing another awesome year with them, remind them of their importance in your life.
Birthday Wishes for Professor
Happy Birthday professor. You are such an awesome teacher and we love every bit of your lecturers.
Nothing is more special for me than attending your class. I wish you a very Happy Birthday sir.
Happy Birthday to the most fantastic lecturer of them all. Enjoy your special day.
Happy Birthday, you are an intelligent being with not only knowledge but also understanding for the most complex of things.
You explain the things in a better way and make it simpler. I love the way you teach. Happy Birthday professor!
You always appreciate me whether I get success or I get fail to achieve a goal. You are the real source of my motivation. Wishing you a very Happy Birthday professor.
Happy Birthday. You are the real blessing on my life. I learned many things under your guidance and surveillance. I feel proud that I am your student.
You may be just the teacher for the institute but you are the real hero for your students. Have a lovely birthday Sir.
More Options: 70+ Birthday Messages for Teacher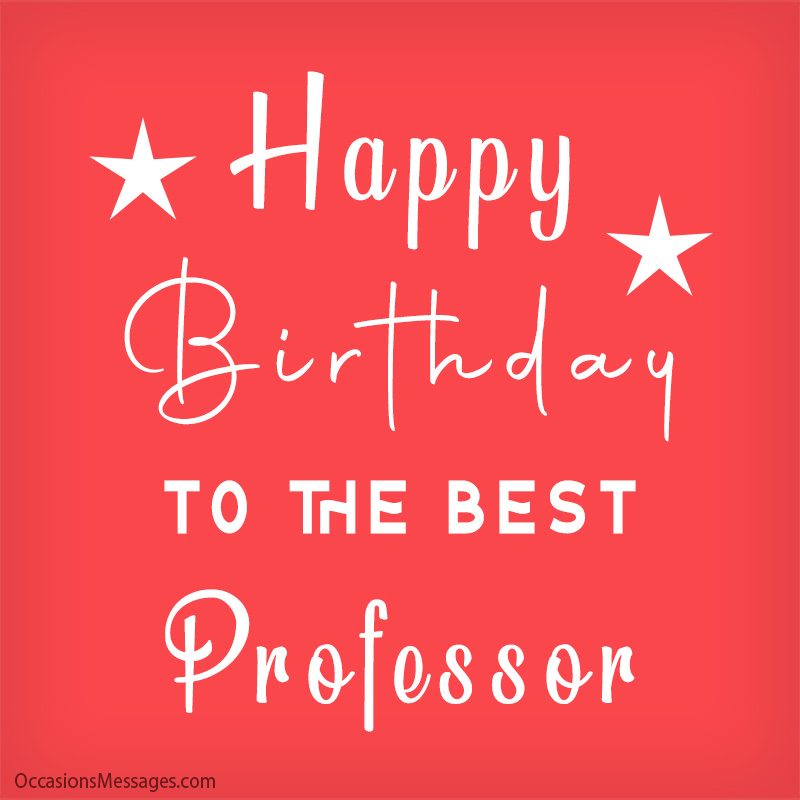 It's time to put your worries aside, put on your dancing shoes, have fun and live a little. It's your birthday professor, time to put on that smile and enjoy the day.
Happy Birthday to the man whose words are always words of wisdom, to the man whose voice is standard and compelling. May the lord bless you a lot. Happy Birthday prof.
You are more than just a professor to me, you are a friend and I hold you very dearly. Have a great and fantastic time dear sir, may you blow out all your candles and add more life!
Happy Birthday sir. You have been a good mentor to whole lots of students, and we are proud to call you our mentor.
Just love what you are doing, you will be successful, that is your words to me. Happy Birthday, professor.
Happy Birthday my dearest professor. I always enjoy in your lectures as the way you teach is really outstanding and the knowledge you deliver is mind blowing.
You gave us all something to add to our lives, you helped us made the decision to be great in life. Happy Birthday prof. We love you sir.
My unique way of saying happy Birthday to a great man that has affected my life in a positive way is to pray that all of your heart wishes come to pass.
You are definitely the smartest person I know of, may you live longer than any man so you can share your knowledge and wisdom with those who care to listen. Happy Birthday professor!
Happy birthday professor! I respect you for what you know and the ability to explain what you know.
It is your birthday, I know no one can celebrate it better than you can, happy birthday professor, do what you do for fun.
You play an integral part in the lives of your students. It's really a pleasure to attend your lecture. Have a stunning birthday, sir!
Read More: Top 60+ Birthday Wishes for Colleague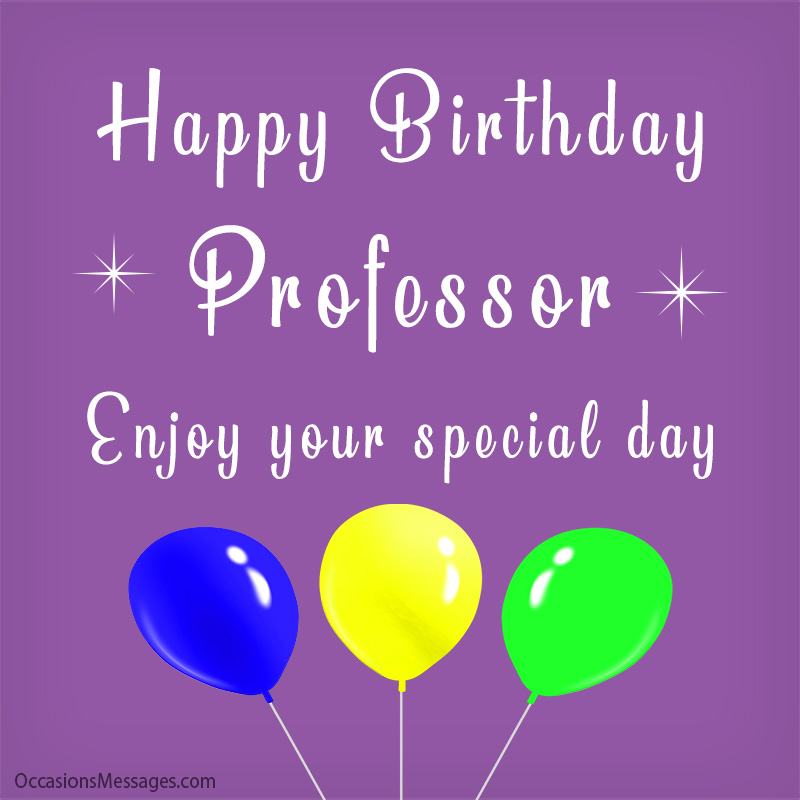 Professors deserve to have a perfect birthday celebration because it's the only day they are allowed to think out of the box of studying. I hope you can see this other side of life and love it too. May this year bring you lots of joy.
I don't think there is a student on this campus that will think twice if asked who is the favorite lecturer. You are everyone's favorite sir and we are glad to have spent the best aspect of our learning process with you. Happy Birthday.
You are one of the most interesting people I have ever met, thank you for your wisdom, awesome teachings and unforgettable classes. Enjoy your birthday.
Birthdays are meant for amazing people such as yourself dear professor, wishing you the best as you add another year to your life; you are truly an amazing person.
SHARE ON