A principal is the head of any school; they care and provide discipline to the school. Principals are people too and have birthdays, it is important for them to be appreciated during this time. They are good people and they care about you enough to correct you when you are wrong and consult your parents for guidance.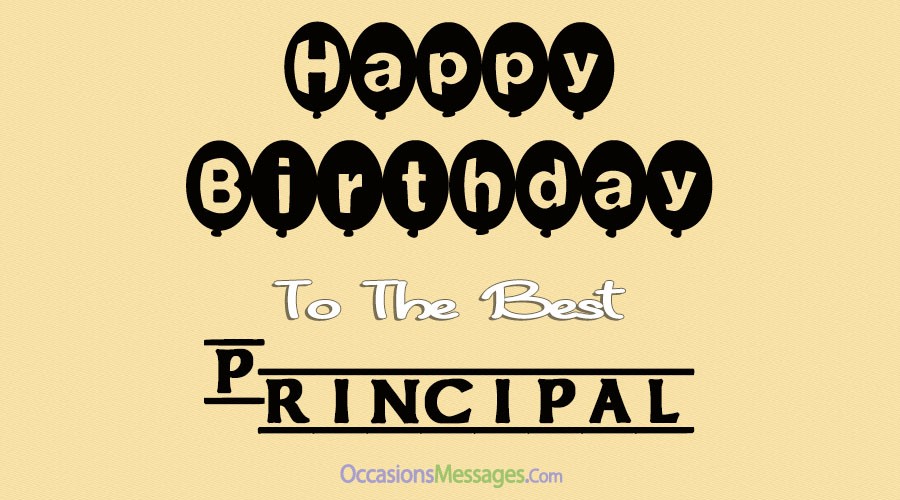 So here are some messages you can send to your principal to commend them on the good job they are doing in and around the school.
Happy Birthday Messages for Principal
Happy Birthday to one of the best principals the school system has ever seen. We love what you have done with the school as it is one of the best we have ever seen. Keep it up!
You are one of the coolest principals I have ever known. Thanks for being so awesome! Happy Birthday to you!
It is a very difficult job to have as a principal. But you have done an incredible job with it and we cannot thank you enough! Happy Birthday!
You've changed a whole lot of lives and you are still doing it. Don't ever stop doing what you're best at. Happy Birthday principal. You're so loved.
We know that we will never see you in full party mode but you are one of the best principals ever! We thank you for everything you have done for us and we hope you have one of the best birthdays ever!
We know that you are one of the most dedicated workers the world has ever seen. All you want is to make sure everyone is thriving and that makes you the best principal ever. Happy Birthday!
I remember how you promised that you were going to make this school one of the best places to work and learn. Ever since my time here, you have kept that promise to the fullest! Happy Birthday. Thank you for the opportunity.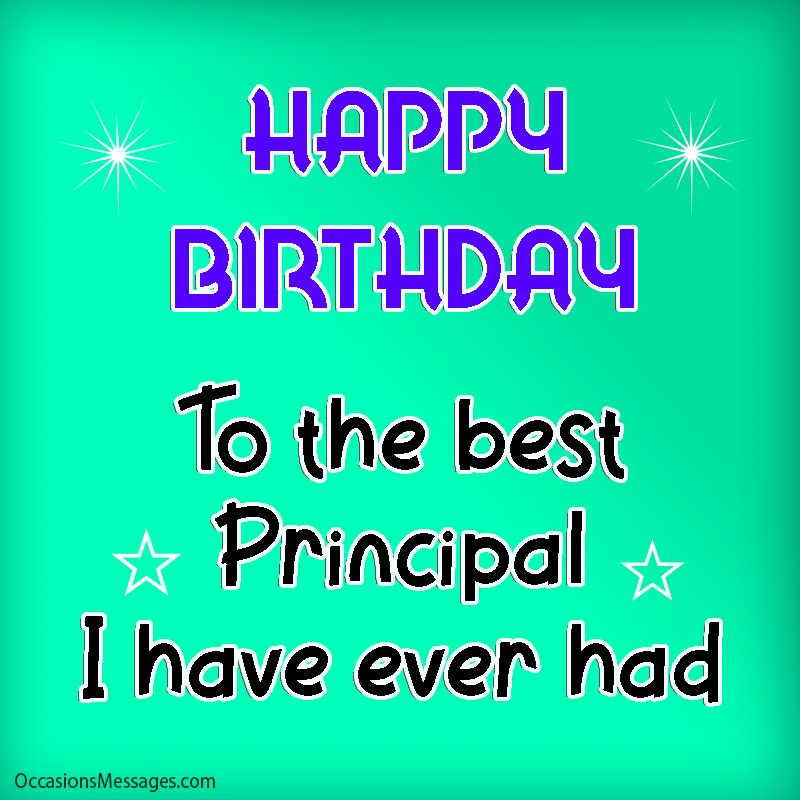 To my principal, you are one of the most inspiring individuals I have ever met. Happy Birthday. I hope that we can continue an excellent run with this school and continue to make greatness happen every day!
A principal is only as good as the school and we want you to be one of the best. So, we will always be here for you to make this the best place it could ever be. Happy Birthday!
Dear principal, Happy Birthday! We want you to take the day off and enjoy yourself for once! You work so hard. Have some fun and come back refreshed for the task. Enjoy!
I need you to know that you are one of the best principals I have ever had the pleasure of working with. Happy Birthday my friend.
To our principal, we all want to wish you one of the best birthdays you have ever experienced! Have an awesome day!
Ever since you took the reins at our school, we have only been going up. You are indeed, one of the best principals that has ever been seen. Happy Birthday!
We can learn a ton from you as you have done a fantastic job with running this school. Thank you for being such an awesome individual. Happy Birthday principal!
Funny Birthday Wishes for Principal
It is an honor to wish my amiable principal a happy birthday celebration; we hope you get a transfer, so we can have freedom once again.
It feels like Adolf Hitler's birthday, although you are not far apart. One of you tried to conquer the world while the other succeeded in our school.
A principal is a permanent student, no wonder you always look grumpy and displeased, find a way to graduate or even dropout.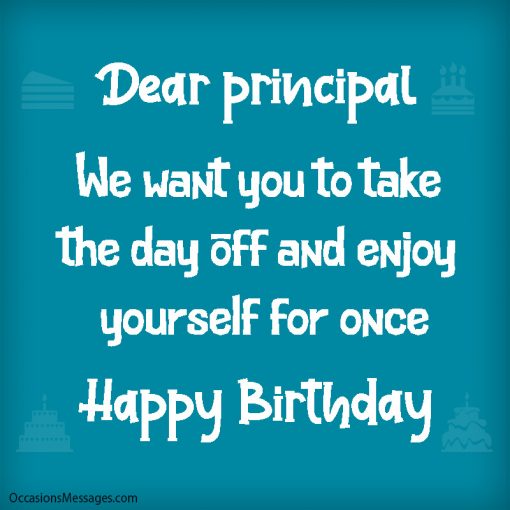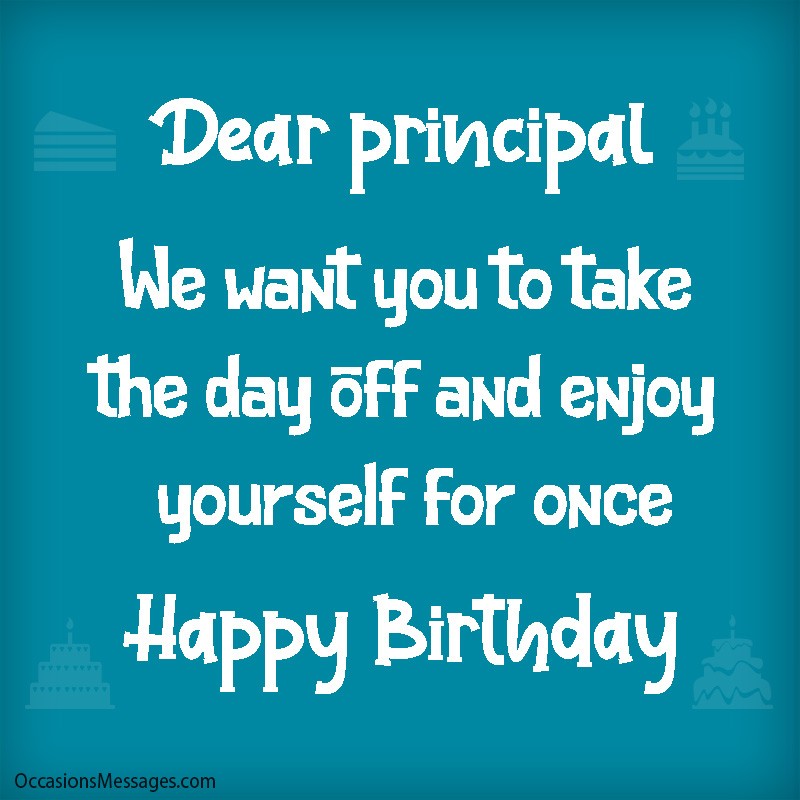 It is your birthday, so I get to address you without being afraid of detention or punishments. Every day should be my principal's day.
An effective principal is one that the student hates for numerous reasons; I wonder why you received so many calls on your birthday.
If there were a word that I should use to qualify my principal on his birthday, it would be "hothead," you shouldn't be allowed around children.
Birthday Wishes for Principal from Student
Total commitment and zeal towards a profession determine one's chances of being successful; you are a principal whose dedication is worth imitating. Happy Birthday sir.
Happy Birthday to a good principal and a parent away from home, I have learned many things from your life, and I am always challenged to be more upright.
Congratulations to my principal as he is a year older today, may all your handwork pave better ways of opportunities for you. We all love you dearly.
I had a perception that principals are angry, old and wicked people. Meeting you changed my belief; I now know principals can be cheerful, understanding and supportive people. Happy Birthday.
I am happy to have been under your guidance, you taught me how to unravel my hidden potentials and how to explore them with hard work. I'll be forever grateful for your contribution to my life.
It is a fantastic thing to celebrate the birthday of a principal. You thought me many virtues that I did not learn in the classrooms. Therefore, you deserve an accolade.
Birthday Wishes for Principal from Teacher
May this birthday be better than the last principal, you are respected, loved and looked up to and we hope you grow older than us all, enjoy your special day.
Have the most unforgettable birthday dear principal, you are one of the people I look up to and I hope I can learn more from you. May you continue to be blessed.
I have never seen a person such as yourself dear principal, you are one of the people I admire most for your stride that commands principals, have the heartiest birthday dear lovely principal.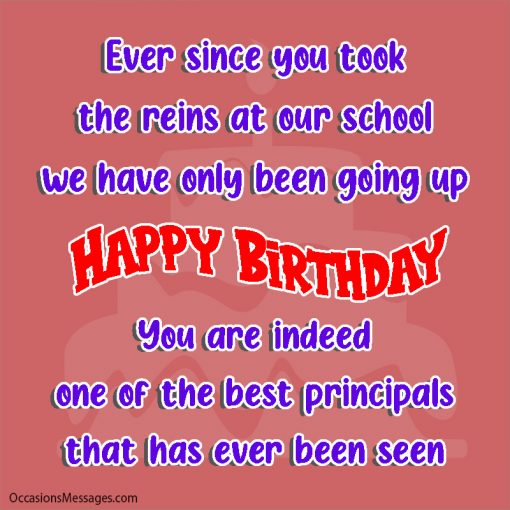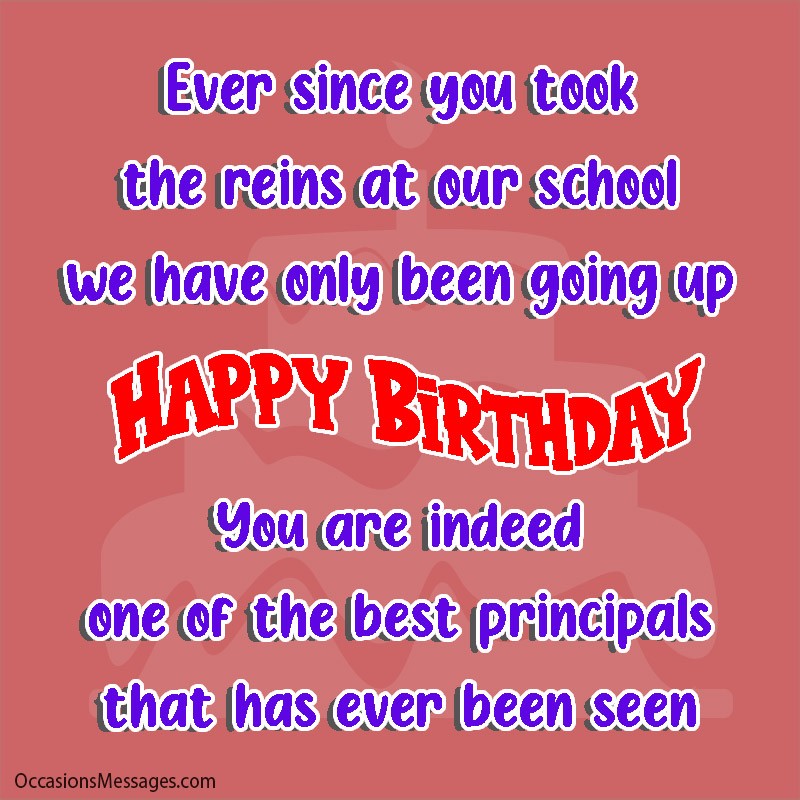 Happy Birthday! Even principals can have some fun every now and then. We want to show you how great your time has been to us. Thank you.
You are respected for your leadership skills; you are respected much more for your understanding. What more can we ask for in a principal. We are delighted to have you. Happy Birthday sir.
I can testify that more lives need to be touched by you, because ever since you impacted my life, I was never the same me. Happy Birthday to the most influential figure in my life. Thanks for everything principal.
Cool Birthday Wishes and Greetings
Principals get a bad rep. Nobody takes the time to understand what you guys truly desire. Happy Birthday. We know you are going to do a phenomenal job with this school.
Nowadays people complain that boredom is the reason for not giving their best at work, but you seem to always recreate beauty from your work. You're a special principal. Happy Birthday.
Happy Birthday principal, you've shown that there's a perfect template created by you to train our children aright. And we appreciate this. Enjoy your special day.
There wouldn't have been any perfect tutor other than you; you've helped us in the right direction towards our dreams. We thank you. Happy Birthday principal.
The man of the moment is my principal and the foundation of my successful professional career; I join other people in celebrating your new age.
There is a high level of trust accrued to your service at every level you've been, this is rare and it shows your level of commitment. You're appreciated. Happy Birthday principal.
More Birthday Wishes and Messages 
Due to the praise you receive on all angles, some thought you're over-hyped, but I can say those praises are even short of what you've done. Happy Birthday principal. Thank you.
You have never cease to pass the right message to the coming generation by the way you've lived. Your life truly speaks a huge volume of greatness. Happy Birthday principal.
I was scared of you at first but then I got to realize that you are an incredible individual. Happy Birthday principal!
The school used to be an emulable example to other schools but it lost that virtue, your appointment brought the glory back in a better way. Your influence is really shaping this generation of kids. Happy Birthday principal.
Happy Birthday to an upright principal, Wisdom comes from experience and experience is a product of time, we thought you were hard on us until we became adults and knew you were right.
It is always rare for a principal to take interest in just any student. But you did with me; I wonder what made you have interest in shaping my life. Thanks to God for leading you to me. I'm eternally grateful. Happy Birthday sir. Enjoy your special day sir.
From the first day of school, I feared being called to your office, I feared doing wrong for all the wrong reasons, now I know better and it is all thanks to you. You are a guide, Happy Birthday principal.
Do enjoy your birthday principal, you are a great leader and I hope you become better as you grow older. Those around you are most valuable so keep them closest.
You are a great person and I know you will make a great memory one day, Happy Birthday dear principal, for the time I am with you and the time I get to spend in this school, you are my role model.
I have never seen someone as selfless as you; you give up your time and who you are just to be close and to be a good guide. Happy Birthday principal, you are a cool person.
They may never understand you, but your actions are purely good. May your wishes come true as you celebrate your birthday dear principal, have it great.
You are a wise man, a person to be proud of and a person I can look up to. Have a fantastic birthday dear principal, may you live today like there is no tomorrow.
Age is just a number and the older you get the wiser one becomes; you are living proof of that. Happy Birthday principal!
A man of great virtue and will never lacks, you are a great man and I hope you know that. Happy Birthday dear principal, may you never lack.
Becoming a student in your school has taught me a great deal, these lessons I will forever carry with me. Enjoy your birthday principal.
Everyone truly know that they can succeed, but not everyone know what to do to succeed. You taught me that wishes aren't enough to achieve dreams. Thank you for those lessons sir. Happy Birthday.
In the end it's not the years in your life that count. It's the life in your years" these words really reflect on you and what you are. Have a hearty birthday dear principal.
You are a man that cannot be shaken yet, you shake others by the way you move and walk about. Have a hearty birthday dear principal; I appreciate all you have done for us.
I cannot count the times I have cursed you or the school but now I know better, you are here to guide me into a person the world will be proud of. Happy Birthday dear principal, you are definitely a person worth looking up to.
Life has a funny way of bringing people together, people you will need and help you without being family. I thank you for everything my principal, have a great birthday.
Happy Birthday to a wonderful principal. A mentor, a counselor and a father to many. Words are too trivial to describe the love we have for you. Enjoy your fantastic day sir.
May your influence on our children spread far and wide to every aspect of their lives. We are really grateful for your good work. Happy Birthday principal.
In my opinion I don't think this school can find another you. Because you have toiled so hard to make it great and the result actually speaks for themselves. Happy Birthday wonderful principal. Enjoy your special day.
Principals are life builders and they give structure to life. May God bless you with every blessings. And we promise to make you proud everywhere we go. Happy Birthday sir.
There are principals, there are good principals. There are a lot of good and nation building principals, but you are the extraordinary of them, your work ethic is admirable. Happy Birthday principal.
It's by no accident that I met you; I want my children to be raise under the leadership of a person like you, because you are so concerned about raising young ones in the right way and with quality education. Happy Birthday principal.
My children complain that you are strict and a disciplinarian. I told them I am seeing the benefit of that in their life. Don't yield to their complain sir, it's really helping them even though they can't see it now. Happy Birthday great principal.
We have seen a huge difference in the life of our children and they now give us less problem. Your efforts are appreciated sir, and we hope that this school will reach a definite milestone in your tenure.
Few principals are like you sir, you hold your dignity at high esteem and yet you are able to know what the need of every student is. We celebrate you as you clock a year older today. Happy Birthday sir.
You haven't just been the principal of this school; you have been a wonderful example and an emulable figure for every student. Happy Birthday sir. May God bless your new age.
Every parent of all students in this school know your worth as the school principal, and there's nowhere else to raise a great child than under your tutelage. Thanks for everything sir. Happy Birthday.
It's nearly a year now that my son transferred to your school, and I can confirm that his change has been so rapid and unexpected. Your leadership ability is admirable sir; very soon I'll bring all of my children to your school. Happy Birthday sir.
The standard ability that your leadership has given to this school is incomparable to the previous years that you weren't here. You are indeed a capable leader and we need more people like you in schools. Happy Birthday principal. I wish you good health and long life.
Thank you for being such a great role model, you have suffered by me and through me and I am who I am today because of your guidance and love. I hope you have a great birthday dear principal.
You have taught me a great deal of lesson but the lesson I can never forget is the lesson you taught me about self. I hope you enjoy your birthday dear principal; you will forever remain a great man in my eyes.
---
You May Also Like:
Best Birthday Wishes For Teacher – Great Collection for Teachers
Happy Birthday Messages and SMS for Your Boss
---