Birthday Wishes for Students. Education plays a crucial role in preparing us for success in life. And even though most students aren't thrilled about having to go to school week in and week out for most of the year, it's important to let them know their efforts are supported, whatever they're academic level. At the same time, giving them opportunities to take a break from the grind to celebrate their birthday is key to helping them understand that success in life is not entirely about school work. Here are some birthday wishes you can use to show your love and support to your favorite student.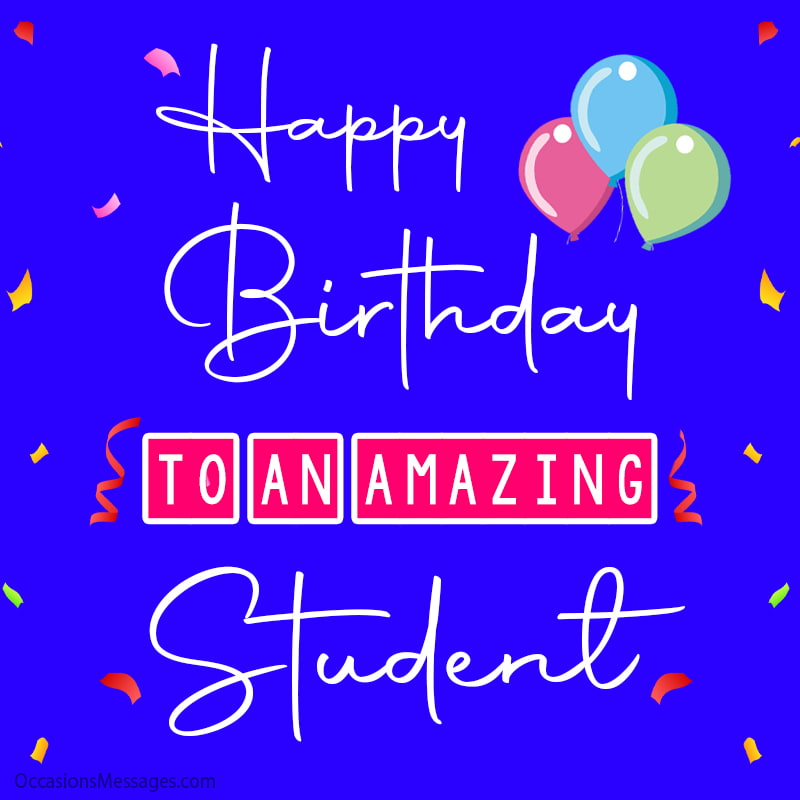 Heartfelt | Funny | From Teacher | Motivational | Junior | Brilliant
Happy Birthday Wishes for Students
Happy Birthday to the best student! Take a break from those books. It's your day to do what you want!
Enjoy your student years. One day you're going to miss them. Have a great birthday!
You're an inspiring student and a very hard worker. Enjoy your birthday!
Each year you get closer to becoming a proud graduate. Have a very happy birthday!
You always give it your all! So take some time off from studying to enjoy your special day.
Your birthday may not be a school holiday, but there will be a great time waiting for you when you get home from school. Happy Birthday!
Each birthday brings you another year closer to earning a PHD degree in life. Happy Birthday to the best student ever.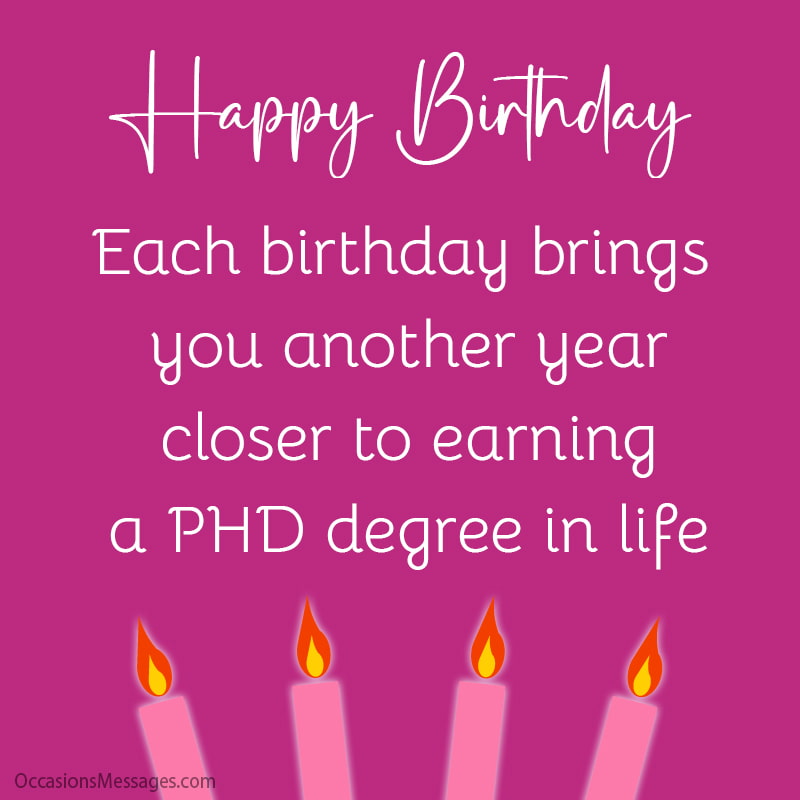 Happy Birthday to my favorite student! I know you have many great opportunities ahead!
Don't let your studies bog you down. Today is your day to let it all hang loose! Happy Birthday!
You can learn a lot from books, but each birthday is a graduation to the next grade in the school of life. Have an awesome birthday!
Sometimes school is fun, and other times it's a drag. But birthdays are always a blast. Have a great one!
You're an awesome student, and we're all rooting for you! Have a very happy birthday!
Break out the cake and ice cream, and forget about those school books for a little while. Have an awesome birthday!
Birthday cake, balloons and presents beat homework, textbooks and quizzes any day of the week! Have a very happy birthday!
Everybody needs a day to get away from the monotony of school and work. It's finally your day! Happy birthday!
It's important to succeed in school, but birthdays remind us that life and family are what really matters! Have a blessed birthday!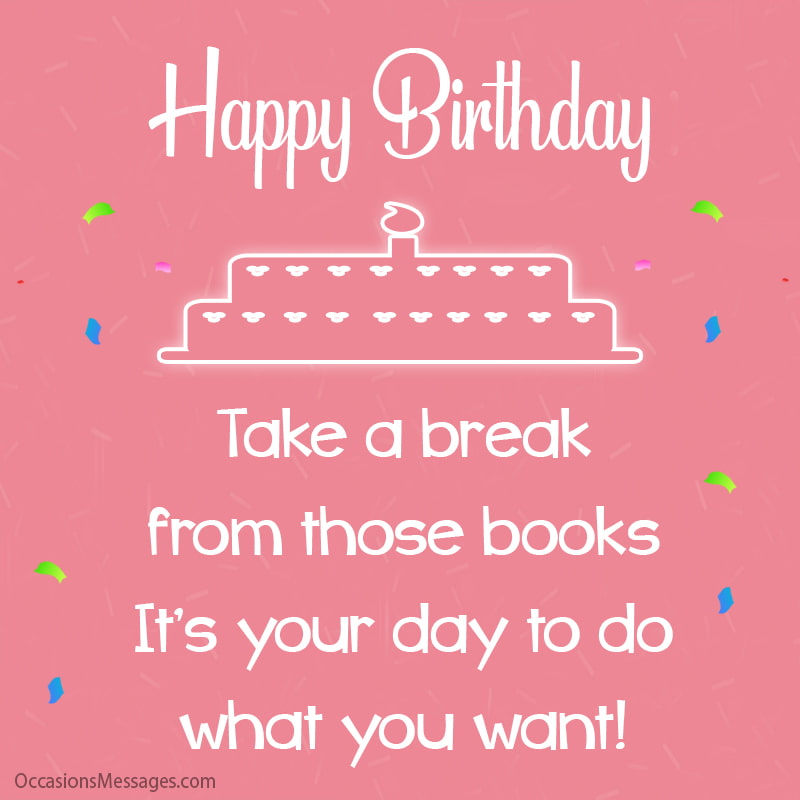 Your family and friends admire how hard you work in school. Let's celebrate with an awesome birthday party!
School, like life, comes with many challenges. You got this! Happy Birthday!
Birthdays are a great time to reflect on all we've accomplished throughout the year. And you have a lot to be proud of. Happy Birthday!
Put down those books and put on your party hat! Let's celebrate the birthday of an awesome student!
Read More: Cute Birthday Wishes for Boys
Funny Birthday Wishes for Students
The difference between school and birthdays: everyone looks forward to school ending, but no one's in a hurry to stop having birthdays. Have a happy one!
School is like a video game. Homework powers you up to overcome teacher bosses so your level up to the next grade. Happy fun birthday!
Next time school work gets you down; just remember that you could be learning to dig ditches for a living. Happy birthday!
Why do parents push doing well in school? It's so you get a good job, and they can live off of you for a change! Happy Birthday!
Happy Birthday! Time to take a break from the studying. You've got data leaking out of your ears.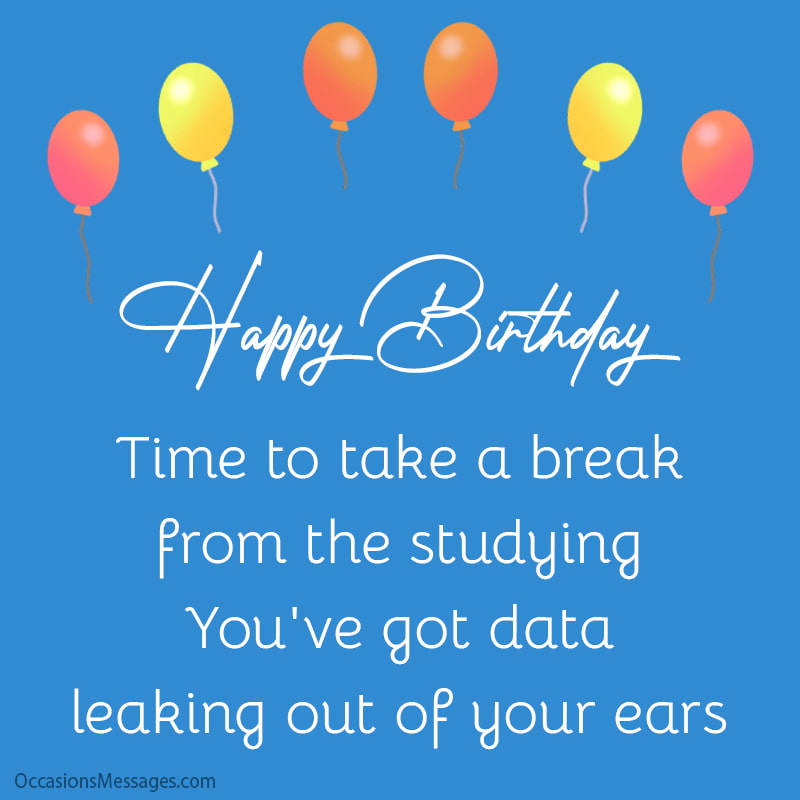 People never appreciate their years of being a kid in school until they grow up and it's too late. Life is not fair! Happy Birthday!
For all the time you spend in the principal's office, you should have a degree in school administration. Happy Birthday!
Textbooks don't make us smarter, they just hone in on our ignorance in very specific ways. Happy birthday!
Anyone who can cram an entire night of studying before an exam and still fail it deserves a very special kind of award. Happy Birthday, Einstein!
If you have one more birthday candle than last year and twice as many as nine years ago…who cares? Blow them out and enjoy your birthday!
Recommended: Sweet Birthday Wishes for Girls
Birthday Wishes for Student from Teacher
Happy birthday, little superstar! You've been doing very well in your studies.
Nobody works harder than you have this school year. I hope all your birthday wishes come true.
You're a special student who inspires everyone around you. Have an amazing birthday!
I've seen your confidence grow throughout the year. Keep up the great work. Happy Birthday to my excellent student.
It's always a pleasure to see a student put in the time and effort that you have. Enjoy your birthday!
Happy birthday to a special student. No matter how tough the subject matter, you always meet it with gusto and perseverance.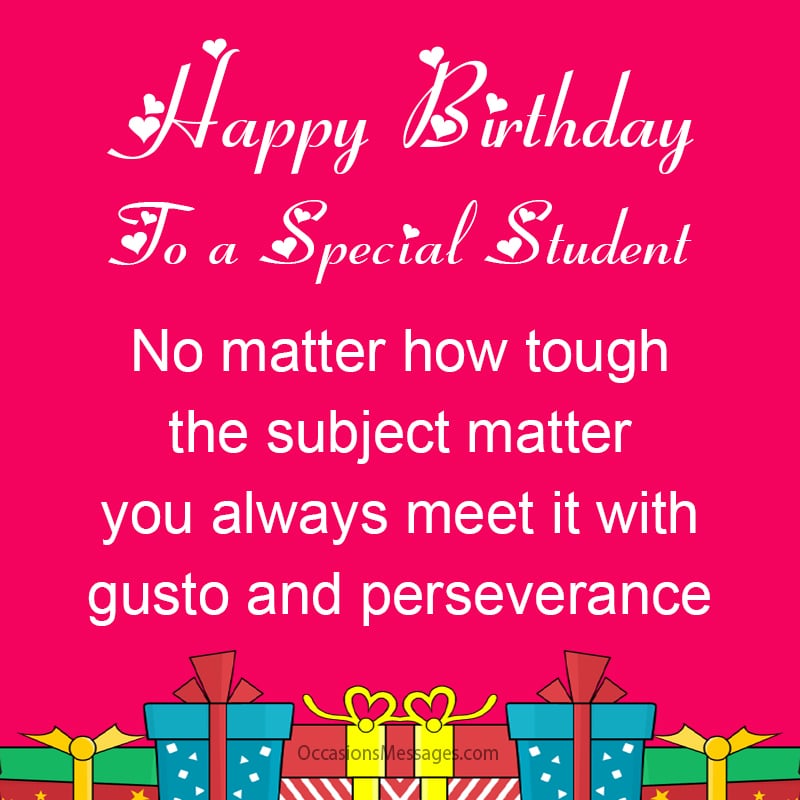 Happy birthday! It's rewarding for any teacher when the knowledge they are imparting resonates with a student.
I can tell you are going to go far in life. Have a spectacular birthday!
You've shown so much promise in your studies. I am rooting for you. Happy Birthday!
I wish every student tackled their school work with the intensity that you do. May you have a very happy birthday!
Related: Happy Birthday Wishes for Teacher
Motivational Birthday Wishes for Students
That stack of school books may seem overwhelming, but I know you can handle it. Have a great birthday!
You have the drive and talent to be a very successful student. keep up the amazing work! Happy Birthday.
Happy Birthday dear student. When school work gets tough, remember your hopes and dreams and they will pull you through.
Let the light of success at the end of the tunnel be your guiding light through the trials and tribulations of school work. Happy Birthday!
Happy Birthday. Each year brings new challenges with school and life. Just keep meeting them head on and you will be fine.
People Also Read: Best Birthday Wishes for Principal
Birthday Messages for Junior Students
You may not like going to school, but you only have a few more birthdays before it's over. Happy Birthday!
You work really hard in school every day. You've got a great future ahead! Happy Birthday!
Happy Birthday, super scholar! You've got smarts, talent and dedication.
You're an outstanding student and a super kid! Have an awesome birthday!
Keep plugging away at that school work. I know you can do it! Have a great birthday!
Birthday Wishes for Brilliant Students
Happy Birthday! You work so hard in your studies. Take some time off to enjoy your special day.
You are the genius of the family, and I can tell you're getting smarter every year. Have an amazing birthday!
Happy birthday! Year after year you make brilliance look like a piece of cake. A piece of birthday cake. With candles!
Anyone who thinks brilliant students don't work hard for their grades should come see you on a school night. You deserve a great birthday!
One day you're going to be a famous intellect who we can say we knew back when. I hope you have a spectacular birthday!
SHARE ON