Happy 7th Birthday Wishes: It only comes once a year and you get to share in the event where you see a special someone turning older. The best way to make sure that they never forget their birthdays is by sending them a special message that will always put a smile on their face when they read them. Birthday messages spread love, adoration and unforgettable words to that special someone turning 7, so when they always look back, they have something to be happy about.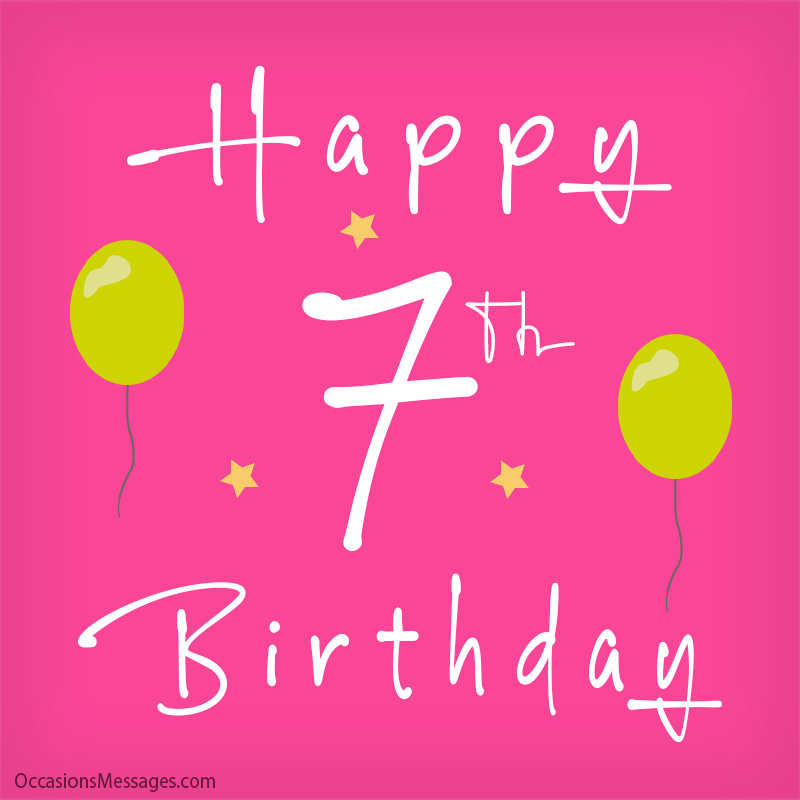 Don't be shy to tell that new 7 year old that you love them and that they are the best thing that has ever happened to you. Use one of these special messages to make their day unforgettably amazing in each and every way.
Heartfelt | Son | Daughter | Brother | Sister | Sweet
Happy 7th Birthday Wishes
Happy Birthday to the coolest 7-year-old in town.
Seven years old and seven times more adorable! Happy 7th Birthday.
Happy 7th Birthday! May your day be as sweet and wonderful as your favorite ice cream!
Seven is the magic number today, and you're the star of the show! Happy Birthday.
Happy 7th Birthday my little pretty boy / girl. Daddy loves you so much with everything he has.
Happy 7th Birthday. May you grow up to become an admirable adult.
I hope a lot of positive things will happen in this year, because our little boy keeps growing right and bright. Happy 7th Birthday.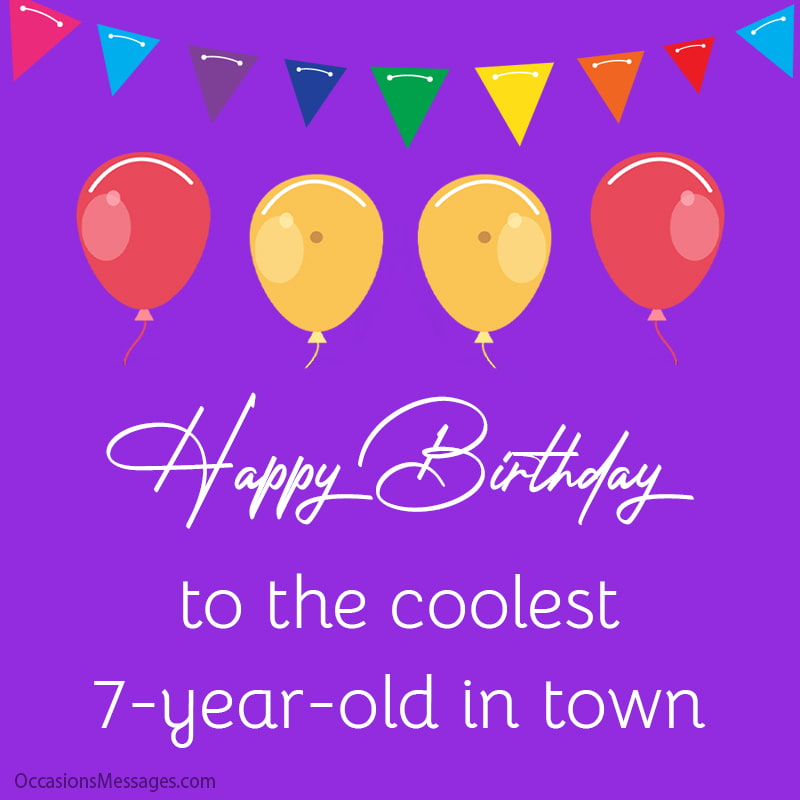 Happy Birthday to the world's most amazing 7-year-old! Your journey ahead is as bright as your smile.
A very special gift for the very special kid on his/her very special 7th birthday.
If they are looking for a seven-year-old wonderful kid, to star in Hollywood, I hope they won't go anywhere else than here, because you are the perfect fit for any role. Happy Birthday.
You're turning 7 today! Wishing you a year full of fun and lots of cake!
Happy Birthday. Turning 7 is like opening a treasure chest of new experiences.
I hope as you clock seven today, you will make greater marks than the previous.
Happy Birthday. You're such an amazing young lady, may you receive heavenly guidance to be who you are supposed to be.
May the angels continue guiding you, may you have fun and may all your wishes come true as you turn 7 today.
To the birthday champ, may your 7th year be as incredible and unique as you are.
I thank God for you each and every day and right now, I hope you have the best 7th birthday. I love you lots, be blessed darling.
I have never in my life seen an individual as talented as you and much more at your little age. Happy Birthday boy.
You are the most special kid with whom I love to meet again and again. Your silly and cute talks make my heart cheerful and lively. Happy Birthday, sweetheart.
Blow out those 7 candles, make a wish, and get ready for a blast birthday!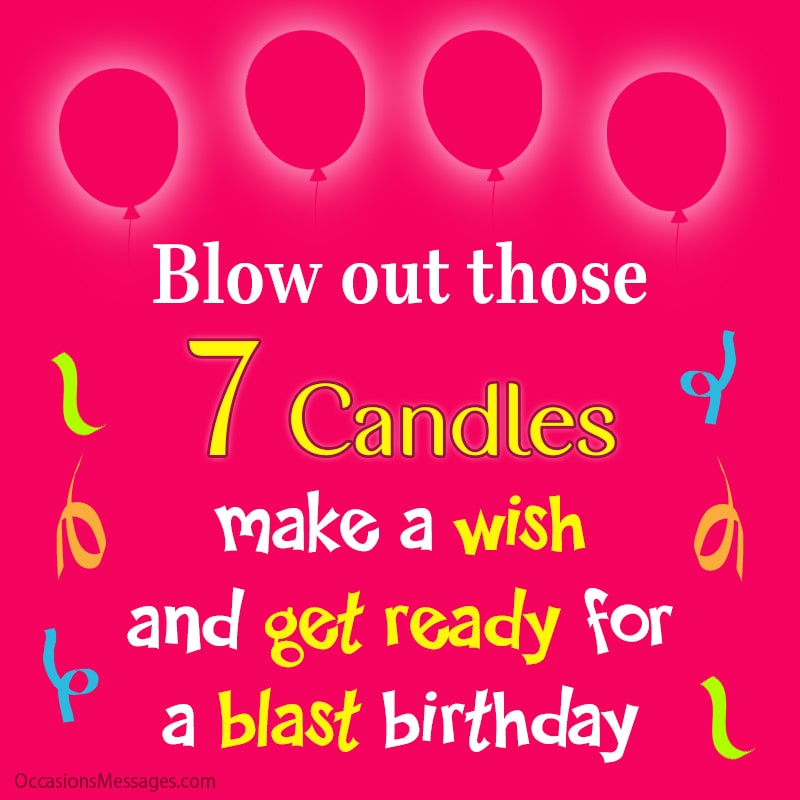 Life without water is dreadful, similarly life without you is impossible; you are the elixir of my life. I wish you a very happy birthday.
Happy 7th Birthday. May this day becomes wonderful with lots of exciting events.
Because it is your turn to clock 7, you make the number to look like twenty because of your fast growth. I hope you will enjoy life as you grow.
I hope you know how loved you are, you are a blessing to me and I love that I get to share in your 7th birthday.
This year you will consider too lucky as seven is the lucky number and now you can take any decision. May you have many more.
Happy 7th Birthday Wishes for Son
May you always have that beautiful smile on your face, you are a good son and I hope your 7th birthday brings you so much joy.
Seven looks fabulous on you, little superstar! May your day be filled with brightest smiles.
Happy 7th Birthday son. With much pleasure, I announce to you that the heavens are also celebrating your 7th birthday today.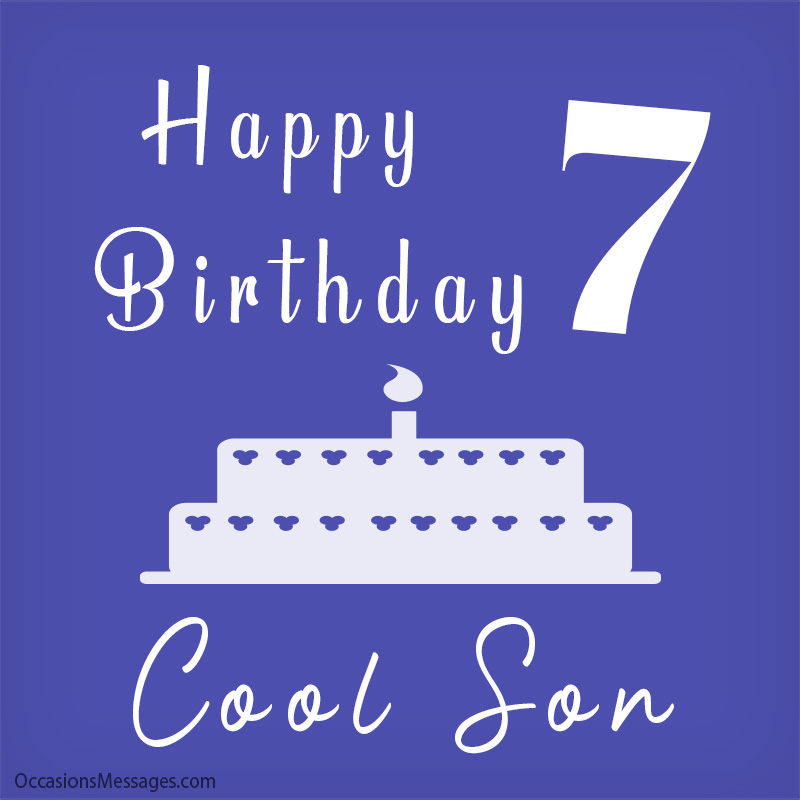 You've written seven scripts of your life today, may your life produce one of the best stories ever known to man.
Happy Birthday to the newest 7-year-old boy and the last one that will ever be from this house.
More Options: Heartfelt Birthday Messages for Nephew
Happy 7th Birthday Wishes for Daughter
This is a beautiful day for a beautiful daughter. Happy Birthday, I hope you will get all the gift you desire.
Life without you would never be the same my beautiful 7 year-old daughter, you are a blessing to me and all those around you and you are loved very dearly, never forget that sweetie.
I am so happy to have a daughter like you. You are too obedient, smart, cool and fun loving. My all happiness become twice by your presence. Happy Birthday.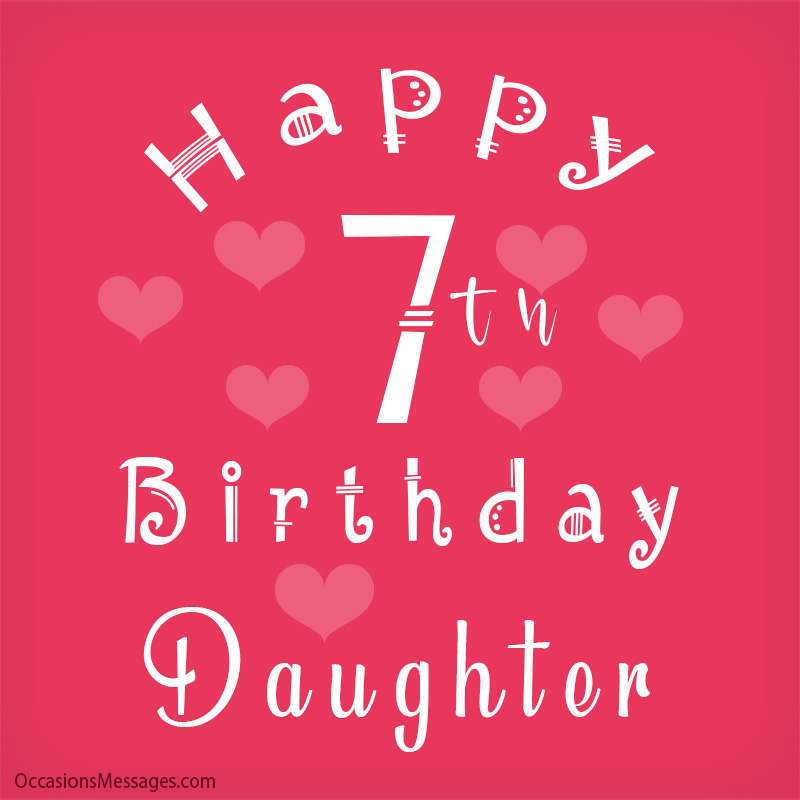 You are the star of my life. Your presence makes my life shine. I wish this birthday become your favorite one.
I hope you won't change anything about you even as you change in size. Happy 7th Birthday unique daughter. Enjoy your special day.
Related: Cute Ways to Wish Your Niece a Happy Birthday
7th Birthday Wishes for Brother
Happy 7th Birthday, Brother! May your seventh year be filled with adventures and more toys than you can count.
It is so emotional how a seven-year-old girl like you is ready and always willing to take care of her younger brother. It's a really great attribute.
You are a crazy boy and I love to spend my time in your company. Happy 7th Birthday, my brother.
Thinking of how marvelous your 7th birthday will be brings me to one conclusion, it's going to be great and fun packed.
You are simple but cute boy. You have power to make someone crazy in your love. Happy 7th birthday, sweet heart.
Read More: Best 120+ Birthday Wishes for Grandson
7th Birthday Wishes for Sister
Happy 7th Birthday, Sis. Keep spreading your colorful joy wherever you go.
Are you ready to blow all seven candles placed on the cake?  Happy 7th Birthday. Just enjoy your day, my little sister.
You are the most adorable sister. I just fall in love with your cuteness without knowing it. Wish you a very happy 7th birthday.
Happy 7th birthday, princess! May your day be as sparkly as your smile. Get ready to rule the world with your charm!
Wishing you a very happy 7th birthday, May this birthday become seventh times more thrilling and exciting.
Read Also: 100+ Happy Birthday Messages for Granddaughter
Birthday Messages for 7-Year-Olds
Happy 7th Birthday. You are looking so cool and smart on your special day. Have a lovely birthday.
Happy 7th birthday sweetie, I wish I had more than just these words; I have a lot of hope and faith that you will grow to impress all those around you!
I am blessed to be sharing your 7th birthday with you, I hope you know how much you mean to me, you are an amazing kid and I will always wish you the best.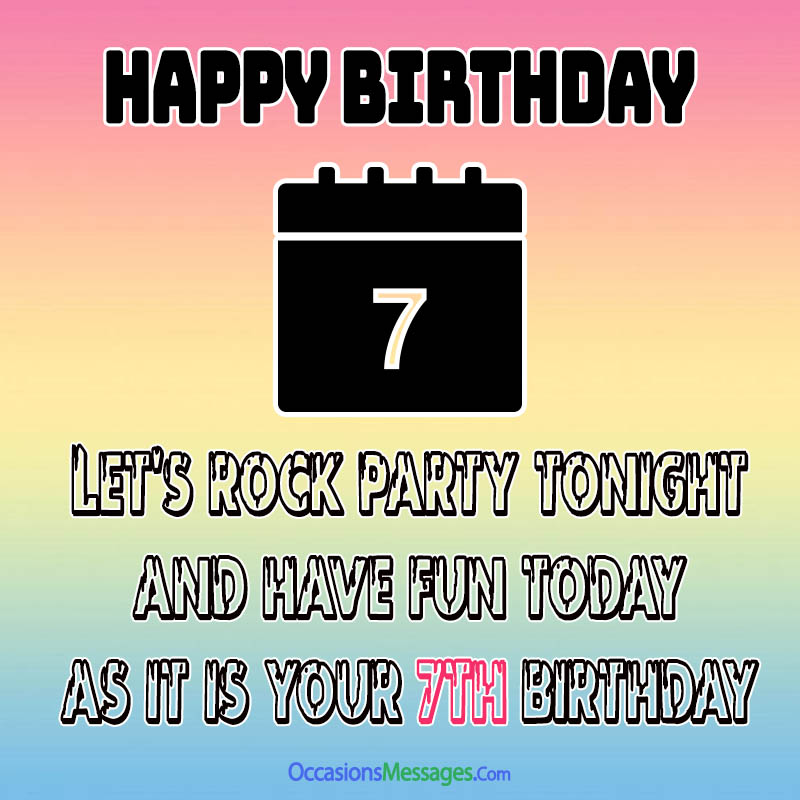 Happy 7th Birthday. May you have a fantastic birthday filled with ultimate pleasure. Enjoy your life as much as you can.
You are the most amazing kid I know of and I hope you will live longer than your Grandma and all those around. Enjoy dear one!
It's your 7th birthday my darling, I hope you get all that you desire, may you grow to be honest, truthful, loving and may you enjoy each and every second of the day. Cheers.
Words can't begin to describe the joy I feel as I share with you your 7th piece of cake, I hope you grow better with all the candles you blow off. I love you sweetie.
Let's rock party tonight and have fun today as it is your 7th birthday. May your birthday filled with unlimited happiness, joy and success.
How can a young man teach me so much about life? You are a great inspiration and I hope you grow to be the man I know you can be, for today, have fun on your 7th birthday!
On this wonderful day of your birthday, I pray to God that you get all the true happiness and unlimited pleasure that make your world bright.
Related Article: Sweet Happy 8th Birthday Wishes
Last Updated on August 26, 2023
SHARE ON