When one puts into consideration the high-risk level of a pregnant woman and an unborn child, celebrating them in a little way after a safe delivery will be the least challenging.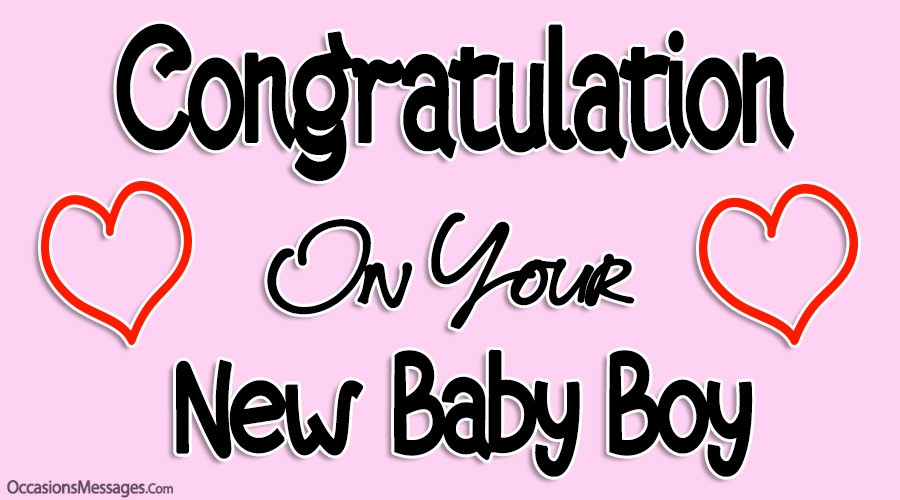 Let us show the newborn baby boy some love by putting our feelings into writing which will serve as a receipt of love after he is old enough to read. So why delay? , pick amazing messages from our archive and send as many as you want to show that you are caring.
Baby Boy Wishes and Congratulation Messages
The young shall grow, so I cannot wait to see how handsome you will be in a few years; you are one of the finest baby boys I have ever seen.
Tons of blessings on you, little man, as you made it through your first few days on earth. I cannot wait to see you make remarkable achievements in your lifetime.
The excellent news of your birth made everyone over here so happy; this is a sign that you have a positive influence on others. Indeed, you are a true son of the family.
I envy your parents for having a sweet little newborn son, I wish I could snatch you from them but I will not because you are also mine.
May failure neglect you through your life, as a newborn baby boy, you were born innocent, may the innocence never make way for rascality.
When I look at you I see how my dreams have now come true, loving swaddled in soft blue.
It brings me joy to share in this monumental affair of welcoming the newest member to your family. The world is now blessed with a new delight.
Maximum cheers to the young baby boy, the parents, and well-wishers like myself for having another reason to celebrate as one big family.
Ohm, I am thrilled. It is a boy. Do not worry my little darling; I will get you all the toys and chocolate you want when you are older.
Statistics show that men are fewer to women, so we are happy for the addition of another male child to our circle.
Congratulations to you and your bundle of joy. I know he'll someday be a fascinating boy, a great man and perfect love manifested here today.
Cheers to having the cutest face and tiniest hands that will hold firmly to your love.
Baby boys are blessings too numerous to describe. May each day with him unfold heartwarming experiences, excitement and moments of love!
The wait is worth it, so I say congratulations to you on your birth, I hope you make attain a height of greatness that is above your contemporaries.
Birthing a baby boy is sweet, so I look forward to having a baby boy that is as handsome as you are. We all dearly love you so much.
I had an unquenchable happiness when I found that you are a boy, it is nice to have a young male child to disturb the whole neighborhood.
Welcome to a world of men, where people have to put in an extra effort into being successful. Nevertheless, I see you as a winner so you will be fine.
It takes time to make anything marvelous and worthwhile. As new as he is to the world today, remind him of the patience to become greatness every step of the way.
Today you've been truly blessed to finally meet in person the bright and happy boy who has been proving his liveliness with his kicks. A hearty congrats on his arrival!
I wish you blessings as infinite as grains of sand as you lovingly look upon your bundle of joy. I bid a warm welcome and wish all my love upon your new baby boy.
I hope that in a couple of weeks you will be strong enough for rough plays. I finally got a male friend to toss around the place.
I was sure of you before you came along. I celebrate your parents for having a sweet little boy as a newborn; you are so good to be true.
All babies are Innocent at birth but most change when life challenges set in. I pray that you will be among the few lucky men to live a virtuous life.
I observed that you trump your parent's beauty by a large margin despite being a newborn; I wonder how handsome you will look when you are a full-grown man.
Congratulations on a miracle made just for you. Baby girls are nice too but boys are just as fun. Cheers to the babyhood journey!
He has finally arrived in all his glory and baby blue! Congrats on the arrival of your son!
I am excited to be a part of this special time. May your baby boy grow in all his strength and become the best little boy in the world.
May your birth attract good fortunes to your family and friends who are delighted for a beautiful addition to our male collection.
I say a word of prayer on the newborn baby boy, may he experience rapid growth in all aspects of his life and be a responsible member of the family.
Welcome into a new world our bouncing baby boy, may your stay on earth be happy just as God would want you to live.
I can only imagine the deep happiness and reward it brings to hold your new little boy. May you be blessed with wisdom and all the tenets of awesome parenthood!
Your new baby boy will change your life, grab your heart with his smile and soothe your soul with his bright eyes. Congrats on your new gift from life!
Congratulations are in order for the world's newest addition. Some of the greatest gifts come in small packages.
I welcome you into the midst of future men and potential fathers club. We hope to see you happy.
We will mark today for the rest of your life, so it is a big deal to me. I could not be happier after finding out that you are a boy.
The little big man is finally here after so much time; we waited for nine months to behold your beautiful face for the first of many times.
Hello Macho. You adapted to the environment fast and play so well for a newborn. Keep up the excellent work, and I foresee you having a beautiful life.
Your baby boy is here, and I am beaming with excitement! I wish you years of health, love and joy greatly numbered as the hairs on his head.
Sending you and your family warm wishes as warm as his little fingers wrapped around yours. May this new journey bring you happiness and love galore!
The prince is here! I wish you hearty congratulations in welcoming your new baby boy.
The months have finally passed and I can meet the cutest little boy in the galaxy. Congrats!
As you bask in the new and profound love your bundle of joy brings, I want to express my sincere wish that today and always will be a happy life with your baby boy.
A baby boy is the gift of a lifetime. May this little prince give you laughter, fun and proud moments that fill your heart the way his presence will always inspire yours.
Congratulations on the birth of your adorable baby boy. I hope the joy of his birth walks with you today, tomorrow and for the days he will grow into a great man.
The wait is over and a new prince is here. I am happy he has arrived in perfect health and in a royal style.
Timing is everything and today his arrival is a blessing. I am thrilled to be here to celebrate too. Congratulations to you!
---
You May Also Like:
Top 200 Newborn Baby Congratulation Messages
Happy Birthday Wishes and Messages for Babies
---