New Born Baby Wishes: Having a baby is a significant accomplishment and a lifetime experience for a family, so it is highly essential to send the right congratulations message that contains goodwill, flair, and endless support towards the new wonder and the lucky parents. You should never be short of the right message that will pass across your intentions; therefore,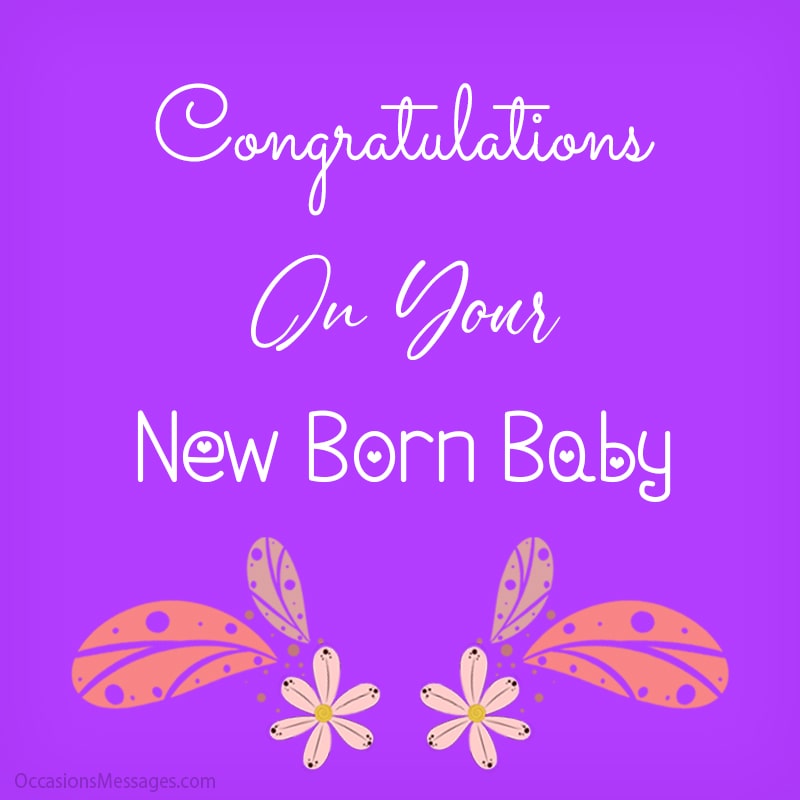 We offer you a bailout by compiling important words to recognize the effort of the family and welcome the latest kid on the block. It will surprise you how far a little gesture such as a simple text message will make a positive difference.
Wishes | Baby Boy | Baby Girl | To Father | To Mother | From Parents | Messages
New Born Baby Wishes
My warmest wishes to you and the family for the newborn, it is worth a celebration.
Congratulations on the addition of a little bundle of joy to your family cabinet.
Congratulations on your little one. My happiness is deep and absolute.
You have the latest baby in town, and I am more than happy for you, it is so much fun when they start growing older.
I say a million congratulations to the newborn baby and the family, I am thrilled the mother had a smooth delivery and the baby is safe.
Congratulations on the arrival of your additional bundle of joy, it's great to see your family expanding and growing.
Children are gifts and everyone deserves to have them, I can't wait to meet your little bundle of joy.
You have a new responsibility now, and it comes with joy and happiness. Congratulations on your new arrival!
You're going to miss your sleep, but it's for a good cause, enjoy the joy that comes with having a new baby.
Congratulations to the latest problem dropped on planet earth for us to handle. I am glad that I am not the parents who change the diapers.
You are a lucky parent and parenthood came knocking at the right time. I share in your joy and excitement!
I can't wait to see your baby smile; I know how long you waited for this. Congratulations on the birth of the newborn.
This is the beginning of a lifetime; you have given birth to a mini-human being. Congratulations on being a new parent.
Congratulations to you people since it is all over, you survived one of the most nervous moments of life (delivery). Both the mother and baby are heroes.
I pray that you have the best experience of fatherhood as you welcome addition to your household, I wish you much happiness.
Your little angel is going to be a lucky child, I am so thrilled, and I am so happy to hear of your safe delivery.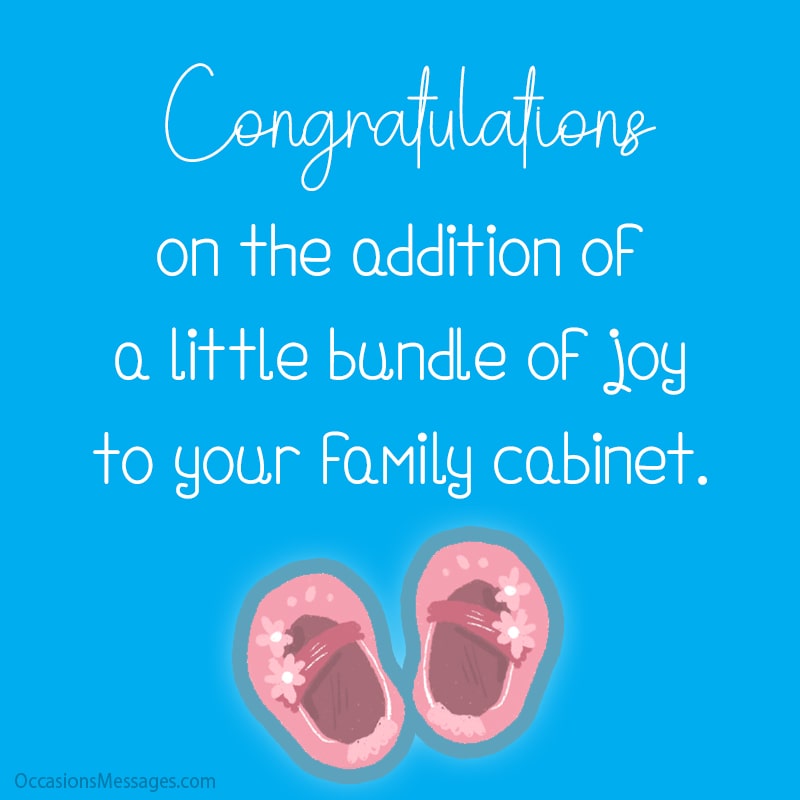 This cute princess was specially made for you, and I'm proud that you two made this baby. This joint effort was worth it.
Remember that time flies, this is your time to enjoy this privilege of become a father. This bundle of joy would make you happy.
Having a new child marks the beginning of a new chapter in your life, you're about to begin the journey into motherhood.
New Born Baby Boy Wishes
Congratulations, the new prince has come bearing gifts.
May your little boy grow to become a successful man.
The news just got to me, I am so happy for you both, and I can't wait to meet the new guy.
Congratulations on your newborn baby boy. Everyone is going to fall in love with him.
You now have a little guy!! I'm sending you a lot of wishes and prayers as you begin your journey as a parent. Best wishes.
I feel very happy to hear the news about the birth of your baby boy! You're both going to make great parents.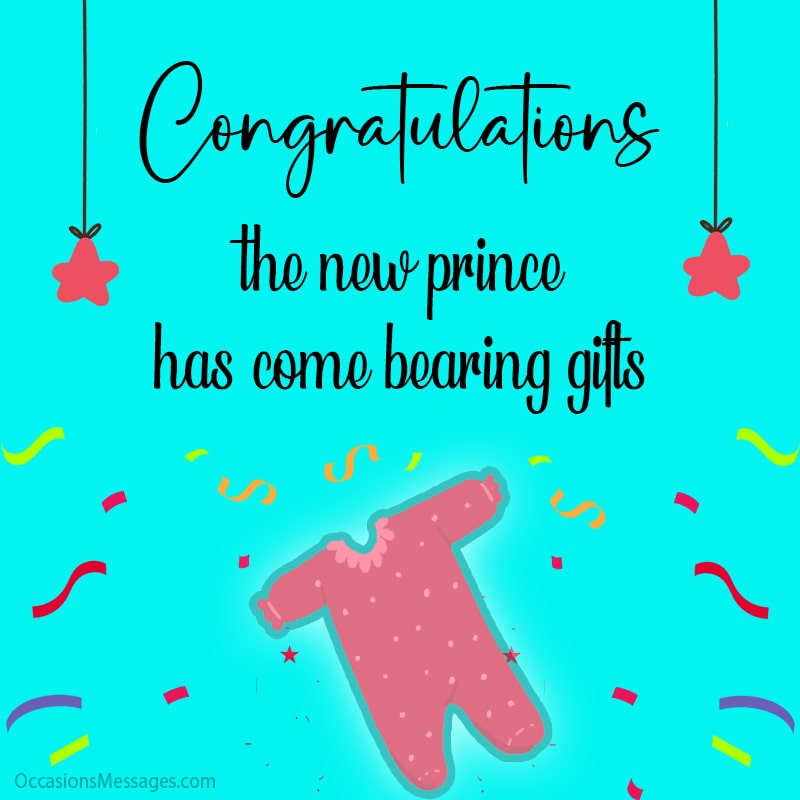 You have a new blessing in your life! You should enjoy the little moment you have with him before he grows into a fine man. Congrats to the lucky parents.
I can't believe you both are now parents, and I can't wait to see your son's cute face. Congratulations to the new mommy and daddy.
I saw a glimpse of greatness when I met your newborn baby boy so do everything within your power to make him stain his full potential.
I envy your luck, it is always great to have a male child, and you will experience a high and positive vibe daily. Congratulations.
Read More: Congratulation Wishes for New Born Baby Boy
New Born Baby Girl Wishes
Congratulations on your newborn baby girl. I wish her good health and happiness!
Congratulations on the birth of your princess, she is so beautiful, and I know she got it from you.
God has given you a bundle of joy to take care of, and he also blessed her with beauty. You have given birth to a princess.
You have a beautiful little angel; she's going to be an amazing girl. Best wishes.
You have welcomed a pretty little girl into this world. I am so happy for the growth of your family, and I'm glad it's a girl.
I'm excited that you have birthed a beautiful girl; I can wait to watch her grow into a beautiful woman. Congratulations.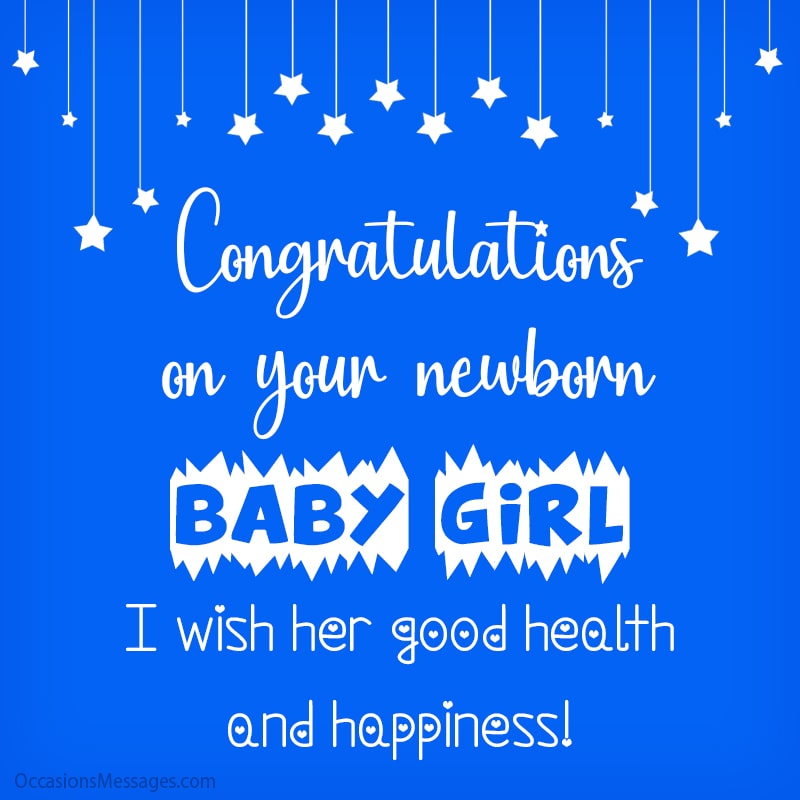 Daughters are special beings, every parent needs one in their life, and now you have one to call your own. I can't wait to watch her grow into a beautiful woman.
Finally, the wait is over. Your bundle of joy has arrived, you have created a mini version of yourself, and you should be proud of it.
Little princesses are a must have, and one has been added to your life! You have a cute and healthy child, be proud of yourself!
All the great women that ever lived were once a baby girl, so I see a bright star shining in her, as she grows much older.
I just heard the best news of the year, so you have a baby girl, and she is the brightest baby in the whole town's. Congratulations, you guys!
For More Options: New Baby Girl Congratulations Messages
New Born Baby Wishes to Father
Congratulations, you now have a new role as a father, and I'm convinced you would succeed at it.
I feel happy to know that you have a new person added to your family; you're going to make a good father.
Your baby is blessed to have you as a father and I know you would perform this role with ease.
No feeling can beat the feeling of becoming a new father and holding your child for the first time. Congratulations on your newborn.
As the mother of this child, I am happy that you were with me on this journey. You're a good husband, and you'll be a great father.
You are my friend, and you have always been a great man, you deserve to have this child in your life.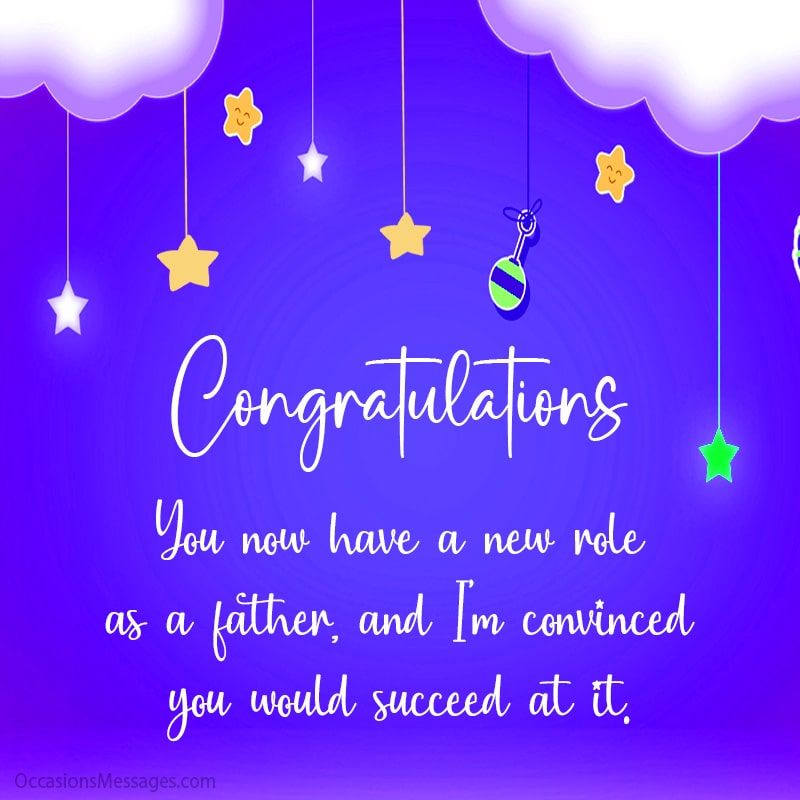 I want you to prove people by being the sweetest dad to your new baby; show them that men can exhibit a high level of emotional connection. Enjoy the parenthood.
The daddy's league has a new representative, as a member, you have to comply with our modus operandi, which is to be a responsible father. Congratulations on your newborn.
You have the most difficult and coolest job in the world as a father; you can only be successful when you guide and lead by example. Congrats to the lucky dad.
Finally, you are a father; do not be afraid of the challenges that lie ahead. Pray and stay committed to your family and everything will be all right. Best wishes for the newborn baby!
New Born Baby Wishes to Mother
Congratulations pretty mom. The baby is equally beautiful as the mother.
Your baby is one of the luckiest kids on earth and this is because you are his mother. Congratulations.
Congratulations to a wonderful new mother. I am so happy to hear of your safe delivery and I can't wait to finally meet your bundle of happiness.
This child has made you the newest mother in town, I can't wait to see you both wear matching outfits. Congrats to the lucky mom.
You have become a mother and I know how excited you are about it. You've prepared a long time for this, you'll do great.
You deserve happiness and look; you just gave birth to one. All the best for you and your husband as you grow with this bundle of joy.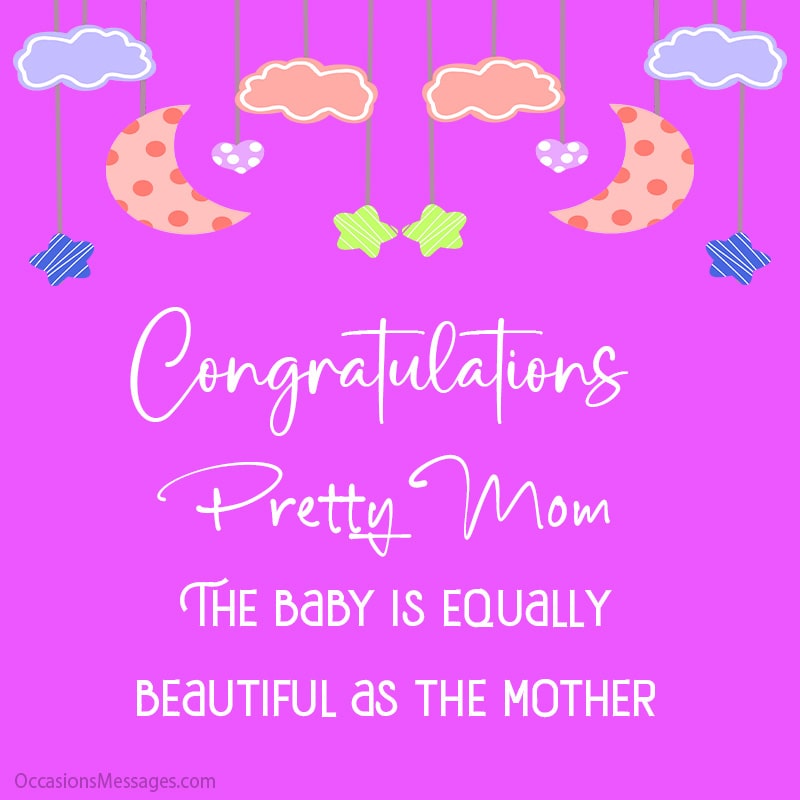 A child is his mother's best friend; you just got yourself a new best friend. I know it wasn't easy to push him out, but you did it successfully.
My husband and I send our congratulations to you, may God bless you and the child for making you a mother.
Nothing can beat the feeling of excitement you get when you finally get to meet the being you carried in your belly for a long time. Enjoy your motherhood.
There is nothing stronger than the bond of a mother and a newborn; it is pure, right, and absolute just as the one you have for your baby. Enjoy your motherhood.
New Baby Wishes from Parents
It is such a great pleasure to meet you, let me introduce myself. I am your loving and caring dad/mom.
As your parent, I see a bit of myself written all over you. You bring me unimaginable joy that I cannot explain despite being a newborn.
I loved you dearly before your birth, but I am happier that I can see you.
I cannot wait for you to smile at me and call me mommy, but as of today, I will stare at your little face all day long.
One needs to have a child to be a dad. Thank you for making my lifelong dream comes true. You will always be precious to me.
Nothing compares to a mother's love for her newborn baby; I can feel a river of gladness flowing through all my veins and body parts.
I consider myself the luckiest person on earth because I just had a beautiful baby like you. I promise to be a good parent to you.
The stress of pregnancy finally paid off; I now have the opportunity to show you the tender loving of a happy and grateful mother.
You will remain a big deal to me for the rest of my life because I am your parent. I welcome you to the world of men.
It is such an exciting time for me; I am a proud mother of a bouncing and healthy baby. I will make sure that you live a good life.
Congratulations for New Baby
May you have a remarkable lifelong experience with your new baby. We're happy for you two!
Congratulations on attaining the height of parenthood, I pray that the child will be a significant source of happiness and a responsible citizen.
Becoming a father can be tasking and tiring but, don't give up on your wife or your child because they both need you.
I am so delighted to see the little bundle of joy! Oh my God, he's very handsome! Congratulations on this new blessing.
You have welcomed a child into this world; you need to be prepared for this new chapter. You will make a great mom!
It's not easy to father a child, it comes with so many responsibilities, but I know you would scale through.
There is no better smell than the smell of the skin of a newborn child. You are going to be an amazing parent, I can see it.
May your newborn baby live long in an extraordinary life just as the parents. Enjoy every bit of happiness attached to parenthood.
SHARE ON