Happy 18th Birthday Wishes: We have all been there, and if you haven't you will definitely get there. Your 18th birthday, the birthday where you feel all grown up, the birthday where you want all your friends and family to realize that you are finally big. That is how most 18 year old feels. Why not give them that, let them enjoy the day like there is no tomorrow, you only turn a new age once and you definitely don't want them to miss on the opportunity of having the very best on their birthdays. Here are some birthday messages you can send to the new 18 year old to make them feel what you felt when you finally turned 18.
Happy 18th Birthday Wishes
Here are the best happy 18th birthday wishes and messages to be sent to anyone.
Happy 18th Birthday. May all your wishes and dreams come true and always find the courage to pursue them.
On your eighteenth birthday, may you eat lots of cake, have tons of fun, and receive mountains of gifts! Happy Birthday!
You're 18 now and considered legal! Let's hope your Happy Birthday STAYS that way!
Wishing you a wonderful and joyous 18th birthday, to an elegant and sophisticated eighteen-year-old young man.
New hopes, new desires, new expectations and new beginnings of life are on the way. Happy 18th Birthday.
Here's to a BLAST of an 18th Birthday…just not TOO much of a BLAST!
18? Mmmh that's a big age, the age where you get your freedom and all that you'd have desired when you were 16. I hope you get to enjoy your birthday and all the days that come after that.
Happy Eighteenth Birthday, Girl! Only one more year as a teenager left!
Wishing you a very happy eighteenth birthday, never let your hopes, desires and efforts go away from you.
It's your 18th birthday and the years have gone by so FAST, and so will the next 18! Have fun and enjoy still being a kid!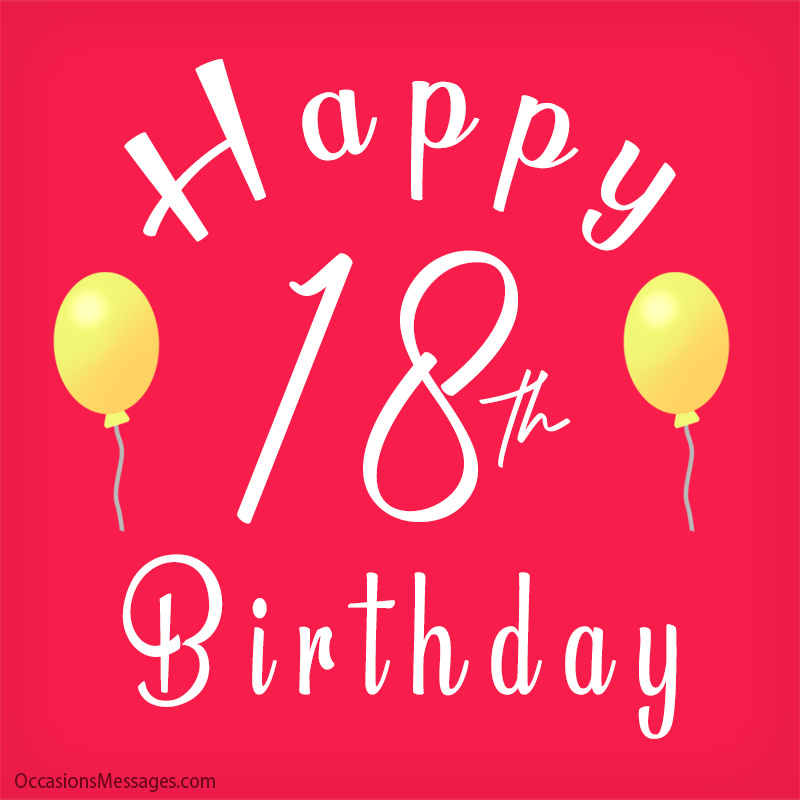 Happy Birthday. I am surely blessed to have you with me, to be part of this exciting day where I see you turn 18.
It takes at least 18 years to step into the best phase of life; so welcome on board and enjoy your adulthood! Happy Birthday.
Happy Birthday. You're now an adult, but to Mom and Dad you'll always be our great kid!
May the beautiful sunlight be filled in the life and you can achieve whatever you want. I wish you a very happy eighteenth birthday.
Happy Birthday, Bud, on your 18th I hope you got a new car!
Happy 18th Birthday. Hoping your next eighteen years are as incredible and productive as the first eighteen years!
Your wish, your goal, your hope, your dreams and your achievement will be determined by your actions. Encourage yourself to action and everything will be released. Happy 18th Birthday.
Recommended: Amazing 150+ Birthday Wishes and Messages
Funny Wishes
Here are some cute funny birthday wishes and messages for someone turning 18.
Congratulations on your 18th birthday dear, but watch out! Now they will think that you are a responsible person.
Just think, 18 candles on a birthday cake isn't (yet) a fire hazard! Happy Eighteenth birthday.
Wow! You waited for over 18 years so as to become a legitimate citizen. Do accept my warm congratulations and welcome to adulthood.
How can 18 years have already gone by? Before you know it, you'll be 21. Happy 18th Birthday.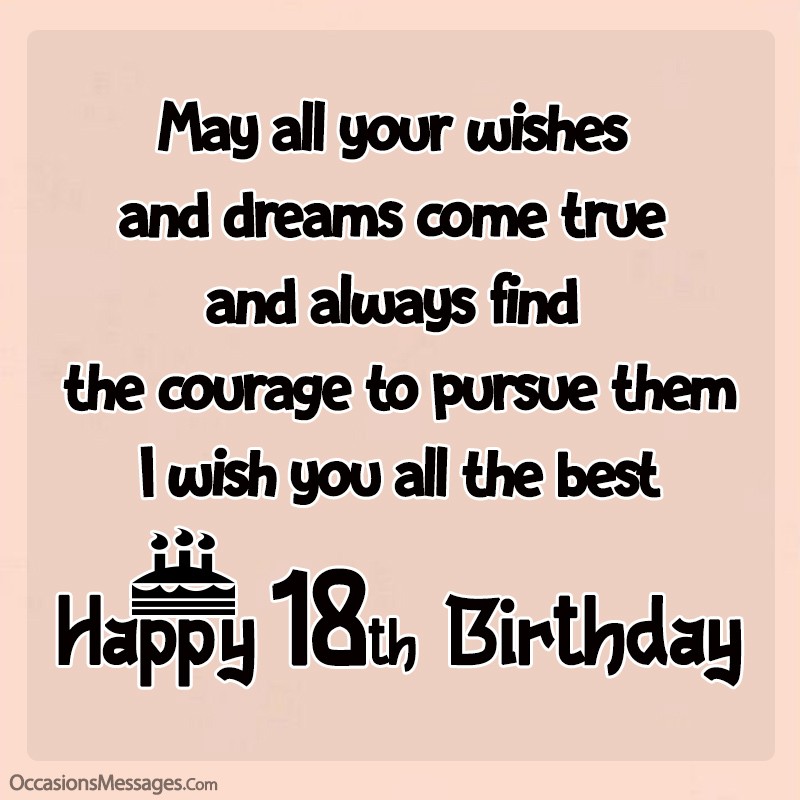 Happy 18th Birthday dear. Henceforth, you must pay attention to all your movements because your parents can now stop giving you pocket money.
For Son
Here are some cute list of happy 18th birthday wishes for son.
Happy 18th Birthday, son. I can't find the words to express the joy I feel in being part of this memorable day. I hope you get to enjoy yourself.
Happy 18th Birthday. What a significant number it is that you are clocking today, it's a sudden turn from the journey of youth to adulthood. We celebrate you so much.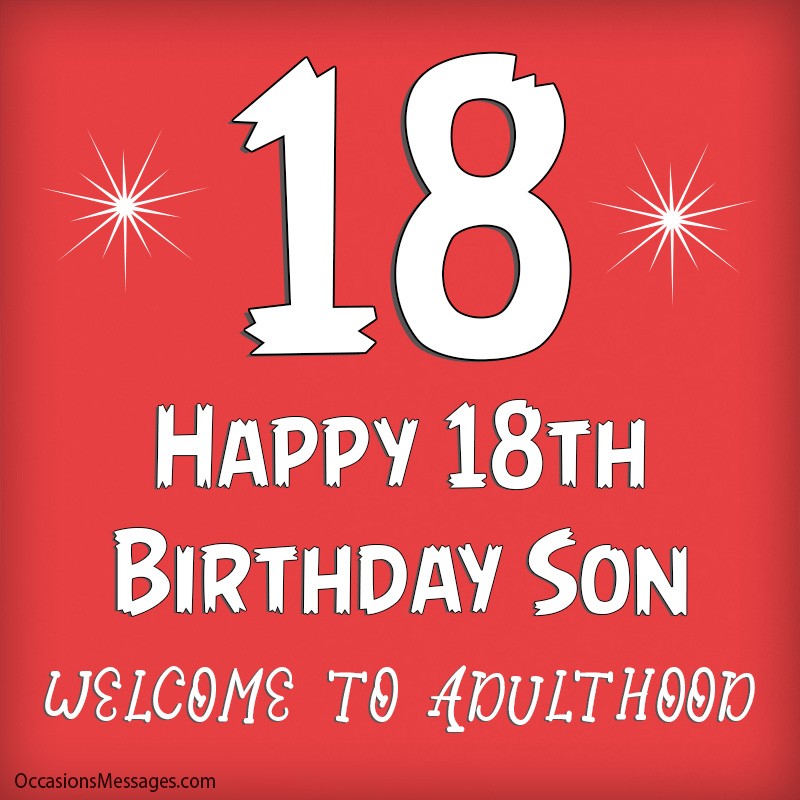 Now is the time for you to create the future you imagined. Happy 18th Birthday son, May you live a fulfilling life.
Wishing a wonderful and joyous 18th birthday, to an elegant and sophisticated eighteen-year-old young man.
I am so proud and honored to be part of your special day. Happy 18th birthday, have lots of fun.
Read More: 200+ Happy Birthday Son Wishes, Messages
For Daughter
Use one of these sweet happy 18th birthday wishes for daughter.
Happy 18th Birthday, daughter. Now you have put a step towards your actual life, I wish you all the best for your future endeavors.
Happy 18th Birthday to a Daddy's girl and priceless Princess, forever young!
Turning eighteen gives you the legal allowance for doing anything you want, but everything should be in a positive way. Wishing you the superb 18th birthday.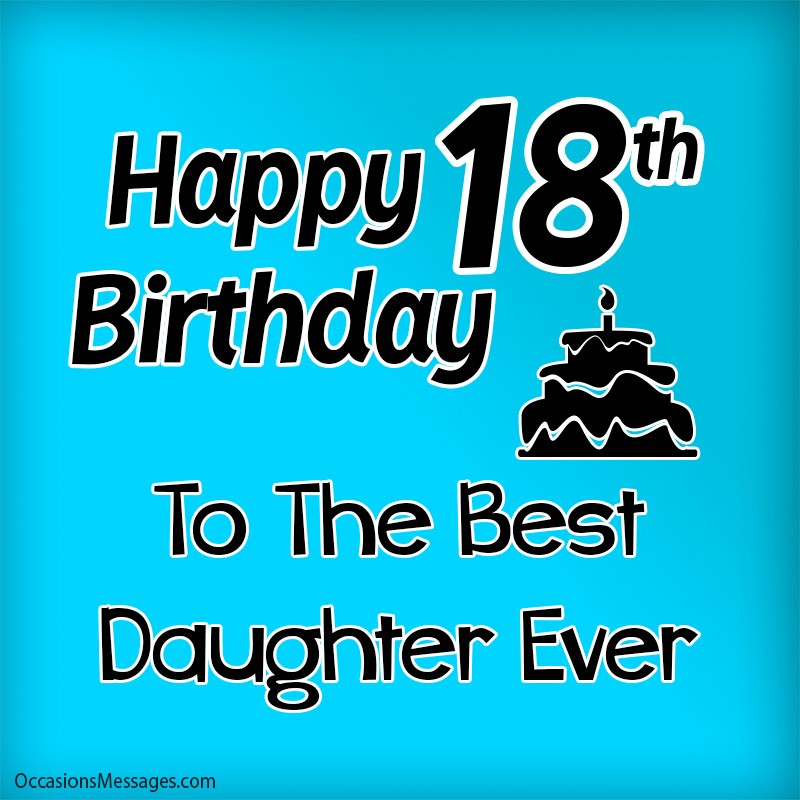 Few years ago, you are our little girl but today, you are big and well grown but I want to let you know that you are and will always be our little princess. Happy 18th Birthday daughter.
Happy 18th birthday my daughter, you surely deserve the best out of this day. May you have it all my dear.
More Options: Top 200+ Happy Birthday Daughter
For Brother
Wish your brother a happy 18th birthday with these messages.
Now you are legally allowed to do anything. Happy 18th Birthday, brother. May all your wishes come true.
Happy Eighteenth birthday to a super cool brother.
It's easy to be happy on your 18th birthday if…your parents, siblings, and friends all get you what you want! LOL! Happy Birthday, bro!
Each day with you is a blessing and 18 is no exception. Happy Birthday to you brother.
Whatever you wish, may you achieve and whatever you look for, may you discover. Wishing you the superb 18th birthday.
For Sister
Here are some amazing 18th birthday wishes for a sister turning 18.
The champion that is inside of you should emerge now and cause a change to this world. Happy 18th Birthday sister.
Happy Birthday, sister. Ya gotta have a blowout birthday party!
They say your 18th birthday is your first, real "big birthday." So, I hope you have a REAL BIG party! Happy Birthday sister!
As you clock this beautiful age, don't spend a lot of time wondering what the future holds, go ahead and create a dream future for yourself, happy 18th birthday enjoy life to the fullest.
The older you get the more handsome you become, have an unforgettable 18th birthday my sister, you deserve all the best.
Also Read: 100+ Best Birthday Wishes for a Friend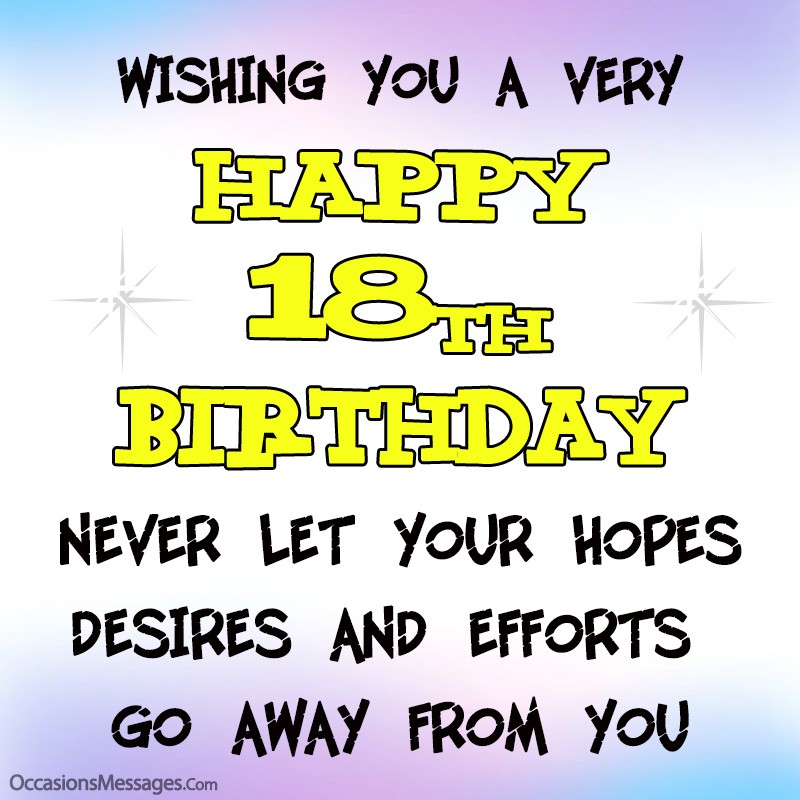 For Friend
These special happy 18th birthday wishes for a friend
You make me smile every time I am down, you listened to me when I needed an ear, may all your wishes and heart desires come true today. Happy 18th Birthday wonderful friend. Keep being the best.
I really cherish the kind of person that you are, you are my lifelong and destiny friend. Today you clock 18 I hope when you clock 100, we'll still be together. Happy Birthday best friend forever.
I can't think of a better way to celebrate your eighteenth birthday than with ME! Haha! Happy Birthday to my BFF.
Happy 18th Birthday. Never hesitate to honor your parents every day, their blessings and prayer will be enough for you as you move through life.
Never could I have had a better friend than you, you have the right words for every moment, through the good and the bad time you were there. Happy Birthday 18-year-old.
Related Content: Happy 19th Birthday Wishes 
SHARE ON