Thank You for Attending Our Wedding: Weddings are always special days for those involved from the groom himself to the little flower girls and those who attended. It is nice to see people come out to support you during your wedding. It brings pleasure knowing people care enough to know what is going on in your life. So what do you do after your wedding? You surely cannot forget those who came out to show their support and love and also to bring you presents and a symbol of their gratitude for letting them share the day with you. Here are some examples of thank you messages one can send to their loved ones.
Thank You Messages For Coming To My Wedding
Thank you for attending my wedding, your gift and presence was highly appreciated. Thank you so much!
Words alone cannot express the gratitude in my heart for attending my wedding. I surely felt blessed seeing you. I hope you had a good time.
Thank you for being part of the most amazing day in my life. I will forever be grateful for the role you played. May the good Lord bless you.
You rocked my party man thanks a lot for your presence on my wedding.
The day could not be completed without your presence thank you for being part of the celebration. I hope you did enjoy yourself. Thank you again and again.
What can I ever do to repay you? I promise to be there for you as you were for me on my wedding day. I appreciate all you did. I will forever be indebted to you.
For the love, care, support and for you just being there, I have to say thank you. You made my day complete. I hope you had a good time too.
Love is sweet and simple, thank you for making our wedding day complete and joyous.
You were there for me when I needed a boost. Thank you for attending my wedding and for the role you played. I surely felt your presence.
Thank you for being there when I really needed you, I will never forget how you came through for me when I needed the support. You are surely heaven sent.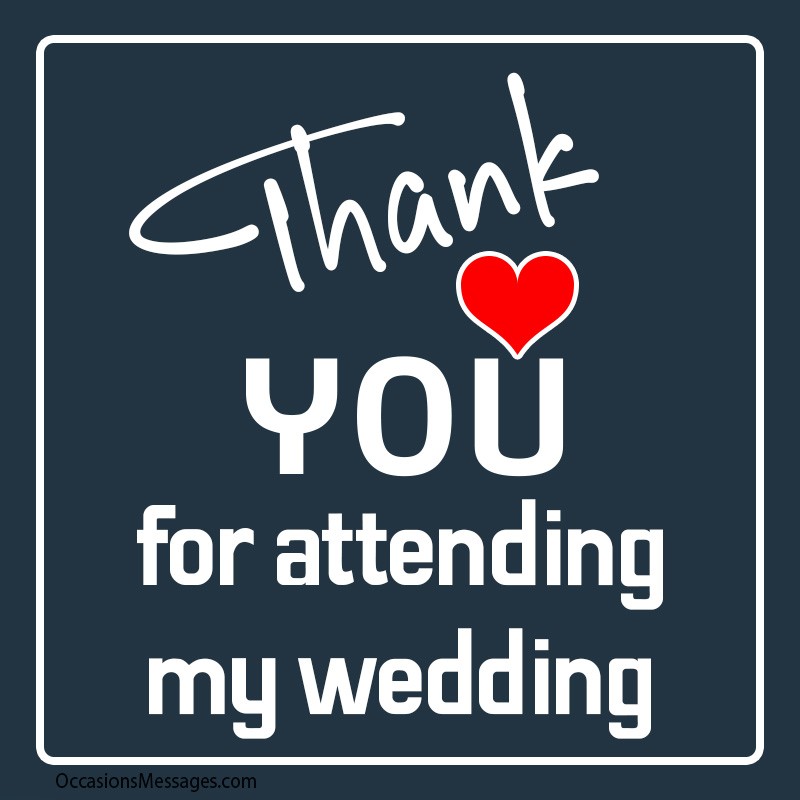 We never planned for a wedding like this, but having you around made it a worthwhile one, a day never to forget. Thanks for everything.
Thank you for attending my wedding, you were surely an addition I could not go on without. I love you so much for that, I appreciate it all.
Your presence means a lot to me and to my partner and it gave us more confidence during and after the event; you are such an angel.
Today's marriage would be impossible without your presence; we could not have done it all by our selves, thank you for making today a reality.
I am indebted to you for life; you attended my wedding and contributed in various ways to ensure its success. I am appreciative for your presence.
Words cannot quantify my appreciation for your presence at my wedding, I felt more secure with my family and friends endeavors before, during and after the occasion.
May rejoicing and merry never seize to exist in your life as you contributed to my happiness by attending my wedding despite your tight schedule.
Like from the ends of the heart and like from the depth of the sea is my gratitude to you, for your moral and financial support during my wedding, I am grateful.
Thank you for being part of the most important day of my life. I surely cannot express the gratitude I felt when I saw your face as you cheered us on. I appreciate everything.
We couldn't have imagined a better wedding than what we had today; we appreciate you for making it a great deal. We will forever cherish this day.
A thousand words cannot express the joy that flows from the bottom of my heart for having your presence on our special day, we feel so honored. Thanks a lot.
Thank you for being part of the day, you cannot imagine the pleasure I felt when I saw you. I hope you know how much appreciated you are.
My wedding would have been nothing without you cheering me on. I needed the support and love which you provided. Thank you!
Thanks a lot for being a part of my wedding day, your wonderful gift is really commendable.
Related: Top 200 Wedding Wishes and Messages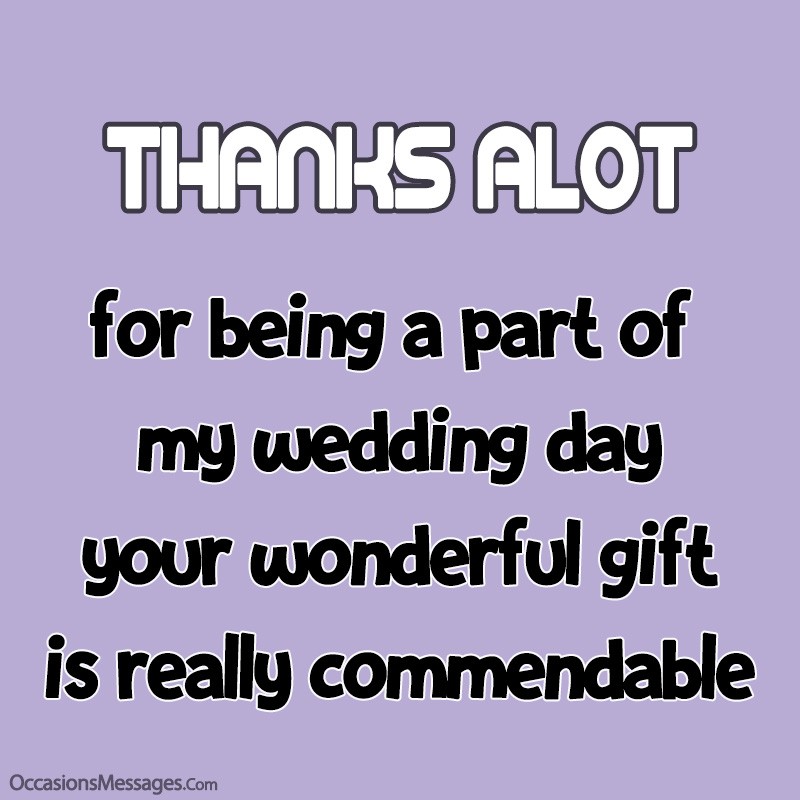 I just say a bundle of thanks and there is no need for the gifts, your presence is enough for us. But anyhow thanks a lot for making my day special.
Beautiful and kind hearted people like you makes every occasion a great one to always remember. Thank you for making mine one of the very best you have ever graced. I am honored.
It was so exhilarating and a thing of a delight to have you present at our wedding, thank you for your love and care.
Our words of appreciation cannot match the magnitude of your generosity during our wedding, thank you for making it a possibility. We are honored.
It gives more joy and satisfaction knowing that people like you were around to share and partake in our joy. We appreciate your presence.
It was the most beautiful thing I have ever had, having you there made it awesome. I appreciate the fact that you took time off just to attend my wedding. Be blessed.
Having you at my wedding surely made all the difference in the world. I hope you know how much I appreciate your company. Thanks so much!
Your well wishes and your congratulatory speech is a thing we will remember for a long time in our marriage. Thanks for attending.
Thank you for your warm and earnest wishes on our big day, we appreciate your presence. Thank you.
You took your time from your busy schedule to celebrate our wedding. Thank you so much, your presence really did make a difference.
Thank you so much that you take out some precious moments from your valuable time and gave an honor by attending my wedding.
It is such an outstanding surprise for me that you came in my wedding function. Thank you for your special appearance.
I actually find it difficult to accept the fact that I won't hang around with you too much any longer, cuz I found my better half. Thank you for everything and I appreciate your expensive joke at my wedding, lol.
Thank you for your appearance at my wedding; it's a good thing to see you after all these years. Thanks for coming.
Having you at my wedding was the most spectacular thing to ever happen. Just seeing you there cheering us on was enough to make me want to go on. I deeply appreciate you.
Read Also: Thank You for Wedding Congratulations Messages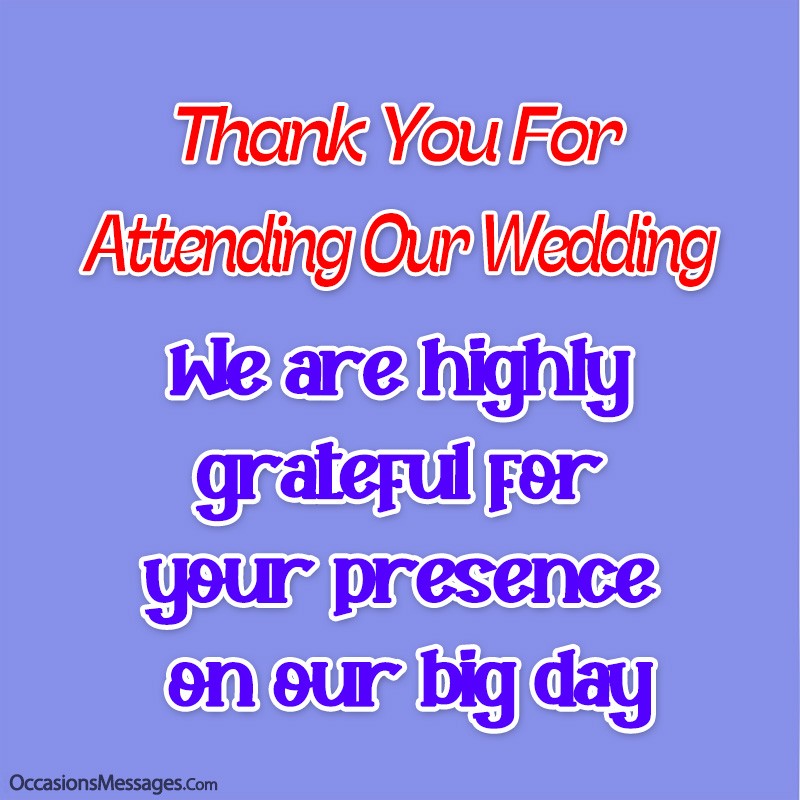 Wedding is the sweet beginning of new relation and I pay a bundle of thanks to all for you who made my new beginning auspicious and beautiful.
A very special thanks to my relatives who live outside from the country and specially come to attend my wedding and made my life and day so memorable and classy.
What can I surely say or do to show you how important you were at my wedding. I appreciated your presence and I surely felt it. The day wouldn't have been as awesome if you weren't around.
Your presence sound good on my wedding day and thank you so much for the most beautiful gift that's a scrap book of our old memories. It gives moisture in my eyes when I see this.
You made my wedding wonderful by your dancing, singing and entertainment. Thank you so much for such a blasting contribution on my wedding.
Your contribution to the success of our wedding is not measurable and we don't know how to pay it back, thank you for showing us love on our great occasion.
We genuinely thank and appreciate you, friends, colleague and family for sharing with us the most beautiful moment of our lives. We are grateful for your coming.
I felt secure and comfortable when you were with me as I was in the get up of groom and made a central eye of all guests. Thank a lot buddy for all support and care.
Thank you so much for the lovely party that you have been throwing in the honor of my wedding and very special thanks for your presence for attending the whole functions of my wedding.
You made my wedding lively and lovely by your superb comedy, dance part and music night. Thanks for being a part of my big day we really enjoyed your presence.
Memories are big assets and you made my wedding day so memorable. Your presence on my big day is highly appreciated.
A very big thank you to you for making the most special day of our lives a memorable one. We are grateful.
I can't seem to find the right words in my arsenal to appreciate your presence and support during our wedding, may God reward you bountifully.
I have no words how would I thank you, what you did for me is hard to forget. I and my wife really enjoyed your presence. Thank you for everything.
I and my all family say a warm thank you for your support, encouragement, love, laughter that you have shown in my wedding event. May God bless you.
Thank you for put up the blissful spirit and made our wedding sizzling by your presence and wonderful gifts.
I wonder what the stress could have been like without your support. Thanks for making it a possibility; I'm sure your own big day is very near. Thank you my friend.
Oh what a feeling of having the backing of great and wonderful people like you, my wife and I cannot undermine your effort during our wedding. Thank you so much.
Read More: 50+ Thank you Messages for Wedding Gift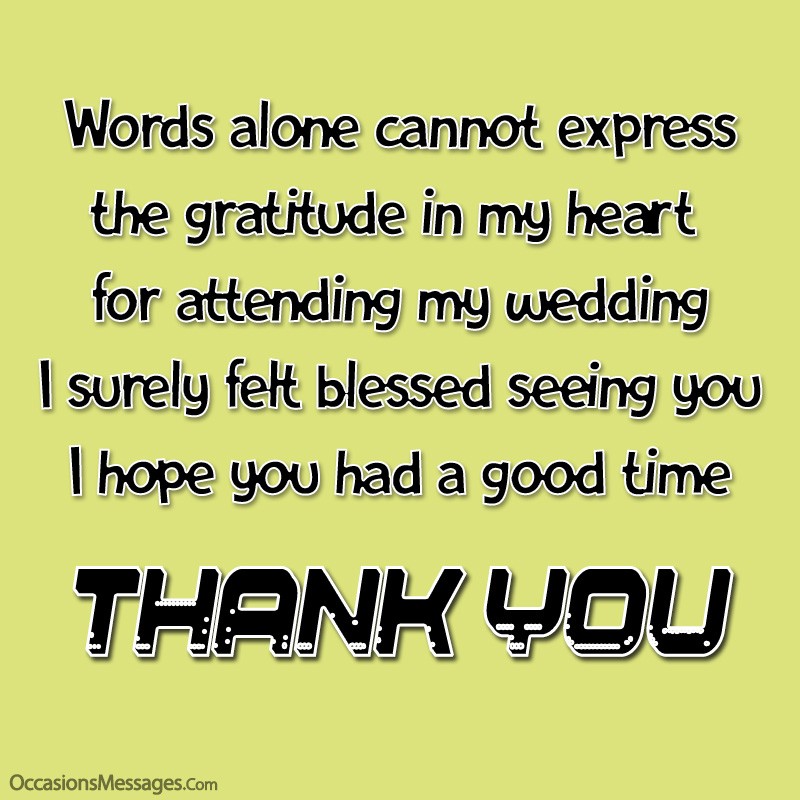 The beautiful moments that we have spent together will linger on in my memory and I will hold onto it forever. I will miss you friends. Thank you for showing up at my wedding.
Thank you for your blessings, love, entertainment and support. We are highly grateful for your presence on our big day.
We appreciate your valuable time and the effort you put to help us achieve this dream day of ours. We will always remember those beautiful moments. Thanks for making it to our wedding.
A very special thanks to that person to whom I met my love and associated with her till lifetime. You are really a true blessing for me. And this wedding event is occurred just because of your endless efforts. Thank you so much for your presence and making my life more bright and cheerful.
Moving into this new phase of life seems difficult to us, but your words of advice and encouragement gives us confidence to approach it with all delight. Thanks for making our wedding possible.
Friends are those who stand like a rock in all times. And you prove it my dearest friend, your presence in my wedding events was so valuable and how sincerely and actively you participated in my wedding, I have no words to say a little word thanks because that is not enough for you.
I will miss you and your silly jokes. Thanks for making my wedding a nice one to remember.
Your presence at my wedding means the world to me, you graced the occasion with your marvelous presentation. Thank you for making it a reality.
Seeing you at our wedding gives us an unquenchable joy, thank you for witnessing the start of a new phase in our lives. We appreciate your presence.
The day of wedding is said to be the most auspicious day of one's life and it becomes more valuable and worthless, when you're the best old companions join you and show their love and make your day special. Thank you to all my group mates for your presence on my wedding.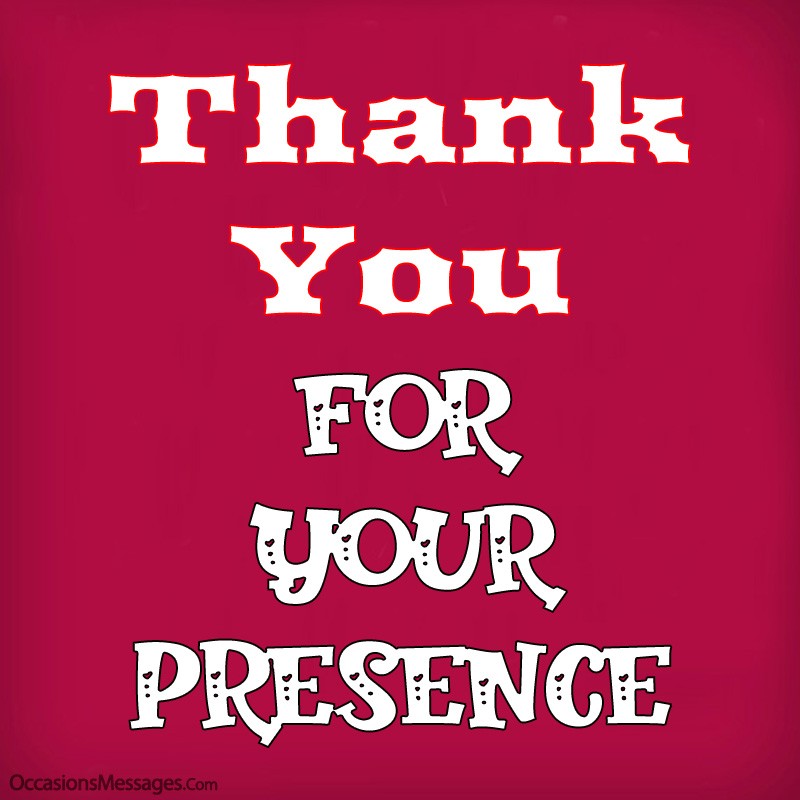 Having friends like you makes life easy and approachable without fear, I cannot ever forget the role you play in making this wedding a reality. You are the best! My friend.
I cannot seem to fathom all of the surprises you came up with during my wedding, hehehe I will always remember it and smile. Thanks for your endless support.
They say life with friends is a very good and pleasant life, but I say life with jolly and amusing friends like you is a life to cherish. Thank you for attending our wedding.
It was such a blessing having you as part of our wedding; your presence surely filled our hearts with joy. Thank you for attending my wedding.
I cannot find the right words to really appreciate you for not only attending our wedding but for being a big part of it. Be blessed truly.
May you remain blessed and find the one too; I will surely be as present as you were at our wedding. Thank you for attending.
I hope you enjoyed yourself and had fun in the course of my wedding program; it is fantastic that you were present to witness the unification of my love.
It warms my heart to see such dedication and devotion, your hand in our wedding was surely noticed. Thank you for attending our wedding.
We could not have achieved a successful wedding ceremony without your presence and well wishes, thank you for sacrificing your precious time for our sake.
I never felt alone at my wedding; your support was integral to the success of my unification. I am highly in your debt.
Words cannot express my gratitude; I am happily married because of your interventions at different stages. Your presence means a lot to me, thank for not disappointing.
You were amazing during my wedding, may you also receive support in all endeavors. I felt special and loved; it would not have been possible without you.
The joy of my wedding was not only for my spouse and me but also for all family, friends, and well-wishers that attended, you all played special roles.
May the rest of your life be as successful as my wedding ceremony. Your presence made the difference; I am happy to know people who support their friends.
I was speechless when I walked down the aisle to the altar, the people were terrific, and I felt like royalty. Thanks for being part of beautiful people.
We are highly overwhelmed by your participation at our wedding. Thank you very much for your numerous sacrifice and selfless commitment.
You invested your time, money and energy towards making my wedding a success. I owe you a lifetime of gratitude and a lovely visit after our honeymoon.
We would not have a beautiful wedding with empty seats and no one to cheer us. So your presence was the most significant success factor.
SHARE ON