Good Night Messages for Crush: Having deep feelings for a crush is nothing when you do not express it. It might be that you do not want it to seem like you are forcing the relationship or trying to suffocate the other person; nevertheless, a sweet good night message will do much good than harm your chances of a relationship.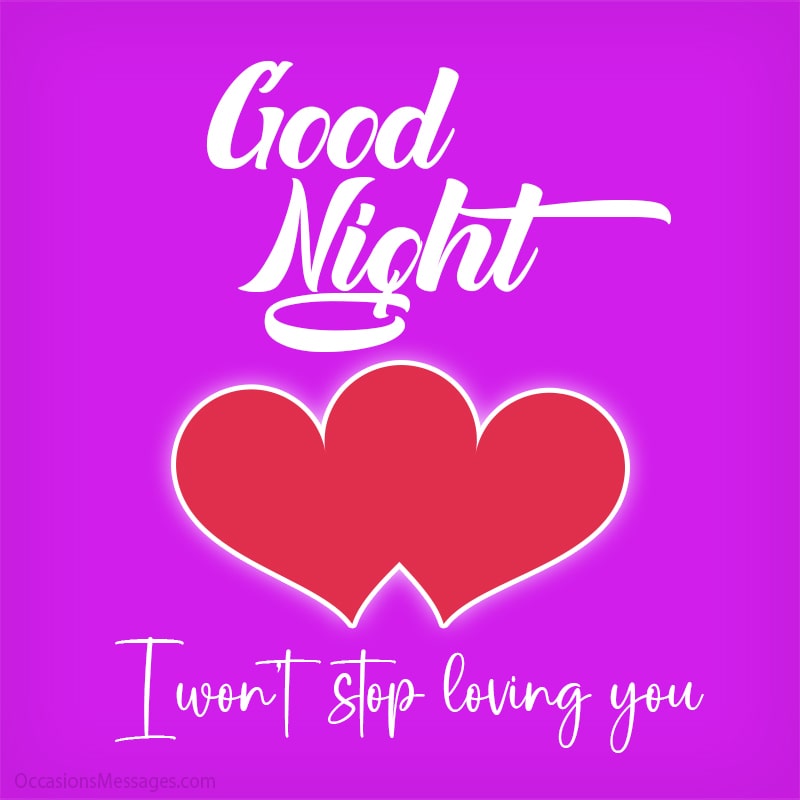 A lovely good night message makes the recipient know that you genuinely care for them and think about them. Browse through our message collection to send the Best good night messages, wishes and cute cards to your crush.
Good Night Messages for Crush
Here are the best good night messages and wishes for your crush.
Good night, my beautiful princess. I wonder when you will stop being a dream to become a reality, as what I feel for you grows every day.
Sweet Dreams to my special one. Everything you do makes me fall deeper in love with you. I believe that we will still end as lovers.
I hope you sleep peacefully and dream about the angels; don't worry about me because I'm going to dream about the most beautiful angel you are. Good Night!
I wish that I am right beside you to watch you sleep through the night; nevertheless, I will be in my bed dreaming of you when I close my eyes.
Loving you is as easy as going to bed at night, but it sometimes sad that we are not together at the moment. The future holds a lot for us. Good Night Crush.
I will ask God to send his angels tonight to take care of you so you can have beautiful dreams and see them come true tomorrow. Good Night my crush.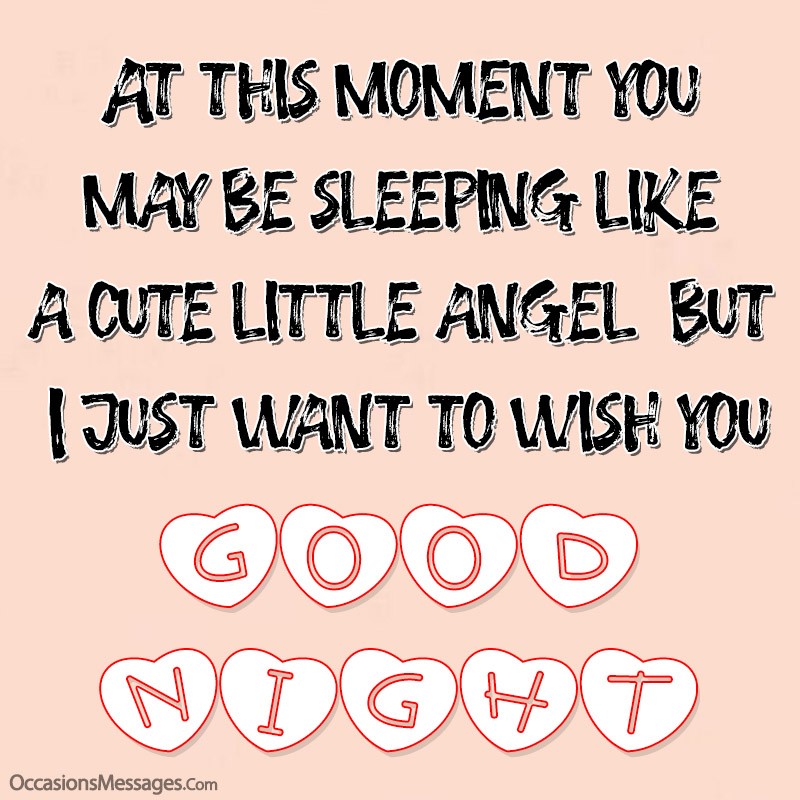 I am a fortunate man to meet you and share with you a few brief moments throughout each day. Happy dreams lovely crush.
Beautiful people like you deserve a beautiful person like me in their lives. Feel free to think about it over the night, and you will find out that I am not far from the truth.
I think of you all night; I cannot seem to spend a day without thinking about you, as for tonight I will do the same. Good Night Crush.
I wish that I was sleeping beside you tonight; nevertheless, I will patiently wait until my dreams come true. Sweet Dreams my love.
I hope you have beautiful dreams tonight because I don't think it's possible for me to sleep, as all I do is think of you. Good night dear.
Tell me how you do to go around my mind throughout the day and to appear even in my dreams. Sweet Dreams.
Everything that has to do with you draws my attention powerfully and I can't stop thinking about you day and night. Have sweet dreams.
Tomorrow is another day to love you crazily, so go to bed early and prepare for excess loving from me as your special admirer. Good Night my girl crush.
You are a perfect work of art, that is part of the reason why I will still love you even as a crush. Loving you is all I want for the night. Happy Dreams love.
Read More: 100+ Good Night Messages and Wishes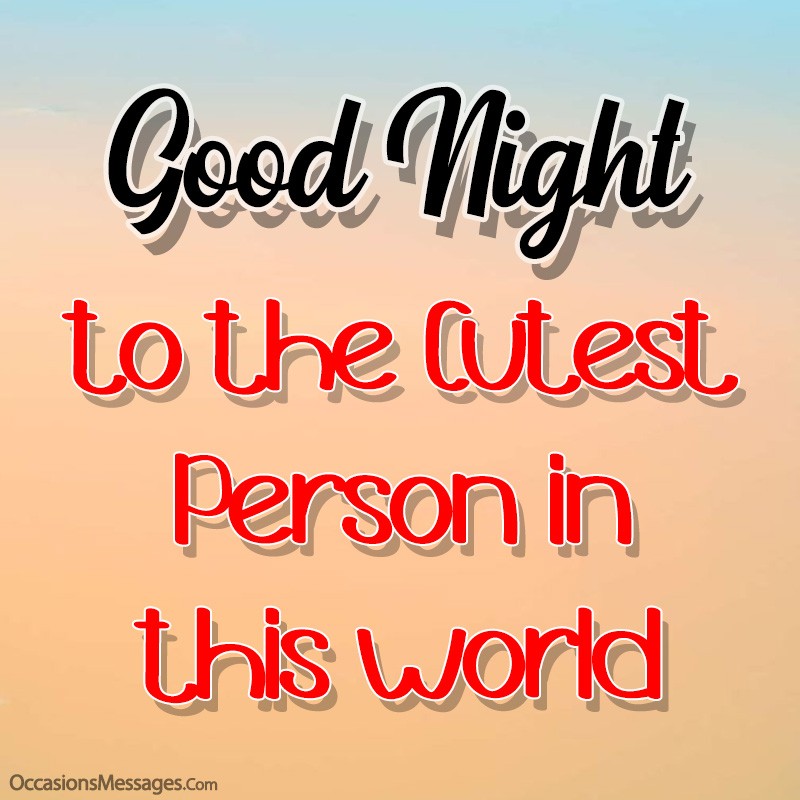 I had the assurance of seven hefty angels to keep watch over you while you sleep just to show you that I care so much for you. Good Night Crush.
As you lay on your bed for a night's rest, I want you to know that I still feel deeply in love with you even more than words can tell.
I'm dying to see how beautiful you will look tomorrow, but in the meantime, the time has come to sleep and rest, so good night, beautiful girl.
Good Night Messages for Boy Crush
May your troubles disappear with the night and be replaced with my tender loving and other good things that you deserve in a lifetime. Good Night my boy crush.
My heart beats of love for you and I can't help it, what's more, it fascinates me that it is so. Good night dear.
Tomorrow will surely be better than today for you just as my love for you will also grow stronger every passing day. Happy Dreams.
I sent kisses and hugs to keep you warm through the night, that is the least that a crush can do for the love of their life.
A great love has reached my heart and you know that the cause of all this is you, thanks to your beauty, and nobility. Sweet dreams, boy crush!
For more ideas: See 40+ Good Night Messages for Boyfriend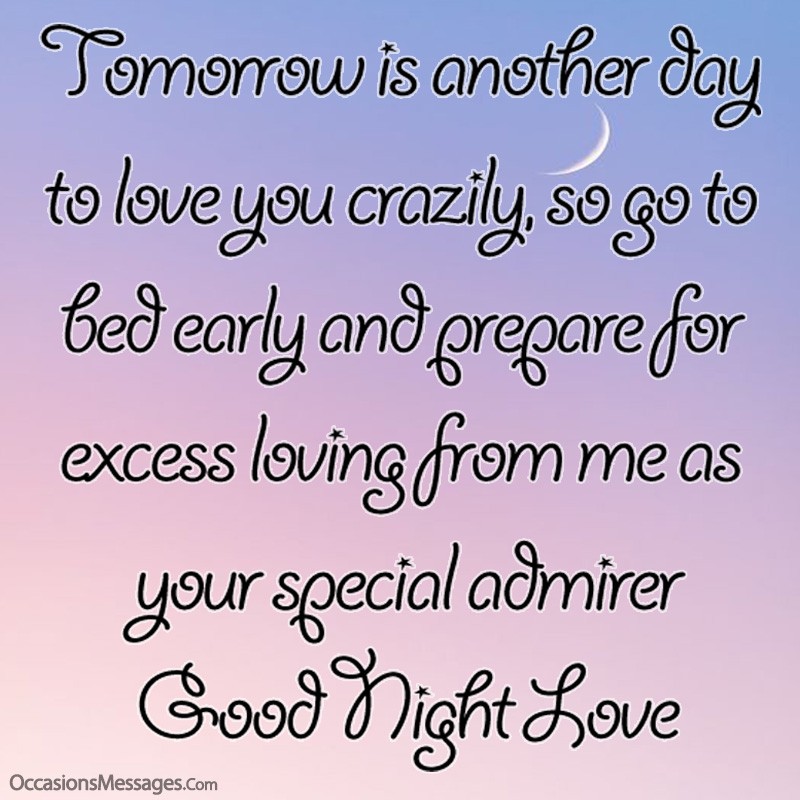 Good Night Messages for Girl Crush
At this moment you may be sleeping like a cute little angel, but I just want to wish you good night and tell you that I love you very much.
My love for you is pure, real, and stands the test of time, just say yes tonight to work into a lifetime of unlimited affection. Good Night girl Crush.
I hope that every other night will be sweet, but tonight will be unique because you are on my mind more than before. Lovely Sleep.
Everyone knows how crazy I am for you, but you are yet to realize it, notwithstanding, love is patient, so I will patiently wait for you. Good Night Crush.
There are a lot of things that I wished never happened but not my love for you because that is what keeps me going. Sweet dreams.
You may want to see: These 35+ Good Night Messages for Girlfriend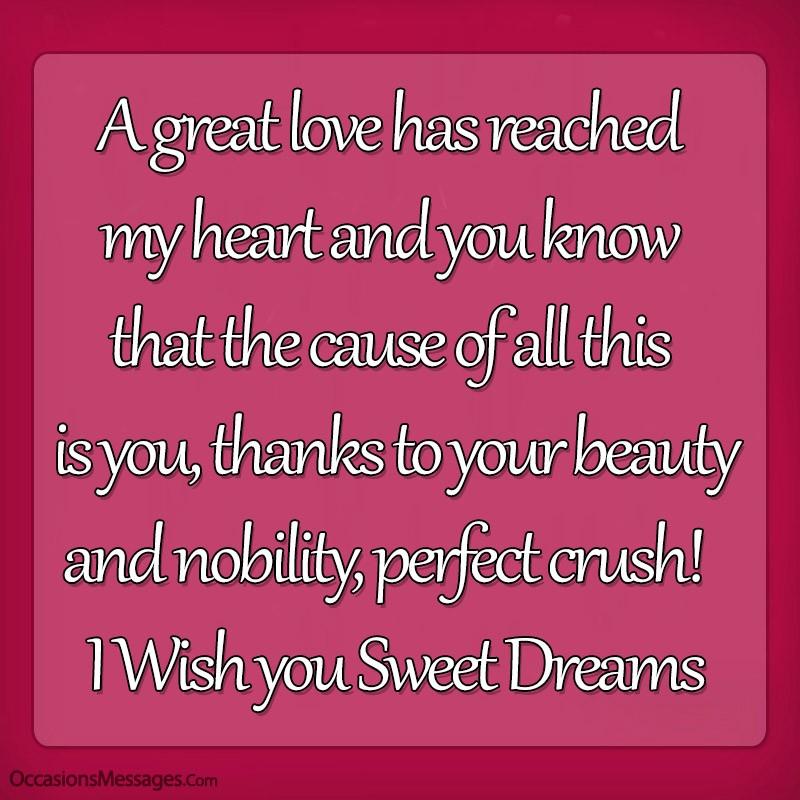 Romantic Good Night Messages for Crush
Need some sweet and romantic good night messages for your crush? We've got you covered. For more romantic wishes, Check out top 100+ romantic good night messages.
Sweet dreams to my special one, tomorrow is another day to take on the world. You will need to be at full strength, so sleep early.
I seem to care for you more than myself; it is easy because it is your love that flows through my veins. Rest well, my angel. Good Night Crush.
All you need do tonight is to relax and sleep peacefully in the ocean of love. My love for you is gentle, homely, and forever.
There are many things that I did wrong, yet I made the most excellent choice by loving you without a doubt. If only you agree to be mine tonight. Good Night Crush.
You are amazing and the best of your type, nobody in their right senses would not like you, I am a step forward than others because I love you. Sweet Dreams.
SHARE ON