Good Night Messages for Husband. Never go to bed angry says the old adage, and ending each day by reaffirming your bond with your life partner is an important ingredient in preserving the long-term health of your relationship. Sharing a warm and tender night together washes away the challenges of the day and relegates them to the list of things to be dealt with rather than the roots of a wedge between the two of you.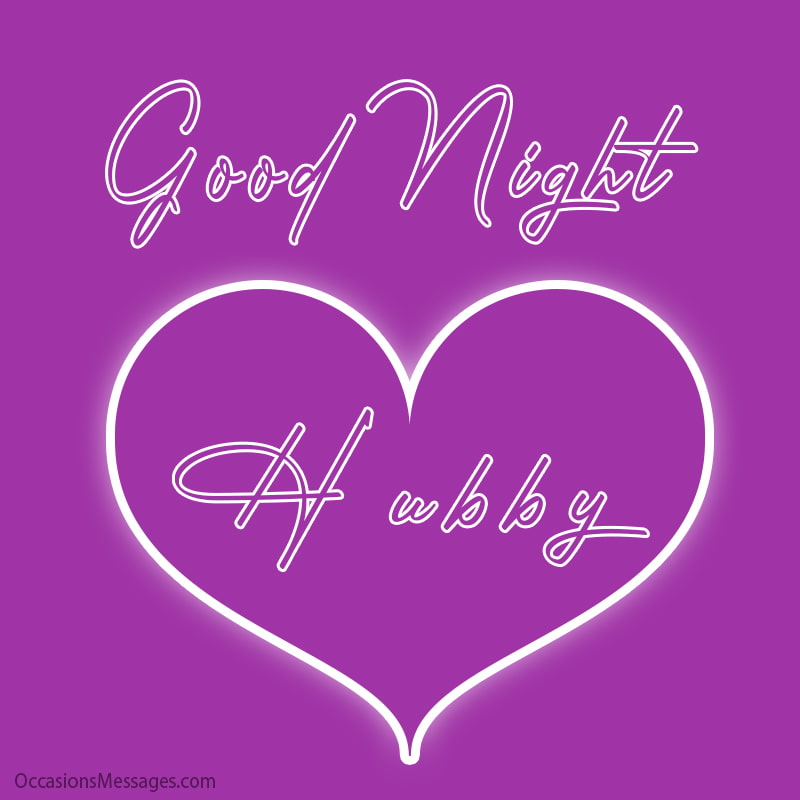 And whenever you are apart and unable to end the night together, it is even more important to reinforce the bond you share with some tender words. Here is a sampling of loving good night messages for husband that can communicate how much you enjoy spending each night in the arms of your man.
Good Night Messages for Husband
Good Night, my dear husband. You are the light of my life.
Good night, my love. I cherish and adore you more with each passing day.
No matter how busy life gets, you are always in my thoughts. Sweet dreams, my husband.
Good Night, my dear husband. Even in my dreams, I can't escape the magic of your love.
Good Night! All day long I look forward to spending another night with my super husband!
Without you, my life would be lonely and miserable. You complete me. Good night, my sweet man!
Who gets to fall sleep each night next to the world's greatest husband? Me! Sweet dreams, my love!
Sleep tight, my dear husband. The rising sun ushers in a new morning in our lifelong adventure together.
Even after all these years, lying next to the love of my life every night never gets old. Sleep tight, love!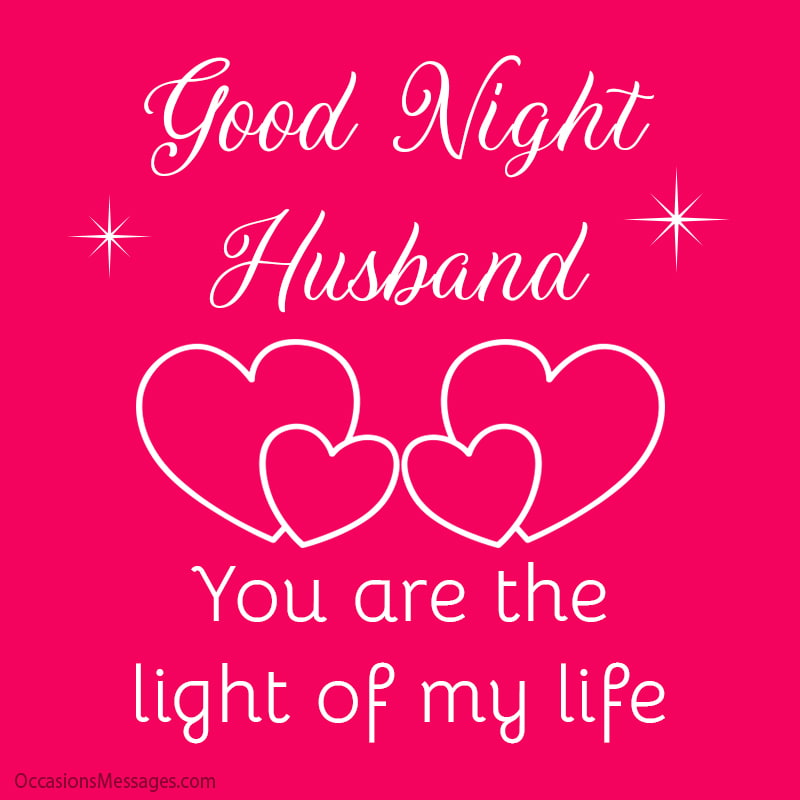 Is it even possible to love a man more than I love my husband? Sleep tight, my sweet man!
Among the thousand of stars, you shine the brightest in my heart. Missing you tonight and always. Sweet dreams, my love.
We may not lead a glamorous life, but our love brings me all the glamour I could ask for. Good night, sweetie!
Get a good night sleep, my love, and wake up to another day in our amazing life together.
Each morning I wake up next to the most awesome human being in the world! Good night, my love!
Let's go undercover and have a secret rendezvous in the bedroom, my love!
Sending you a tight virtual hug wrapped in all my love. Dream of us. Night, darling.
I'm madly in love with my awesome husband. 'Nuff Said! Sweet dreams, my love.
Every night I go to bed looking forward to spending another day with the man I love more than anything in the world.
Every night we sanctify a new commitment to our lifelong love, and each morning brings us another another day towards realizing it.
Good night, my love! No woman has ever loved a man as much as I cherish my amazing husband.
Romantic Good Night Messages for Husband
You are the star of my dreams, the reason for my smiles, and the love of my life. Good night, my forever.
Good Night, my husband! Nothing you could dream tonight would be as amazing as the dream you've made come true for me, my love!
Wishing my amazing husband a night filled with relaxation, serenity, and dreams as beautiful as you are. Good night, babe.
The night may come and go, but my love? It's timeless. Here's to another night of dreaming about you.
There are no words to describe just how much I love cuddling up with the most incredible man in the world. Good Night, my dear hubby.
During the day we are parents, workers, and members of the community. But at night, we are pure love! Sleep tight, my awesome husband!
Every night we sail together to the land of love. And I never want to leave! Good night, sweet man!
Good night, my forever love. Tonight, I'm wrapping you in my love and sending you warm, cuddly dreams.
Don't make any plans for tonight, my love. We're going to pass a romantic night just between the two of us.
I'm going to spend an amazing night with my awesome husband until the sun comes up tomorrow. Good Night, my love!
Recommended: Sweet & Romantic Goodnight Messages
Good Night Messages for Husband Long Distance
No matter how far apart we are, know that my heart is always with you. Sleep well, my love.
Even though we're apart tonight, we will be spending the night together in our hearts. Sleep tight, sweet husband!
While we are apart, I spend every moment looking forward to being in your arms again. Good night, my love.
Marriage can be tough, but loving my dear husband has always been the easy part. Sweet dreams, my dear!
Every relationship is a compromise, but we have never compromised on our romance. Sweet dreams, my sweet man!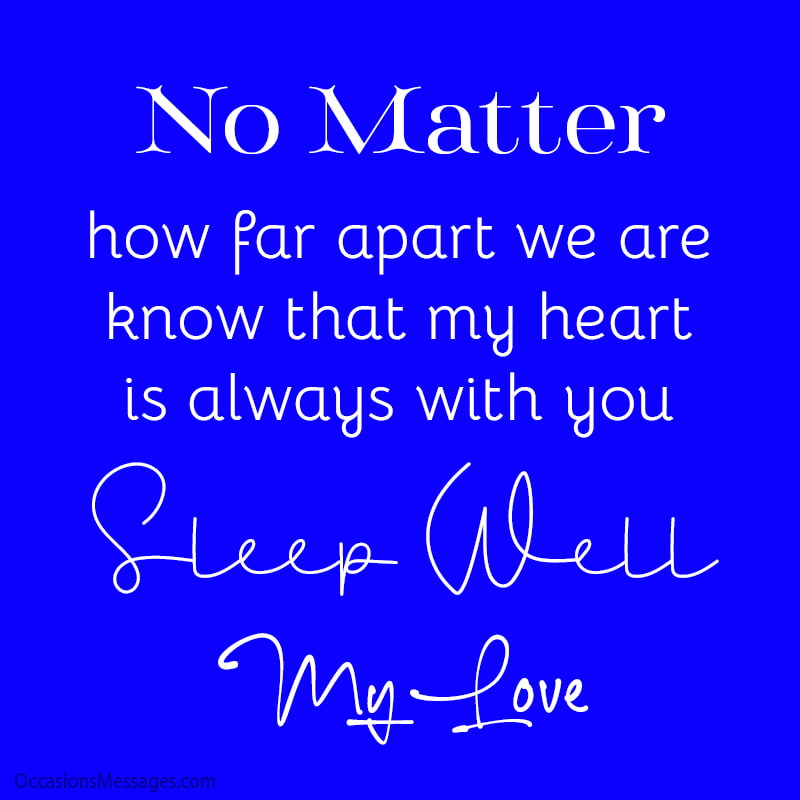 Every heartbeat echoes your name, and every dream paints our story. Sleep tight, my forever and always.
Even with miles between us, my heart still finds its way to yours every night. Sleep tight, my distant prince.
Gazing at the same stars tonight, love? Remember, each twinkle is a silent promise that I'm right there with you. Good Night.
If the night breeze feels warm, it's my love whispering sweet nothings for you. Good night, handsome.
Related: 50+ Good Night Messages for Your Crush
Funny Good Night Messages for Husband
If dreaming were a sport, you'd be a gold medalist by now. Sleep tight, champ!
I'm convinced that you have a secret job as a night owl. Enjoy your night shift in Dreamland, my love.
I hear the Pillow Olympics are happening tonight. Are you ready to compete for the 'Coziest Dreamer' title? Go for gold!
I've hidden a 'Do Not Disturb' sign in your dreams. Make sure you hang it up before you start your nightly adventures. Sweet dreams!
If you dream about winning the lottery tonight, don't forget to share the jackpot with your sleeping beauty. Good night, my potential millionaire!
For more ideas, See Best Love Messages for Husband
Last Updated on September 20, 2023
SHARE ON