Out of sight does not necessarily have to be out of mind when the other party is your boyfriend. Find ways to maintain the spark of love between you two, especially during times when circumstances keep you apart like during the lonely nights.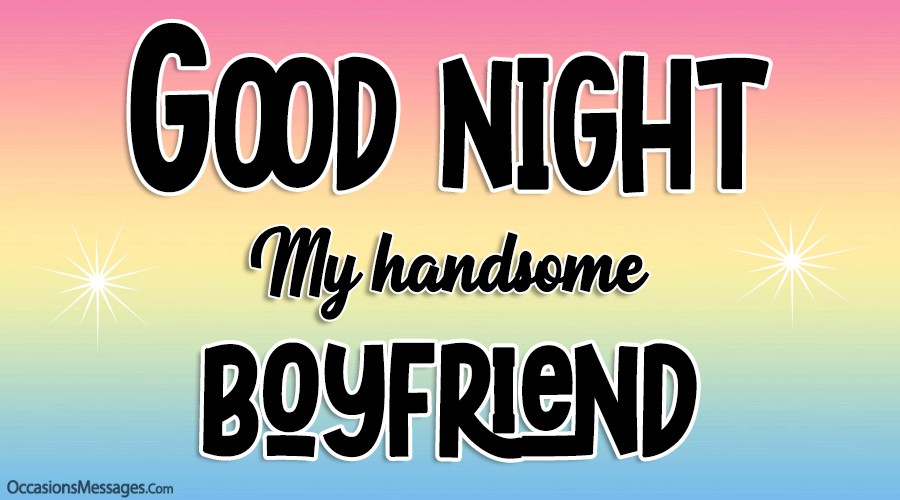 A good night message at night will not be a bad idea, so try it out to spark things up. Check below for the best Good Night Messages for a Boyfriend that you can find around.
Sweet Good Night Messages Boyfriend
I can't deny being lonely tonight; nevertheless, I know you also miss the way that I cling on you like a parasite to its host. Good night sweetheart.
There are lots of things you can dream of like our beautiful future together rather than thinking about me not being in your arms. Good night my love.
Despite the distance between us, let's manage to sleep happily because, by the morning, I can finally reunite with my prince charming. Sweet Dreams.
My lovely BF, I felt empty without you in the nights and wish to be together soon in the morning. Good night to my moon.
Close your eyes honey and think I am with you. Hold my hands and forget everything, let's go to the land of happiness and love with me.
Most people get to know the things that matter most to them late in life, but it took me only tonight to discover that I was meant for you. Good night my prince.
All I need as a girlfriend for the night is to know that you still love me as you always did. It is enough to put me through the night. Good night darling!
If I had my way, I would creep into your dream to make sure that I am the only girl that sees throughout your sleep. Good night.
Nights are always boring before I have you in my life. now I spend all night thinking about you. Good night love.
Night without you is a nightmare for me and I want to stay with you my whole life. I am very hopeful and always pray for our togetherness.
Your thought hasn't left my mind all day long, and I know that it will remain for the night because you have been a special boyfriend.
I love the way you comport yourself as a man and wished I had you as a boyfriend from the point of my birth. Luckily, it did not take forever. Lovely Sleep.
Do not be a boring boyfriend; use the night to highlight things that we can do together when we see because I miss you like crazy.
A good night kiss and a warm hug are all I need from you, but you are far away, and I only wish you a good night sleep. I hope to see you soon.
Every day when it comes to down, I start missing you badly, and I wish you were here for me. I want my bunny back in my arms, Good night boyfriend.
Receive my kisses and hugs to keep you warm through the night in my absence, but you need firstly close your eyes and doze off. Happy Dreams.
I will fight through the pain of not having you around for the night. Bear it in mind that you will have to make it up to your adorable girlfriend.
My day cannot be complete without wishing you a good night's rest. Your thought occupancy my heart at night and during the daytime.
My night is endless and horrible without you, and you know it very well. I want to share all my feelings with you but firstly Good Night baby.
I always wish to grab you in my arms and never leave you for hours. You are my vitamins dose that I need daily. Go to sleep. Good night boyfriend.
Dear boyfriend, the day is dusk, and I miss you like crazy, but I'd rather be patient because the wait is only for a short period.
Sleep seems to be a luxury for me tonight because I am not in your bed. It is part of the things I miss the most about being away. Good night my prince.
You are only allowed to think of only your mom and sister at night, and no other girl expects me, your lonely girlfriend. I miss you.
The difference between a girlfriend and a wife is that the wife gets cuddled at night while a girlfriend, like me, hates that I sleep alone.
Missing you is like chewing glass, the experience is always wrong no matter the approach and expertise. You are indeed the man for me.
It is hard for me to fall asleep without you being here because your cuddle puts me to sleep, and the peace I feel is next to none.
Thank you for being a good boyfriend to me. I now go to sleep with a high and lifted spirit looking forward to seeing you soon.
I don't want to say good night without kissing you but what to do. Let's meet in the morning, and I will give you all the kisses that I save every night for you.
Good night to my shining star, I know you missed me, and I missed you too. Don't worry one day we will be together, and I am waiting for that moment.
Tonight's statistics show that I have the best boyfriend in the world, so I do not have a choice than to love you harder than previously. Lovely Sleep.
Either we are together tonight or not, the love that we share is mutual and can only get stronger with time. I miss you, dearly.
Saying goodnight is always tricky because I cannot stand the thought of not being with my boyfriend for a moment. Nevertheless, I will manage.
Boyfriends are special, but you are more particular. You are a match of brain and beauty. How I wished I could watch you sleep tonight.
---
You May Also Like:
Best Good Night Messages for Everyone
Cute Goodnight Texts – Romantic Messages for Crush
---