A colleague is someone you work with, especially in a profession or business. They may also be known as coworker, workmate, teammate, associate, partner, collaborator, ally or confederate. They not only make work easier, they become your friends too, and they become the people you see each and every day. They are as much a part of you as they are part of your work space.
Appreciate such fellows for they are awesomely awesome, you share memories, moments and profits. On their birthdays, it is nice to send them a message of appreciation for their lives. Here are some messages you can send to your awesome colleagues to show love and appreciation towards them.
Birthday Messages for Colleague
Happy Birthday my dear partner, you are one of the most respectable and loyal people I know of and I could not any other partner apart from you. Do enjoy the day my friend!!
You have been there for me since I started out here, today, I get the chance to thank God for you coming into this world, you are truly heaven sent.
You are the most shining star in our office family. Your work speaks your hidden talent. Have a wonderful birthday. May you have thousands of beautiful events.
The happiest moment is working with the extraordinary intelligent people. You are one of them. Happy Birthday.
Wishing you all the happiness, peace, pleasure and success come into your life and you enjoy the every moment of your life. Happy Birthday.
You are a colleague I am proud to call my confidant and my best friend. I wish you success astonishing as you clock a new age today. Happy Birthday colleague, stay blessed.
You are more than just a colleague; you are a friend, a confidant to me. Your birthday brings me joy today because I love to see you happy because you bring joy to other people. Happy Birthday colleague.
You are an awesome colleague, you make my days at work fun and amazing, I am happy to work as long as I work by you. Happy Birthday dear, may all your wishes come true.
My every day starts with your guidance. I really enjoy working with you. You are the best colleagues as ever. I wish you a great Happy Birthday.
Your decisions reflect the choices of your life. Make a better choice, change your decision. Have a stunning birthday.
For all that you have done for me, I cannot appreciate you enough. But today is your day, a day to celebrate a generous colleague like you. I pray all of your heart desires shall come to pass in no time. Enjoy your special day.
You are a shoulder I can lean on, a friend I can count on and a colleague that makes me look forward to work each morning. Live longest my dear, Happy Birthday.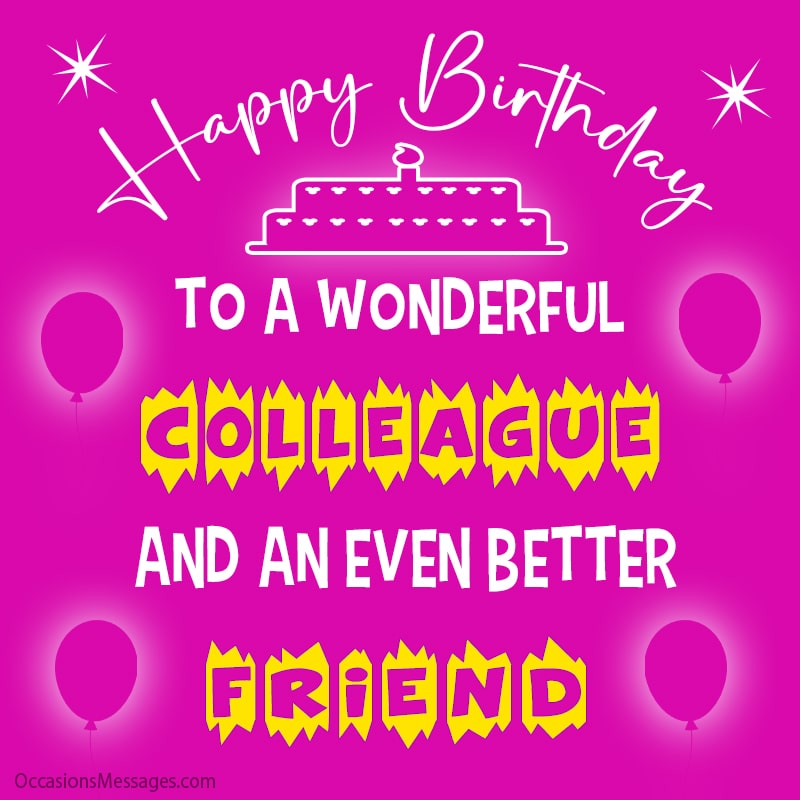 You make happy hour happy, you fill the office with laughter and memories that I can take home and smile about. Happy Birthday you beautiful soul, may all your wishes come true.
To the man of his words. You are such a great man I have ever met in my life. Happy Birthday to you.
I am surely blessed to be working with you; you are swift agile and a very sophisticated person. I know you like to have fun so for today, let those demons out and enjoy the night. Happy Birthday!
Happy Birthday to a colleague who makes every assignment tedious and complicated, I hope you can be transferred this year so that we can have a colleague who loves partying and a short to-do list. Heheheh. Enjoy your birthday.
God wants me to learn something more unique and different that's why he introduces me to you. Happy Birthday, sir.
Today is a big day for you and you deserve to enjoy every bit of it, take break off work I got you covered, go have a nice time with whoever you'll love to have it with. You deserve that for your high level of commitment. Happy Birthday.
An ocean of knowledge, a pool of wisdom and a complete package of ethics and skills. We feel really proud to have such a nice colleague. Happy Birthday.
Happy Birthday beautiful colleague of mine, you make the office beautiful with your grace, I am happy I get to share another year with you. Cheers love.
Happy Birthday my dear colleague, you turn older today, I hope you realize what a gift that is, not only to you, but to all those around you, have a fabulous birthday.
Happy Birthday my dear workmate, you are a hardworking fellow so I don't feel any guilt telling you to live a little on your birthday, it's a day special to all of us and I only hope that you have fun.
With you on this team we have lots of benefits, job moves faster, we crack jokes better and we feel happy doing what we do. May God bless you as you celebrate your birthday today and may it not be the last you will celebrate. Enjoy the glamour of the day.
You are the most authentic man and always do things right. That's why we have a firm trust in your work. Happy Birthday.
You have an inspiring personality that allows people to motivate towards positivity. Wishing you a very Happy Birthday.
May your day be filled with the blossoms of flowers and sweet chirping of birds. Hope you enjoy every moment of life. Have a wonderful birthday.
You are a great workmate, everybody loves you and that's what makes you an awesome person. I am glad you walked into my life and that I get to share this awesome day with you. Happy Birthday dearie!!
The best of wishes to a colleague and a funny man, there is never a dull moment wherever you are; I can resign to work with you anywhere you are. Heheheh. Happy Birthday and enjoy every good thing embedded in it.
You have efficient management skills which lead towards climbing the ladder of success. We learn a lot of things in your leadership. Have a wonderful birthday.
You provoke confidence among average people to work like superior, that's the best point in your management that you know how to work within the team. Have a wonderful birthday.
You always put a smile on my face when you walk into the office; a good day has you in it. Have a Happy Birthday my dear colleague you are a treasured member.
This is your day, a day you forget all your worries and enjoy the beautiful day that is your birthday, enjoy yourself dear, you are an amazing person.
You are like the solution of my every problem. I never plan to open any search engine to find the solution of my problems because I have a live search engine where I can get the solution of my problems. Happy Birthday my dear mentor.
You are the best colleague and only focus on establishing and fulfilling team goals rather than gossips. I wish you a very Happy Birthday.
Today is the big day of your life, so just don't you even try to do any work today. It's your birthday and you will enjoy the whole day with us. Have a blasting birthday my dearest colleague.
It's really good to be alive today because it's the special day of my best friend at work and at home, there's never a dull moment and I'm always pleased to be around you. You are one of a kind and may God bless you.
Happy Birthday my dear colleague, having you in the office makes everyday feel cool. I hope you enjoy your birthday my dear, it happens only once every year, so make it count.
Wishes for a sweet colleague, someone who not only makes work easier in the office but someone who gradually became a friend I can count on. Have a fantastic time as you share this day with those who love you. Happy Birthday love!
You are fully loaded with excellence, efficiency and effectiveness – the right talent doing the right thing at the right time. Have a great birthday my dearest colleague.
You are not just a colleague, but the best friend of mine. We became friends at our workplace and gradually our friendship became so strong. I feel so glad that you are my best friend. Have a wonderful birthday.
You are my role model. I can copy your each and every style that reflects your personality but I fail to copy your intelligence. It is really God gifted. I wish you all the best for your life. Have a great day. Happy Birthday.
It seems God made you to cross my path for me to be built in every aspect of life. You have everything any man desires to have, keep glowing in God's glory and enjoy on your special day.
On this beautiful day of yours, I have a prayer for you from the depth of my heart, and that is for you to have good and really sound health for us to always have good times together at work. Strength will be made available for you in place of your body weakness.
You always focus on the change to get the better results. Must change the concepts of working as well as living with time gives the new aspects of life. Happy Birthday my friend!
Your partnership brought refreshment to my soul and with your help I am able to love what I do again. Happy Birthday to you my lovely colleague. You deserve to throw a party for this.
You are my friend but you have developed to be my family and I feel so knitted to you. May you never know sorrow in your life and may God lift you beyond your expectations. Happy Birthday colleague.
It is true that you don't know what you are missing until it comes. I have joy spending most hours of my day with you great colleague, you really make me feel great at work every day. I pray that today will bring you good things in life. Happy Birthday.
You have enough skills to control the variable factors producing during manufacturing overhead. You know how to use the intelligence at the right time. Happy Birthday.
You are definitely someone fun to work with, you are the one that makes my working days worthwhile, you are not only a colleague but a friend also. Enjoy your birthday fully.
Working with you is one of the things I look forward to each morning, I hope you enjoy each and every second of your birthday my dear, I love you to the moon and back colleague.
Have the most fantastic birthday yet my colleague, I will be there to bring the fun and beer, I wish you a very long life always.
I've never seen anyone who always knows they'll achieve so much, you always put action in between what you dream of to get the reality. You're a role model. Happy Birthday colleague.
You've faced a lot of strong challenges but you often said it is inevitable and that your only choice is to come out on top. I'm glad you came out victorious. Happy Birthday colleague.
Happy Birthday to a colleague like no other, it's a privilege and lots of honour to have known you and work with you. Enjoy the goodness of the day.
Happy Birthday to a colleague turn friend, talk of support, you've given me a lot and you've always got my back since day one at work. May you be rewarded adequately. Enjoy your special day.
Couldn't have imagined that there is a new dimension to life if you don't show me, your way of life is really simple and equable, you have really rubbed on me the better way to live life than the residual way we are all used to. Happy Birthday great colleague.
Today is a really big day at work, because the funniest and the stubborn of all employees is celebrating her birthday, I hope boss can give us break for today to celebrate this great personnel. I wish you all the best on your special day. I wish you long life and good health.
Working by your side on a daily basis has changed me as a person and as a team worker. You are a great example to follow if one desires excellence in this line of profession. Enjoy your special day. Happy Birthday. Have a splendid celebration.
---
You May Also Like:
How to Say Happy Birthday to a Coworker – Heartfelt Birthday Wishes
Best Birthday Wishes For Employee – Professional Birthday Messages
---