Birthday Wishes for Colleague: A colleague is someone you work with, especially in a profession or business. They may also be known as coworker, workmate, teammate, associate, partner, collaborator, ally or confederate. They not only make work easier, they become your friends too, and they become the people you see each and every day. They are as much a part of you as they are part of your work space. Appreciate such fellows for they are awesomely awesome, you share memories, moments and profits. On their birthdays, it is nice to send them a message of appreciation for their lives. Here are some birthday messages you can send to your awesome colleagues to show love and appreciation towards them.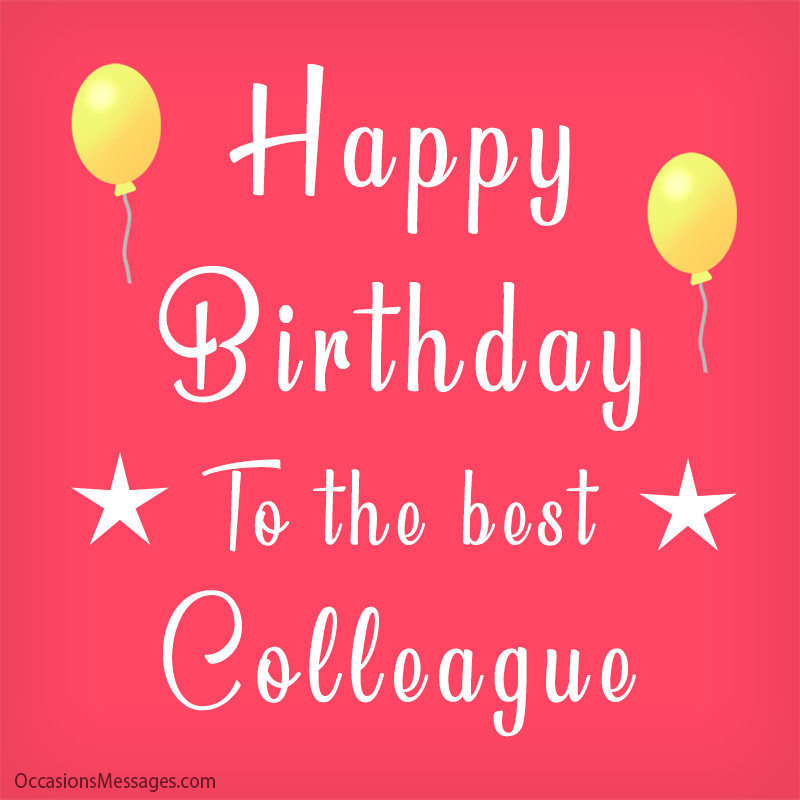 Birthday Wishes for Colleague
Colleagues are also like families, people we spend part of our time with on a daily basis. Here are some happy birthday wishes for colleague.
Happy Birthday, dear colleague. Wishing you all the happiness, peace, pleasure and success.
Happy Birthday. You are an awesome colleague, you make my days at work fun and amazing.
Happy Birthday Mate. You are the most shining star in our office and your work speaks your hidden talent.
Happy Birthday to the best colleague ever. I appreciate your guidance and enjoy working with you.
The happiest moment is working with the extraordinary intelligent people. You are one of them. Happy Birthday my favorite colleague.
Happy Birthday to someone who makes work feel less like work and more like a team.
You are a colleague I am proud to call my my best friend. I wish you success as you clock a new age today. Happy Birthday, stay blessed.
An ocean of knowledge, a pool of wisdom and a complete package of ethics and skills. We feel really proud to have such a nice colleague. Happy Birthday.
You are a shoulder I can lean on, a friend I can count on and a colleague that makes me look forward to working each morning. Live longest my dear, Happy Birthday.
Working with you has added a lot to me. Happy Birthday dear friend and colleague.
You are more than just a colleague; you are a friend, a confidant. I love to see you happy because you bring joy to other people. Happy Birthday.
Happy Birthday to a wonderful colleague and an even better friend!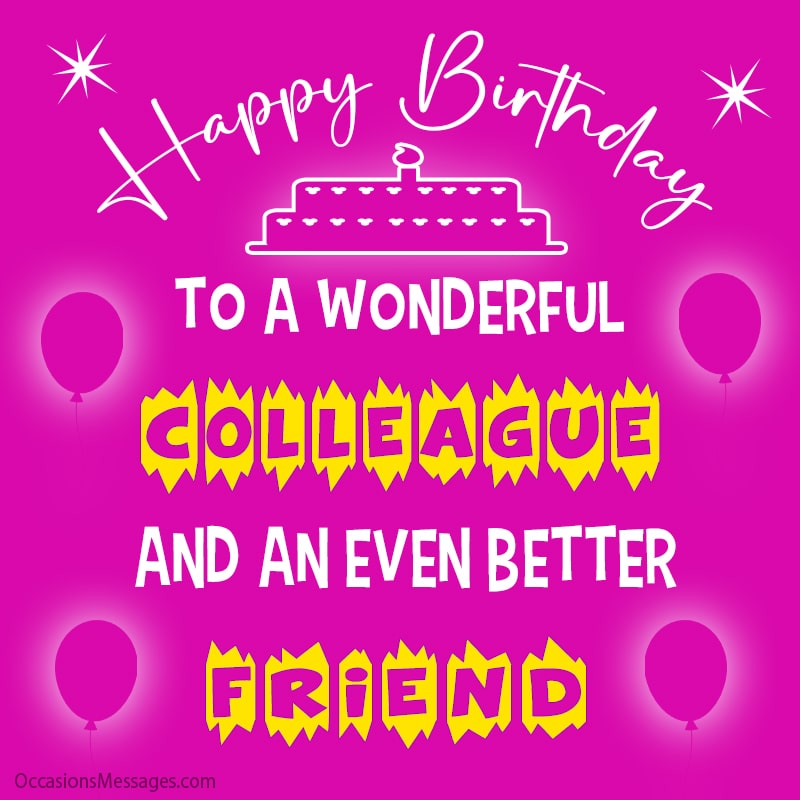 To the man of his words. You are such a great man I have ever met in my life. Happy Birthday to you.
God wants me to learn something more unique and different that's why he introduces me to you. Happy Birthday, sir.
Happy Birthday beautiful colleague of mine, you make the office beautiful with your grace, I am happy I get to share another year with you. Cheers love.
Happy Birthday! You are an incredible person with such a breathtaking career.
Happy Birthday, amazing colleague. May God bless you as you celebrate your birthday today and may it not be the last you will celebrate.
You have an inspiring personality that allows people to motivate towards positivity. Wishing you a very Happy Birthday.
May your day be filled with the blossoms of flowers and sweet chirping of birds. Happy Birthday. Enjoy every moment of life.
You are a great workmate, everybody loves you and that's what makes you an awesome person. I am glad you walked into my life and that I get to share this awesome day with you. Happy Birthday.
You have efficient management skills which lead towards climbing the ladder of success. We learn a lot of things in your leadership. Have a wonderful birthday.
You are the best colleague and only focus on establishing and fulfilling team goals rather than gossips. Happy Birthday my dear, you are a treasured member.
Happy Birthday my dearest colleague. You are fully loaded with excellence, efficiency and effectiveness.
Your partnership brought refreshment to my soul and with your help I am able to love what I do again. Happy Birthday to you my lovely colleague.
It is true that you don't know what you are missing until it comes. I have joy spending most hours of my day with you great colleague, you really make me feel great at work every day. Happy Birthday.
You are definitely someone fun to work with, you are the one that makes my working days worthwhile, you are not only a colleague but a friend also. Enjoy your birthday.
Working with you is one of the things I look forward to each morning, I hope you enjoy each and every second of your birthday my dear.
Sending warm birthday wishes to a valued colleague.
Related: Happy Birthday Wishes for Employees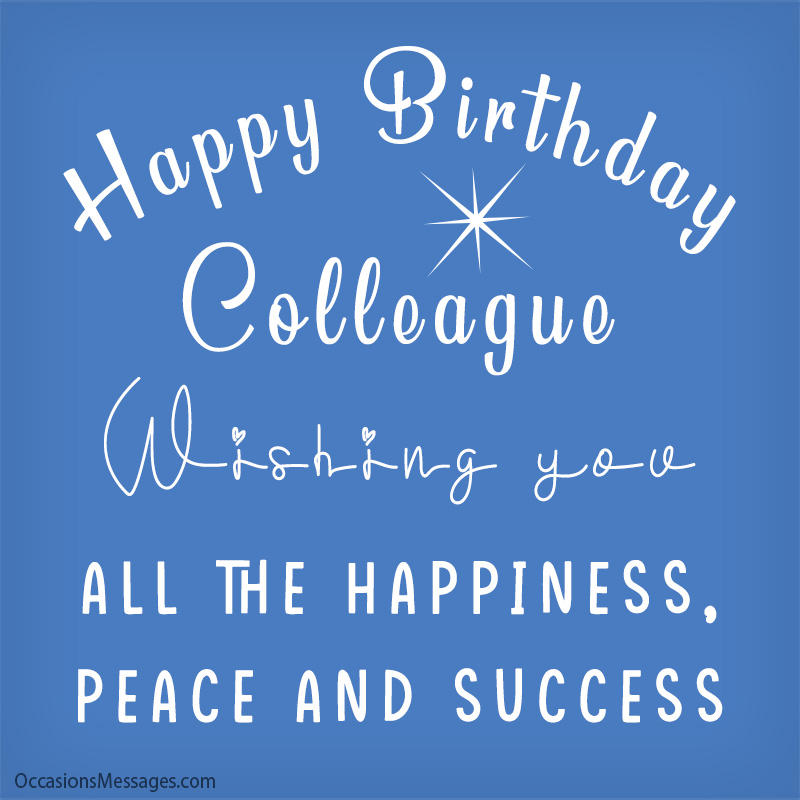 Happy Birthday to a colleague like no other, it's a privilege and lots of honor to have known you and work with you.
Congratulations for your new age, I want you to know that I enjoy working with you and I hope we work together for more years.
On your special day, I want to take a moment to appreciate all the hard work and dedication you bring to our team. Happy Birthday.
Happy Birthday my friend. This is going to be an incredible birthday party.
You are the best colleague at our workplace who possesses the ultimate boost of energy, who gets everyone stirred up with positive mind frame. Wishing you the birthday filled with joy and laughter.
Through each day of our working together, you have always made work fun and easier, I love that I can count on you my colleague, have a hearty birthday and many more years.
I wouldn't want to imagine work without you dear colleague that is why I sing a thousand happy birthdays to you. Have a fun day as you celebrate this special time in your life.
I wish more people were like you, you bring the fun in each and every office affair and I hope you enjoy yourself. Have a hearty birthday my dear!
Celebrating the birth of an amazing colleague and a true asset to our team
Birthday Wishes for Coworker
Here are some special and sincere sentiments to share with your coworker on their birthday.
Happy Birthday. You're an amazing coworker and it's an honor to know you.
You always find a way to brighten up the day of everyone at work. Happy Birthday, you are a great coworker.
Enjoy your birthday to the fullest, you deserve it! Have a beautiful day.
Happy Birthday to the greatest worker any company has ever seen and the greatest co-worker anyone can ever have. You are such a delightful being to work with. Enjoy your special day.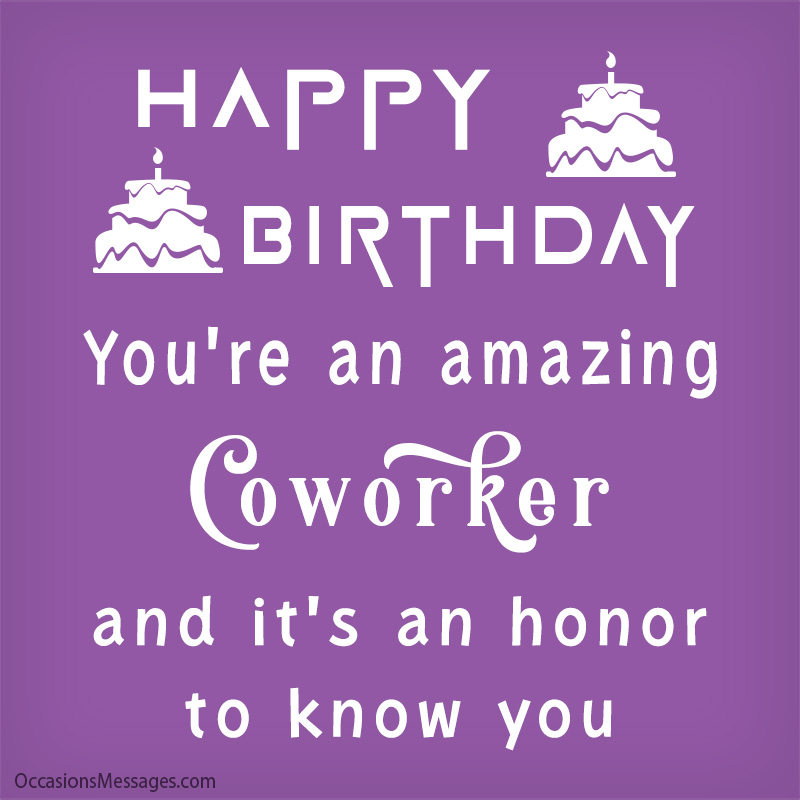 Happy Birthday to a fantastic co-worker. Enjoy your glorious year at work and with your family.
We have had lovely years at work before you joined us, but with you at work it seems as if work became new, every moment is great with you. Happy Birthday to a fantastic co-worker. Stay blessed.
You are more than a friend, more than a brother and more than a coworker. Happy Birthday to my favorite coworker. May God bless you.
Sending you my best wishes for a fantastic birthday and a year filled with success.
The only enjoyment I personally derive from work is the fact that I know I will get the privilege of talking with you. Happy Birthday my talk partner and co-worker.
May your life be filled with true happiness and joy and get the higher level of success. Happy Birthday, my sweet coworker.
We laugh together, we work together, and we play together. We are best friends, indeed. I really enjoy working with you. Happy Birthday to the best coworker!
I may not include in my smartest colleagues but I try myself to improve my skills under your guidance. Wish you a very Happy Birthday, my great coworker.
Be your best self, as you turn older, this is my wish for you, have a hearty birthday my coworker.
I think very soon you will become the CEO of this company because you are already acting like one, may you get there sooner than later. Enjoy your special day.
It's inspiring for me to work with you. Happy Birthday, my dear coworker. Congratulations on your big day.
Read Also: Amazing Birthday Wishes for Boss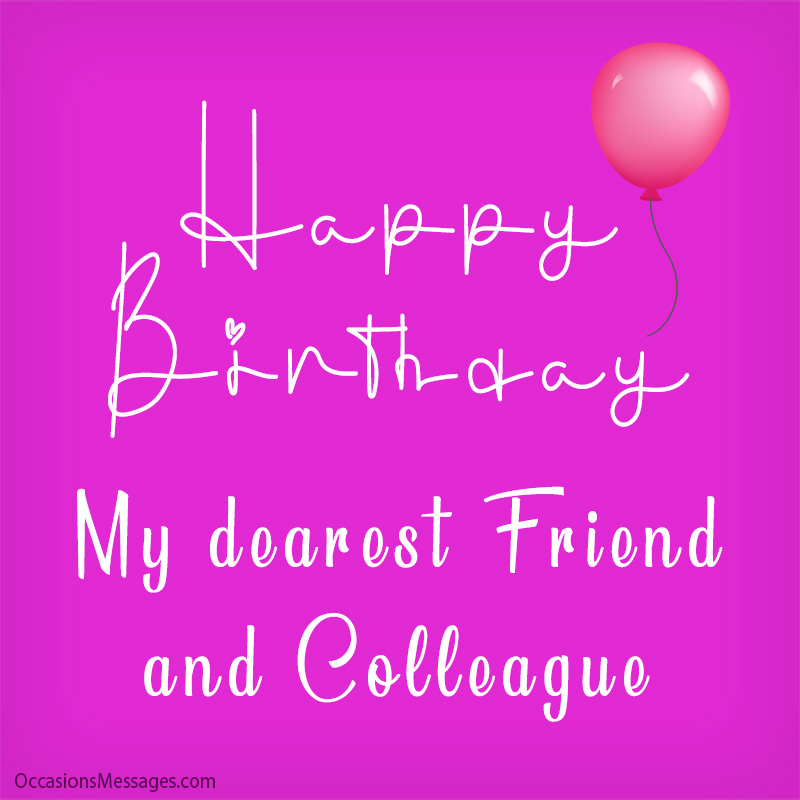 I thank the heavens that you were born, without you in my life I don't know what I would do, you are a great person and I hope you live long!
Happy birthday dear coworker may you have fun as you celebrate another year of your life. Cheers!
It's a party time, stop doing work at all and let's enjoy the party of our dear coworker. Wish you a very happy life laden with exciting journey and events.
You make me feel coming to work so much easier, you are the best coworker I have ever had and I am glad to be sharing this birthday with you.
You deserve a break, you have been there for me in more ways than one and I can definitely say you deserve the best coworker ever award. Enjoy your birthday my friend!
Just like I don't decide who would be my brother, I never decided who would be my co-worker, but you being my co-worker was the best thing ever. Happy Birthday to you. Keep enjoying.
Funny Birthday Wishes for Colleague
Here are some cute and sweet list of funny birthday wishes and messages for colleague.
Happy Birthday awesome Colleague. I guess having me at work today will be more than enough present for you. Hahahaha. Enjoy yourself.
Happy Birthday to a colleague who makes every assignment tedious and complicated, I hope you can be transferred this year so that we can have a colleague who loves partying and a short to-do list. Heheheh. Enjoy your birthday.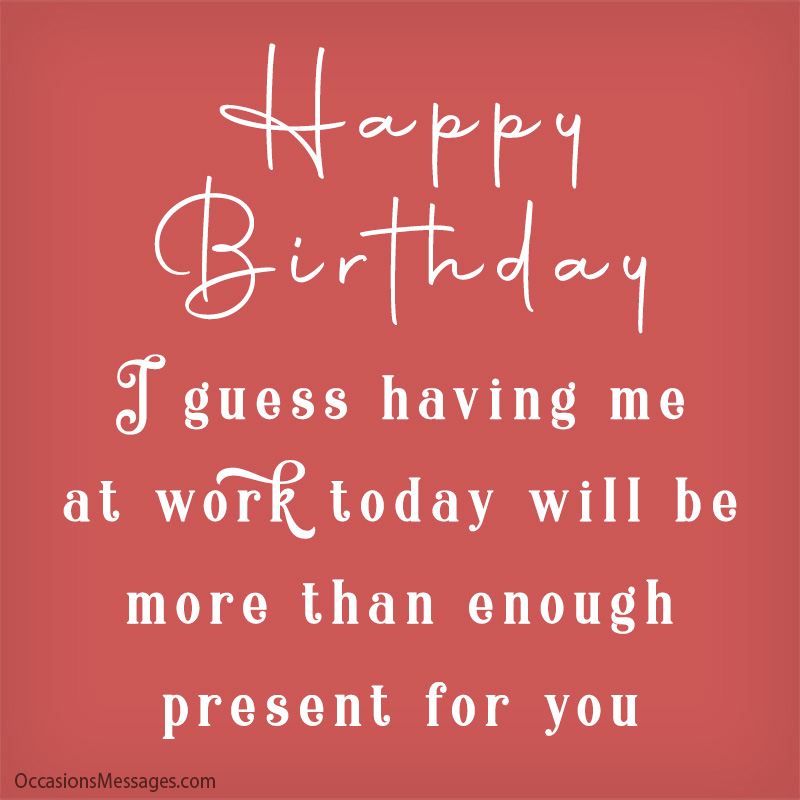 The best of wishes to a colleague and a funny man, there is never a dull moment wherever you are; I can resign to work with you anywhere you are. Heheheh. Happy Birthday.
You are like the solution of my every problem. I never plan to open any search engine to find the solution of my problems because I have you. Happy Birthday my dear mentor.
You are my role model. I can copy your each and every style that reflects your personality but I fail to copy your intelligence. Hehehe. I wish you all the best for your life.
Birthday Wishes for Retired Colleague
Birthday wishes for retired colleague should have a little message of encouragement. Here are some birthday messages worth sending to that special colleague/coworker on their special day.
Happy Birthday, colleague! You've worked for so long and now you can finally enjoy some super down time.
Now all you must do is to wake up, eat and sleep. You have used your youthful days to work; now you must enjoy your rest. Happy Birthday.
Happy Birthday. Enjoy retirement my friend. I know you are going to make something amazing happen.
It's your birthday. I know we haven't known each other for a long time but you are someone worth looking up to. Have a great birthday, enjoy your day!
Most Popular: Best 200 Birthday Wishes, Messages and Cards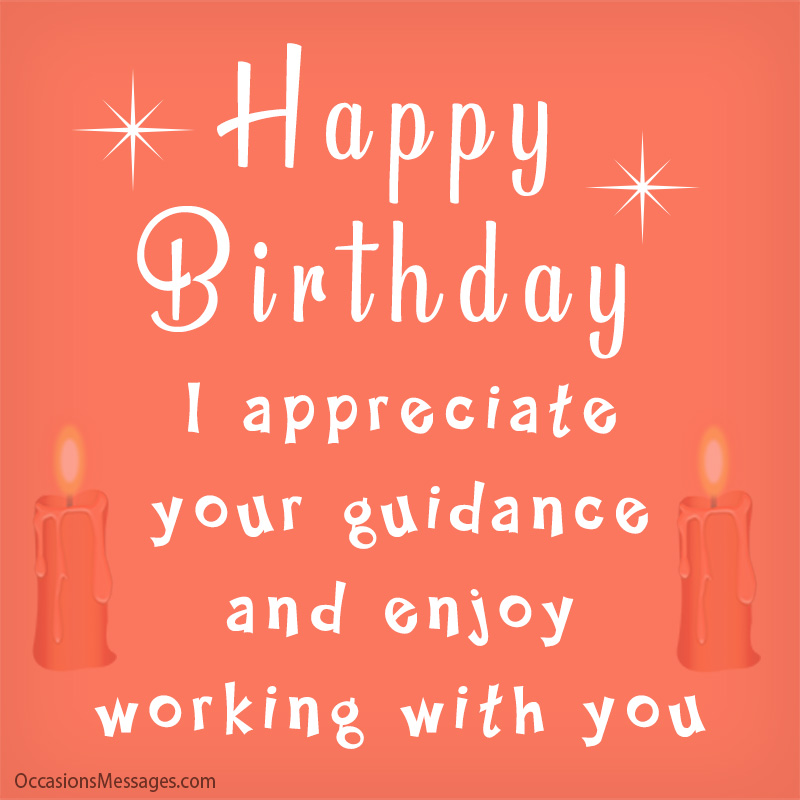 Happy Birthday dear coworker. You have been a good and diligent worker and your absence will surely be felt. Enjoy your birthday and your retirement.
I can't even count the number of laughs and wild times we have had here ever since we worked together. Thank you for everything. I'll miss you after you retire. For now, birthday time.
You will be missed around the office, as you retire; you have left more than we can count. Happy birthday darling, you are a priceless jewel.
It's the beginning of thinking of you, spending on you and enjoy each moment. Happy Birthday.
There has never been someone as inspiring as you and it will be sad to see you go. Thank you for all the work and all the lessons.
Happy Birthday! I don't really know what people do when they retire but knowing you, it is going to be anything but relaxed. I hope you enjoy life after work.
Colleague, coworker, a comrade, associate, aid, a person who works with you and they always make working fun is an important person in your life. When their birthdays come up, you know they have to turn up, send them a birthday message from the heart to make sure that when they read it they will smile. Happy Birthday messages for colleague can go a long way in creating a better and long lasting relationship with the person. Birthdays are always special events where you celebrate a new age with the ones you love close, so pick out one of these fine birthday wishes and messages and send to that awesome colleague.
Last Updated on July 13, 2023
SHARE ON