Happy Birthday Wishes for Employee: Employees are really important to any organization, they are the backbones and without them the organization would be crippled that is why it is important to appreciate each and every employee during their birthday. Birthday messages are the best way to show your love, care and support to your employees, share with them a cake and make them feel special.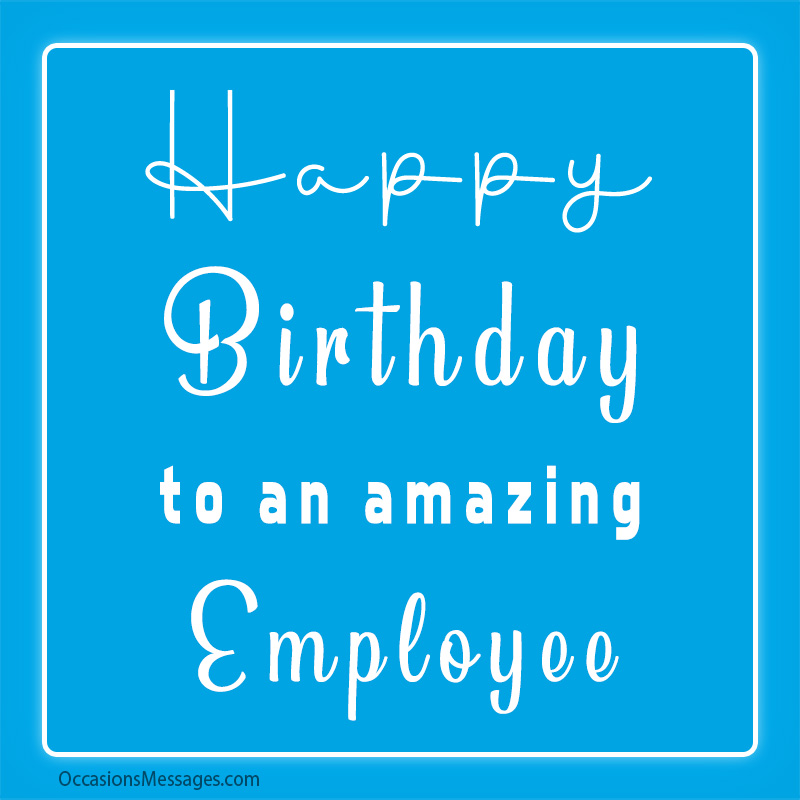 It's a good day for not only them but for you also, for you get to be part of their life, no matter the way, you are there and they will respect you more. So try send one of these messages to your employee and you will surely see a difference in their work ethic.
Heartfelt | Funny | Male | Female | Sweet
Birthday Wishes for Employee
Happy Birthday to one of the best employee I have ever had the pleasure of working with.
Happy Birthday to an exceptional employee. Enjoy it to the fullest.
Today, we work. Tonight, we party. Happy Birthday to an amazing employee!
Happy Birthday, [Employee Name]! You make everything easier and I appreciate you very much, thank you for being part of this team.
Happy Birthday! I have been blessed to have someone like you working with us.
Happy Birthday to the most loyal employees ever. Thank you forever and always.
Your work effort, production and presence is such a happiness moment. You are the best. Happy Birthday to you!
This is going to be the best day ever! We get to celebrate an awesome day for you! Don't worry, after work, this place is going to turn up.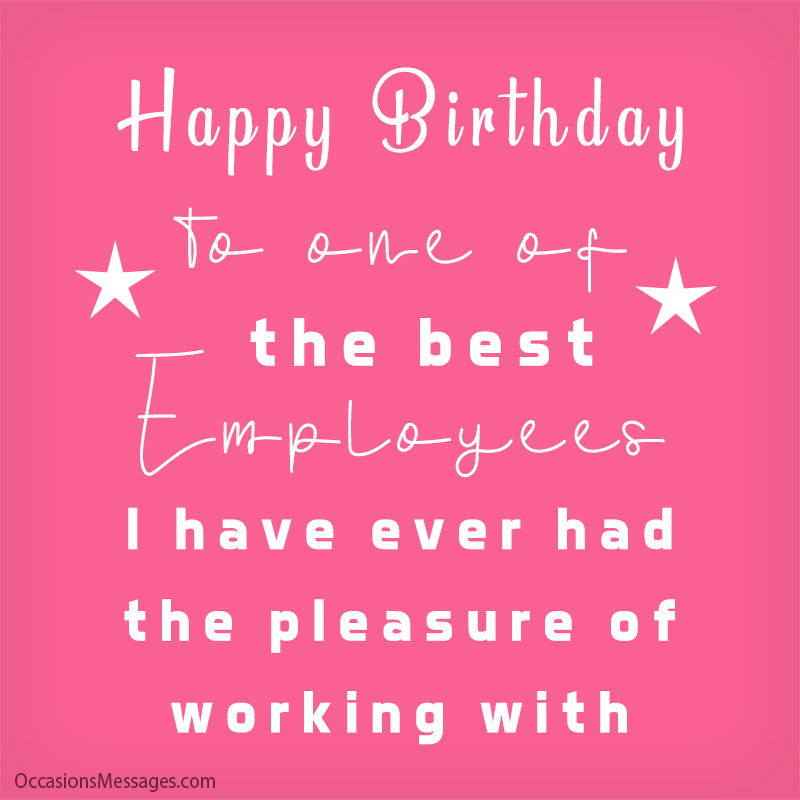 It's time to take time off from those work clothes, put on some nice clothes and relax. Happy Birthday great employee.
Happy Birthday employee, I value you, I appreciate you and I respect you, never be afraid to speak your mind, your opinion is highly valuable.
No task is really unachievable for you, I'm sure if you are called to be the manager today you might as well do better than me. heheheh. Happy birthday to a special employee. Have fun.
What is the best part about working here? Honestly, it's you guys as you make it fun to be here. Your energy is unlike any other. Happy Birthday to my special employee!
Happy Birthday! Employees or not, it's been great getting to know you. I am always surprised and excited to learn something unique about you.
It's a good day to celebrate your birthday, so don't be shy to have a little fun. Happy Birthday!
You are important to this company and to me, I wish you a hearty birthday, may all your wishes come true.
Happy birthday my dear employee, you have been a great addition to this company and I couldn't choose anyone else to be here.
This is going to be a special day as we get to celebrate the birthday of an awesome team member.
Happy Birthday my dear, you are amazing and I love you so very much, enjoy the day and everything that comes with a new age.
Happy Birthday my dear, you are a part of this organization. Thank you for the role you play, may you enjoy the day and all that comes with it.
I don't know how to say this other than happy birthday! You guys work so hard every day and I don't know what I'd do without you.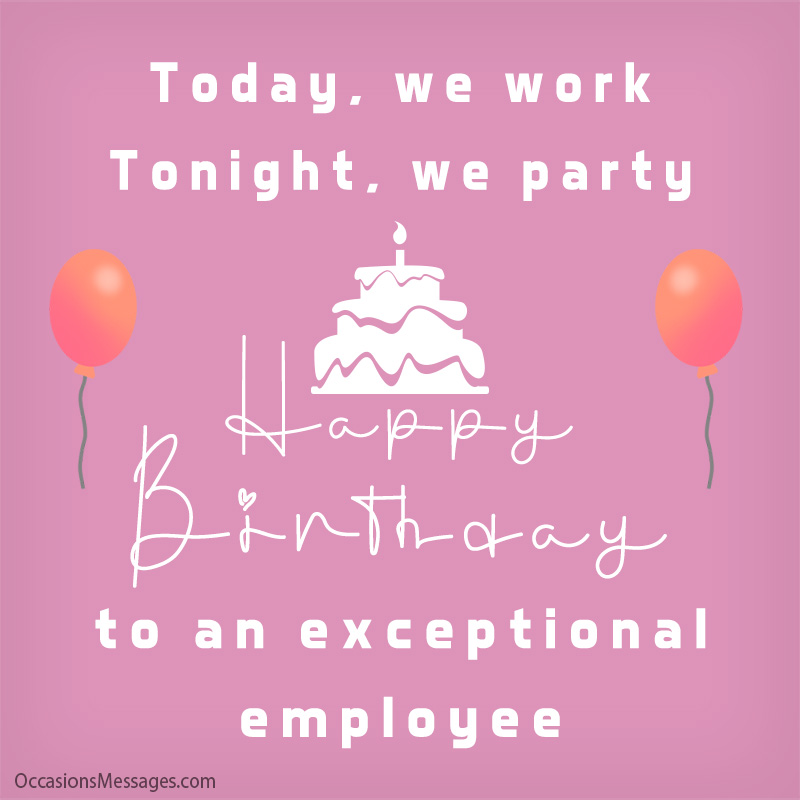 Without you, this place wouldn't be the same. So have a hearty birthday and may you live long.
You are among the few workers I never want to show bossy attitude towards, because you know what to do at every point in time, you are my true choice of employee.
There is no way that I can find anybody like you. You work so hard and create so much. It's incredible and admirable.
I told you to take the day off today but you came in any way. Now we got to make this awesome birthday happen in the office. Oh well. Let's get it.
You are a strong person and I love how hard you can work. You challenge me and I appreciate you always.
Today I have seen the need to celebrate a one-time employee but eventually turned to friend because he is so adorable not to be friends with.
Read More: Birthday Wishes for Colleague and Coworker
Funny Birthday Wishes for Employee
Another year older, but don't worry, you still look as young as our company's brand-new printer! Happy Birthday!
On your special day, we wish you fewer meetings, shorter emails, and more time for your favorite work-related memes. Have a great birthday.
Another year older, but you're still the most youthful spirit in the office. Keep spreading your infectious laughter. Happy birthday!
Happy Birthday! You're not getting older; you're getting wiser. It's just a coincidence that you forget where you left your keys more often now.
Congratulations on surviving another year of office chaos. May your birthday be the start of a year filled with laughter and promotions!
Happy Birthday to the one who brightens up our office with a smile every day. We hope your special day is as bright as your personality!
To the one who makes the office a fun place to be, happy birthday! May your day be filled with joy and a lot less paperwork!
Birthday Wishes for Male Employee
Happy Birthday, dear colleague! Wishing you a year filled with new opportunities, career milestones, and all the happiness you deserve.
On your special day, we want to express our gratitude for your hard work and dedication. May your year be filled with professional growth and personal happiness. Happy Birthday.
Happy Birthday to the guy who turns challenges into opportunities and obstacles into stepping stones. Have a fantastic day!
Happy Birthday to a truly exceptional employee and friend. May your day be filled with exciting projects and successful endeavors.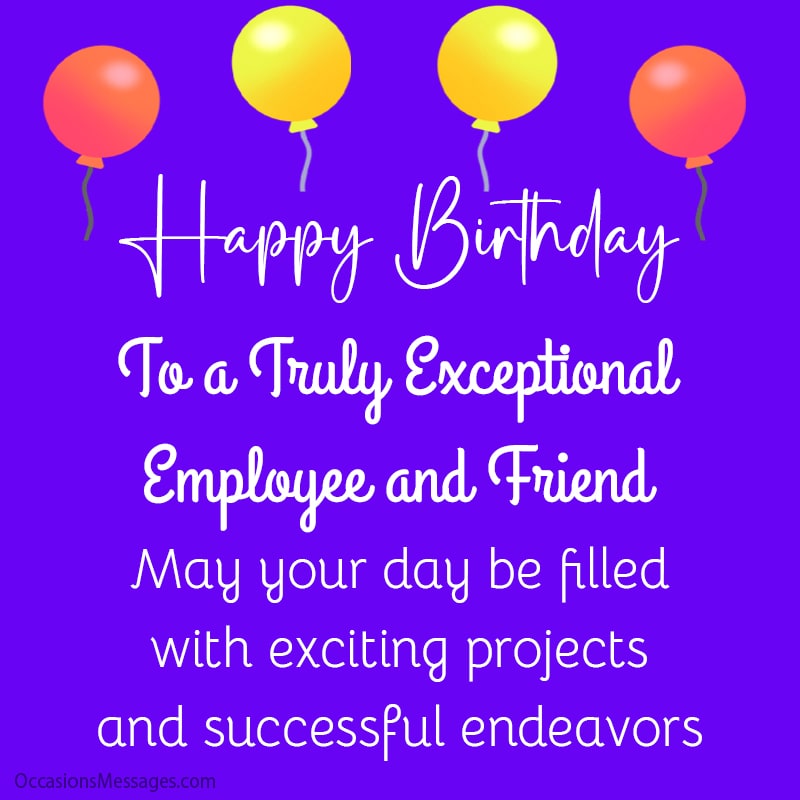 As you blow out the candles on your birthday cake, may all your career aspirations come true. Your hard work will surely pay off. Have a great day, and keep shining!
Your dedication and hard work exemplify what it means to be a professional man. Wishing you a birthday as amazing as you are!
See More Options: Best 100+ Birthday Wishes and Cards
Birthday Wishes for Female Employee
Happy Birthday! Wishing you a day as bright and beautiful as your spirit.
Happy Birthday to a remarkable woman! Your dedication and achievements inspire us all. May this year bring you success and happiness.
To a true leader and a wonderful woman, Happy Birthday! Your strength and grace in the workplace are truly remarkable.
On your special day, we celebrate not only your birth but also the positive impact you've had on our team. May your journey be as inspiring as you are. Happy Birthday!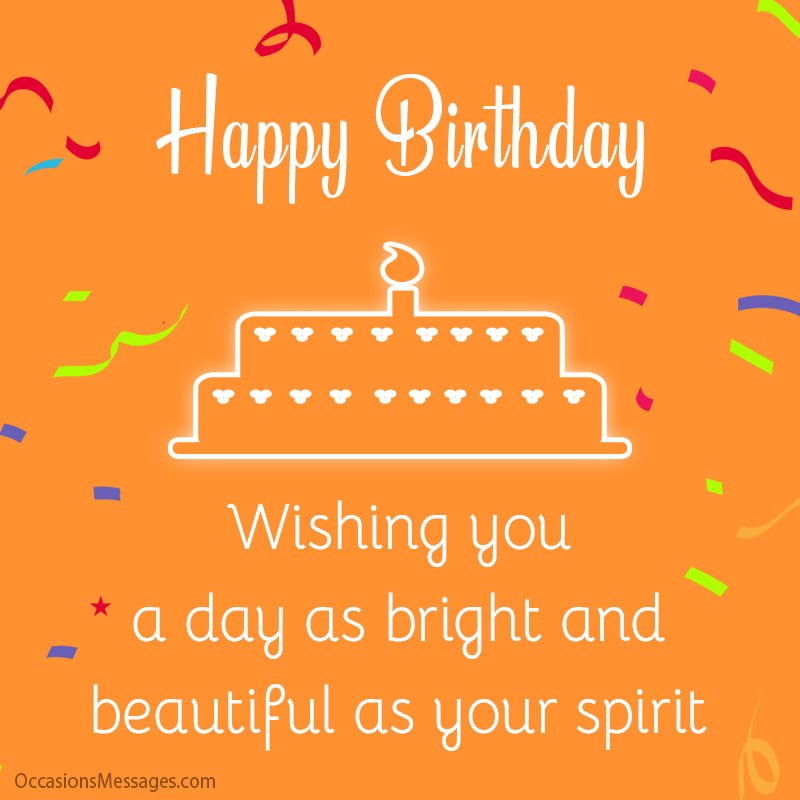 Happy Birthday to our phenomenal colleague! May the coming year be filled with exciting challenges, personal growth, and countless reasons to smile.
To the female colleague who shines bright like a diamond, may your birthday sparkle with joy, prosperity, and all the success you deserve.
Birthday Messages for Employees
Words of appreciation are too cheap and it won't be enough to say thank you. A gift awaits you at work tomorrow. Happy Birthday to the most loyal employees ever!
Your loyalty is hard to find anywhere in the world, you have been path of this firm for as long as eternity, may God honor you for all you've done.
You deserve so much, because you have given this organization so much, I wouldn't be here if I weren't for you. May you grow to be older than the hills.
May you have the privilege to spend many more productive year in this company, you are one of our top employees and we celebrate you. Have lots of fun.
I wish I could give you this day off because it's your birthday, but you know our productivity depends on you, so you must work. Happy Birthday awesome employee. Stay blessed for long.
Take the day off, go relax and enjoy your birthday but don't forget to share the cake. Happy Birthday employee, you deserve the day off.
Happy Birthday. I have seen how hard you work and it's time to take a break and enjoy the day.
You may want to see: Best Birthday Wishes for Boss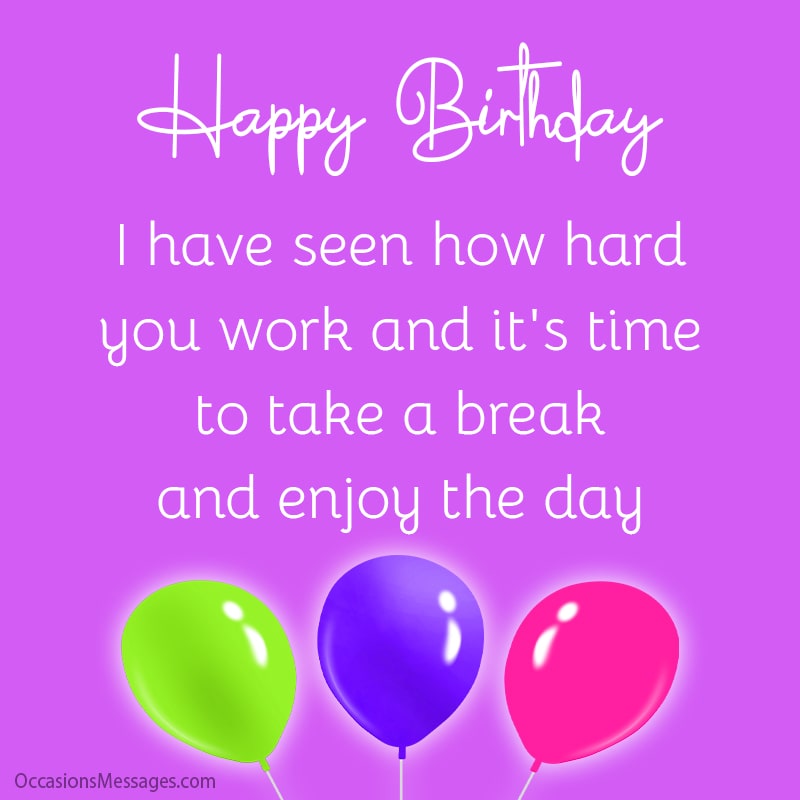 Whatever you want today, name it and it will be yours. You have earned that right with me due to your hard-work and commitment. Have a beautiful day.
Happy birthday my dear employee, you are a valued member and we appreciate your services.
You have made my official duties less stressful than it should be and I am grateful for your enormous contribution at the workplace. Have a beautiful Birthday celebration.
Happy birthday my employee you are a gem and I value you so much, I hope this day turns out as you have planned, enjoy your day!
May your birthday be the beginning of a year filled with breakthroughs, accomplishments, and beautiful moments. You're a shining star in our team. Happy Birthday!
My company is able to survive all the hard times it faced because of people like you, I am really grateful to your restlessness to uphold this company, you'll surely be rewarded.
If we have a couple of other workers like you, then we will come on top of every trade no matter how difficult it may seem.  You are loved and appreciated.
You are such a blessing in this place of work; every of your colleague wants to partner you in every task. May you continue to be a good influence in this company. Happy Birthday good employee!
It's your birthday my employee, you are going to have fun, put on that smile and put all your troubles away for it's your day.
Here's to the woman who turns dreams into reality. May this year be your best one yet, filled with achievements, laughter, and everything you desire. Happy Birthday!
Your good work and diligence is always admired here in our company. I hope you enjoy all your days working with us. Happy Birthday my dear employee.
Have a great birthday my dear employee, you are an honorable member of this place and we value all your service.
Last Updated on October 20, 2023
SHARE ON