Happy Birthday Doctor: Doctors are amazing people; they take care of us during their best of days and make sure we leave them feeling better than we did. Doctors put their lives in the line every day to help us, save us and rescue us from bad ailments. Sending birthday notes to them is the best way to appreciate them and tell them that you are glad that they were born and do what they do, don't be shy. Here are some messages you can send to your doctor appreciating them for all they are doing for you.
Birthday Wishes for Doctor
Here are some cute ways to wish a Happy Birthday to a doctor.
Thank you for saving my life a countless times, I wish you all the best as you celebrate this day. Happy Birthday doctor, you are the best.
You are the best doctor in the world and I am glad you are mine. Happy Birthday doctor, I thank God for you every day.
I have a wish in my mind that my loving daughter would become a doctor like you in her future. You have an inspiring personality, true humanity and a soft corner for patients.
As the saying goes on 'an apple in a day keeps the doctor away' but the doctor is so cute. Wishing you a very Happy Birthday, my sweet doc.
Every doctor has their own style of doing things, but your own style seems to be unique. Your first approach to patients is sure to give them super hope.
What would the world be like without you? I couldn't even imagine, thank you for always being there doctor, Happy Birthday!!
You not only are a good doctor, but a good friend and I can confide in you with anything. I hope you enjoy this day, as you turn a new age, know someone values you and someone wishes you all the best every day.
On this special day of your birthday, I want to say thanks to my sweet doc that you make me healthy and cheerful again as I was used to. Have a wonderful day.
You have a cheerful personality, inspirational thoughts and great experience in your field. You are such a nice doctor I have ever found.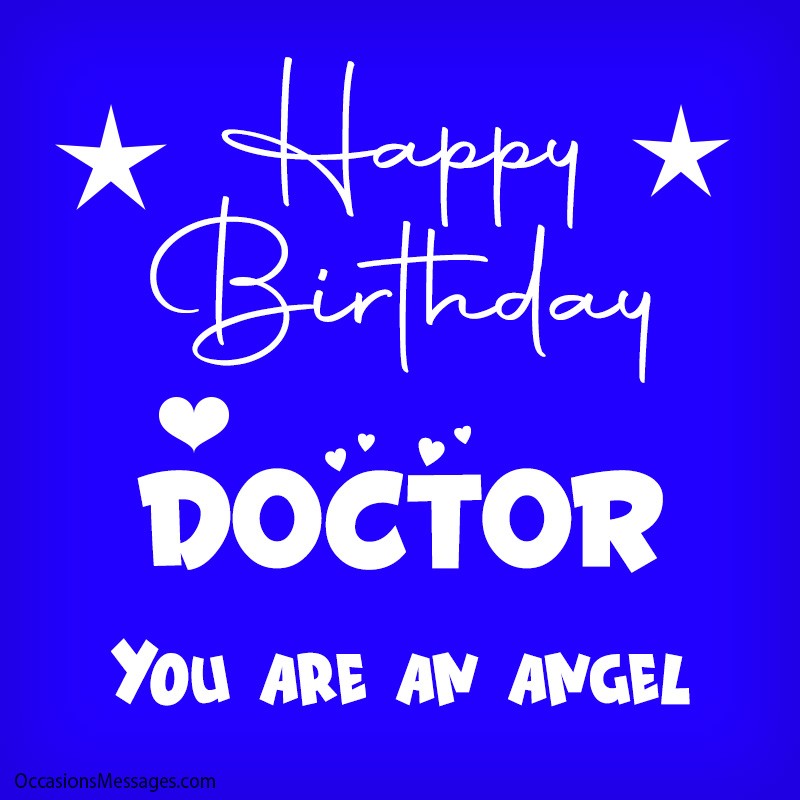 Your gain in life is in rescuing other lives, it's really a great task. But you have been the best at this, and we hope that nothing will stop you. Have a wonderful day doc.
No gift, no wishes, and no complement can match the kind of price you have paid in this profession of yours. Happy Birthday lovely doctor. Enjoy your special day.
Happy Birthday, doc, you are the one who arouse my inner confidence how to live life, how to combat the disease. You are simply the best, knows the psyche of patient very well.
A long sleep and a cheerful laugh save you from any mental disorder. Thank you, doctor, for making me relaxed. I wish you have a wonderful day.
I have never seen a fellow like you, I don't respect you because you are a doctor, I respect you because you are a good darn doctor, so enjoy your birthday, and share some of that cake.
Doctors are life savers, no wonder you still give yourself to much study even though it's really not appealing. Happy Birthday to you doctor. Enjoy your special day.
You are a great man, a man I am proud to associate myself with, a man someday I hope will realize how lucky he is to have his family and friends gathered around during his birthday. Happy Birthday doc, do enjoy your cake.
Thank you, doctor, for bringing the joy, happiness, and warmth again in my life. Thanks for giving me the new life. Happy Birthday to you.
More Options: 130+ Birthday Wishes for Everyone
Short Wishes
Here are the best long list of short birthday wishes for a doctor.
The only way to live happy and healthy is "forget and smile". Thank you, doc, for love and blessings.
Happy Birthday doctor, may this day give you love, health, wealth and happiness today and every day.
Your reassurance and comforts let the patient's half cured. Happy Birthday, hope you have a great day.
My doctor is my first crush. Thank you, doctor, for your love and serving. Have a wonderful day.
You are the one who brought the smile on my face that's how I elaborate my long life.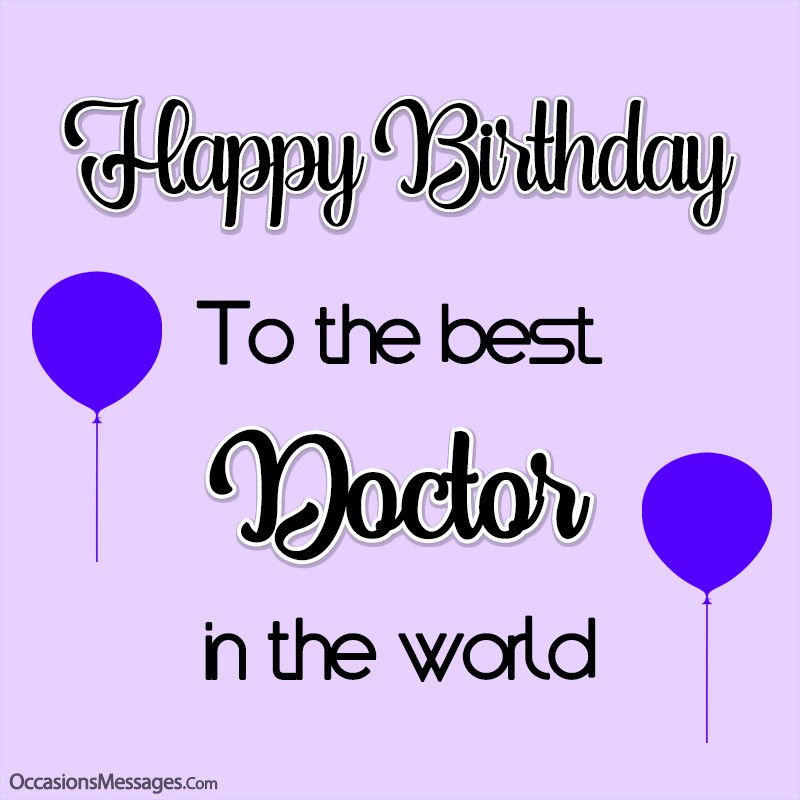 Your zeal towards the sustainability of the human race is next to none, you are my favorite doc. Have a beautiful day.
Dear doc, thanks for your keen devotion towards the health of your patients. Happy Birthday!
On a day like this, a doctor like you deserves the very best of everything. Happy Birthday.
Happy Birthday doctor. The world needs more people like you, dedicated, friendly and caring.
Happy Birthday, doctor. You are a single reason for the life of thousand diseased people.
Funny Messages
These cute list of funny birthday messages and wishes for a doctor.
Doctors are amazing people; they knock out diseases and sickness just as Mike Tyson did to his opponents. I am happy that it is your birthday.
When I was younger, I saw doctors as monsters because of the injection and bitter drugs; I never knew I would be stuck with them forever anyways.
You deserve all the praise for having to cope with the excesses of our sick family and friends, you have quite a profession.
I intended writing your birthday wishes in the same manner you write prescriptions notes for your patients, but I chose to be the better person.
Have a fantastic day dear doctor, your discipline stands amongst the most needed professionals across all niche, I wonder how you cope with other people's puke and poo.
May the vital organs that produce adrenaline function in multiple folds because it is your birthday, even doctors should be high on the excitement on their birthdays.
Happy Birthday dear doctor, may all the healing make you happy during your birthday, do enjoy what the day has to offer you only live once and in your case, you know that pretty well.
Happy Birthday, my favorite doctor, don't get too excited and forget scissors in a patient's body or prescribe antibiotics as a pain reliever.
For my Doctor Friend
Here are some special birthday wishes for a doctor friend.
There's no other profession out there that gives so much discipline to individuals. I'm really proud of who choose to be. Happy Birthday doc friend.
I never thought anything could be worthy of creating so much of space between us, but the task of saving lives is worth it. Happy Birthday doctor. Keep saving lives.
I have a positive envy for your job because it's really attractive, the profession really fits you. But I'm a lazy man, can't read much. Heheheh. Have a good time Buddy doc.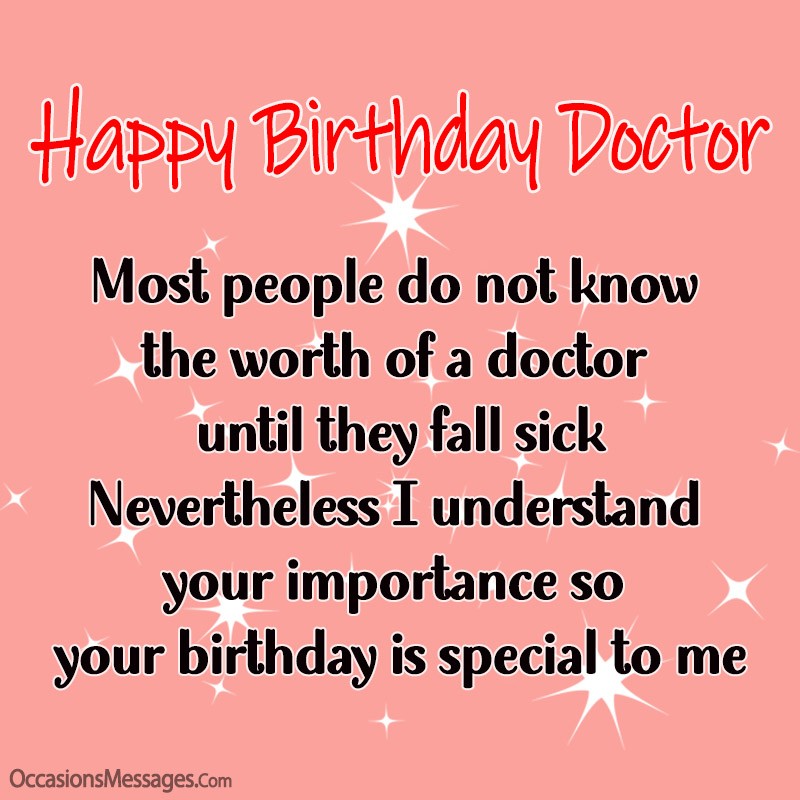 It's surprising how people keep shouting that doctor's saves lives, but we engineers save more lives by putting good structures even in the hospitals. Heheh. Respect us more. Happy birthday doctor friend.
The sacrifices are way more than the reward. It's a profession for Godly people. May God bless and reward you for saving lives. Have a wonderful day my friend.
You have a good job but I barely envy it, because you don't even have time for merriment and I love merriment. Heheheh.
Put away those stethoscopes, go out and enjoy yourself, it's your birthday and there is nothing as great as having those close to you sing the birthday song for you, have fun dear, you deserve it.
Read More: 100+ Birthday Wishes and Messages for Friends
For Doctor Brother
Use one of these birthday wishes and messages for a doctor brother.
Happy Birthday doctor, you are a good brother and you deserve every good thing this life has to offer. May you enjoy the day for the sun shines only for you today.
Your work deserves the best pay in the world, the best credit in the world and the best care, because you deal with lives and no one wants to lose it.
You are a great brother, you care for people more than you do for yourself, I only wish that for today, you become selfish and spend the day celebrating your new age.
You are a great doctor, an experienced professional and a better human who focuses on understanding responsibility first then the privilege. Have a glorious birthday. May you have many more.
I'm really glad that your marriage is coming up soon, that will help you to sort your rough way of life due to your work.
Your inspirational words give me strength to fight against the disease and make me fearless from lethality. Wishing you a very Happy Birthday my doctor brother.
Related: Happy Birthday Brother – Top 100 Messages
For Doctor Sister
These birthday wishes are written for a doctor sister celebrating her birthday.
No one gives credit to a doctor for saving lives; they are blamed when they can't possibly save one. God is your rewarder. Happy Birthday my sister. Enjoy your special day.
To a true life saver and a sister, you deserve to have the best of everything in life, because you saved my life. May God bless you abundantly.
Injections are our enemies, doctors are our friend because they want us to be healthy, but no one sees a doctor as friend. Only God can reward doctors.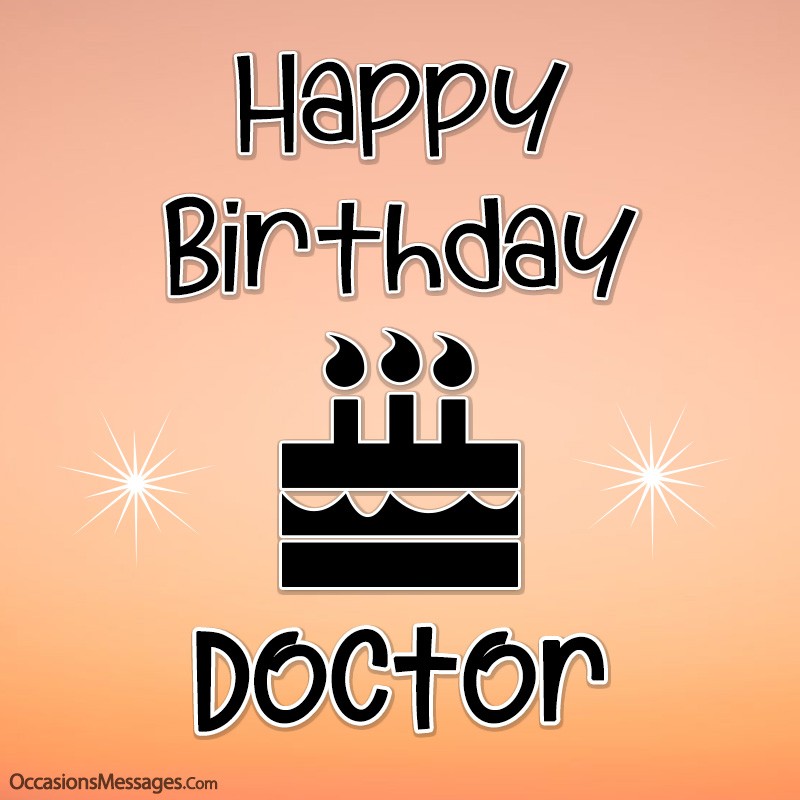 Happy Birthday doctor, you have saved many lives, I hope you live many more years to save many more lives. I am blessed to be your sister.
Everyone would have love doctors but the bills won't make them do that. But it seems you are very different. May God help you as you help others, subsidise the bills.
Life wouldn't have been what we have now if doctors like you don't exist. A world without doctors like you isn't just imaginable.
Read Also: Happy Birthday, Sister – Best 200 Wishes
For a Future Doctor
Here are some heartfelt birthday messages for a future doctor.
Happy Birthday future doc, I hope you enjoy this day and all that comes with it, I will always trust you with my life, for you always know what's best.
You are a great man and with you I find nothing but peace love and healing. Thank you for being by my side each and every day.
Words alone cannot describe how happy I am to be here, with you, now. I hope you enjoy everything the day has to offer, I am glad for your life.
The word is big, vast and complicated. Miracles rarely happen and you are one of them. Wishing you a very Happy Birthday my sweet future doc.
Best of wishes ought to go to Doctors because they do the best and the most dangerous work. May today bring unto you goodness for that will remain with you for long.
Most people do not know the worth of a doctor until they fall sick. Nevertheless, I understand your importance, so your birthday is special to me.
Lovely Wishes for Doctor
Here are some lovely birthday wishes to a doctor.
You are the one I'd love to be with always my handsome doctor, from the moment I fell in love with you I knew we'd end up together. Enjoy your birthday love of my life.
Birthdays are supposed to be beautiful but none can be compared to your unaging beauty dear doctor have fun as you celebrate another year of your life, I appreciate you.
Another year with you feels like a blessing that I can never take back, have the most fun doctor, a year older, a year wiser and a year of good health.
Happy Birthday doc, indeed, you are the best psychological doctor and general physician as well. I wish you a very Happy day.
Your profession is a sacrificial one and it is only for people with a very good heart, because the society somewhat determine when you should work and that is always.
Medicines and smile are the two powerful tools for health recovery. A smile can solve many teasing points and medicine is the way to improve your health.
You are not just a doctor, you are a great magician who knows how to treat his patients, how to reduce their pain and how to make them happy. Have an awesome day my ever loving doc.
Birthday Messages for Doctor
Use these special happy birthday messages for a doctor.
Doctor! You are itself a great medicine. Do not need to take medicine, just to sit or spend time with you, make my pain reduced and disease far apart. Happy Birthday sweet doc.
My prayer for you is that your profession should reach a new height and breakthrough it has long for, through you. Because you are such a special doctor.
The way you work marvels me and I wonder if I could decide to gradually be losing my life to save others, but you have been a great doc. May God bless you.
Now I believe simplicity truly defines excellence. Other doctors believe in terms pronunciations, to scare their patients, but you believe in words of hope. I really salute you doc. Happy Birthday, have lots of fun.
God gives life to every human on earth. It is special that he gave some the knowledge on how to help others care for it. Happy Birthday doc and life caretaker.
Meeting someone like you makes me like everything about doctors unlike before that I actually like nothing about them. May God continue to guide you as you save lives.
Stay off work and let the world take care of itself today because it is your birthday and work should not stand in your way to have a befitting birthday party.
Doctors save lives. Therefore, I will sing your praise until the end of your birthday, thanks for being our true and selfless superhero in a world full of civilians.
Happy Birthday to a reputable professional. Many doctors have outstanding qualifications, but only a few of you has a real passion for humanity.
If you get a birthday wish every year, it is thanks to the best doctor that can be found. Happy birthday doctor, and have a nice day!
Happy Birthday Doctor
Need more birthday wishes and messages for a doctor? We've got you covered.
Being extremely cared for by you, no medical context can justify this. So I write to wish you a happy birthday doctor!
Your affection and undivided attention regarding the lives of others is an excellent gift worth craving for. Have a fantastic day.
You have a great quality that you first try to recover your patients by your consolation and enthusiastic thoughts then by medicines.
You are a doctor and you are also grasped in the disease that is known as 'Awesomeness'. Wishing you a very Happy Birthday my dear doctor.
Your performances at times are determined by how much of people you are able to help save their lives. No one care about how people are able to help you. Happy Birthday doc. keep being good.
You are my doctor and I am your patient, the relationship between us is very odd. The lesser I meet you, the more I feel happy… have a fabulous day!
How to cater for the well-being of the society at large has always been your responsibility, and you are really good at it. Your wife must be a lucky woman.
This is one of the fewest professions where personal responsibility is self-mandatory to fulfil potentials. May you never lack any good thing needed to fulfil all that is within you. Happy Birthday to you.
Hard working is the key to success. Never lose your efforts in order to achieve any goal no matter how hard the path is. Wish you all the best.
Thank you for dedicating your life towards the sustainability of the human race. Doctors are amongst the world's most essential professionals.