Birthday Wishes for a Friend's Son
Appreciating someone and remembering them during their birthdays is a good way of showing them you care and love them. A friend having a son is no exception, I am sure you admire the young lad as though they were your own son and sometimes, it counts to share a little birthday message with them.
Messages are always a good way to communicate expressing yourself and making your words unforgettable to the recipient. So whatever the age, send a birthday message to your friend's son and make their day more special than it already is by showing them that you care and love them.
Cute Birthday Messages for a Friend's Son
Another year with the same spirit, heart and grace, you are truly a son to me too my friend's son. Hearty birthday!
I can't help but feel lucky that I know you in this lifetime; you are going to be a great man for you are already an awesome boy. Happy birthday my son's friend!
Joy fills my heart as I have an opportunity to be celebrating your birthday with you. You are truly a kid worth more than I can give my friend's son.
Children of nowadays always appear to be spoilt, but it seems you're a different child. Your parents have done a good job raising you. Happy Birthday friend's son.
Every time I visit your house, I always have the desire to see you and relate with you, because you're just different. May this day bring you joy. Happy Birthday friend's son.
Your life is so precious that things come to you at their right time. Every other kid will certainly envy you. Happy Birthday friend's son. May your days be long.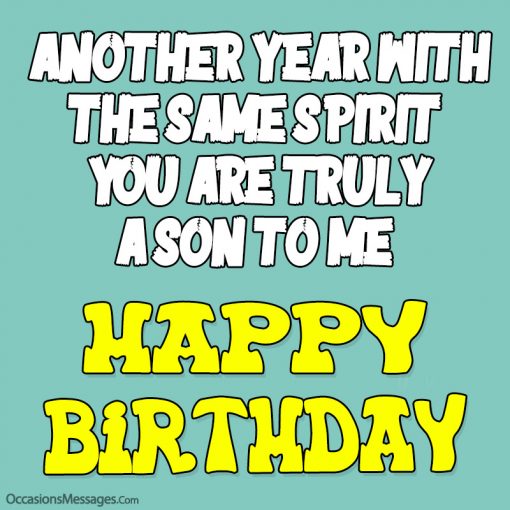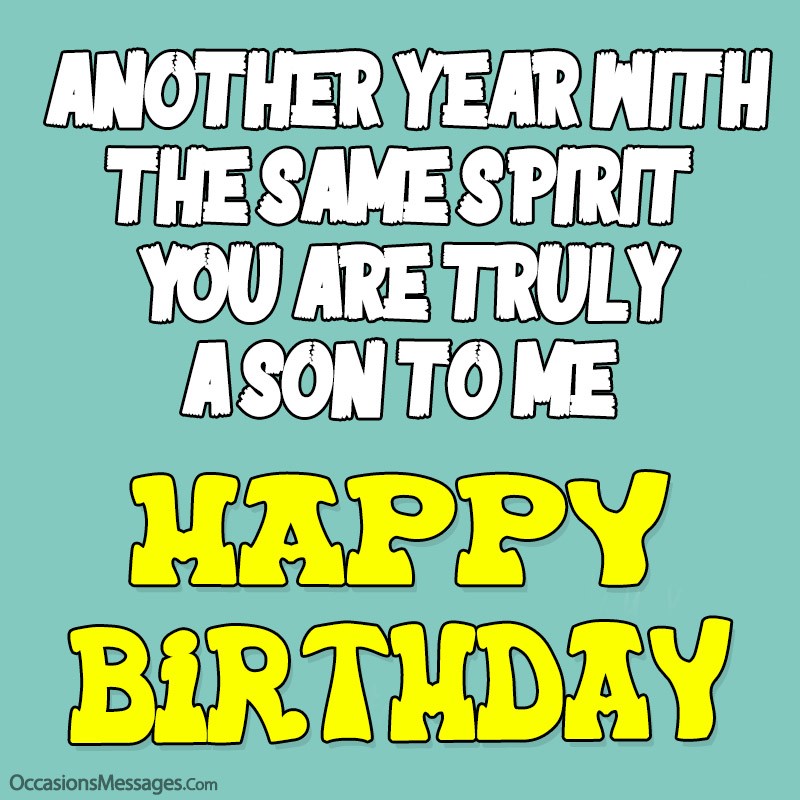 Create memories on your special day friend's son, you only turn a new age once and I bet this year will be better than your previous birthdays!
May the angel that has been looking after you for all these years continue to do so without asking for much, you are a special kid my friend's son, hearty birthday.
You remind me so much of your dad when he was your age, you have the same heart and spirit; enjoy your birthday friend's son.
Your father and I have been friends for a long time; I hope you and my son will also be good friends. Happy Birthday bright friend's son. Enjoy your special day.
Maybe there'll be a day when my son will defeat you in one sport game, because you seem to know how to compete in all sports. Hehehe. Happy Birthday friend's son and athlete.
A man is not made by the amount of women around his arm; he is made of truth, strength and admirable traits. Wishing you a happy birthday friend's son!
May this day remind you to always count your blessings friend's son. Have a grateful birthday full of good things.
Singing is not my thing so I am going to pray that this birthday is a blessing to you and all those around my friend's son.
Ever since you were born I knew we'd be close, you are like a second best friend to me my friend's son. Please don't forget to make a wish as you blow the candles on your birthday cake.
The bitter truth about children is that they always take after their parents. But it seems you take after me and my son took after your dad. Hehehe.
Happy Birthday to this well-behaved, charming and exciting son of my dear friend. May God bless you and give you long life. Congratulations. Remain blessed all through your life.
Happy Birthday friend's son. It's good to have someone like you around who can handle a lot of tough projects your dad and I often get. We love you. Enjoy yourself today.
Today, the stars will shine just a little bit brighter for you, you are an amazing kid friend's son, may you never feel small.
I'm always mesmerized by all the skills you possessed. I must tell that you inherited them from your dad. Have a nice day. You're like my son. God bless you in every way.
I'm glad to see you both grow together, you and my son remind me of the relationship your dad and I shared. Thanks for bringing back the memories.
Your dad often tells of how special you are, how you asked difficult questions even while you were a kid. Your intelligence is a delight son. Happy Birthday to you Friend's son.
Days fade away but memories last forever, try filling your life with happy memories and see a smile on your face even on the hardest of day. Hearty birthday friend's son!
I may not have much but there is nothing I wouldn't give you my friend's son, you are like a son to me and I wish you a birthday filled with fun.
Someday I hope to see you settled and happy, you are a great boy, my friend's son, and I hope the man in you will shine from this birthday onwards.
Happy Birthday to this boy with an excellent spirit and an outstanding attitude which is of a high value. I hope you'll soar higher in life than your imaginations. Have a beautiful day.
Because you're a very bright boy, I hope doors of opportunities to help you harness the best form of your gifts open to you. Happy Birthday friend's son. Enjoy your good day.
I would love to keep my belief that you are friend's because we've integrated so much that it's difficult to say you're not my son.
Knowing you is luck, having you in my life is a blessing and that I will never take for granted, wishing you an unforgettable birthday my friend's son.
Only the best for my friend's son, so eat cake, hype up on candy and enjoy each day as it comes my friend's son, it's your birthday.
Lack of Attitude and character is the problem of today, but you've proven yourself to be a very good boy in all ramifications. Don't ever compromise your good attitude.
The event of this day makes it possible for us to enjoy another great time with a special boy like you. We hope you'll live long to see more. Happy Birthday to you Friend's son.
Congratulations friend's son. It's good to have you back after a long time away from here. I hope you'll enjoy today with your family.
I've never seen a child cry for failing especially nowadays, but you cried for failing just a subject, it shows how much you want success. It'll surely come. Happy Birthday Friend's son.
Anyone who knows you knows they are lucky to be close to you, you are one of a kind and I am happy to be here on your birthday. Enjoy!
You have so much potential, I hope you use it well my friend's son, this is my birthday wish to you.
Unlike your dad ? who is always scared of something, after spending some time with you, I think you're a very brave boy, and I hope you'll do great things.
According to the received information, you're the brightest boy in town; I can't help it than to just come to your birthday party. Who wouldn't love to associate with you. Happy birthday smart friend's son.
You aren't just any child, you're full of adoration and your father always tells of good things about you. I hope you'll keep making him happy every day.
You are surely a great ambassador of the world and your act of love is a good thing for all the race of human. Happy birthday friend's son. Enjoy your glorious day.
Birthdays are times when we get to celebrate cute people such as you; it is your turn to be extraordinary, so party like the world is ending today.
I have a truckload of reasons to be happy to witness another of your birthday; I cherish people like you who love without any ulterior motives.
I am pleased that you are a year older today, my friend shares in my delight because you are a great son and a reliable source of happiness.
I am thankful to God for blessing my friend with such an amazing and brilliant son, congratulations on adding another year today. Party with caution.
Your love for my friend makes me jealous; I never knew male children could be as caring as you could. Thank you for being a good offspring. Happy Birthday, son.
You deserve all the attention and spotlight of today because it is your birthday and you have worked extremely hard to get here. Happy Birthday to a friend's son.
Happy Birthday to you, you have grown into the responsible man that we foresaw. You have made my friend and me proud, so we delight in today's success.
As you add another year today, may all your expectations never be cut short and all your desires manifest. My friend has a super-son in you.
Your father and I are old-time friends' hope you will grow up to be as intelligent and God-fearing man. Happy Birthday.
Happy Birthday son, Maturity is a function of time just like being friends with your dad. Be contented with what you have and I foresee a brighter tomorrow.
I have never doubted your chances of putting a smile on your dads face. Happy Birthday and thank you for being a good son to my dear friend.
Happy Birthday to my friends son, I owe you a lot because your dad is my good pal; therefore I will start paying my debt by saying congregations.
Your dad speaks about your bravery, intelligence and other attributes of a good leader, today's birthday brings you a day closer to your goal.
Someday, you will be a father and you will understand the gladness of your father on your birthday. I am just his friend, yet I know how he feels.
You May Also Like: