Life has many stages, as a kid, you wouldn't even want to hear the word girlfriend, most people would only joke about it and make you feel funny inside. As you grow older, you realize that having a girlfriend can be a gift that shouldn't be taken for granted, apart from the fact that you have someone attractive by your side, it means you can love and be loved,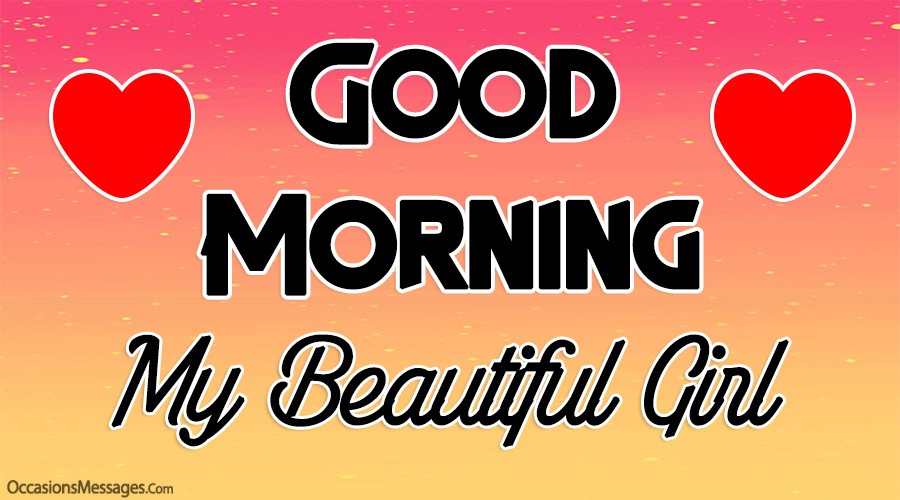 it's a feeling worth a thousand perfect words and a reason worth waking up for every morning. Here are some good morning messages you can send to your girlfriend just to remind them how happy you are to have them in your lives.
Romantic Good Morning Messages for Girlfriend
I count myself blessed because I wake up with the most beautiful woman in mind and heart. I hope you have a great morning my sweet girlfriend.
My love for you blossoms by the morning, I cannot wait to make you my future wife. I hope you woke up on the right side of the bed this morning.
Good morning my girl, I hope your sleep was refreshing enough as your love. I on the other hand, had just a little sleep because I was thinking of how beautiful you are without makeup.
No other girl has ever loved me like this; it feels so good to be true, poke me when fully awake because I need to be sure I am not the one dreaming. Good morning girlfriend.
You care for me like a mother; I look forward to our kids enjoying the same type of love. Good morning baby.
I can definitely say you are the best girlfriend in the world, you mean a lot to me and I hope you enjoy each and every second of this morning my princess.
Each morning is a gift, and I am lucky enough to be sharing it with my girlfriend, have a beautiful morning my love.
You give me hope for a better tomorrow and I am happy that I can call you my girlfriend; I wanted to remind you that "my love for you will never die." Hearty morning!
I love sleeping next to you at nights; I look at your curves and pretty face all night, good morning sweetheart and have a beautiful day ahead.
Craziness is when you trade a Porsche for a bicycle, you are my most prized asset, and I will always admire you as such. Good morning my queen.
You taught me how to love, and I must confess I have not felt so in love before, you've made loving you so comfortable and that's why you are my girlfriend. Good Morning my love.
How did I ever get so lucky? You are the girl of my dreams and I will do everything in my power to show you how much you mean to me, good morning sweetheart.
In you I found hope, blessings and love my beautiful girl. I wake up today knowing I will see that beautiful smile that lights up my morning. I love you!
My love for other girls has diminished ever since I met you; you make it impossible to love another. Do wake to a brighter future.
The last time I visited my parents, they noticed the positive transformation in me, we joked about after I told them the damsel I wake up next to was responsible. Good morning and thank for your impact.
It took ages to find and win you over; I'm not going ever to risk losing you to another man because I can't afford to wait that long to fell so alive again. Thanks for your undying fire of love. Good Morning sweetheart.
You are my heartiest hello dear girlfriend, and I know life would never be the same without you, enjoy your morning my queen, you are my sunshine.
May this morning give you a million reasons to smile my beautiful girlfriend, you are worth gold and diamonds and so much more. I love you my beauty, have a nice day!
I prayed to God to let good things come my way, shortly after, I found you, you're the best thing that has happened to me in a very long time, and I consider you a blessing. Good Morning girlfriend.
Your skin is so tender, your kiss so soft and your love so compassionate. I'm glad I found you finally.
I have never regretted getting involved with you, you are the missing piece of my rib, and I feel so complete this morning. Have a nice day my girl.
Good morning to the girl who touched my heart and shows me how to love. I love you my beautiful girlfriend, thank you for always putting a smile on my face.
I must be one of the luckiest men in the world to have someone as special as you by my side, enjoy your morning my darling girlfriend, I can't wait to kiss you.
How beautiful could it have been if everyone's relationship can be as sweet as mine, I woke up this morning next to sleeping beauty. I have to rush to work. Good morning lovely girl.
Right from the moment I met you, I noticed the attraction we felt toward each other, and behold how far we have come. You add joy to my mornings just as of now.
After repeated failed attempts, I have finally found the girl who my heart synchronizes with; I choose this morning to relay to you how perfect you are to me. I Love you.
Seeing you smile is the best part of my morning dear girlfriend, I hope you enjoy each blessing that comes your way, hearty day my princess!
I know I will have an amazing day because I have the most amazing woman as my girlfriend, I hope someday I'll change that. Good morning future mother of my kids.
I have been thinking of a thousand ways to appreciate the woman of my life; then I remembered the power in words. Even words can't express how delighted I feel about you this morning.
Many can't boast of what I have, having you supersedes all the riches the world has to offer, why wouldn't I be contented when I have the best lady around. Good morning. It's a new day beauty.
I wanted to be the first to greet you good morning, do wake up Hale and hearty to a wonderful morning.
You bring great joy to my life, not only because you are my girlfriend but because you are the sweetest woman I know of next to my mother hearty morning my princess.
I gave my heart to you and I have never regretted it since, you are a blessing to me my beautiful girlfriend and all I have is praises for you. Enjoy your morning.
I knew from the very start that I was trapped in your web of love. I don't see myself ever getting out because you have all I ever wanted in a lady. Wake up sleepy head.
I cannot wait to share everything with you because you are my everything; I choose this morning to tell you I care. Good morning love.
Have a morning worth a thousand laughs my beautiful girlfriend, I can't wait to see that pretty smile on your face, I love you so much.
You are one of the greatest women in my life dear girlfriend, and I will never let a day go by without showing you just how much you mean to me. Good morning beautiful!
What you add to me is phenomenal; you give me peace and tranquility just as the early hours of this morning. I will be forever indebted to you. Thank you for being my baby.
To the single ladies out there, I am closed, and out of stock, the most beautiful lady I've ever seen has bought every piece of my heart. Hope you had a good night rest.