Father's Day Messages from Daughter. A Father's Day celebration means a big deal to Dad's though they might not show it, so as a daughter; you should not let the day go by without appreciating your wonderful fathers for at least the gift of life.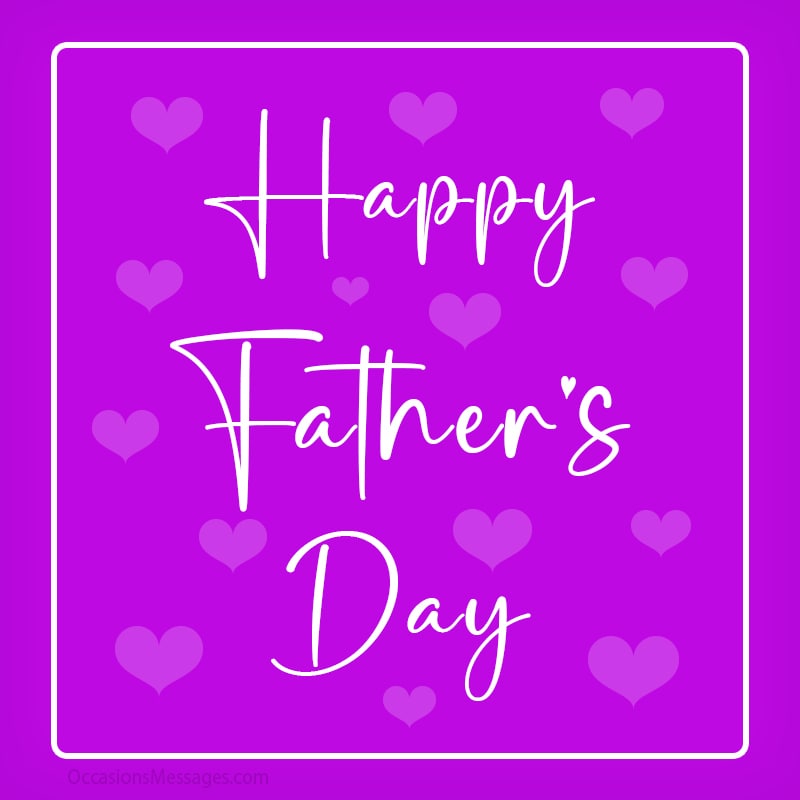 We might not have much to give to him, but a simple text message will do the trick. You might have challenges composing the best words for your dad, so we wrote a full archive just for you. Check below to access them.
Father's Day Wishes from Daughter
Happy Father's Day to the best dad in the universe, I hope to marry a man of your qualities and understanding in the nearest future.
Dad, I am grateful to you for illuminating every day of my life. Happy Father's Day.
It is a privilege to have you as a dad and a higher bonus to learn most things I know today from you. You are indeed a true dad. Happy Father's Day.
The best things in life are said to be free; I consider the assertion correct because I got a premium dad for no price at all.
Happy Father's Day, Dad! You are my greatest source of inspiration and I love you with all my heart!
Father's day is a day set aside to celebrate daddy hero's like you. As a daughter, I know that you are the real deal.
I would not wait for another father's day to tell you that you are so unique as a dad and role model to your thankful daughter.
The most beautiful actions are those that are done from the heart without needing to receive anything in return, that only a Father does for his daughter. Happy Father's Day!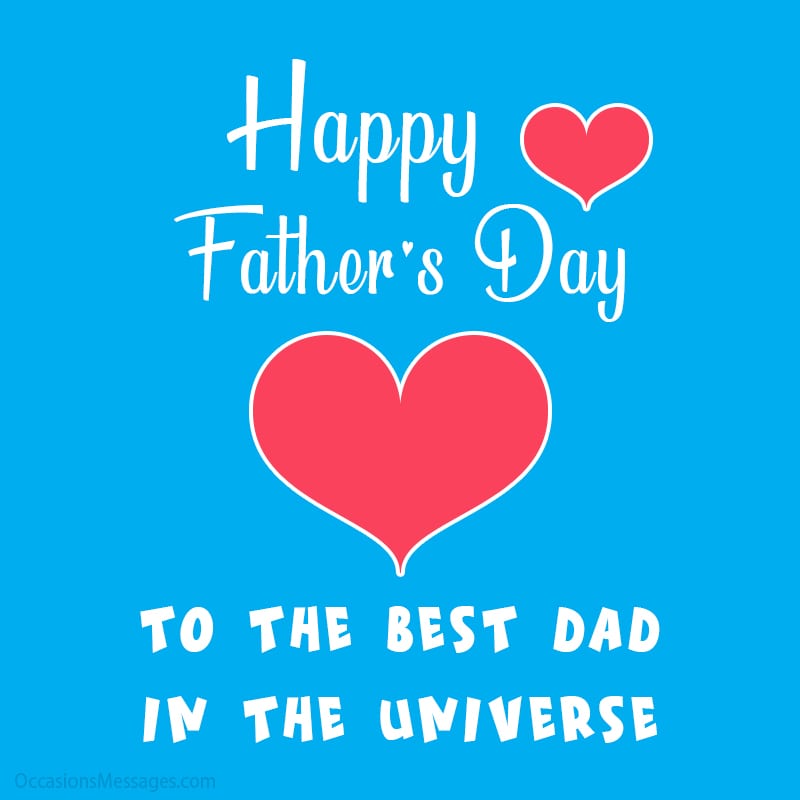 A father is not a moon that lights up the whole sky, but a candle in the middle of the night, illuminating everything that surrounds it. I love you daddy!
I hope my future husband can keep me as happy as you make my mother smile all the time. Today is to celebrate your pleasant personality.
Different things matter to people, as for me, you are at the Apex of my list. I still wonder how a daughter like me have you as a father.
Dearest dad, I would love to appreciate you for everything you have done and continue to do until today. You are essential in my life! Love you forever! Congratulations on your day.
Everything about you is so sweet, so as a daughter, I have to be glad that I got the best bargain for a dad on every Father's Day.
There is a season for everything; today is a day for me to show you that you mean the heavens to me, dad. From your lovely daughter.
Dad, you have been an inexhaustible resource of strength, a guide in life and the best friend a daughter could have. Have a beautiful day!
Some people say that fathers cannot handle their daughters the right way, I laugh at their folly because they have not met us.
Let's hope that you spend forever on earth, so I can spoil you in a daughter's way on every Father's Day starting from today.
Dearest dad, this particular day allows me to tell you that I thank you for all the great memories and unforgettable lessons.
Read More: Top 200 Happy Father's Day Wishes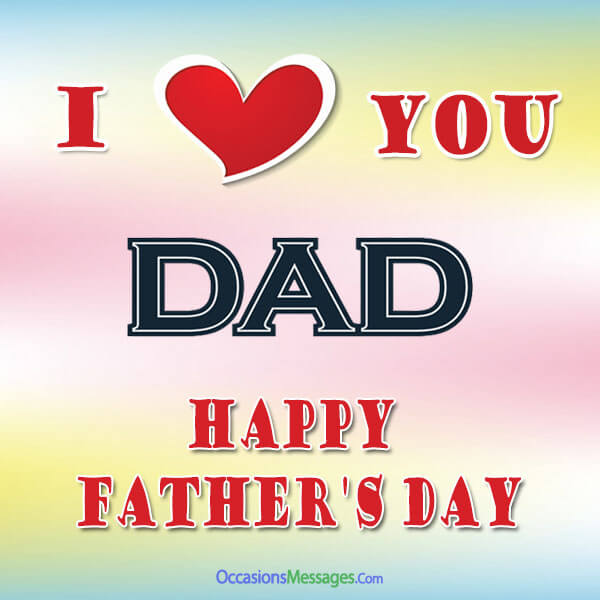 Today is Father's Day, but for me every day is yours. And on this day, I can't help but thank you for everything you do for me! Congrats dad!
Dearest dad, through all these kilometers that separate us, I send you thousands of kisses. I would love to see you again soon because I miss you very much. Happy Father's Day!
The older we are as a father and daughter, the more my respect for you increases. You are too good to be only human. I wish you a very Happy Father's Day.
Today is another father's day, and so what? Every day is father's day to me just as you decided to show a daughter an undying love.
My day becomes better when I remember that I have a great daddy to put me through when I need him. I love you just as mom does.
I have more confidence than my male counterpart because I have a great daddy that thought me that woman could lead in the world dominated by an intense bias towards women.
Do things that make you happy for Father's day because your daughter loves you dearly and only want to see you smile.
Happy Father's day to you, daddy, many have tried, but none is better than you. I know these because I am your daughter.
A daughter should be able to differentiate a real dad from the plastic ones, so because you are a golden father, I am full of gratitude.
Every daughter would want a dad like you, but I am not ready to listen to their bids even if it contains a billion dollars.
Read Also: Funny Father's Day Messages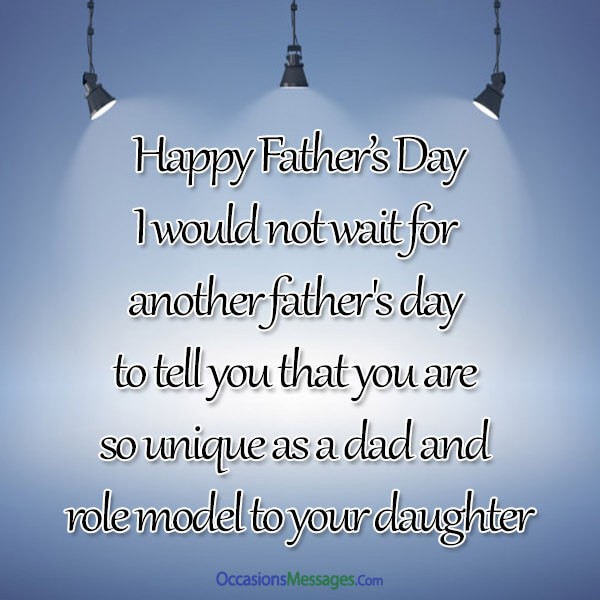 Dearest dad, thank you for having guided me in this world, and for sharing so many beautiful and authentic memories. Happy Father's Day!
Father, you taught me that it is possible to love unconditionally and not be permissive, and you have managed to raise a strong daughter like me. Thank you daddy!
I hope the father's day celebration is going as planned; I trust you to have a beautiful day and reserve the gift for your lovely daughter.
Thank you for the selfless love shown to me from my birth. I will always remain a grateful daughter because you did so much for me.
Hello Daddy, spend the father's day with the mindset that your daughter loves you more than anybody else on the planet.
May you live long to witness more father's day on the land of the living, and I will be glad as a daughter to see all of it.
More Options: Thank you Messages for Dad  
SHARE ON