Happy Father's Day Messages from Son. Acknowledging the Father's Day is not enough but rather showing love for the celebrants who are worthy of the recognition. Our fathers experience a series of discomfort to make us happy in the past years, so as a male child, the onus of making our dads happy lies on us to at least send them a message. Check our list of wonderful Father's Day Messages from a son and send as many to your dad.
Father's Day Wishes from Son
Happy Father's Day, to the best dad the world ever had.
Happy Father's Day to an amazing, upright, and wonderful father that any son will wish for himself. I will always love you.
Everyone's on earth has a father nevertheless, none of them compare to you. Happy Father's Day.
I am uncertain about a lot of things but not about the Greatest Daddy Alive. Thank you for showing me how to be a man.
I am a lucky son to have a father who spares no effort to see me happy. I have no words to thank you.
Today is another Father's Day, like in the past years. Nevertheless, it means more to me as a son because you did better than the previous years.
As long as the sunrise and set, you will always remain my hero of a dad. Your son loves you more than words can convey.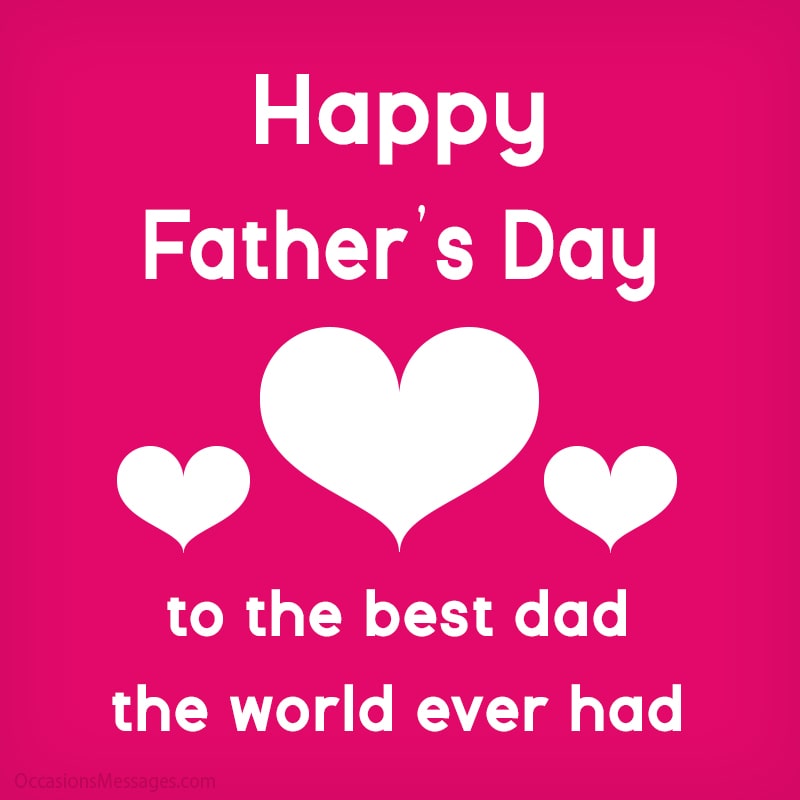 Happy Father's Day, I wish to be just like you when I am much older. You are not only my father but also a mentor.
Despite being my dad, you treat me like a brother, so I will always wish the best on you on Father's Day and after.
You, daddy, will always be the reflection of the man I want to be. Have a Happy Father's Day!
Only God can reward you for all you do for me, daddy. The least a son can say in appreciation is thank you and Happy Father's Day.
Nothing gives me more pride than knowing that I have you as a father! I am the luckiest son in the universe! Happy Father's Day!
As your son, I often see you as an angel sent from heaven to bless mankind; therefore, today's Father's Day celebration is in your honor.
The sky will not fall if you take a timeout from work and give yourself a well-deserved treat on Father's Day. Lead your son by example.
Imagine a scenario where there is no sorrow but unending happiness for you, my father. That is my wish for you on Father's Day.
Dad, from you, I inherited my best qualities and for you, I fight to be the best son in the world! Happy Father's Day, my hero!
Nobody knows you better than I do, and it is probably because I am your son. You are the best dad for me. Happy Father's Day to you.
Read More:  200+ Happy Father's Day Wishes and Messages
The association of sons at this moment selects you as the worthy recipient of the Father's Day award for an outstanding job done. Happy Father's Day.
Happy Father's Day. You will always remain the best dad to me because you are the type that can do anything to put a smile on your son's face.
Dad, I know I don't always say how important you are in my life, but I choose today to remind you of how special you are. Happy Father's Day!
Luck is having you as a father and also sharing the same name with you. I can only wish the angels to say a Father's Day prayer on you.
Let us all agree that you are the best father to a son, then we can think of how to make the Father's Day one to remember.
Father's Day will be the beginning of another great chapter in your life, sir. I look forward to being like you in the nearest future.
Happiness will never depart from you on Father's Day and forever. The best dad like you deserves to live a happy life. Happy Father's Day, From your son.
May the good God grant you a long life, so you can show me by example how to be an upright father. Happy Father's Day.
Having an Icon as a father is challenging, yet nothing is better. You made me a responsible man, so I owe you Father's Day gratitude.
I hope that you are not planning to pass on the Father's Day celebration because, as your wonderful son I will not let it happen.
More Options: Funny Father's Day Messages and Wishes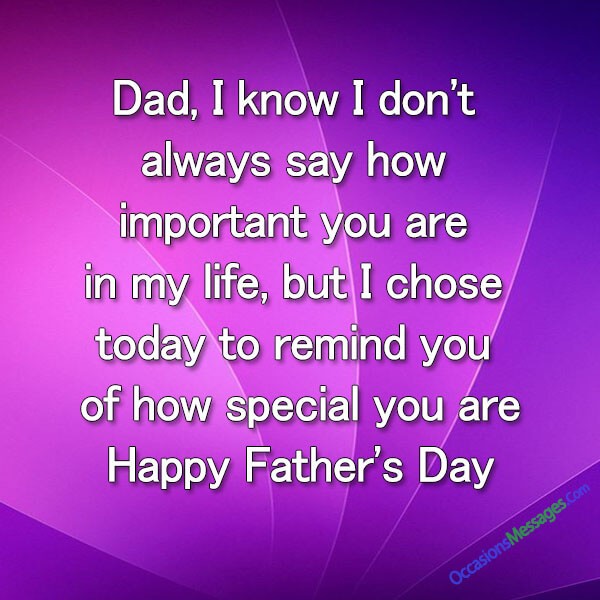 Your son wishes you the best Father's Day that you ever had in your lifetime. Fortunately, that son is me. Happy Father's Day.
No gift in this world will come close to showing the love I feel for you. I love you daddy, Happy Father's Day!
Dear dad, your words, your embrace and your presence are inexhaustible sources of strength and encouragement for me as your son. I love you
Father, I know that I can always count on your protection, your love and your heart. Fortunately, I'm the happiest son in the world, I'm sure.
Happy Father's Day! What greater adornment can there be for a son than the glory of a father.
Father, I hope that your day is going very well. I cannot wish you the best because the day you had me as a son has already passed. Happy Father's Day!
Thank you for educating me this way, Dad, for teaching me not to give up and becoming the person I am now. I am very proud of you.
People Also Liked: Best Thank You Messages for Dad
SHARE ON