Father's Day is usually celebrated every year on the third Sunday of October and it is a very special date in which the father is mostly entertained with a dinner, lunch or meeting, and gifts are usually given to each of them to thank them for everything.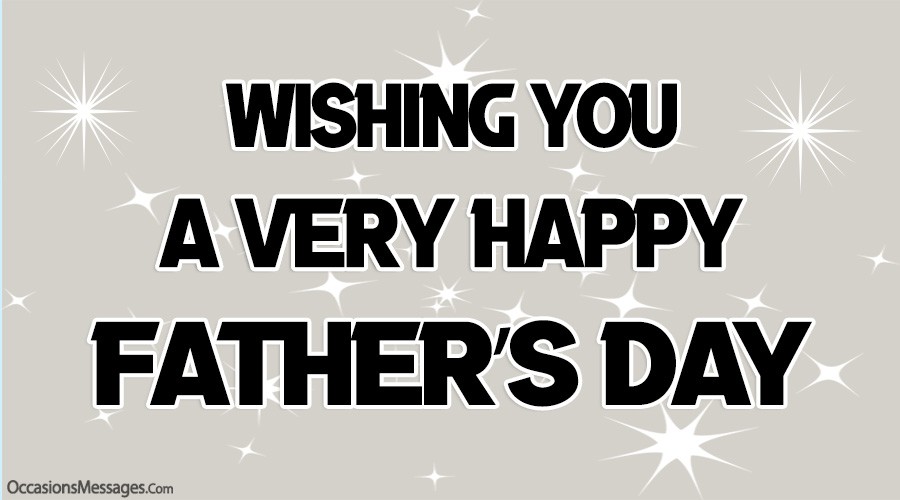 To this end, below are some Funny Father's Day Messages which will adequately serve to demonstrate all the love you feel for them.
Funny Father's Day Wishes and Messages
A house is indestructible when it is supported by a brave father, a prudent mother and an obedient son like me. Happy Father's Day dad.
The most special day of the year? That's surely that of Father's Day, because it's unique. Just like you! Congratulations dad.
Happy Father's Day to my super Dad. I wish you happiness and health but no luck because of you already lucky enough to have me as your kid.
Congratulations to the greatest dad in the world. Which is also the only one I have! Happy Father's Day!
Happy Father's Day Dad, I am expecting the best gift from you because I am the one who made you father so all thanks to me.
Hey father, you know how much I love you. So, keep earning good and think to raise my pocket money.
Happy Fathers day dad! I hereby declare you the hero of my childhood. Thank you for always fighting all the monsters under my bed.
Dear dad, thank you very much because, when mom says "no", you say "yes"! Congratulations!
Happy Fathers Day dad. Thanks for teaching me more than Google. I love you!
Greetings for Father's Day should be made every day, but after all it is not so bad to have a date to wait with anxiety and to enjoy in fullness. Congratulations dad.
On this Father's day, I wish you good health as you are the one who always stands along with me. Be my hero, as always.
Father, you have taught me everything, even how to use Stepney when it needs in life, sound strange but its reality. Happy father's day daddy.
Congratulations dad. Being a father must be a very simple task with a daughter like me. Have a beautiful day.
In heaven, directly after God, a dad like you comes. Happy Fathers Day.
Happy Father's Day dad. The best gift I can give you is to make you proud; Congratulations!
Some heroes don't have capes, and we call these daddy. Happy Father's Day!
You are the one reason that I smile, and I am the one reason that you irritate at don't shout at its Father's day, so be a good father.
I am not saying that I am your closest kid, but I am assured of one thing that I love you and adore you as my father and my teacher.
On this special day of homage to parents, I want to remind the whole world that the best of all dads is mine. Happy Fathers Day dad!
A good father like you is worth more than a hundred high school teachers. Happy Father's Day dad.
A Fathers worst anger against his son is more tender than a son's tenderest love for his father. Have a beautiful day.
The word Dad rhymes with affection and pampering and you have never made me miss them! Happy Fathers Day dad
When I was a baby, I always thought you were flying in the air like a bird, but it's not real, you are my hero, happy father's day papa.
Time flies, and you get old with it, but for me, you are always as young as fresh as you were in the past. Stay healthy, happy father's day.
Happy Father's Day dad. You are the best accomplice of my follies. Congratulations!
Special greetings to the most excellent, caring, sweet and fun parent in the world after mum. I love you dad. Happy Fathers Day.
Best wishes to the best dad in the world, perhaps not the most original sentence, but certainly the most sincere. Congratulations dad.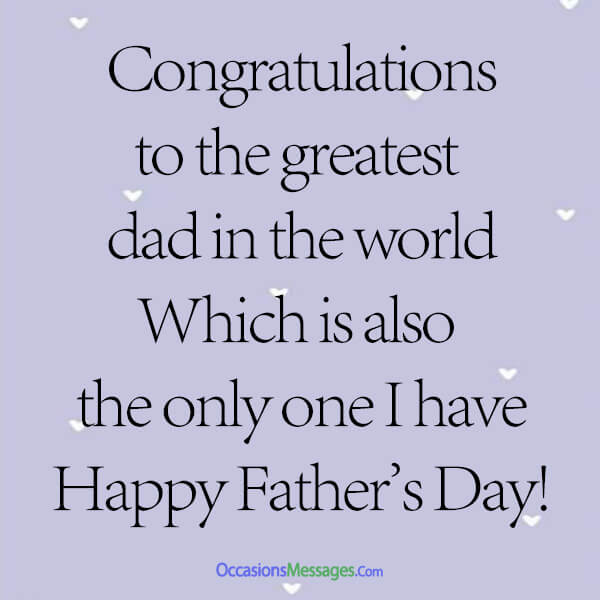 Happy Fathers Day to you, dad. I pray that this day brings you the confidence of knowing how well I love you. Cheers!
I can't imagine my life without you as you always play your role as a good father, and I am your lovely naughty child, said Happy Fathers Day.
Happy Father's Day dad. Not everyone can boast of having a son like me, congrats!
Every man can be a father, but it takes something special to be a great dad like you. Happy Fathers Day.
We are stubborn the same, we are determined in the same way: this is what makes us fight, but also what makes us a unique couple! Happy Fathers Day my love.
I wish a best Fathers Day to my lovely dad, and you better know why I love you and what I demand to you.
Dad, you can be very nice and adorable, but don't ask me in front of mom: I will deny! Happy Fathers Day!
Every hero's dream is to be big everywhere and small next to a super father like you. Happy Father's Day!
Best wishes to the most special and mythical dad on the planet. We are proud of you; Happy Fathers Day.
---
You May Also Like:
200 Happy Father's Day Wishes and Quotes
Best Father's Day Wishes from Daughter
Cute Fathers Day Wishes from Son
---