We all have that ex we hate so much, but we also have the ex we still love and we secretly hope we can get back together, whatever your ex-girlfriend is to you, always remember that somewhere along the lines you were friends before anything else. Birthday wishes to an ex-girlfriend may mend your once broken heart,
it may mend the friendship buried long ago and it may revive the friendship that was before courting. You have nothing to lose, so pick one of these messages and send them to an ex-girlfriend you still care about and you would like so much to be friends with again.
Happy Birthday Messages for Ex-Girlfriend
I really and honestly thank the Lord that I get to share your birthday with you, it's a door that opens and tells me one day, you won't be an ex-anymore, you will be a girlfriend I can rely on.
Happy Birthday dear ex-girlfriend, you are truly a remarkable person and I am glad I got the chance to know you.
Our separation is really bitter because I really missed us. But life must move on. Happy Birthday ex-girl. I still love you.
In my dreams, in my thoughts, it's only you who lives in the fragrance of my breath. May you live a happy life. I still miss you a lot.
Things may change with time, but I will remain the same. How can I even forget your birthday; after all, you are my last love. Wish you a very happy birthday, my sweet girl.
I do hope you will retain the beauty you always had on your face when you smile, because it fits you. Happy Birthday ex-girlfriend. Stay blessed.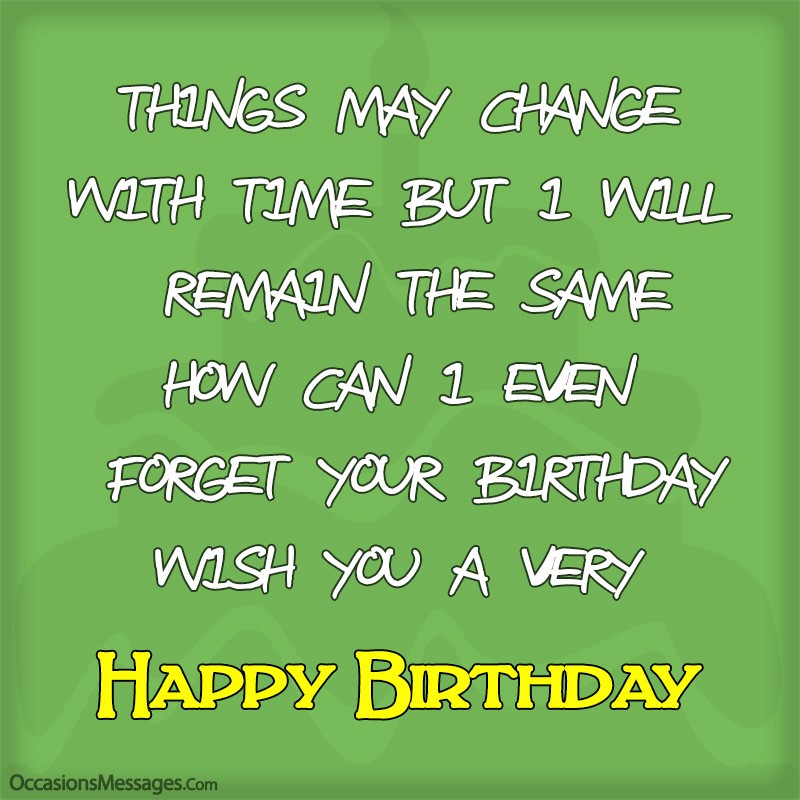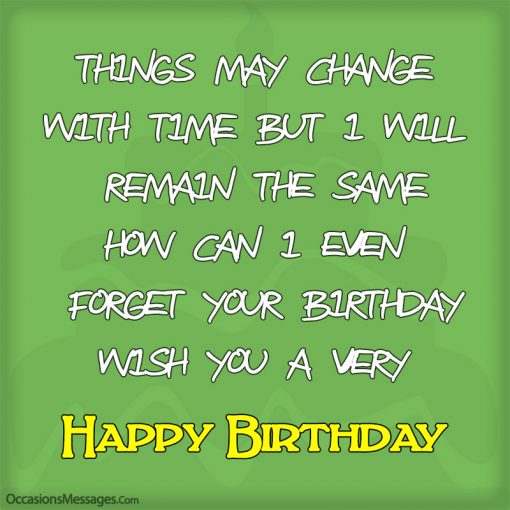 I said I would wish you a happy birthday and they called me crazy, to me crazy is not wishing my ex-girlfriend and now one of my best friends. Happy Birthday to you, may this day bring you joy.
Happy Birthday ex-girlfriend, the miles might have separated us but my love for you will never fade, hope to be with you someday, I wish you a nice time and a hearty birthday.
Life will not always happen the way we want it to happen or go as we planned it, that's why I am not with you today, I hope you have fun today.
We met or not it's the God desire but to keep you in my heart forever it's my desire. Have a wonderful birthday, my honey ex-girlfriend.
All the beautiful times we shared will always be fresh in my memory no amount of joy can erase that. I hope you will have enough blessing to keep moving. Have a wonderful day.
Might a moment come which make us closer again. I am still waiting for the moment. Wish you a very happy birthday.
Happy Birthday dear ex-girlfriend, I hope this day brings sunshine to that cold heart of yours, maybe you'll know loving you was the best thing that ever happened to me #just kidding. Enjoy this day beautiful.
The smile on your face is always enticing, I wish I can be the cause of that smile but it isn't meant to be. Happy birthday ex- girlfriend, may God bless you.
I wish I could reverse things and change your mind about me, but it is not possible now. Have lots of fun on your special day. Have an awesome day.
You are the most beautiful girl I know and I am glad that will always remain with you, happy birthday, you will always have my heart.
You are the most important person to me and I love you so much, I hope you enjoy your birthday ex-girlfriend; you are one of a kind.
Lack of money brought us apart, I understand your frustration, but if you had exercised a little bit of patience it would have been better by now.
At first I thought we were meant to be together, but your movement with other guys gave me a rethink because when I love, I love wholeheartedly. I wish you all the best. Have a great time today!
My crazy heart cries every moment in your memory, it is restless neither sleeps nor awakes. I lost all my senses since when you left my heart. Have a gorgeous day.
Each longing of mine persuades me there is no more living without you. Please come back in the world of love. Wish you a blissful life.
Now that we've gone our separate ways, I hope life become better for you and better for me. it is really important that we have a better life. Have a wonderful day.
Happy Birthday my dear ex-girlfriend, I will always hold you in high regards. Sorry if I broke your heart, my wish for you this birthday is that you may find someone who'll mend it. Always on my mind!
I really missed the jokes we used to share, but life must surely continue. Now that you are a year older, I hope you'll outlive some things that affected us. Have a lovely day.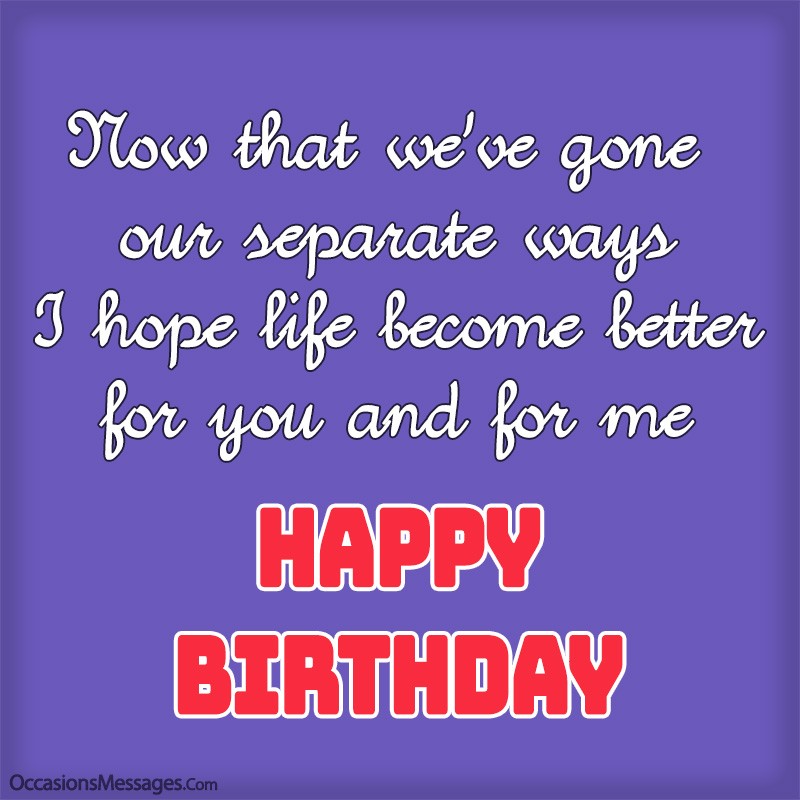 Every time I had to spend with you were heaven on earth, I will never forget that. I hope you are doing just well without me. Have a sweet day. Have fun.
There is really no regret for living life because I really lived and enjoyed life with you, but we must all move on now. I wish you all the best in life.
You always reside in my thoughts, why my heart still believes that one day these distances between us shall be reduced. Wish you a very happy birthday, dear ex-girlfriend.
Now I have devoted my entire life to be lived in your loving memory. This is my punishment to betray the most beautiful and sincere girl of my life. Happy Birthday.
You were my magical queen with whom I used to forget my all tensions. I miss you. Have a blast!
My whole world revolves around you before, I am still surprised we are still not together again, but life must move on. I wish you a very lovely celebration today.
Breaking up with you is really good for you and I, it's an opportunity to become a better person than what we were. It is really important for our future. Have fun.
It's a beautiful day to celebrate such a beautiful ex-girlfriend, no matter the beef between us, I think you are great and I wish you the very best. Honestly.
Birthdays are times when people come together for a special someone, my ex-girlfriend happens to be that special someone today and I wish her all the best, may we find a way to be friends again.
The petals of life have dispersed and I am all alone in my life, nothing can replace you. May you live happy wherever you live. Happy Birthday.
The pain of separation is quite difficult to bear. Wish the distances remove and we come near.
Nothing can change my mind about you and nothing can lessen the love I have for you, may you become a better person than you have always been.
There were colors and fragrances in all the four directions when you were with me but now all the areas of my heart are desolate. Wish you a very happy birthday.
Happy birthday dear ex-girlfriend of mine, you might not be one of my favorite people but I still do care and love you sweetie. Have a blast on this day.
Happy Birthday my dear ex-girlfriend, I hope you enjoy each and every second of this day. I still love you and I respect you a lot. Enjoy this day dear!
It would have been fair if we had a better and longer time while knowing each other, it was too short. I believe that affected our relationship. Anyway it's gone.
Perfection is really far from any man living on this planet, that's why we need to bear with one another. A lesson we couldn't learn with one another. Happy Birthday.
Maybe we never appreciate each other enough because now I really know what we could be doing on this birthday of yours. But I do hope you'll enjoy it without me. Have a magical day girl.
Love is the punishment I guess, why one can get deception in one if he is sincere. You did wrong with me but still I am all sincere with you and saying you happy birthday dear.
Even I tried to sacrifice my life in order to get you but no effect on you. You were so stubborn but I love your stubbornness as well. Have a fantastic day dear.
How many nights I spent with restlessness, the day we broke up, no one listened to my cries. I wished that teasing moment wouldn't come to our life. Anyways, Happy Birthday.
Happy Birthday ex-girlfriend you are someone I will never forget, thank you for your time love and effort. I will always love you.
There were the distances, restlessness, hopelessness, and the desolateness. See at what place your memories have fetched me. I miss you.
Irrespective of you being with another guy, your birthday is still special to me because you once filled an integral part of my heart and I can't forget the moments we shared.
Happy birthday to a unique and beautiful lady, I thank you for the love and affection we once shared. You are highly celebrated on this day.
Not everything is meant to be, but it's your birthday, and I join others in your celebration, you mean more than an ex-girlfriend to me. Have fun.
I wouldn't forget your birthday in a million years because you were and you're still part of the people who make me grateful for life, and I'll always cherish your soft and tender loving.
Happy birthday ex-girlfriend, you are a special person to me and I hope you enjoy each and every moment of this day. I love you like a sister.
Once in love always in love, just that we won't be able to spend some time together. I do hope you have fun on your special day.
Enjoy your birthday, it only comes once a year, have a blast enjoy yourself, live love and forget the past. Cheers.
Life isn't stagnant whether someone would leave you, it goes on and on but at some place my heart misses you, you were so nice.
Happy Birthday my ex-girlfriend, I wish you all the best as you turn this new age, may your looks never fade, may your heart grow bigger and may you always wear that beautiful smile.
The day you left me, I realized that all my destinations lie on your conduit and now I can bear the every violence or atrocity of this world but please you come back in my life. Happy birthday dear.
Patience is the greatest virtue any man could have, had it been you were patient with me, you would have love to see the man I have become now.
I guess checking on you isn't really bad after all. Even though we've had our differences, I guess we must forget and move on. Enjoy your special day.
Even getting so closed we couldn't meet, why there were so many distances between us. I can't express in words, I still miss.
My heart loved you so much but you never cared for my love. You just spoiled the image of love. Anyways, that's your deeds but I wish you Happy Birthday.
Moving on is part of life lesson, but we all must learn it even in the hardest way. I have moved on after you, I hope you do the same already. Have a great day.
You still hold a place in my heart; have a great birthday my dear. You will always be the one of the most amazing people I've ever met.
May this day make you one of the happiest people in the world, my dear ex-girlfriend. You really know how to light up a place. Make that one of your strengths as you grow older.
Have a beautiful and fun filled birthday my girl, you are one in a million and I miss you more each day. May all your wishes come true sweetie. Enjoy!
When I thought I had forgotten about you, my heart starts pounding to remind me that it was once yours. Have a good time.
Even if you are my ex-girlfriend today, the story we lived together will never leave my memory. Have a nice day!
We were happy together and now it's all over, but I'll never forget who my heart once loved. I hope you have the life you deserve.
I don't hold a grudge, hate or bitterness: for me you are not an ex girlfriend, but an eternal friend. Happy birthday!