A crush is someone you secretly admire, someone you really like without them knowing, or in some cases, in them knowing. She/he is the one you call a friend but deep down inside you hope there will be more to it than just the friendship they see. So what do you when their birthdays come around? You could send them a sweet birthday message to appreciate them.
show them you care and maybe you'd be surprised that they end up feeling the same way you do. Take a chance on one of these birthday messages to your crush and make sure their lovely smiles never leave their faces on their special day they turn a new age.
Happy Birthday Messages for Crush
I've been waiting for the perfect time to tell you of my feelings, but it seems that time, Words are not sufficient to express the things of the heart. Happy Birthday crush. I love you.
If prosperity is your desire, I can assure you of lots of it, my only request is for you to join me in this life journey, it's a journey you won't regret.
I promise to be someone who'll be there for you when decisions are hard to make, I'll stand by you and help you out always. I'm a man of my word. Happy Birthday my girl crush.
Waiting is not a problem to me, if it pleases you, I can wait till forever. As long as there'll be a day that you'll tell of your love for me.
My Heart is golden and a person like you deserve a partner with a golden heart. I will never betray you if you give me a chance to be yours. Happy Birthday forever crush.
I hope that we will be lovers before your next birthday, so I can show you the care and affection of a true lover. I am so happy for you.
I will rather remain a crush than to take you off my mind, today is one of the best days of my year because it is your birthday.
I've been friend zoned for a long time; it's time for you to consider my commitment to you even when you've not given me your consent.
I'm an unselfish person because I've fashioned your future into mine even without your consent, I hope you'll fashion mine into yours because I really care about you. Have fun today.
There's much fun for this special day of yours but if you give me the chance to become yours, I can guarantee you of fun beyond this day. Happy Birthday crush. Love you so much.
My heart has been long set ablaze by you, your love, my heart cannot contain, it's too much, I hope you'll share in this love with me someday.
Impact they say, changes the life of a person, but it seems your love has changed my life forever. I hope you'll accept my love for you someday.
I woke up happier than ever, after a little investigation, the reason became obvious. My dream partner is a year older today.
Your attitude, compulsion, and shrewdness make you unique. I can't imagine a better person as my crush.
Today is a special day in your life. I wish you happiness, peace, and prosperity. Have a great birthday!
I never thought I could be so obsessed with someone, but ever since I met you, you spark a light in my heart, and right now I am simply mad over you. Happy Birthday dear crush of mine!
Anytime I imagine a future with you, a smile come upon my face and I just can't wait to have you to myself.
This is a special day that comes only once in a year, enjoy it. Happy Birthday cutie.
Whenever you feel like you are alone or you need someone to be there for you, always remember that I care about you.
May you never be in agony. May everything nice and bright be yours from morning till night, all through the year. Have a lovely day.
It's your birthday my dear, make the best of it. I wish you the best of everything.
Witnessing my crush's birthday is like winning a million dollars lotto. What I am saying in essence is that you mean the world to me.
Gifts are enormous, but the one I have for you is one that I have never given to anyone; my heart. I give you my heart on this special day.
I want to let you know that I like you, I need you, and I get a good feeling whenever I think about you. I will never forget your birthday because I care about you. Have a lovely day.
Birthday Wishes for A Girl Crush
You'll hardly see a man that will sacrifice so much for her crush, but it seems that the love i have is so much that's why i sacrifice the way you do. Have a beautiful celebration.
I don't know why, but I just can't stop crushing on you, maybe it's because of the way you look at me with your beautiful eyes.
Your love is forever like a melody in my heart; it's been singing for a very long time, I hope you'll join in singing someday soon. Have a sweet day girl, I hope that day comes soon.
You give me goosebumps whenever you smile, the way you walk and talk, make me want to be with you all the time. Have an awesome day.
What is the only thing that will bring you the greatest joy today? If you name it, I'll give it to you. Happy Birthday the best lady I could think of becoming my wife.
Happy Birthday to the most beautiful girl that I have ever set my eyes upon; I'll always have an undying love for you thought you are not mine.
Our future lies in your hands just as your birthday celebration, accept my proposal and I will do my best to make you the happiest woman.
I wish that you had a pink and happy birthday; mine will be unfulfilled because I still wait on the day we will celebrate as a couple.
There is a woman for every man that will show him an essence of love and responsibility; I want you to be that woman.
It is another birthday as usual, but today's occasion is special because my woman crush is the celebrant. Have a lovely 24 hours.
Birthday Wishes for A Boy Crush
In the part of the world where I come from, it's like an abomination for a woman to profess love for a man, but it seems I'll betray that belief. Have a great time today!
Here's wishing a happy birthday to the most handsome, attractive, funny and amazing personality. Have a splendid day!
My love has always prevailed over all the challenges that comes our way, and I hope this will mean something to you. Have a nice day. I celebrate you now and every day.
I have wanted to tell you this all along; you have been one of the most amazing guys I have ever met. The way you treat me, play with me and talk to me makes me feel special.
The positivity that your presence transmit is something no one wants to miss, you're such a lovely man to be with and I want to be known as your woman.
Even if I don't say it, you have been my crush. You are an amazing guy with a unique character, and I see you becoming Rock star soon. Have a lovely day.
I would love to give you a birthday treat if you were mine; however, I hope the woman in my position eventually makes way.
My birthday wishes to you my future Boo may not be the best you read today but its genuine and from the deepest part of my heart.
Happy Birthday my imaginary boyfriend, you should remove the vale covering your face and see that this woman truly loves you.
Every girl has a male crush, and I am excited that you are mine, I will surely make you live happily ever after if you give me a chance on your birthday.
Funny Birthday Wishes for Crush
I wouldn't say I stalk you crush, I just gather information for specific purposes, so far so good if you ask me, hearty birthday, don't ask how I know.
I'd run a thousand miles if that would mean you'd finally notice me, but I'd be too skinny to notice, accept my big fat happy birthday though, I hope it's enough for you to notice me crush.
You are my favorite day dream, night dream, and side dream, whatever dream I am having about you that's definitely my favorite.
You are the reason being single is so interesting, have fun my dear crush, I would approach you but I am having too much fun being single at the moment.
I would stalk you but you are too open dear crush, I like you for who you are and what you represent to all who admire you.
I'd die for you even if you wouldn't come to the funeral crush, that's just a joke though, have a hearty day crush, you are adored by most of us here.
I had a dream last night that you kissed me over again on your birthday; I brushed five times already and cannot wait for your party to begin.
Whenever I think of you my heart skips a beat, I almost died today because it is your birthday. I hope your love does not kill me.
Dear crush, I know my message might make you angry but That the point, I have been sad all year long because you said no.
Every good deed should deserve a sizable reward, maybe I will get a kiss for my birthday message or something better than that.
Short Birthday Wishes for Crush
Have a lovely day honey. For every candle blown out, there is a burning flame of your love in my heart.
Time makes you grow and serves as a model to make you more beautiful every day. My love.
Happy Birthday to the only one who has made my life unique and amazing. Congratulations!
I wish I could stop time, to be able to enjoy the light and happiness reflected in your precious eyes. Have a lovely day.
You have all the qualities of my type of man, the only thing lacking in your life is I. Let me be your birthday gift.
To a person as indispensable as water and air. Enjoy your day my love!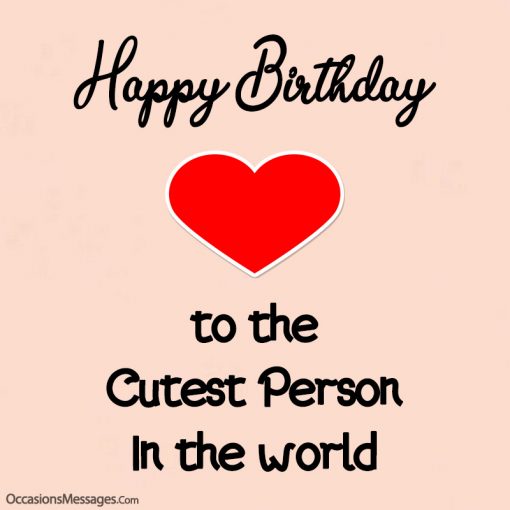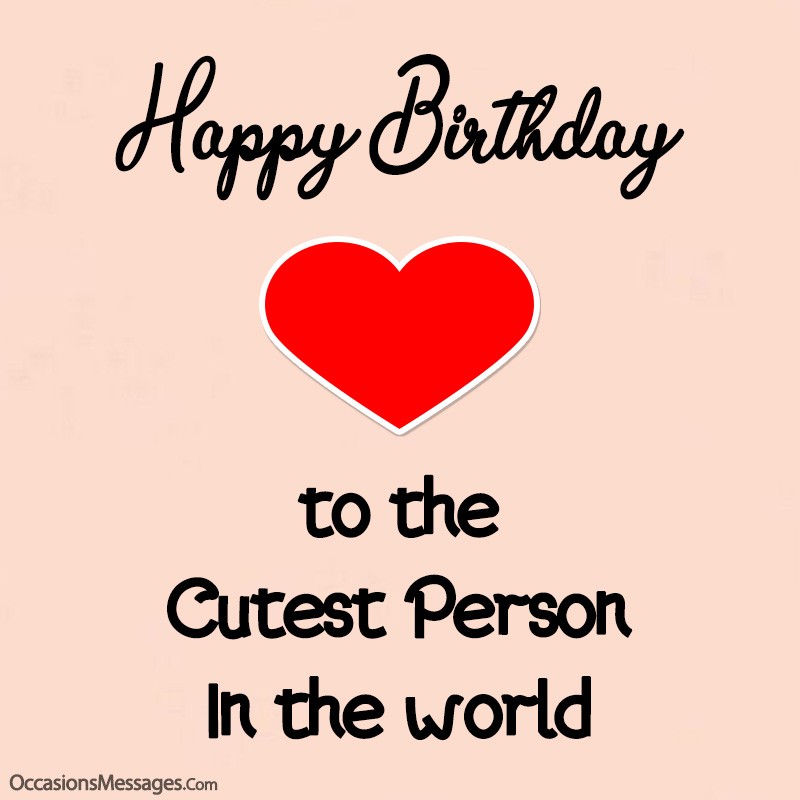 Have a sweet day my love, as you grow older grow wiser, heartier and happier. You are always on my mind.
I heard it is your birthday; remember to add an extra table to accommodate your prospective in-laws.
Happy Birthday to a crush who remains sweet and lovely for many years, you deserve an accolade.
Birthdays do not last for more than 24 hours but my feeling for you will last a lifetime.
I offer these two things on your birthday, my heart, and an undying love. I hope it is enough
Birthdays happen once in a year so make it a wonderful birthday celebration for you and me your admirer.
Birthday Wishes for a Secret Crush
I feel in love with you the moment I saw you, but I was too shy to tell you. The feeling has not changed; I will spend the rest of your birthday thinking of you.
The more times I see you I get feel a burning sensation that we should be together, I feel that same way today because it is your birthday but I can only wish you a very happy celebration.
From your secret admirer, you are a perfect proof to justify perfection, despite your new age you still look as beautiful as ever. Please be mine
Happy Birthday, of all the women that I have met none compares to the angel that I admire from a distance which is you.
The challenge for your love make me admire you from the shadows, many of my mates will do anything to have you on your birthday.
I want you to know on your birthday that my love for you renews as the morning and is like a palm tree beside the Riverside.
Happy Birthday to the woman of my dream, my one, and only true love. May you spend your days in good health and riches?
Romantic Birthday Wishes
You may have never realized it, but you mean a lot to me. Ever since I came across you, a lot of good things have happened in my life. I guess you are an angel. Have a gorgeous day.
Nothing can replace your smile, your kindness, and your goodwill. I wish you the best in life.
If it'll make you think of considering my humble request, I don't mind doing your laundry. I really love you and it's like this feeling will last forever.
I wish you laughter. I wish you a million smiles. I wish you the best moments ever, so you can look back and say your birthday was a remarkable day.
I wish that the new year of your life you have stability, happiness, and overflowing blessings.
My thoughts are drawn together today and I can't stop wondering what my life will be like with you and what it will be like without you.
You should be the happiest person in the world right now because it is your birthday and a day closer to our first date.
I want to take you to a beautiful city filled with beautiful lights and whisper to your ears soft words like "I love you." I hope I get the chance.
I don't know about tomorrow but I am taking advantage of now, happy birthday darling I have a crush on you.
My dear, you have been my crush since the first time we held hands. I hope to make this birthday special for you. Have a lovely day.
Shine brighter than the brightest thing, have more fun than all the others at your party, happy birthday my crush, I love you!
May this birthday bring you a lot of joy laughter and cheer my crush, be happy, live long so I get to see that beautiful smile on you.
Have a lovely day my purpose, my life has not had more purpose before I decided to pursue your love. You are an integral part of me.
Even if your birthday party does not show your true worth to the world, I know how much treasure you have inside you my dear crush.
When you figure out how deeply I adore you, maybe you will give me a chance and I will be with you on your next birthday.
Many More Wishes and Messages
I am sure you know how I feel about you, you know you are special loved and blessed, I hope to see you every day crush!
I can never forget days that are special to you because I have a huge crush on you, I hope one day you will feel the same. Have a wonderful day.
You have been my all-time crush and I wish you a jolly birthday and a grand year ahead have fun my future wife!
May this day fill your heart with great love and joy. You are my crush and that smile is the first thing that captured my attention, keep it on always!
You are handsome, you are awesome, you are amazing and you are my crush, Have a great day my darling, live longest!
I do not mind how many of your birthdays I have to wait without you, I know that its one lesser today, so I am happy.
I hope we do not get too old to make love before we date because you are already a year older and beauty fades with time, so why delay.
I knew I will be a 10 times happier because it is your birthday, as my crush, your thought is enough to makes me blush.
Many are the times I wanted to come clean with you, many are the times I wanted to tell you how I feel, so here goes, happy birthday, I have a huge crush on you!
You are the most amazing person I know of and that is why I have a crush on you, have fun on your big day my love!
I have had my eye on you for the longest time, have a great day crush, I am your secret admirer!
May this day never end so I can keep seeing that beautiful smile on your face, have fun my darling, I love you my dear crush!
They said it was a child's thing; I would rather be called a child all my life because I have a crush on you. I will always be yours my love, have a fun day!
May our friendship grow like the feelings I have for you, have a great day my crush, I love you immensely.
I cherish you more than I cherish everyone including I, only the love of God is stronger than my love for you.
Sending you kisses and hugs on your birthday, I hope it is enough to express my deepest love for you as you celebrate.
Before daybreak, I want to be the first person to wish my love a happy birthday; I hope I am the first person to reach out to you.
I am really happy that I get to see you grow older, my heart beats fonder, I hope someday you will notice me, as for now, I am just a face in the crowd.
Have a lovely day my crush, I admire you for a lot of things, I just hope you know you are special to someone, and that someone is me, so have fun my dear.
Another year and you still look as good as ever, have a great birthday my crush, I have always had an eye on you and maybe someday, I will be courageous enough to let you know.
It's a good day to be celebrating my crush, have fun as you turn another age, I will always watch you and admire you. I really really like you.
You make me shy, you make me blush, you make me behave differently, but most of all you make me want to be the one singing you happy birthday today. Have a lovely day crush.
I already kissed you a thousand times in my sleep; today's your birthday, so I expect us to try it out in person after the party.
Today is another opportunity for me to show you how much I love you and I will not let the chance fade before I say. Smile to blow out the candles.
Happy Birthday to my man crush, I look forward to the day when we can finally celebrate together, I am very anxious for that day.
Hey dear, I hope you have a day full of good memories, may you have fun, eat cake and appreciate all those around you.
Have a great birthday dear crush, I hope you accept this message with a curious heart, just know when you're ready, I'll be here waiting. Have fun!
May your birthday be better than last years, may all your wishes come true dear crush and may you finally notice me. Have a blast!
It's your day, have fun, make a wish and see it come true, you deserve the finest things in the world dear crush; I wish I can give them to you.
I guess you can't identify the ones that truly care about you, I've always cared about you like its eternity. I hope you'll look at me one day.
I mistakenly call other girls by your name most times and people make gets of me. Let us disappoint them by having a date on your birthday.
Nothing is more frustration than being among the crowd on your crush's birthday but I will do that a thousand times over just to see your face.
My first crush when I barely know anything. Happy Birthday to you this day. I really wished I was brave then, maybe you'd be mine till now.
What a great person, God bless the day I knew you, I really do hope to see you again soon because you had a great mark on me ever since.
I was preparing you for greatness by ensuring that you understand Some Things. I never knew you'll never get to be mine. Have a beautiful celebration.
It is with the best intentions that I celebrate you today my wonderful friend and long term crush. I wish we could have been together over the past years. But it isn't meant to be.
Enjoy your day with the knowledge of my love for you; no other person makes me feel the way I think towards you. I want a chance to make you happy.
Have the best day ahead; savor all the moments because today is your birthday. Have an awesome day my lovely! Girl crush!
I consider myself lucky to have a fantastic partner like you; you are caring, loyal, and very romantic. You tick all my relationship boxes.
After your birthday end, I will still be by your side to try to make you happy even on your worst days.
I met you on Facebook 10 years ago, and now we're still best of friends. I'm so happy for that day. Happy Birthday to you my Facebook friend turned crush. Enjoy your special day.
I was looking for a truly wonderful friendship all around. I try my best, but no one was coming. I'm glad you came through on Facebook and stayed an integral part of my life.
There's a level of trust allocated to the people we love that makes us to be whenever we're with them, we are in good hands. Thanks my crush for always standing by me.
Is it possible that there's no one that did not fall in love with you except me. And that's because I'm taking it slow. I hope you'll enjoy this day with me.
If I have the opportunity to make a wish right now, my greatest wish will be to have you by my side forever.
As we look up to you dear crush, we hope you don't pass us by as you pass on the birthday cake.
It is good to always make peace with the past, but if I didn't get the opportunity to spend the whole of my life with you, I don't know if I'll recover. Have a good time.
Dear crush, may this day fill your life with new longing memories that you will always treasure, I have a crush on you btw.
To hold your hands forever, I would do anything. To get the chance to stay by your side and talk to you every day, I'll do the unimaginable. Have a wonderful day sweet crush.
The greatest battle of a man is finding a woman that suits his taste; I think that aspect is solved for me. The next challenge is making you my woman. I have a crush on you.
Have a fun time with fun people on this fantastic day, happy birthday my crush, I find no right words to describe you!
I would die or kill to have you, because you are a virtuous woman in every way, and it's difficult to find ladies like you. Enjoy your special day.
You are truly amazing my crush, that is why I get sweaty whenever I see you, have a great birthday, I hope growing older gives you more reasons to smile.
There is nothing about you I hate my crush and that is why I adore you more each day, have a blessed and beautiful day, I hope you enjoy each moment of the day.
It's quite interesting how easily we fall in love with amazing people, I am in love with you my crush have fun on your day.
Words alone aren't enough to describe how amazing I think you are my crush, have a blessed and unforgettable birthday for you deserve each bit of happiness.
It is a beautiful day to celebrate a person as beautiful as you, have fun on your birthday sweetheart. I have a huge crush on you, one that isn't likely to fade anytime soon.
I know you will get the most out of the day dear crush, it is written in the stars and I know you can't deny that. Enjoy your day, enjoy it to the maximum.
It doesn't matter how many more birthdays I have to wait until I achieve my goal. I want to be the person right next to you in happy and sad moments.
Today is your day; your birthday wishes had better be about us, I love you so much and hope we can be a couple in the nearest future.
I wish to play the unique role of a boyfriend on your next birthday, but as of today, I join the bandwagon of Well-wishers and friends.
I offer you a priceless gift on your birthday, well wishes, and my heart; you will get a lot of the former, but I wish you also accepted the later because it is the best I can offer.
I had a dream last night that I was the one that brightened up your birthday as a boyfriend; I hope you will give my dream a chance to fulfillment on this special day.
Dear crush, I hate to celebrate with you from a distance, I want to be that special person to be with you all through the day.
It's your birthday so today I will be your genie. Close your eyes and wish for anything and it will be granted to you.
May you have a wonderful year with me in every bit of it, you cannot be the only one making wishes on your birthday.
Dreamers sometimes achieve their goals therefore, I will hold on to every little hope of us being lovers in the nearest future.
Birthday's attracts a high level of happiness. However, I want you to give me the chance to make every other day of your life better than today.
You are the best part of living and I hope you blow more candles than your grandmother, happy birthday my crush, I love you!
I have seen something in you that most haven't seen. You have a big heart, and that's what makes you my boy crush. I will always admire you.
I have seen so many girls, but there is something spectacular about you that I just can't stop crushing on you. You are one in a million.
I hope you'll look at me and all of my patience over you, you're the one I see in my dream, I will be glad if you become my reality.
---
You May Also Like:
Romantic Birthday Wishes | My Most Precious Feelings
Make Her Feel Loved – Romantic Birthday Wishes for A Girl Crush
Romantic Birthday Wishes for A Boy Crush – Cute Wishes for Him
Happy Birthday Wishes and Messages! | Birthday Greetings for all
---