Being a New Year, valentine's day is just around the corner and everyone would love that special message to that special someone. Valentines is a day of love, not just for lovers so be it your mom, dad or that person who means the world to you, sending them an early valentines message will be received with a happy smile on their face.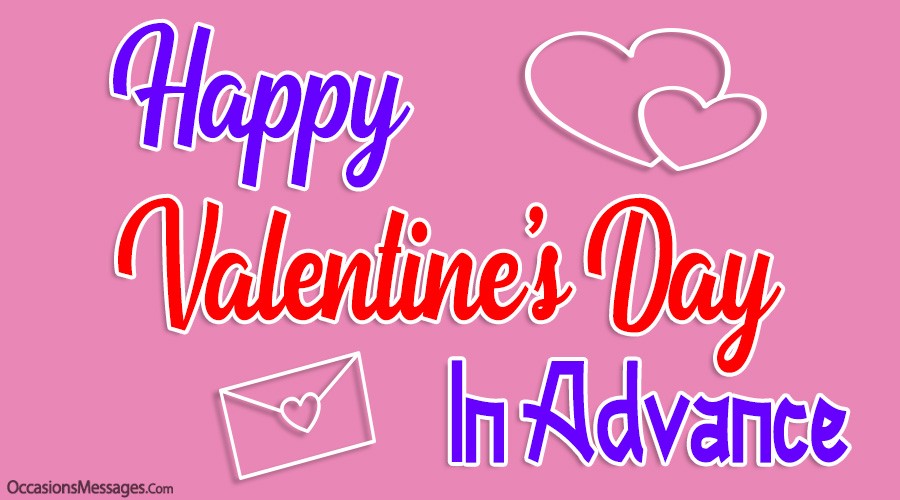 Early valentine's messages to your special person isn't a crime, you can make them get psyched up for the day as it grows nearer. Send one of these beautiful Valentine's Day messages to your special some and let them know they are definitely the one you'll be enjoying valentines with, I am sure I would love an early message for assurance too.
Happy Valentine's Day Messages In Advance
Spending valentines with you would definitely a dream come true, I find you more attractive each day I get to know you. Enjoy your valentines dear.
You are the one I always want to spend valentines with, this year will be no exception, have fun on the day I know I am a bit early.
Valentine's day in few days, I hope to have gifts from a lot of people, but I hope to have someone as gift for that day. And that's you. It'll be beautiful to have you.
Life doesn't come the way we imagine it but love gives us peace in every way, valentine's day will be here in few days, let's be glad and rejoice, it's lover's day.
There is no one that can compare to you, you are the most amazing person I know and that is why I look forward to spending valentines with you. Accept my early valentines wish.
I could show how the world is, buy you each and every diamond and rings, but in return I'd love you to be my valentine, that is why I ask in advance.
Valentine's Day in a week, I really hope to enjoy times that will rejuvenate our love that seem to be in deep sleep for a while now and may we witness many more of it.
Valentine's Day in a bit, come let's fall in love over and over again, the feeling is the best thing in the world. I hope it'll be another great day. Happy Valentine's Day in anticipation.
They say love is bitter sweet; I want to be with you every day of our lives, have the happiest valentine in advance my dearest. You are amazing to me.
If I had a word to describe you, it would be your nickname, I wish you a happy valentines in advance, may you have a Lovely day.
Happy Valentine's Day in advance to you my love and life. I hope you and I will enjoy the beautiful and special day as planned. It's a day full of love. Can't wait for it.
The joy of Valentine's Day is just something unique, a day to renew commitment of love and reignite its burning passion. The day is almost upon us. I hope it'll be the best we've had.
I have never met a person as smart, brave and as amazing as you and that is why I want to be your valentine in advance, have a lovely one, hopefully right by my side.
I will be so humbles, thrilled and hysterical if you made me your valentine this year, I hope my early message shows you how much I am looking forward to it.
I can't wait for this year's Valentine's Day because you've made lots of promises and lots of vows to make it a wonderful one. I hope we'll enjoy moments that last forever.
Feelings can get their words written in paper but it can never be expressed in paper, I hope the coming valentine's day will be the perfect moment to express my perfect love for you.
May each and every day from now till valentine be filled with so much joy you forget all the hurt and pain. I wish you a lovely valentine in advanced.
I may be a cliché to you but you are the only one I do what I do for, I hope you enjoy your valentine in advance with or without me, that's honest.
I will always praise your beauty and how much you make my heart jump, thank you for being my special valentine in advance. I promise I'll make the day special for you.
When Valentine's Day approaches people try to go to gift shop to buy gift for their spouse, but I need no gift to tell you of my love towards you. Happy Valentine's Day.
You've given me nothing but reasons to enjoy your love every day, I've never had the need to complain about anything. I hope the coming valentine's day will be perfect for us both.
Love makes my heart tinkle and when this happens only one picture find its way into my mind, and that's you. I hope the coming Valentine's Day will be a day to love you more.
I love you so much and i will never let you go because I know loving you feels right, enjoy your valentines in advance, it's a bit early but I thought you should know.
I know I am early, but love doesn't have a time, I wish you an amazing and unforgettable valentines my darling. You deserve each piece of chocolate and rose.
I may not be a hero, I have now wings to fly you around but I carry you in my heart and thoughts and that's where you'll always be. Enjoy this upcoming valentine.
There's a gift to cherish which is love. But I have a gift I'll forever cherish more than anything, the gift of your love towards me every day. Enjoy this Valentine's Day my love.
It would not hurt to lose lots of money, establishment, contracts like it would hurt to lose you. You've grown to become the most important thing to my life. Happy Valentine's Day my dear spouse.
Can I ever stop loving this woman who was and is the greatest love of my life; I doubt if anything that can make me love you less exists. Happy Valentine's Day in advance.
I know this valentine will be better than the last one, you'll fall in love 10 folds and you will find everything you've ever hoped for.
I wouldn't try to tell you how you should enjoy your valentine, I can only hope it's with the one you love and hope that person is me. Happy valentine in advance!
I'm so sure that no one can replace all that we've shared. Let's renew our commitment in the coming Valentine's Day. Happy Valentine's Day in advance my love.
As the Valentine's Day draws every night, I hope we'll get to share things beyond flowers and gifts this time around. Things such as valuable time. Happy Valentine's Day in advance my love.
I want to be with you on valentine, and I hope I do get to be with you, if anything is to happen before then, never forget how much I love you, and how much you mean to me.
Love can be quiet, but it can't be silent because it's quietness will bring its word out somehow. I hope we'll enjoy the coming valentine's through the best expression of love.
Doubts can exist in other things and in other walks of life, but never ever doubt the fact that I love you forever darling. And I hope to prove it in the coming Valentine's Day.
Have the most unforgettable valentine in advance; you are the reason behind the smile that fills my face each time. I love you so much and no distance to the moon can compare.
I've seen you smile before, but I hope I'll be able to see that special smile in this coming Valentine's Day, the special smile for that special person. Happy Valentine's Day in advance my love.
The authenticity of my love for you was known when I was writing my examination. I ought to be thinking about the questions but I was thinking about you. Happy Valentine's Day in a bit.
Everyone desires to love that special person, but I'm really a lucky man to have loved someone and be loved back just with equal measure. Happy Valentine's Day in few days.
I couldn't risk sending this message late to you, so I sent it a bit early, have an amazing valentine's day my amazing woman, you make me so happy. I love you!
I love you and appreciate all that you do for me, you are an amazing friend and lover and I hope you can be my valentine. I know it's early.
You set my soul on fire and my spirit at rest each time I get you to be my valentine. I am asking in advance, so I can give you a night you'll forever remember.
I am just a young man with nothing but hope that the beautiful lady I love and cherish will be my valentine. Please accept my proposal in advance, I promise I won't disappoint you dear.
We may be miles away, but you are always on my mind and I hope you'll have an amazing valentine. I know my wishes are early, I just got excited.
I can't stop myself from thinking of you, I miss you and all the amazingly silly things you do. I am asking to spend valentines with you in advance, so I can be happy throughout.
Have an amazing valentine sweetheart, tomorrow is the day you finally see if I got you chocolate and roses, don't worry, I won't spoil the surprise. Missing you and thinking of you a lot honey.
My heart will forever go on and on with you as the engine that runs it. I got a little bit excited and sent my valentine wish to you early, never forget I love you!
You are my always and forever and I hope this valentine will make you see that. I know my message is early, but the words will forever remain the same.
I hope I am among the first set of lovely people to wish you a Happy Valentine's Day ahead of you. Sweet people as you deserve it.
I had to send you this new Valentine's Day Message before the birds sing their beautiful celebration tune. I hope I was not too late.
---
You May Also Like:
Happy Valentines Wishes for Lovers from the Heart
Best Messages to Send Your Crush On Valentine's
---