I am not a morning person, but if a friend texted me in the morning with a message every now and again, maybe my attitude in the morning would light up a little. Good morning messages are rarely sent, I don't send one too, but if more people sent more morning messages to their friends then maybe everyone would look forward to mornings.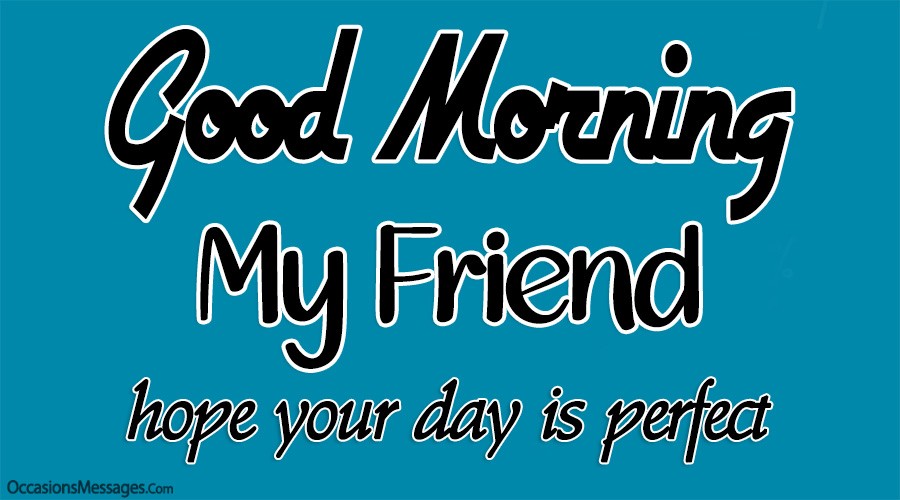 Here are some messages one can send in the morning to show you are glad for the day and that you hope your friend has an amazing day too. Choose one of these messages and share with that friend just to put a smile on their face.
Good Morning Messages for Your Friend
Good morning dear friend, hope you had a wonderful night, can't wait to see what the day has planned for us. Have a blessed day.
I sure am glad that I get to see another beautiful morning, I hope you are too my friend, because I believe the day will be super fantastic.
Get up!! Today I decided to be your annoying alarm; I hope you slept well… Did you dream of me? Have a great day ahead, can't wait to meet up.
I was fascinated when I saw you on the alter boss; I wish you a successful and stress-free married life.
Thank you, boss, for inviting me to one of the most significant events of the day; enjoy every moment of your honeymoon. Congratulations!
May your union be blessed with riches, sound health, overflowing love and a lot of kids to play around. I wish you a successful and lengthy married life.
I cannot guarantee a friend-free day; with an annoying friend like me what else would you expect. Get up lazy bones, it's already morning.
You are so lucky I don't live with you, but so unlucky I leave near you, I am the one knocking at your door, get up!! Let's enjoy this morning.
It's a glorious and exciting day for us all, congratulations on tour wedding boss, may it last century.
Congregations to my boss and his bride, two different people coming together to form an inseparable bond. I am profoundly joyous to grace this celebration of love.
There is nothing I love more than seeing my friend's smile in the morning; I hope you had an awesome night. Good morning!
Another day, another night has passed and you still remain to be my most trusted friend. I appreciate you; I hope you have a bright morning and a memorable day.
As you plant a new seed of marriage today, may your love forever grow and never be cut down. Happy married life.
As you start living the real life, you get to know that there is nothing like perfection in marriage as compared to office work, but I trust you to weather the storm.
It's another day we've been given to sit, relax and enjoy everything it brings; I hope your looking forward to the day as much as I am. Good morning friend!
I know I don't do this a lot, but I decided to wish you a happy morning full of interesting times and unforgettable breakfast moments, good morning my friend.
Good tidings on this memorable journey boss, I wish you both a lifetime of love and togetherness.
He who finds a wife finds a good thing, may you be able to stead your union into greater heights as you have done with official duties.
I felicitate with the best boss I have ever had; strong, matured, wise and extremely competent. I guess we are all honorable to love after Cupid shoots his arrow. Happy Married life.
I looked forward to seeing your face the whole night. Have a great and amazing morning my dear friend, I hope you enjoy each second of the day as it comes.
With friends like you, I have something to look forward to in the morning, wishing you a delightful and fun filled morning my friend, thinking of you.
May joy and bliss be the tidings of this new union, the seed of love planted this day will not die but germinate into a big tree. Congratulations boss.
The journey of marriage is a very delicate one; one wrong turn can lead to the wilderness. Just as you have coordinated us well at the office, we pray you complete this life-long objective.
Today is a new day, and I get to share it with a friend as true as you. I hope this day will be as unforgettable to you as it will be to me. Good and happy morning my friend!
Morning greetings, I hope you were warm enough at night, enjoy the cold shower and the amazing breakfast prepared for you. Hope to see you today.
Finding one whose heart synchronizes with ones is rear, I'm happy because you have not only found the one but also took the bull by the horn by today's commitment.
Life principle entails giving and taking; it's lovely when you find people who are ready to risk everything just to be together. Happy Married life boss.
Today we add another family to the institution of love, heartiest felicitation on your wedding and beyond.
Writing this down has definitely made me miss you more, I hope your morning is as amazing as you dear. Enjoy your day mate.
With friends like you, who needs an enemy? You are my best and my worst friend and I love you to the moon and back. Have a great morning.
Let's celebrate the rave of the moment, you guys look so happy together, and it makes us all envious. Congratulations on achieving this daring feat of marriage.
With undying gratitude, I thank you, boss, for inviting to grace one of the most significant moments of your lifetime, the celebration of your love through marriage.
Congratulations sir, it was an event worth beholding, your subordinates are grateful for the invitation, enjoy your honeymoon and see you at the office later.
May this day bring you special moments with special people like me, enjoy your morning my dear friend. May the chirping birds sing a special song for you.
I bet this morning is better than the last, forget the past and let's move on to amazing and unforgettable times. Enjoy your day my dear friend.
Many people shy away from it bit just like office work you have shown that it's possible to attain success in all endeavours; you make marriage look so easy and tempting.
Here are the latest bride and groom, may your marriage be a bed of roses filled with pleasantries and no sorrow. Happy married life to the best of all bosses.
May you be more blessed this morning dear friend, thank you for being the alarm clock I definitely hate but surely prefer. See you in a bit.
Behind every successful man is an active and supportive wife, and you have found one boss. This marriage marks the inception of fireworks and incredible breakthrough.
An undying love in the order of Romeo and Juliet is what I wish you on your wedding, may tour love grow from within and span through the ages and beyond. Congratulations boss as you commit to love.
---
You May Also Like:
Sweet Good Morning Messages for Girlfriend
Sweet Good Morning Text Messages for Boyfriend
Top 200 Good Morning Messages for Everyone
---