Beyond the need to celebrate with friends and the merriment that comes with it, birthdays are days to reflect on our lives, how good or how not so good it's been, especially in the last one year. We should reflect on how well we've lived it and things that we must do and adopt to adjust or improve on, in other to have a better year ahead. If wishes were horses, beggars will surely ride. We mustn't only accept all the wishes on our birthdays;
we must have a call-to-action urge for a better year. We must take into account that every birthday means old age is approaching; we must never let the chance to reflect on our birthdays pass us by. It's actually the best thing to do on birthdays.
Best Birthday SMS Wishes for Everyone
Is it just me, or do you seem older? Oh, right. You are older. Happy Birthday!
Today is your birthday, but remember to not grow up too fast.
Enjoy every single year. Especially the one you are in right now.
Hey, make today the happiest day in your life! You never know what will happen in the future.
It's your birthday, so rock it! Let loose, and have fun while you can!
Every single day is special. Although, today is more special than all the other days.
I am so glad that I still get to be with you for yet another year. Happy Birthday
Today is a reminder that you are still alive; don't ever take that for granted.
We are all so blessed to know such a wonderful person like you. God bless you on your birthday.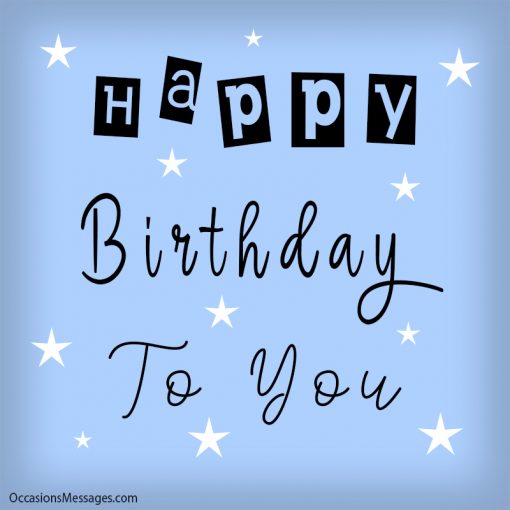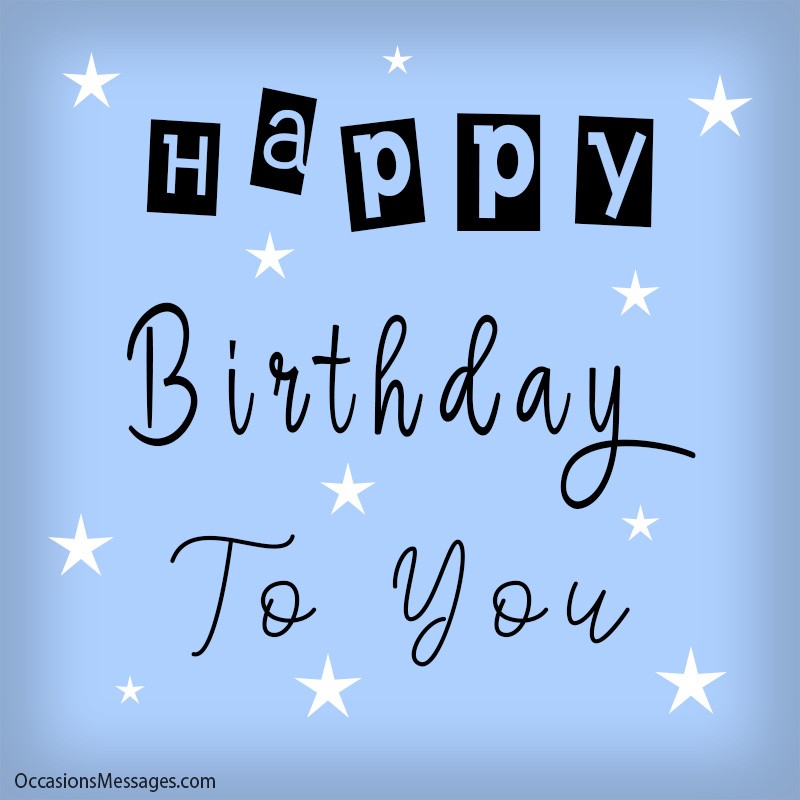 There's no telling when God will call you back to heaven, so enjoy today with all of your heart.
Today is a gift, not just for you, but for all who know you.
You know, birthdays are kind of giving credit to the wrong people. I mean, your mom was the one who did all the work!
Happy Birthday to someone who carried me when I could not walk, and who stood by me when I needed someone to lean on.
I hope you have the happiest birthday on earth!
Hey, you! How does it feel to be another year older?
How old are you? That's weird; I could have sworn you were only about 5 years old based off of your mental age…
Happy Birthday to someone who shines brightly like the sun.
Hey, I heard it's your birthday today! Make sure you make today the best day ever, okay?
Happy Birthday! …. What? Did you expect more?
Psst, I have a secret… It's your birthday today. Oh wait, you knew? Who told you?
Happy Birthday and thank God for your mom because without her you would not be here.
I thank God for your mom and dad who raised you to be such a great person.
This is always my favorite day. I get to wish the best person ever a happy birthday!
Is today important? I think there's something but I can't remember what it is… Calm down I'm kidding!
Every single year you seem to be getting more and more beautiful.
Hey, enjoy all the cake and presents today. But remember that gifts aren't everything.
I know this sounds really cliché, but I am so glad that you are still here and I hope that you really take the time to appreciate today.
Every hour, second, and millisecond should be spent living life to the fullest. Today is no exception.
When you make your birthday wish, make it a really good one, and it will surely come true.
Whatever your birthday wish is, I hope that it comes true someday. It might not happen today, tomorrow, or this year. But it will come true someday.
Is there a better way to show a friend you love them during their birthday? Oh, right… Presents. Don't worry, I got you something special!
Guess what I got you today? … Come over and see!
It's exciting to see all of the gifts that everyone got you. But mine is the best, and I think you'll agree once you see it.
Once upon a time… You were born. Here's to hoping that this year will be another step towards your happy ending!
Life isn't like a video game. You don't get more than one life. So be careful and safe this year, but also have fun.
Now that you're older, you have more responsibilities. But for now, don't worry about that, eat your cake.
Ah, birthdays. The day that you always break your diet. Just kidding! Enjoy your cake while you can!
I feel like cakes are overrated. For your birthday today, I think you should eat pie instead.
Happy Birthday! Maybe later we can eat cake by the ocean…
Who cares about the number of candles on your birthday cake? There should only be one candle to symbolize that there is only one you!
Sometimes you just need a day where you can drop everything and just relax. Take today off and do just that.
Birthdays are, in fact, really great. This fact has evidence too. Data analyzed from, your birthday shows this. But our data also shows that your birthdays get better every year. Let's hope that the trend keeps going even after today!
Not everyone thought that you would make it this far, but you did and I am so proud of you. Keep on going and proving everyone wrong, year by year.
Did you see that? I think a wrinkle was born too!
I love you very much, and I want nothing more than to give you the happiest birthday in the world.
It's like magic the way that you express your talents. I hope that today you will get the appreciation that you deserve so that you can keep showing the world your wonderful skills.
Hey, you need to come over right now. There's something really important that you need to see here that totally does not involve a surprise birthday.
It's quite possible that your birthday is today and tomorrow. After all, the time zones around the world can be as much as a 14 hour difference.
Not to depress you or anything, but you realize that you're going to be weighed down by even more rules right?
Just because you're older now doesn't mean that you can start breaking all the rules. Keep that in mind.
Today might be your birthday, but I hope that the celebration never ends!
Hey guess what? A kid was born today who is pretty great. Perhaps you know that I'm talking about you. Have a great day.
There's one gift that is greater than any other in this room, and that gift is you.
I think birthdays should be made national holidays. That way, we have something to celebrate all the time!
Let's make today even better than Christmas.
When you blow out those candles, blow them out with all of the sighs that you had to hold in last year, and don't forget to make a wish!
You are like a balloon that makes me feel like I can fly. I love you, and I hope this birthday is the best.
You are as colorful and as fun as a bunch of balloons. Have a nice day.
I wanted to send you a text that would express how happy I am that you were born today, but I honestly can't figure out how to word my feelings. Let's get together right now so that I can express my feelings properly, in person.
For your birthday, I want to make all of your dreams and wishes come true. Of course, just because I want to doesn't mean that I can, but I can at least try. So write everything down on a list and let's go make some of them come true!
I remember last year for my birthday how you made it the best birthday ever. So today I want to do the same thing for you.
Hey, get out of bed! Today is too special and precious for you to waste time doing nothing!
Hey, it's your birthday! (For real!) So do what you want while you have the excuse!
Dance around like it's your birthday, because it's true!
What's the most fun thing that you can think of? Now let's go and do it together!
I bet your life has been like a movie sometimes, but your movie is the kind where you never give up. I admire your strength, and even after today I hope that you will keep pushing forward.
The greatest moment is seeing your face light up after opening up presents. I hope your face continues to light up forever.
Who says that you can't just relax and do nothing on your birthday? It's your birthday, so celebrate it your way!
Happy Birthday to my best friend in the whole wide world. There will never be anyone as great as you.
Tell your mom and dad that I said "thank you". I really appreciate that your mom gave birth to you.
You will never stop being my baby no matter how many years pass. I love you.
You are like fine wine that ages well. Take advantage of that.
Today is yet another stepping stone in the great walk of life. After today, you have to move on so that you can reach bigger and better things.
I hope today is an okay day. What? I'm being realistic here.
I can't take you to the moon nor give you the stars in the sky. But I can wish you a Happy Birthday, and give you all of my love.
I hope that all of the rays of day give you warmth and sunshine on your birthday.
Wherever you are, and wherever you go, I hope that you will be happy today.
Don't just be happy that today is your birthday. Be happy that you have a good family; good friend and that you have a good heart.
In the past, people experienced less birthdays and so they were more special. But now it seems that people don't think about birthdays the same way anymore. Remember that every birthday is special, no matter how many you had, and never stop moving forward.
Since today is your birthday, I just want to remind you that although you are an adult, you can still be a kid at heart.
Like a flower sprouting from the ground, may you grow more every single year. I am so happy that I get to see you bloom.
I don't think you realized this, but you always change for the better after every birthday. I know that you will keep changing in good ways in the future.
I know that you can't be my baby forever, but humor me this once and let me spoil you.
1, 2, 3… HAPPY BIRTHDAY! No words can be big enough to show all of the joy I have for you.
Birthdays don't have to be awesome only in movies. Let's throw the biggest party ever!
You don't know how much I regret not being able to celebrate your birthday with you, but I hope that my gift makes it to you safely.
I pray that God will lead you to the places you were meant to be, and that in the future he will continue to work his wonderful works through you. Bless you, and have a good day.
Only God could create someone as amazing as you. I thank Him for bringing you into the world on this day, and I know that you give him joy from all of the light that you spread.
Happy Birthday. You're a good person, so I wish you many happy returns today to meet another year of life.
Nothing can take anything away from you on this glorious day; you're just too much to be taken for granted. May you enjoy longevity of life and undeniable joy. Happy Birthday sweet boy.
Nothing will be good without you, you have a room to yourself in my heart and it's always beautiful to check into that room on a daily basis. Happy Birthday to my special other half.
It's a good and beautiful life that you've lived until now; I hope we can all have the template by which you live your life, so that we can emulate your standard.
Celebrate your day like you're on top of the world, on your birthday the sun is shining at the pick of its beauty and the street is a happy place to be. Happy Birthday dear.
Greatness is what you're meant for, and greatness is what you shall achieve because life with you is really exciting. Happy Birthday to the sweetest person I know.
I will sing for you the birthday song today, hope you'll dance to it, hearty birthday!
Another year another blessing, have the happiest birthday yet.
You are special to me and that is why this does will not pass by without telling you how much you mean to me.
Let's eat cake, blow out the candles and make a wish, have a beautiful birthday sweetheart.
Have a great and memorable day, you are a princess and deserve to be treated as one.
---
You May Also Like:
A Long List of Short Birthday Wishes and Messages
Cute Birthday Messages to Make Their Day Special
---