Everyone loves a great birthday party. The balloons, the music, the laughter, the dancing, the cake, and the people. There are so many reasons as to why you would want to show up. However, sometimes life throws curve balls at us and we have to adapt to them. This may lead to us missing out on the birthdays of some people who are dear to us.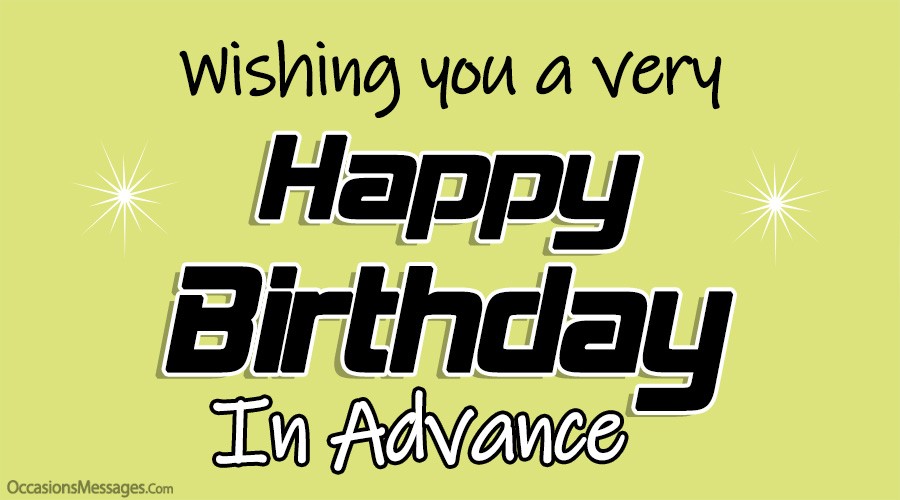 What can you do to make sure you are at least there in spirit? We got you covered with that. No we don't have a magical invention to help you do that. But we do have early birthday wishes that you can use to your heart's delight!
Best Happy Birthday Wishes in Advance
An early birthday wish for someone so cool we don't follow the rules!
Let us have an early celebration to celebrate your future arriving celebration known as your birthday! Hopefully, we don't party too hard.
The best time for me to wish you a happy birthday is now, I'm sure to forget later in the day. May the good Lord bless and enrich you in all your ways. Happy Birthday to you brother.
Year in year out, people keep growing, how I wish to have something to halt your growth now, because you look so cute now. Happy birthday in advance.
Happy birthday! Oh, I am a week early? Well, even better. That means you get two wishes instead of one.
It is of the utmost unfortunate circumstance which has led to me not being able to attend your birthday party. But! It does not mean we cannot celebrate early.
We have to make the best of every moment we get. Happy early birthday! I will be there in spirit!
Let us have a moment of silence, to celebrate your birthday, even though it is a bit early. We love you and we take advantage of the moments we have together.
Because I'm the first man in your life, the first and the last husband you'll have, the ugliest but the finest man to you. Hehehe. Let me be the first to wish you a happy birthday my sweetheart. It'll be a special year.
Happy birthday in advance, you are such a precious pretty young friend. May all your day be full of nothing but extreme gladness. Stay blessed.
Let us have a wild celebration for your birthday today even though your birthday is not until a couple of days. We don't know if tomorrow is guaranteed and there is only one way to enjoy today.
You know that I will always be there for you whenever you need me. I'm sending you some early love because I won't be able to be at your birthday. But, I will be there in spirit!
Hey! Wait, your birthday is not until a couple of days later isn't it? Oh well, let's party!
A few days from now is your birthday, and I am so happy to know that we are still together, despite all the hurdles and challenges. We overcame. Happy birthday in advance my angel.
An early happy birthday wish for someone amazing! I hope your day is a blast and that this is a year where all your dreams and wishes come true.
You would think that employers would give us a day off to celebrate the birthdays of our friends. Alas, that is not the case as I have to work on that day. Happy early birthday buddy!
Because of your amazing loveliness and your adorable personality, I want to wish you a happy birthday in advance. Receive the best gift of life a joyful heart.
We are going to combine today's party, with your birthday party and the after party, into one of the biggest early birthday bashes of all time! Are you ready?
Happy early birthday to you! I won't be able to be there but I still want to send my love and wishes. Leave me cake!
To an incredible friend of mine. I would never forget your birthday, it just so happens that this wish came by early. I asked for expedited shipping!
Tons of happiness, loads of joy, trucks of goodies and lots more have I send to you for your birthday, they are all on their way; you'll have them tomorrow which is your special day.
I have more fun than I could ever imagine than when we get together to celebrate your birthday. It is an intense time and I will be here for you. Happy early birthday!
I don't want to miss out on your awesome day but it us of the most unfortunate news that I am going to miss it. Happy early birthday my friend. I will be there late but this wish comes early!
May this celebration bring you nothing but good time and happy memories as you celebrate your birthday, happy birthday in advance. Enjoy it.
My friend! I know that this wish comes early but you are one of the best I know, so why not!
Early birthday wishes are not corny! Only the coolest of the cool can get away with sending early wishes and I am that person. Happy early birthday!
It is a moment to appreciate God for giving you another wonderful year to enjoy great moments with me. Happy birthday to you in advance.
Did you know that there are many different birthday wishes? There are ones of love, friends, late, early, and so much more. Considering your day is not until next week, you can guess which this one is!
I don't know what I would do without a friend like you who can understand these birthday wishes that came way too early! You are the best. Enjoy your day!
What a great colleague you have been and I want you to know that I cherish every moment with you, that's why I want to be the first to felicitate with you on a day like this.
Your birthday is always a day to look forward to, and now I can't wait because I know that it's a day to merry and feel great like never before. Happy birthday in advance.
You are one of the best friends I have ever known. You understand my little odd tendencies especially one's like early birthday wishes. I just can't help myself. Happy early birthday buddy!
You are never going to know what to do when you get a beautiful wish unexpectedly. Like…. right……….. now! Happy early birthday!
I am a bit sad that I won't be able to celebrate an awesome birthday with you my friend. But I am sending my regards and when everybody is singing for you, know that I was there in spirit too!
I know well that your birthday is still few days away, but you are one of the people that is worth celebrating every day. I celebrate you, keep growing in wisdom.
Because of the place and the space you occupy in my heart, I cannot but wish you as many times as possible. Happy birthday great and wonderful one.
A happy early birthday wish for a great friend of mine! I know that not many people do this but fortunately for you and me, we are not like many people. I hope that you have one of the best of all time.
You know that if were up to me, I would have spent the whole birthday with you. But I don't get to this year. Happy early birthday! I want you to have one of the happiest times of the year.
There are many ways to tell someone happy birthday. My way is going to come a bit early. But it is only going to set you up with success later. Happy early birthday!
Happy early birthday my friend. You are going to have one of the best days of the year coming soon. I know this because thanks to my incredible birthday wish, you will be insanely happy. Trust me; I know what I am talking about.
As you celebrate your day tomorrow, may you keep growing on all sides and May wisdom that never fade away be allotted to you. Happy celebration buddy, remain happy.
May joy that never end, happiness that never grows cold, encouragement that never dies flow into your heart as you celebrate your birthday tomorrow.
Your birthday is once in a year, but a rare gem like you should be celebrated on a daily basis, your kindness is unparalleled so accept my birthday wishes in advance.
Happy early birthday buddy old pal. I know that you are not a big fan of when I do this but it has to be done. I'll miss the festive but I won't miss giving you my love and hopes that you have one of the best years ever! Enjoy!
We've been friends for so long; I have to keep this tradition going. Happy early birthday!
May this birthday give you liberty and long awaited freedom from all your troubles, I won't be around for the bash but I send you all the best of wishes ahead.
Happy early birthday wish to someone that rises early every day. You might wake up even earlier than this wish getting to you. Enjoy your fun day!
I got you covered my friend. No matter when, no matter where. I'm even sending an early birthday wish to get you started on your celebration. Enjoy!
The only thing that has been on my mind for some days now is your coming birthday, what a pity I won't be there. May it bring you the best tidings.
My love for you is divine and it cannot make me wait till your birthday to wish you. I wish you every good thing that life may have to offer. Have a blast!
It is in my making to wish good people way before they celebrate their birthday. And you're not an exemption. Happy birthday in advance. Enjoy every bit of it.
Happy early birthday! Let us get started on the wild times we are going to have on your birthday. I know that you are a fan of waiting and building the anticipation but we got to enjoy the opportunity right now!
Early birthday wishes are reserved for the coolest of friends! Since we are as cold as ice cubes, we get to enjoy making wishes like these. Enjoy your special day!
The countdown has started it's a week to your birthday, I have several packages for you and I will start unravelling them today.
The great and memorable moment we shared during your birthday celebration last year, has always remain with me, now it's almost time for another celebration, can't wait!
Tomorrow is your day naughty good lad hehehe. Fun is going to be unlimited, have a great celebration. I'll be there tomorrow to whoop you!
We get to enjoy many moments of life and we shouldn't stress the moments we miss. I am still sending love and wishes your way even though I can't be there. Enjoy!
You got to enjoy one of the best birthdays of all time. I won't be there but I will send you my love through this early birthday wish which will guarantee you a great time.
You are one of the coolest friends I know. We have known each other for so long. But I always forget birthday dates. So this wish might be coming early but it's the thought that counts!
People will surely remember your birthday, but because of the great influence you have been to me, I remember a week before, happy birthday in advance sir.
Your coming birthday is not an avenue for me to proof to you of my great affection for you. You are such an important person in my life. Happy birthday in advance.
I found purpose under your guidance; you have form an integral part in my destiny and because of that. I want to wish you a wonderful happy birthday in advance.
I want to rain down wishes on you right now; I don't want you to wait for it because I'm sure it's important to you. May this day mark the commencement of a great new beginning in your life.
It's not my fault that I'm quite forgetful these days, there's always more things to think about, especially making money. Heheheh. So let me wish you a happy birthday now. Enjoy it so much.
It is never too early to celebrate a beautiful soul such as yours wishing you a birthday full of excitement and love dear. Have a happy coming birthday dearest soul.
Life without you would be boring and that is why I celebrate you for your upcoming birthday. Love you to bits, have the most fun on that day my dear.
I'd rather be early than late, you mean the world to me and that is why I will celebrate you now and on your birthday. Have a happy upcoming birthday sweetie.
---
You May Also Like:
Stepfather Birthday Messages, Wishes and Special Cards
Amazing List of Happy Birthday Wishes for Teacher
---