Birthday Wishes for Father-in-Law: Father-in-law may not put much consideration into birthday wishes but it may be a good opportunity for one to show how much you love and appreciate him. It can also be a chance to grow and improve your relationship with your dad-in-law. It may also be a good way to show one's spouse that you care about their fathers. Here are some sweet ways to wish your father-in-law a very happy birthday.
Birthday Wishes for Father-in-Law
Happy Birthday father-in-law. Thank you for raising such a wonderful person.
Happy Birthday Father-In-Law. I know that you were very hesitant to let your daughter marry me but you raised a wonderful woman. I'll do my best to make her happy.
To the coolest father-in-law, I'd like to wish you a Happy Birthday full of love and joy.
With you, I have never felt less of a fatherly love. Thanks for being the man in my life. Happy birthday to you dad.
Happy Birthday Father-In-Law. Save us some cake will you? Your grandkids would appreciate it.
It's an honor and prestigious for us to celebrate the birthday party of our beloved father-in-law.
Happy Birthday father-in-law, I am happy to share this day with you and I hope my presence will be a blessing to you.
You have a stunning lifestyle; no one can say you've crossed your platinum jubilee. Happy Birthday dear Father-In-Law.
I can never really explain how in the world I deserved a father-in-law like you. You are heaven sent and to me you'll always be the father I never had. Happy Birthday.
You do everything to save the family from any harm, physically, emotionally and spiritually. Happy Birthday.
Not many fathers-in-law are like you. Hope this wish lets you know that you are special to me and you will forever cherish. I wish you have a happy birthday and a long life.
Happy Birthday father-in-law! You are a passionate man who wants the best for everyone. Thank you for having the heart of a lion.
No one is more trustworthy than you. Happy Birthday my graceful Father-in-law.
Always thought all fathers-in-law were cruel and hard to reach till I met you. Thanks for the gift, promise to love, treasure and cherish her.
You are an ocean of enlightenment, a foundation of experience and a pool of guidance. We all love you. Happy Birthday.
One wish is all it takes for someone to have an incredible year. Happy Birthday Father-in-law. I hope you have one of the best years ever. Enjoy.
Thank you for letting me be a part of your family and being with us every step of the way. There is no other person I'd rather have for a father-in-law.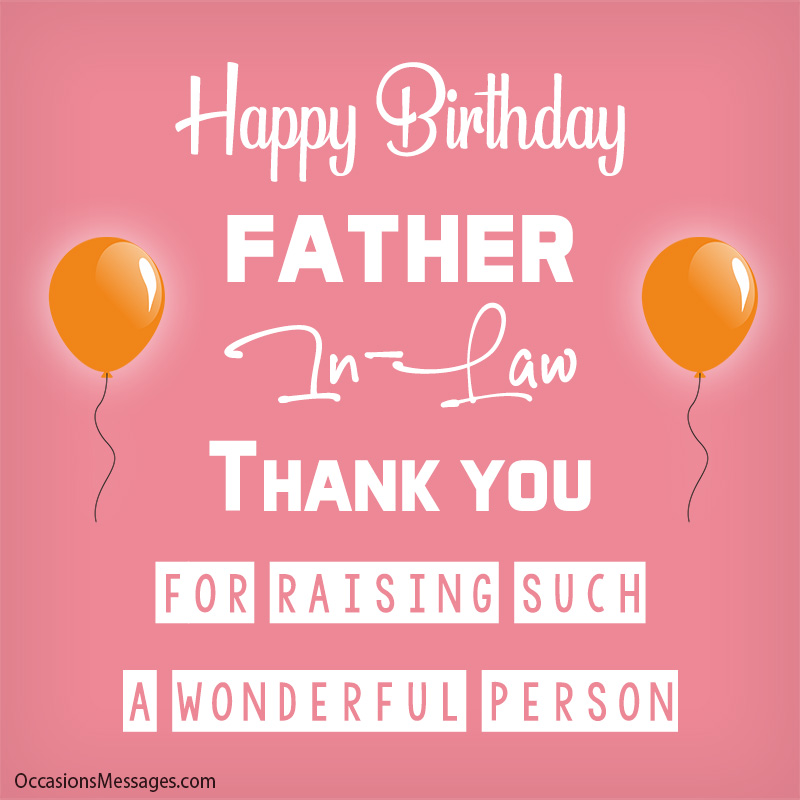 Happy Birthday. Not everyone has a great relationship with their Father-In-Law but me and you are blessed.
If love is the name of spirituality and kindness then yes you are the Xerox of love. Happy Birthday my greatest father-in-law.
Happy Birthday to the man of his word. May you have a long happy life.
You are nothing but a true clone of kindness, compassion and rationalism. Happy birthday for the most prestigious man.
I can only imagine how different life would have been without you. Thanks for being a loving and caring father-in-law. Happy Birthday.
Happy birthday father-in-law. I have to thank you for blessing me with such a wonderful person that I love.
All my life, I never thought a father-in-law would be as amazing as you are. Thanks for letting me know that you really care about me.
You never come across as a father-in-law. Always been like a father to me. Thanks for the love. Happy Birthday.
Happy Birthday, father-in-law .You have an extensive sense of rationality; I never make any decision without your consultation.
You are incredible father-in-law. You have done so much without even asking for anything in return. Happy Birthday! You will have the best birthday of all time.
I know that you are getting older father-in-law, but it shouldn't change how you do things. In fact, it only makes you stronger as the days go by. Happy Birthday.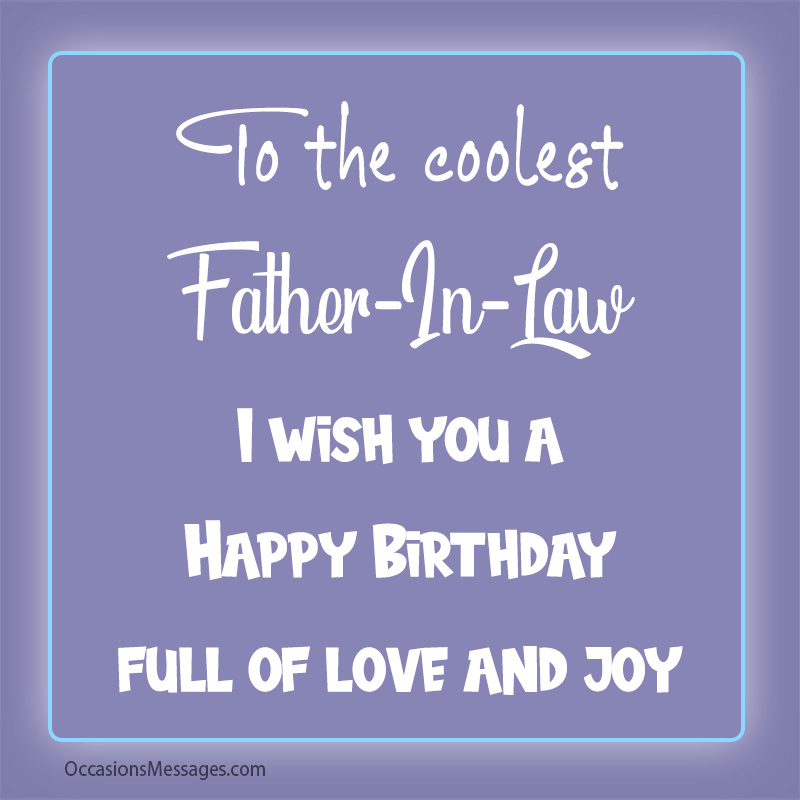 You always taught us, life is not a bed of roses, always ready for facing the worst. Happy Birthday dear father-in-law.
This being your first birthday as my father-in-law, I'd like to say that it's been a pleasure to have you as a father figure and hope we can have more great times together.
You are a big supporter and a great mentor to me, among all in-laws. Happy Birthday to the world's sweet father-in-law.
Vivaciousness doesn't follow the age factor and you are as cheerful as the lark and as fresh as flowers.
Memories are made of people like you. Your love and care means the world to me. Have a happy day dad.
Your goodness, moral character, and actions create uniqueness in your personality. Happy Birthday sweet father-in-law.
Have a great birthday father-in-law, you are an old wise man and I am glad to get to see you grow older, wiser and heartier.
Happy Birthday father-in-law. May this day be filled with cheer and good times, ones that will make you nostalgic over some time.
You are a great father and an even better father-in-law to me, I hope you live longer than all of us so you can spread your wisdom and love throughout.
I cherish you father-in-law and I hope you forever remain as strong, intelligent, humble and as wise as you are. Have a splendid birthday.
May everything go right with you as you celebrate another year of life, you are truly an important and we wouldn't be here if it weren't for you father-in-law. Enjoy!
Related Content: Best Birthday Wishes for Mother-in-Law
SHARE ON