Weddings are emotional events where a bride and the love of her life tie the knot in holy matrimony. Wedding wishes and messages always means you are thinking of the person and you wish them the best in the next chapter of life. Wedding wishes should be heartfelt and sweet so that the person getting married to their love feels happy to be doing what they are doing.
There are a lot of things you could say but for the day wish them the best and show your love and support. Choose one of these messages; they might help get your message along.
What to Write in a Wedding Card
I'm very happy for this special day of your beautiful and amazing wedding. I feel so proud to have a son like you. May God bless and unite your hearts together to the end.
Two beautiful lives joint together where their beautiful heart will beat as one. Their families will be as one. What a wonderful moment. May happiness, love, prosperity and good health be yours. Happy married life.
Congratulations! May your married life begin with unconditional love and ends with forever love. I am very happy to be part of this celebration. I wish you all the best and enjoy your new home.
Best wishes for the most amazing and the sweetest bride alive. Your class of inner beauty, wealth more than any mineral on earth. May you enjoy the fruitfulness of life and endless love.
My warmest love and gratitude go to your family, for raising a wonderful person like you for my only daughter. I give you all my blessings. May goodness and mercy follow you both. Enjoy your marriage.
May God bless your marriage with boundless joy, fruitfulness, and favor. May your new life find favor in the sight of our God and may you enjoy the peace and endless love He shares.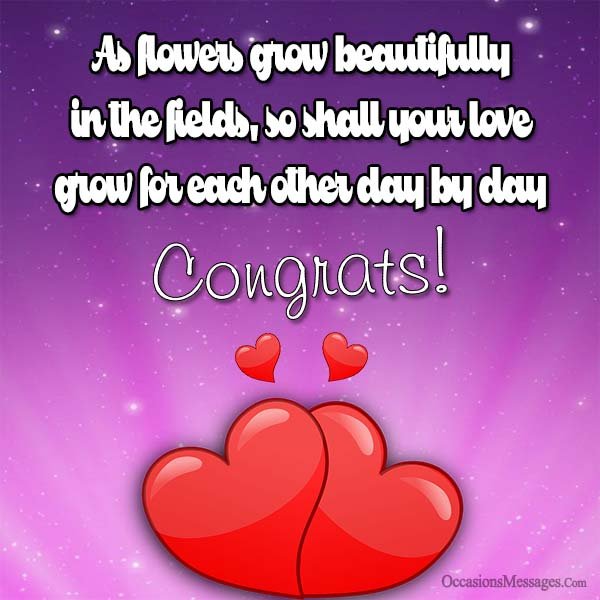 As today is the beginning of your new lives as new couples, May love and happiness shine in all your darkest hours. May you enjoy all the blessing from God. Happy Married life.
My love, I thank you for giving me this special honor to be your wife. I promise to stand by you no matter what storms we have ahead. I love you so much. Happy marriage.
May all of our days together be as beautiful, amazing, and full of cherished memories. To our future together as husband and wife, I ask for the blessing of God to fill our lives forever.
May you enjoy happiness love and endless life of beautiful memories. May your home be filled with total blessings of children's cry. And May you be the best mother. Congrats! Enjoy your marriage.
As flowers grow beautifully in the fields, so shall your love grow for each other day by day. May you enjoy total happiness and good health. May you have a Happy Marriage life.
My heartfelt congratulations to you my daughter, you have really made us proud. Love your husband and give him a happy home. Enjoy this world with much happiness. Happy married life. My princess.
May all of your memories be as sweet as honey. May your home never see bitterness. May God guide and bless your home with all the best things of marriage. Enjoy your moment.
Wishing you both a happy wedding. May all your days be filled with the abundance of love and wonderful memories. May you have a peaceful home and may God true love be with you.
Finally, you have found your true soul mate. In whom you entrust your heart forever. I wish you the very best for your future. May you enjoy this special moment to the fullest.
My special friend, words can't express my deepest joy of witnessing you tie a knot with your beautiful wife. I ask for blessings and a good life for you both. May you enjoy your marriage life.
You truly deserve a wonderful wife. You have been a very good role model to us. With your big heart filled with love, may you enjoy love to the end of the world. Congratulations!
I am very thankful to God for making this day special for you both. Marriage is a long-term bond. Wishing you all the best for your future. May God bless you. I love you son.
The moment I met you both, I realized your hearts was with each other. Now the day has come to formalize a bond of eternity. Congratulations on your wedding my humble son.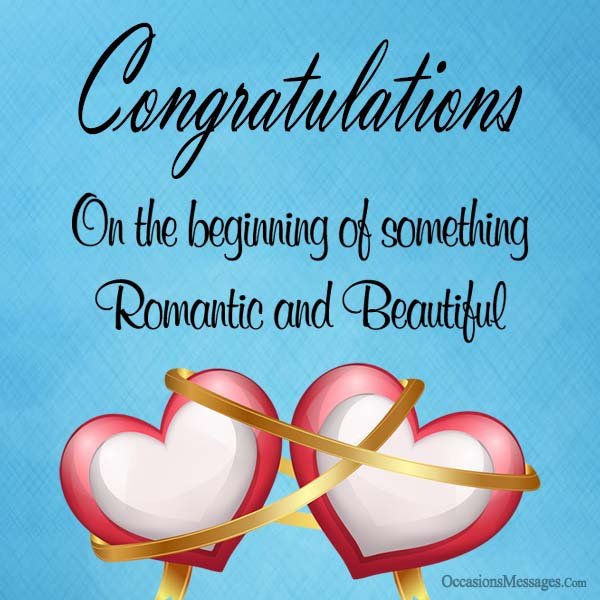 May your dreams and amazing desires in your hearts come true, on your beautiful wedding; I hope you find divine love and togetherness in each other. Have a happy life together, my sweet bride.
True love makes you restless, a feeling that has no definition but makes you feel beautiful. It's time to wear the crown of pride on your head, enjoy it, and have a fantastic married life.
Love has no limitations! On this special day as you publicly declare your love and commitment. Stay true to each other and never stop holding hands. We love you both. Congratulations!
May your bond give you every reason to smile and to fill the happiness of many years together. May you swim in total love and tenderness. Have a fabulous journey of life, Son.
You being the most beautiful and attractive bride and him, the most handsome groom makes you the best couples alive. Always keep up with your vows. Best wishes as you enter the new life.
Congratulations! My warmest wishes for both of you is that may the love found with each other, keep burning. I'm glad you guys just took a huge step in life. God bless.
Never forget to be beautiful inside and out. Happy married life. Enjoy your new home with all the best of things, dreams, and desires. May your bond find favor in the eye of the Lord.
My Daughter, Our thoughts are forever with you and your husband. On your honeymoon, let him know you are the best he can ever have and make unforgettable memories in your hearts. Congratulations.
Finally, on this wonderful day, your heart and dream have been crowned. You have been presented to the world as the most beautiful bride. Be always happy and enjoy your marriage, my daughter.
My friend, may the happiness of today follow you always on your journey. The road is not always smooth but with total patience, you will get to the destination. Congratulations on the wedding!
Like the story of Romeo and Juliet and titanic, are true stories of endless love. So keep the love burning and History will be yours. Enjoy your marriage.
I'm so happy for you guys, may your marriage flourish and may you always have each other for all eternity. May your marriage lead to greater achievements in life together. God bless your home.
I will be here as a true friend always, what else can I say? You both look so perfect for each other. As you take this step always look forward to a wonderful future. Congratulations!
Eventually, I can see smiles on your face. May this bold step bring you all happiness of life and you both get all the satisfaction throughout your life. Have a happy married life together!
There is no perfect man and there is no perfect woman. Once you have accepted each other on this wonderful day. Remember to learn from each other, that way you can be perfect couples. Congratulations!
 A beautiful home is always created, how you make it be. May you be the best father to your kids and the best husband to your wife. May your home be blessed. Congratulations!
I hope someday I'll find what you guys have; I hope to groom it, nurture it and watch it grow into old age as you will. Have a beautiful married life my dears.
It is not the start, but the continuation of something sweet, and unforgettable, you will appreciate this side of life more. Congrats on your wedding dear ones, welcome to this side of life!
May today's "I do" mean more to you than any other words said, I hope you have a happy and fruitful marriage my dears; you are a blessing to me and all those here!
Happy marriage, happy home and happy ever after, may today be the best day of your lives, may you find more than one reason to enjoy and make merry.
Congratulations! May your love continue to shine as you journey through life together with your husband, May smiles always be upon your face. Best wishes to you beautiful bride. Enjoy your great home.
Wishing a very happy married life with lots of joy, pleasure and good memories. Always let respect and love be the answer. Stay strong for each other no matter what life proposes at you.
I cannot begin to describe how honored I feel to be part of this day, I always said you'd end up together, happy to see my prediction come to life. Congrats!
May you get the best out of life as you tie the knot with the man of your dreams; he is yours forever and always, be proud of him. Congrats on your beast beauty.
And just like a fairy tale, the beauty fell in love with the beast and they lived happily ever after, congrats dearest, you've tamed the beast. May your marriage flourish!
She must know how catchy you are for she stuck to the end, congrats my dear, I am happy you finally found the woman of your dreams.
May all the stars shine bright for you, may everything you've ever hoped for be found in today's union and may you always be in love with each other. Happy marriage!
Have a beautiful happily ever after, you two were always meant to be, I hope you have a blessed ceremony and may all your wishes come true. Congrats!
I am the luckiest person here because I witness the birth and now a future for your story, may death from old age be the only thing that separates you. Congrats dearies!
Since the first time you announced you were a couple, I could tell there was a strong connection between you two, I hope you enjoy each and every day of being together!
Life is full of sweet memories and forever moments, this is definitely one of them, may you always remember the reason you said I do today. Have a happy marriage dear!
Hope you find peace, love, and fulfillment in each other and to enjoy your lives together like never before. May your wedding bring you all blessing in life and may you be blessed with kids.
May your love never fade, May the days always be bounty and may you always be the reason why the other smiles and is thankful. Have a blessed marriage my friends.
Always thank God you found each other, for that is the true reason why falling in love becomes the best feeling ever. Enjoy each other!
I wish you a prosperous and a cheerful marriage. I pray that God will richly bless your marriage and all your lives ahead. May children surround you with happiness. Enjoy your marriage. Congratulations!
May God help you both through all challenges that may arise. Always may your hearts be filled with love and beautiful memories. May your home be blessed. Happy married life to you son.
It is a beautiful day to be celebrating the most beautiful couple I know of. Have a blessed and aazing wedding, may each day be better than the last. Congrats my dears!
It's your wedding day, the day you have been planning for since you were a little pup. I hope everything works out as planned.
He seems like the one you have been searching for all your life, my wishes are good and rich during your wedding day my love. Enjoy!
You mean so much to me and all I want to do is see you happy, enjoy your wedding day my dear, hope to always see you smile in each other's arms.
It's a beautiful day to join two beautiful people in holy matrimony. May forever and always be the aim of your marriage. Enjoy your wedding dear.
Couples should learn from the simplicity and traditional show of love during your wedding. It's commendable that you chose the way of your father's over new methods.
Understanding is key to every successful relationship; morals implore you and your spouse to sette all disputes before going to bed. Happy Married Life.
---
You May Also Like:
Advance Marriage Wishes and Messages
Words of Congratulations for a Wedding
Wedding Wishes and Messages for Aunt
---