Finding "the one" is not an easy feat, and many people have to search long and hard for their soul mate. So celebrating the weddings of your friends and family members is something that should be important and cherished in your memories. Marriage is obviously a great day for the groom and bride as well, and so you want to give them your sincere congratulations for finding "the one". Well, with these messages, you can express how happy you are for the lucky couple, and you can give them encouragement to look towards their new futures.
When it comes to giving these messages to the bride and groom, it is better to prepare a card with a handwritten message on it to show your utmost sincerity. But you can also post these messages with a picture of them on Facebook or Instagram with your own unique tag, to spread the good news to the world.
What to Write in a Wedding Card
Like finding a needle in a haystack, it's not easy to find your soul mate. But you did! I am so happy for you, and I know that you two will have great lives together.
This is the start of a new beginning. A new journey. But now, you aren't making the journey on your own. I wish you two luck, and remember that you are walking this path of life together.
The past is the past, and now you two have crafted the bridge to your own future. I hope that your future together will include prosperity, joy, and most of all, a love that never burns out.
This day is a momentous occasion. One that you will probably remember for the rest of your life. But there will be many more occasions after today that will be even more life-changing, and I know that there will be good things in store for you.
You came a long way, and I never expected to be here today, watching you marry the one who you knew was right. I support you all the way, and I know that you made the right decision.
Not many people find the one they are supposed to be with so soon, but you made sure not to let your soul mate get away. I applaud you for that, and I know that unlike others, you won't have to live with regrets.
It is with great congratulations that I tell you this: I can already see that you two have a bright future together, and you are going to light up this world. Go out and show them what love really looks like!
If I had a dollar for every good and loving thing that you do for your new spouse, I would be rich. Remember to never forget what love feels like, and prove that love still burns like a fire even after years of marriage.
I am so happy for you two. But just some advice: never give up on romance. No matter how much time passes, I hope that you two will still find joy in each other and that your love will never grow stale.
I thank God that you have found the one that specially created just for you to love, and I know that he will guide your marriage with His good hand. Never stray off of the path that he set for you, and also never forget to honor your spouse just as it says in the Word.
Through marriage, you two have already begun to grow and take root as a tree that will only grow larger from here. I hope that together you two will be strong like the trunk of an oak tree, and that your arms will be supportive to your children like branches. I hope that no matter how strongly the wind blows, or how harshly it rains, that you will stand strong through it all and that your love will be like leaves that will be like a shield.
I wish you luck in your future endeavors, but remember, you're not alone now. Remember to encourage and support each other in everything that you both do, and don't expect everything to be perfect.
You both vowed today that till the day you die, you will love each other and protect each other. All I ask is that you two keep your promise to each other.
Congratulations! I have watched your relationship sprout in its early stages, and now it has gone into full bloom. There were ups and downs, and there will be more ups and downs in the future. But I have confidence that you two will be able to withstand it. I look forward to seeing where you two will go from here!
Love and marriage are not things to take lightly. Today you said your vows, and you danced your dances and ate your cakes. But don't forget about what's truly important: your love and your marriage.
You finally sealed the deal today. But remember that marriage may look good on papers, but your love is what is truly important. In an age where divorce is common, love is the only thing that can keep two people together.
I thank God that you were able to find happiness and love. I pray that you will be a faithful spouse and a wise parent when the day comes.
You have married for the first time. Let's also make it the last time.
People say it's not possible to have a fairy-tale romance with anyone. But now you two can prove them all wrong. I wish you the best "happy ever after!"
We all never know when our hearts will stop beating. But at least no matter what day it is, you'll know that you will have told the one that you love the most that you love them.
I am extremely glad that you two married, and I hope that you two will chase after your happiness together without looking back. Don't listen to the negative voices that tell you two to give up, and live life together boldly.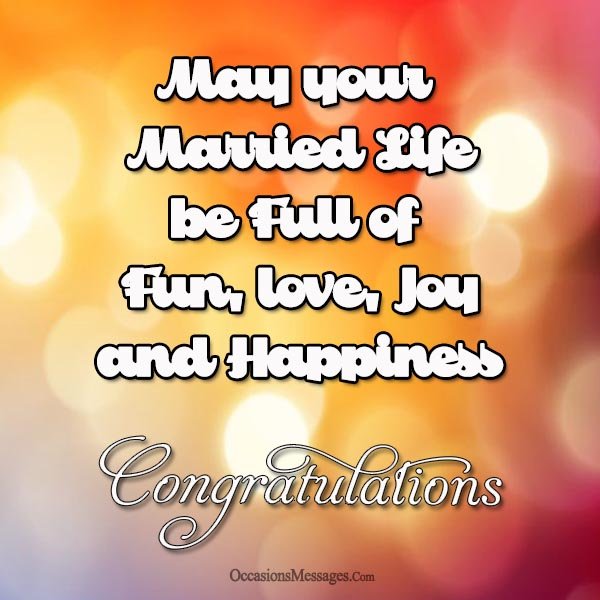 You have just taken the next step of your life, but now when you look behind you, you will see two sets of footprints instead of just one. Congratulations.
I will approve of this marriage on one condition: love each other genuinely and with a love that will be as strong and constant as the sun's rays. I expect you two to be together for many years to come, and if your love is true, I should see your love grow and not wither. I approve of this marriage… If you follow this condition.
Congratulations on getting hitched! Now you have someone else to look out for, and to grow old with. I have no doubt that you'll be happy together. Cheers!
True love is like a fine wine that gets better as the years go on, and I bet that for many years to come, you two will still be drunk with love and happiness.
I wish you both the best of luck in everything that you will do from now on. Don't feel like you're "chained down" now that you're married. Whenever you start to feel like you miss the days before your marriage, just remember that now you won't die alone and your spouse is doing their best to love you all the time, every single day.
Cherish every moment today, cherish every moment tomorrow, and cherish every moment from now on. You both still have a lot of life to live. Enjoy the ride. Together.
By marrying each other, you both have vowed in front of not just your family and friends, but in front of the world that you will love each other till the day you die and that you will stay in holy matrimony. Don't let the words you said today be meaningless.
Congratulations on getting married. You're now going to spend the rest of life every single day, every hour, every minute, with your spouse… If that doesn't make you rejoice, then I'm starting to think your love isn't real…
Hey don't forget that the best things in life are often things you can't touch or see. But make sure that you give them to your spouse. They are: love, joy, patience, forgiveness, compassion, and many other things.
Living with each other is going to bring up little annoying things that you never noticed before about your spouse… But if you really love them, you'll love every annoying little thing about them as well. Welcome to the life of the married!
I pray that your relationship with each other will stay stronger than steel, and that when the time comes, you will be good parents to your children.
Now that you're married, it is true that you will now support each other and lean on each other. But don't forget that you can reach out to your friends and family when in need too. You're lucky, you know? Not only do you have each other, but you have everyone around you to support you. Don't forget that.
Today is probably the happiest day of your life – but there will be days that are even better than today. You have a lot to look forward to, and remember to be a good spouse.
Congratulations! You're now married, and you have united together with your soul mate. But keep in mind that by marrying each other, you united something else. Your families. Don't visit one family more than the other, but instead have everyone work together as one, new, big family. That way not only will your relationship be strong, but your new family will be strong as well.
It's amazing how some people go through life having to take multiple tries to find the right person, but it only took you one try. I'm proud of you, and don't squander any opportunity that you can use to make your spouse happy!
You deserve every bit of joy you are feeling right now. Wishing you a very happy married life my friend and May your life's dreams and hopes come true. Happy married life! Brother.
Today, two amazing people have come together to form a bond tighter than any knot. I know that no matter what obstacles you encounter, no one will be able to untie or unravel the love that you have for each other. So enjoy today. Enjoy each other's presence. And when you two wake up tomorrow, keep on enjoying each other's presence.
I am so glad that you found the one that will always remain beautiful to you even after they lose hair and get wrinkles. You are so lucky that you found someone who you can hold hands with forever, and remember to never let go.
Now that you're married, I congratulate you, and I will also say this. Don't just say you will. Do it. The main difference between marriage and dating is that you won't just spend a day with your spouse. You're spending every single day for the rest of your life with them. Sayingyou love them is important, but showing you love them through small things every day is way more important.
May God bless and uphold your home, and may your marriage bring about a transformation. Long life and good health to enjoy everything you need in life. Wishing you a lifetime of love and commitment.
May this day be the beginning of the rest of your lives, may you both stay faithful to each other and may you always see in each other what you see now. I love you sis, Congrats!
I will forever celebrate your union for it is pure, great and admirable, may you grow as a team and may favor and fortune follow you. Congrats sis!
Beautiful ceremonies are made of beautiful people, thank you for inviting me to your wedding; it was simply breath-taking. Congratulations!
I believe congratulations are in order, I am happy to see you two finally making it official. I wish you years of happiness and unforgettable fun. Be blessed.
Congrats on your wedding, you brought us all joy with the beautiful words you exchange, I wish you a happily ever after.
I hope your happily ever after begins immediately you walk into your honeymoon. Congrats on your wedding beauties.
Congratulations to both the bride and groom. I pray for a long lasting relationship that will fulfill all your marital goals and increase your progression in life.
Today reflects how a marriage should be; I envied you and your spouse walking on the aisle. You were just too adorable to resist.
Today you tied the knot with your other half, and I know that this decision wasn't impulsive. It took a lot of time to think about, but you figured out that marrying them would be right. I trust your decision, and I truly congratulate you.
---
You May Also Like:
Best Wedding Wishes and Messages for Everyone
Romantic Wedding Wishes for Newly Married couple
---