Anyone who has ever dated can account to having an ex somewhere, some of them can describe their exes as devils, others as people who weren't meant to be but one thing they can all agree on is that was the past and they have found or are looking for someone better.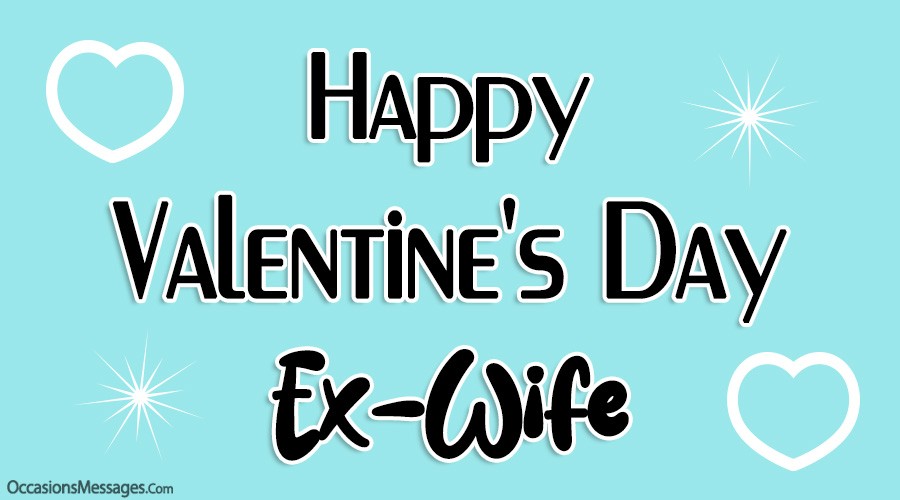 Having an ex-wife however is different from having your regular ex, an ex-wife is someone you once married and promised you'd grow old with, no matter the terms you left your marriage at, they will forever be a part of you for those are the memories hardest to erase. Send them a valentine's message whenever you get a chance to, it might help ease your pain or at least get on terms that are bearable with them. Here are some messages you can send to your ex-wife.
Happy Valentine's Day for Ex-Wife
This is all still all new to me, a while ago I was still calling you my wife, but now you are my ex-wife, I just hope you find peace, and that you may enjoy your valentine.
Our forever was short lived but you still remain to be a big part of my life, I hope you enjoy your valentine and all the good it will bring ex-wife.
I feel very empty, because I am not used to being alone on such a special day like this. Never forget how sweet and adorable you are. Warm wishes on this Valentine's Day to you.
I'm reminded of all the beautiful memories we created together on special occasions like this. Wishing you all the happiness and love you deserve today. Happy Valentine's Day Ex-wife. Stay cute with smiles.
I am glad we could remain friends after the divorce ex-wife; I see you've already moved on and I wish you nothing but the best with your new love this valentine.
We may be miles apart but I still think of you and all the times we had, wishing you a blessed and happy valentine ex-wife, I hope the day will make a difference.
Wishing you all the happiness and smiles today and forever. Today should have been about you and I but all the same I wish you well with your new-found love. Happy Valentine's Day.
You have been so supportive in good and bad times. My wish for you is to have the greatest happiness with him. Make good memories and stay in love forever. Happy Valentine's Day sweet ex.
You will always be the woman who gave me the best gift in this world, I hope you found love my ex-wife; the kids send their love and wish you the best during this special time.
Each day I got to spend with you is a day I'll never take back, I am glad we had the best and the worst times together. Have a lovely valentine ex-wife.
The best thing I ever did with you was have the most amazing children the world's gifted us with. I appreciate you for being the mother of my kids; I hope you enjoy your valentine ex-wife.
It's a beautiful day of love regardless the situation. You are always in my heart and I take this moment to say a Happy Valentine's Day to you, ex-lover. Enjoy it to the fullest.
No one can feel the emptiness you left behind in my heart. Everything disappeared in a blink of an eye. Your love still remains intact. Just want to wish you a Happy Valentine's Day ex-wife.
Valentine used to be the hardest time for me ex-wife, I may have wasted a lot of time looking for perfect, but now I know perfect is wishing special moments to people like you.
I am not asking you to come back, I am asking you to move on, have fun and enjoy valentine with the one you'd like to. Have a blessed valentine ex-wife.
We may be fresh on my mind, I may miss you at times, but the divorce was definitely the best part of us. Have a blessed valentine ex-wife.
I love you from the very first time I set my eyes on you. That love will always remain unchanged, Woke up this special morning with your thoughts. Wishing you a beautiful Valentine's Day.
You are my heart and I would have been so happy if we were still together. Since that can't happen, I dedicate this lovely day of love to you and your lover. Happy Valentine's Day.
I hope your valentine won't be dull ex-wife, I will still send out the roses and chocolate. Enjoy your special day with those who mean the world to you. Wishing you the best!
We were to grow old and gray together, now we are growing old, apart and bitter at each other, I hope this valentine will be the beginning of something new ex-wife, enjoy.
How can I forget your kindness towards me. With your strong Character you stood boldly by me when no one else did. I true appreciate your efforts. Have a Happy Valentine's Day.
Happy Valentine's Day Ex-wife! Thanks so much for your time with the kids. It means much to me and them. They know they have a good and a loving mom in you. Have a beautiful day.
I smile at the memories of us (you know why) I hope St. Valentine has a special arrow for you, you need some love pumped into you, have a lovely valentine day.
I am glad we are far from each other, I miss the house but mostly I miss the kids and all the fun they would bring each valentine. Just tell them I miss them, please.
I can still feel the pain like it was just yesterday. But I hold no grudges against you. Your happiness means much to me. I wish you a lovely Valentine's Day my sweet ex-wife.
Our marriage meant a lot in my life and never thought things will go wrong. So bad we can't make any more memories. So, I wish you a Happy Valentine's Day ex-wife. Enjoy your love.
Thank you for sharing a part of you with me, I promise to always keep it safe even as we grow more apart. Have a cheerful valentine ex-wife.
With each step you make, you carry a piece of me with you; I hope you keep that piece safe for me this valentine ex-wife, wishing you a splendid day.
Things between us were rocky, but I am glad we finally moved on from each other, wherever you are ex-wife, I wish you the best valentine's you'll ever have dear.
My world seems to be so empty. I have been strong to move on. I do still have a true friend in you that I will keep forever. May you enjoy your Valentine's Day?
Today I cherish all the Valentine's Day memories we shared together. I truly missed how we used to play and buy each other gifts. Wonderful and lovely wishes to you. Happy Valentine's Day Ex-Wife.
My heartfelt affection to you my ex-wife on this special day. May you enjoy and receive true love with happiness on this season of love. Happy Valentine's Day my sweet pie.
Loving you was easy, keeping you was hard, I wonder how far we'd be if you never had to leave… wishing you a fun filled valentine ex-wife.
I loved being your husband, I loved being able to kiss you and bring you chocolates and roses each valentine, I know we may be apart, but I miss you!
Each moment I spend away from you, I find more reasons to loath you, I will get over it soon ex-love, enjoy your valentine ex-wife, thinking of you.
You are the one I wanted forever with and for, I guess St. Valentine has a little more work to do today, enjoy your valentine ex-wife.
Sending you my warm wishes on this Valentine's Day my beautiful ex-wife. It's so hard to not have you around but I wish you have a peaceful life and relationship. Enjoy your sweet moment.
On this special day I can only cherish the old times of wonderful memories together. I miss you with all that I am. I wish you the very best of wishes today. Happy Valentine's Day.
Happy Valentine's Day to the most beautiful ex-wife in the world. Your presence is warmly missed. Enjoy this amazing day with all your heart and stay blessed in love.
You were a snake, but that was my fault. I am sorry for all the times that I hurt you. I hope you can finally forgive me this valentine dear!
Being married to you was never easy, but thinking about it this valentine; you have given me so much joy and all I can say is thank you for the good and bad times ex-wife.
I know we probably should have been better, but fate was already written, and we were not meant to be. I hope you're happy and good. Happy Valentine's Day ex-wife!
I think of you and all the amazing times we had together and I can't help but hurt a little. We may be away from each other but I hope you'll accept my valentine date.
Thinking of you and our kids has really done something to me. I hope you get to enjoy today and the precious moments you'll have without me this valentine. I love you all so much!
I know I messed up and you tried your best. I hope you'll forgive me someday just as I have forgiven you. Enjoy your valentine and all its amazing moments.
I never regret marrying you despite our breakup; we shared a reasonable time of our life and will do it all over again if wishes were horses.
You are very important to me as an Ex-Wife and can only wish the heavens to pray for you on today's special Valentine's Day celebration.
---
You May Also Like:
Happy Valentine's Day to your ex love – From a Relationship to a Wish
Sweet Happy Valentine's Day Message and Wishes for My Wife
---