Relationships can be hard sometimes but the best part of relationships is the moments you get to share with the one you love and the memories you get to create together. Getting married is never an easy step and those who have gotten married and made it work can tell you they had to try hard.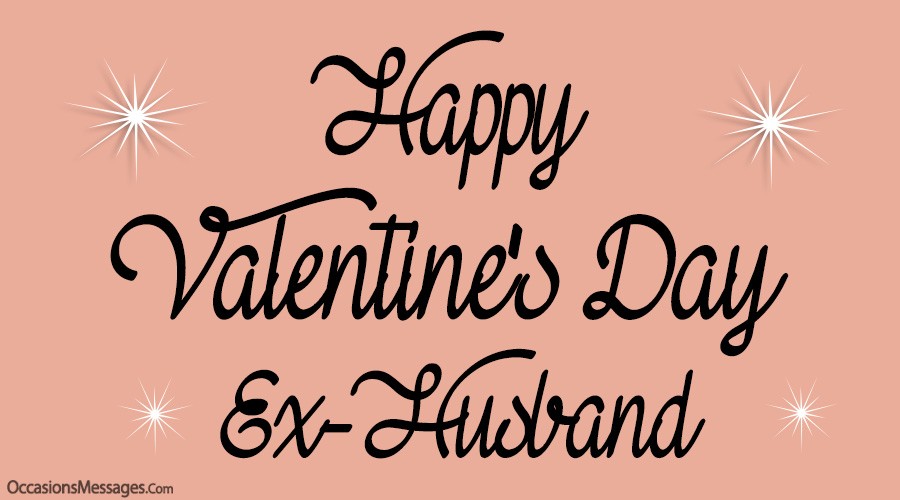 But those who got married and had to separate well, that is a different case simply because the person left with a part of them. You can't say it was all bad. Use your positive energy to send your ex-husband a valentine's wish that will make him be grateful for the day, no matter the terms you left your marriage at.
Happy Valentine's Day for Ex-Husband
Wishing you the best valentine's ex-husband, may love find its way back to you, thank you for the most amazing years of my life; I really do wish you the best.
Even though this will be my first but not the last without you ex-husband, I still wish you have a fun filled and amazing valentine, I will never forget you.
Life with you was so beautiful until things went bad. You still hold a place in my heart as a true friend. Never forget that. Happy Valentine's Day.
Memories made, never thought it will end this way. May you enjoy this special day in peace and love. Happy Valentine's Day my Ex. Apart but still glad we are friends.
Bitterness destroys beautiful things of life. Special people always remain at heart. On this special occasion, I wish you a happy Valentine's Day humble Ex-husband. Enjoy your day to the fullest.
My biggest mistakes was trusting that you would never break my heart; I hope I find love and that I will rejoice as we both enjoy valentines apart ex-husband.
Our vows are broken, but my heart will always be with the man I vowed to love forever. Wishing you a happy valentine's day, may love find its way back to you ex-husband.
May you enjoy this lovely time with your new-found love. We being exes never changed the memories we have had together. Happy Valentine's Day to you. Have a lovely day.
You are one in a million wishing you a grand valentine ex-husband, may you put a smile back on your face; enjoy the day and the love it shares.
I know you made the right choice to move on in life. Nothing matters to me much more than your happiness. I have been thinking about you even though we are exes. Happy Valentine's Day.
Hey! How are the kids. I know they are better off with you than they were with me. I miss you guys so much. Just want to wish you a Happy Valentine's day.
Happy Valentine's Day to my Ex-husband. You are the best dad I have ever seen. You are still responsible in your own special ways. Just want to wish you a pleasant day.
I have been hurt by you but also I have had some of my best days with you ex-husband, I hope valentine will be better without my constant nagging.
We were never made to be apart, but the Lord knows why it had to happen like this, I will always wish you the best ex-husband, enjoy each and every valentine.
Happiness and sorrow are choices one can choose from. Love can be found in unknown places. Glad you chose happiness again, over sorrows. Happy Valentine's Day my ex-husband.
My warmest heart wishes to you my Ex-husband. Still, can't believe we celebrating Valentine apart. Why did it come to this? Well wishing you a blessed valentine with much love and care.
Everything happens for the good for it. We had everything going perfect for us. But here we are. Enjoy each moment of the day with my Best of wishes. Happy Valentine's Day my ex.
You are more of a lesson, an experience and the reason I have someone to live for (referring to our child), enjoy your valentine ex-husband, may all be well with you.
I hope you found peace, love and serenity the moment you walked out on us ex-husband, enjoy your valentine with all those you love close to you.
Much love and respect goes to you father of my kids. It's so hard to add the word ex referring to you. I will never forget the strength I got from you. Happy Valentine's Day!
A sweet home was our dream when we first met each other. It was achieved until broken vows. I still will be your first love. My warmest Valentine's wishes to you my ex-husband.
We have spent wonderful and created sweet moments together. Memories that never fades but always in thought. Happy Valentine's Day, wishes and love to you my ex-husbands. Enjoy the peace of love.
Many of the bad memories have faded, but I still have the good ones tucked away safely, that is where the strength I have comes from to wish you a happy valentine's ex-husband.
Today I remember each valentine I got to spend with you as my husband. I hope you enjoy your valentine dear ex-husband, sending out my love on this message.
You still remain to be a big part of my being, you gave me a child I am proud of and that is why I wish you the best as you enjoy your valentine away from us ex-husband.
Special moments like this were never missed by you. Same way I will never forget to wish you something beautiful. May you have a decent, loving, and a Happy Valentine's Day Sweet ex-husband.
Life is sometimes not fair but always thankful and grateful that I had a chance to spend sometimes with you. Wishing you happiness, joy and love this valentine. Enjoy your day.
Hey! Darling, I know you are not affected in any way with this break up. Same goes to me for it all ended well. Enjoy this great day with much love. Happy Valentine's Day my ex-husband.
Valentines has totally become a lot different since you left ex-husband, I hope everything is well with you and I do hope you found new love by now. Enjoy your day.
May everything you've ever hoped for and dreamed of come to pass this valentine with love ex-husband, I am done with being spiteful, wishing you the very best.
You may think you broke me but you restored a new faith in me, wishing you a lovely valentine day. Enjoy each second of the day.
My inspiration, my motivator, the father of my lovely kids. I'm glad to see you have a happy life now. All I ever wanted for you and your new lover is Happiness. Happy Valentine's Day.
Our life together was an amazing one but fate had another plans for our happiness. You still hold a special place in my heart and on this marvelous occasion, I say Happy Valentine's Day Ex-husband.
Thank you for every unforgettable time dear ex-husband, you are truly a person I will never forget, enjoy your valentine to the maximum. I still think of you.
I'd send you a bunch of roses but I know how much you hate them, I hope whoever you'll be spending your valentine with shows you a different kind of love.
May everything be well with you ex-husband, enjoy each and every second of the day and all that it has to offer, wishing you a lovely valentine sir.
We promised to stay strong for each other. Life owns it turns and sure our life has been a victim of break up. You still deserve a Happy Valentine's day my Ex-husband.
You still have that charming smile something I missed most. It's a lovely day and it's valentine. My special wishes go to you. I wish you an amazing Valentine's Day.
May the day be full of love and happy moments ex-husband, thank you for being the reason I have to move on with life and all the gifts it has, enjoy your valentines.
The memories of last year were so special. Those slow dancing moves are never forgotten. I can't stop smiling because you deserve the best of life. Happy Valentine's Day to you, Ex-husband.
Enjoy this day with all the best of smiles like you always carry on your face. Happy Valentine's Day sweet ex-husband. Enjoy your moments with your newly found love.
Having spent most of my life with you, loving you and hating you at the same time, I wish you nothing but an amazing valentine my ex-husband. Thank you for everything!
You have been my biggest bump on the road; I never knew loving someone so much would hurt in the end. I am glad we are separated. Enjoy your valentine!
We may have cursed each other out, throwing things all over the house and in the end said hurtful things to one another. But I will always love and adore you. Wishing you the best!
Valentines will definitely be a little different without you here. I am not used to calling you my ex-husband, but I'll have to guess. Have a fantastic valentine and thanks for loving me dear!
I may be a devil in your eyes, but you will always be the man that gave me the most amazing creatures on earth (our kids). Enjoy your valentine's day with the one you love!
The pain grows worse sometimes, but I found a new way to hate you a little less. You will always be the ex-husband I will miss on Valentine's Day. Cheers!
We have failed in our marriage, but we definitely found a way to live with each other without living with each other. Enjoy your freedom this valentine's day and may it make you so happy.
I miss you on valentine and I miss you each and every day, I know you may never forgive me, but I pray you are happy and at peace and that you hate me less.
Knowing you was the best part of my life, and I am glad that even though you are my ex-husband, that we are friends. Have an amazing valentine's dear one!
You will always have a unique space in my heart because you were once my husband, so I implore you to have a great Valentine's Day.
As my Ex-Husband, you deserve to have a great Valentine's Day just as I wish on myself. Do have fun, and stay out of trouble.
---
You May Also Like:
Heart Touching Happy Valentines Wishes for my ex-Love

The Greatest Valentines Day Messages for Your Husband
---