Children are the fruit of love with our partner and are the continuation of our existence. Thus, we will always be happy that they have come into our lives. In moments dedicated to love such as on Valentine's Day, its best to express our love to our sons through messages.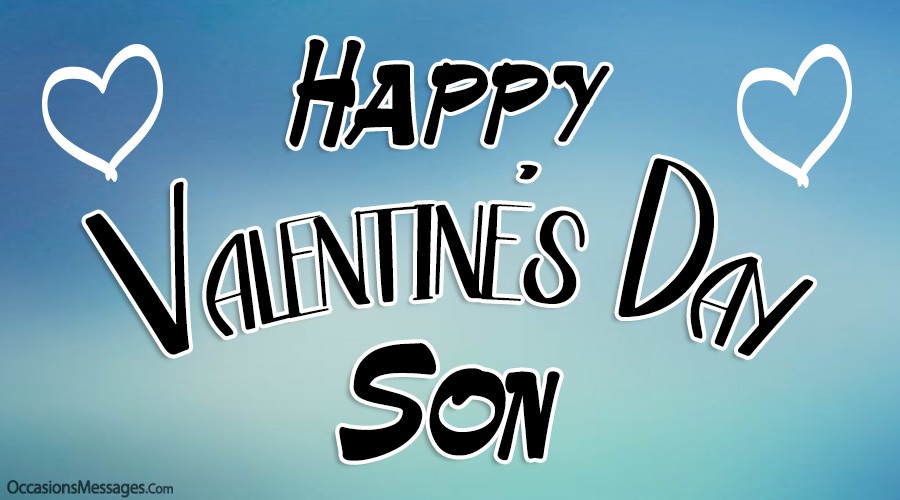 At this point, there are also moments when creativity fails, and that's when you ought to let yourself be inspired by some message Valentine's Day Messages for Son such as these.
What to Write in a Valentine's Day Cards for Son
I love you little son and I would give whatever it takes to see you happy. Yes, it is true sometimes I lose my patience and I call your attention, but think that I do it because I want the best for you. Happy Valentine's Day Son.
Dear son, you are my reason for wishing to continue living. I ask God to give me many years of life to see you accomplished in this life. Happy Valentine's Day dear.
We will always remain united by the same link that kept us when I conceived you. We will be together all my life and I thank God for giving you as a blessing to me.
Male children can be a handful to guide; nevertheless you always give me reasons to bless the day I had you. Happy Valentine's Day.
Valentine's celebration is in the air, so my son, I want you to spend the day to show love to people that are dearest to you.
I appreciate God for bringing you to my life, dear son. You are the best gift that life has given me and I will make you a worthy and exemplary person. Happy Valentine's Day.
Dear son, thank you for loving me always. I am excited to see you grow and do in your life things that I could not do when I was at your age, I admire you son. Happy Valentine's Day.
Dear son, you mean everything to me. Without you, I am nobody and I would have no reason to be alive in this world. I love you dear; Happy Valentine's Day.
My beloved son. Happy Valentine's Day to you. I pray that today will be an important day, and you will be pleased with the rest of your life.
Dear son, Valentine's Day exceeds emotional attraction towards the other gender but a day to show love to family, friends, and society.
Daily, I wake up thinking about you, your needs, and I am happy to please you in your tastes. Happy Valentine's Day son.
I would never forget the day I held you in my arms for the first time, the feeling I had was unique and indescribable. Happy Valentine's Day dearest son.
You have filled my life with joy, happiness and unconditional love of a little boy for his mom. Happy Valentine's Day sweet.
May the Valentine's Day celebration fill you with love and happiness that will last not for a day but a lifetime. It is what my son deserves.
Remain to be a good son to me and the society, and I see you sailing above your peers in all areas, by the way, Happy Valentine's Day.
My picking you as my Valentine was an easy decision to make because you are handsome, responsible, and caring for any lady, including me, your mother.
Dearest son, I have loved you from the moment I knew you were coming; I further loved you more when I heard your heart beat for the first time. Happy Valentine's Day.
Dad and mom's lives changed with your arrival. We are no longer alone. Now we are a complete and happy family for you. Happy Valentine's Day son.
My son, time goes by so fast. From your first steps to your first words, I have always loved you with an unquenchable love. Happy Valentine's Day.
Despite your youthful excesses, my love for you is intact; I always wish the best for you now and forever. Happy Valentine's Day.
Happy Valentine's Day, son. My kind of love for you is long-lasting and does not expire even in the worst situations; we got each other forever.
Do not limit yourself to a one-person Valentine's Day celebration. Text others, have fun and extend a loving arm to some of your foes.
Having you as a son is one of the most beautiful things that happened to me in life. That's why I wanted to enjoy Valentine's Day to tell you that I love you. Happy Valentine's Day.
Dear son, it was such a pleasure for me to see you acquire your autonomy and develop your own personality. Today, when I consider what you have become, I feel a lot of pride. Happy Valentine's Day.
I am wise enough as a parent on Valentine's Day to recognize the efforts of a wonderful son who is an excellent example in the family.
Stop bothering yourself about people that feel some way about you on Valentine's Day when there are a lot of us that love you dearly.
Whenever I held you in my arms, I always knew that nothing would be so great as my love for you, son. Happy Valentine's Day.
You are my ray of light with all your joy and I am a happy father to have such a wonderful son. Happy Valentine's Day.
I pick Valentine's Day to celebrate a great son, a wonderful man, and a future leader. Your simplicity and brilliance still amaze me.
It is not a mistake that I chose my son to be my Valentine because you are so amazing and loving like the saint that laid down his life.
---
You May Also Like:
Best Ways to Say Happy Valentine's Day to a Friend
Happy Valentine's Day Messages for a Long Distance Person

---