Show love to your sisters on Valentine and every other day because they are precious and a priceless treasure to possess. It will be lovely for anyone to receive messages from the people that matter most therefore after thanking God in the morning for blessing you with a fantastic sibling for another Valentine season,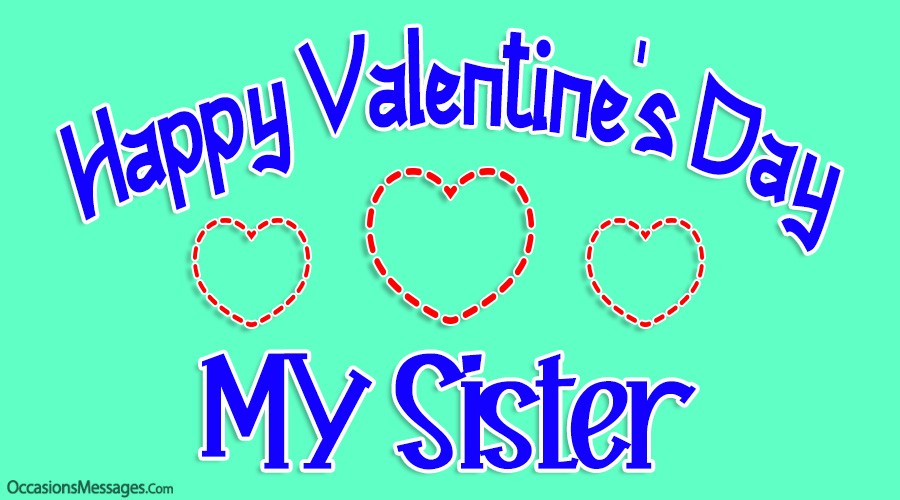 pick your phone and send beautiful Valentine's Day messages that befit your sister from our carefully compiled list of unusual words.
Happy Valentine's Day Wishes for Sister
Today, I am happily paying tribute to someone who in my life has a prominent role: you, my dear sister! Happy Valentine's Day.
You literally helped me get started, taught me life's most important lessons in a way only a great sister could teach, and thus, you've got a special place in my heart. Happy Valentine's Day sister.
My pretty sister is the most beautiful creature on earth, and I am full of joy for having such a smart and kind lady to appreciate on Valentine's Day.
Nothing will stop me from caring for you till my last days because you always try to do the same, even when I do not merit it.
As a sister, you are fantastic! As a friend, you are the best. Happy Valentine's Day dear.
What would I be without your inspiration, my sister? Thank you for being a great sister, and Happy Valentine's Day.
Happy Valentine's Day to the flower of our household, the joy of my life, and ever-caring sister. No wonder why I cannot do without you.
Cast your troubles in a pit in order not to hamper today's Valentine celebration. Dear sister, you deserve happiness and love at all times.
Happy Valentine's Day sister. We have been through a lot together, we share secrets, crazy moments, and we are companions for whatever comes and goes. Partnership is the word that best defines us.
Having a sister like you with whom to share joys and fears is certainly a blessing for my life. Happy Valentine's Day dear.
I know that my greatest blessing of this life was receiving you as a sister. Your presence is a true grace, and your friendship is a divine gift.
You can spend eternity on your makeup because today is Valentine, and I am not permitted to be angry at my beloved sister.
Look beautiful as always for the Valentine's Day celebration to confirm my assertion that my sister is still pretty even on a bad day.
May you have a blessed day and a fabulous Valentine's Day; I will do the same, so I expect my sister to join me in the celebration of loved ones.
Dearest sister, this is the right time to turn our past fights into laughter and strengthen the bonds that hold us together. Happy Valentine's Day.
On this special Day, I just want to thank God for having your company in my life. My adorable sister, count on me whenever you need it! Happy Valentine's Day.
To be truthful, no other girl makes me feel happier than you on regular days and even on special occasions like Valentine.
Some people think that I am obsessed with you because of the way I adore you as a sister and a friend. Let's continue on this lovely path on Valentine's Day.
You have always been not only a sister but also a best friend, and the status quo will not change despite the Valentine Day celebration.
Dear sister, you are my basis for life. Thanks for being by my side always! Happy Valentine's Day to you.
Sometimes, I find myself missing our childhood, the moments when we fought over the toys, the wind hitting our faces as we ran after each other. Happy Valentine's Day dearest sister.
I made a promise to God on Valentine's Day that nothing terrible will ever happen to you under my watch because you are my cute little sister.
Lovely sister as you is a necessity in my life and fortunately I have you all to myself for Valentine's and other future celebration.
Do not bother about a thing because beautiful princesses should have a sibling like me to take care of all their Valentine's Day needs.
I bless God for giving me a selfless sister as you, which I consider as unmerited favor due to my excessive annoying personality. Happy Valentine's Day.
Destiny picked you as my sister, so today's celebration is about you and a reminder for me to be grateful for the most significant gift of a lifetime.
Thank you for being a good sister and a better sibling to me than I was to you. I wish I could buy you the world as a gift for Valentine.
Sister, hopefully, today's celebration will be the best you had in a very long time also prepare for the unexpected like my lovely Valentine Day package.
One of the best ways to start the valentine day is to acknowledge the selfless efforts of a spectacular sister in this crazy world of ours. Happy Valentine's Day Sister.
Find a place in your heart to lock your love for me because I have done the same. As siblings, every day should be our Valentine's Day.
Riches and prosperity will never depart from your household after today's celebration of loved ones. I love you, dearly, my sweet sister.
I want to thank you for all the good and bad times we shared, which made us stronger after crossing subsequent hurdles. You are the best, sister.
The reason why I love you above others is that you treat me with the kind of care that only a good sister can afford.
Happy Valentine's Day to you sister, I celebrate you today for an outstanding person and being the best that I ever had.
Just as our mom and grandma, you give me the same vibe. I wonder how you do it, but I kept smiling on Valentine's morning.
May you never have a reason to cry and worry again after Valentine's Day because your happiness makes you a sweet sister to me.
---
You May Also Like:
Family Valentine's Day Wishes | Valentine Messages and Cards
How To Write Happy Belated Valentine's Day Wishes and Messages
---